Early Bionics and related technologies
This page will contain a selection of significant early Bionics including CYBORG technologies and Neural computing, and dates showing the creation or announcement of these and related technologies.
For the moment, it is more a list of what is going to be placed in this blog. If image is clickable, then a blog post exists for it. Check out the
updates page
for the most recent posts.
History of CYBORGs and Enabling Technologies

1926 – Der Mensch als Industriepalast (Man as Industrial Palace) – Fritz Kahn

Lindenberg-Carrell Perfusion Pump

Two-headed Dog – Demikhov

Severed Dog'sd head and revival - Bryukhonenko

1960 – Clynes & Kline CYBORG

1969 -Paul van Hoeydonck CYB-sculpture
Early Bionic and Artificial Neuron machines

1948 – ELMER – a new species of animal – M. speculatrix

NERISSA – Grey Walter

1950- J.J. Coupling (John Pierce)
1951- "SNARC" – Marvin Minsky / Dean Edmonds

1955-59 – Raymond Auger's Painting Machine inc Artificial Nerves

1958- Uttley / Andrew Conditional Probability Computer with trolley

1962- MELPAR Bionic Maze using ARTRONs

1957 – Perceptron – Frank Rosenblatt
1960c – Lernmatrix – Karl Steinbuch

196x – ADALINE / MADALINE – Bernard Widrow (Stanford)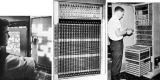 196x – MINOS I,II & III
1963 – Cynthia – Lesti (Andromeda)
1962 – Conflex 1 - Dr. Malcolm Uffelman (Scope)
196x – SOCRATES

1962 – MIND – Ford

1962-6- "STeLLA" – John Andreae & Peter L. Joyce

19xx – Electronic Frog's Eye – RCA

1961 Cybertron – Raytheon

196x – Sceptron – Sperry

196x – Artificial Neuron – Bell Labs

1961 – Numa-Rete – Weston / Foerster

1968 – Neurocomputer – Gemmeke ( Karlsruhe)

1971 – SOPHIA
Early Brain Control Technologies
1940 Project Pigeon - 1948 Project Orcon – B.F. Skinner

BF Skinner – Skinner's Box

1956c – "Dog-Mobile" Dog-controlled Walking Truck (Concept) – Iben Browning

1957 – Rat radio-control – Dr Gengerelli

196x – Jose Delgado
---