1932 – George Robot – Capt. W.H. Richards (British)
The 1932 George Robot by Capt. William H.Richards is an improved version of the 1928 Eric Robot.
There is also a later 1952 version named Robert Robot with a different head, but I have no record of who owned and operated Robert Robot back then [1].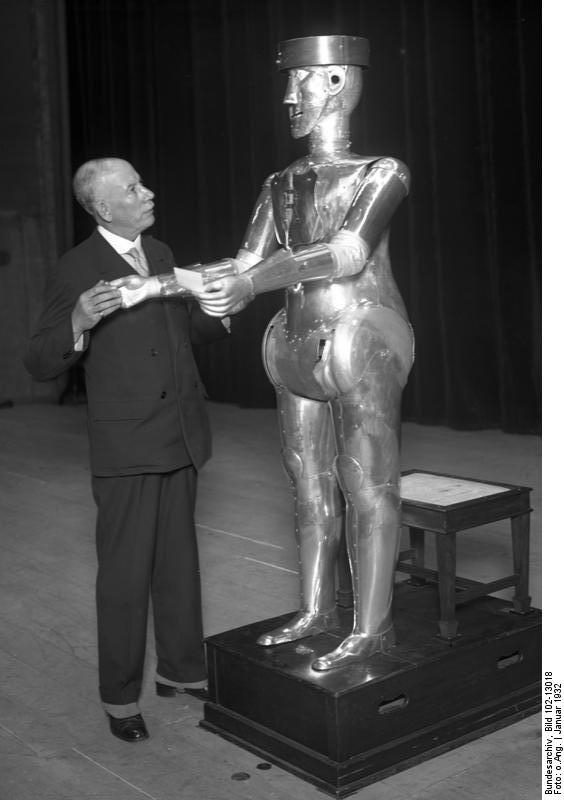 The 1932 head is more sculptured, rounded than the later, more chiseled-looking head.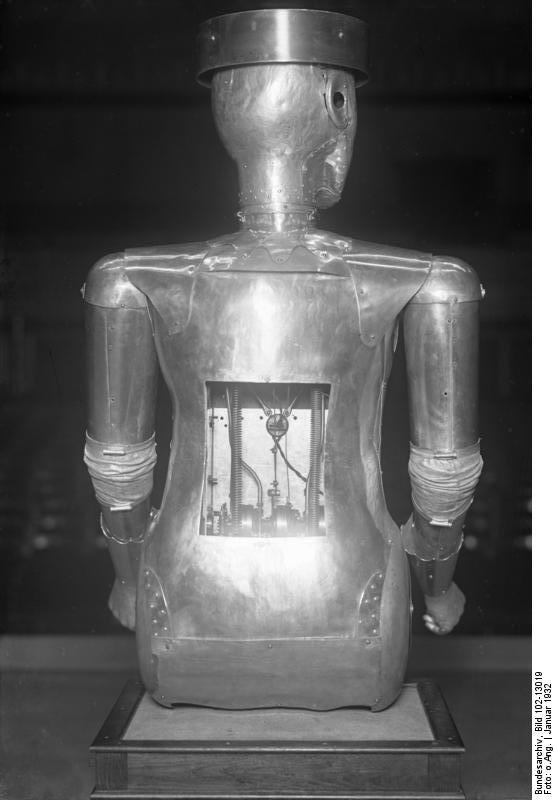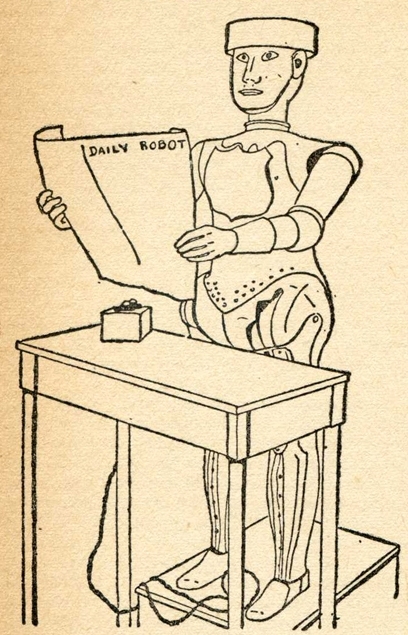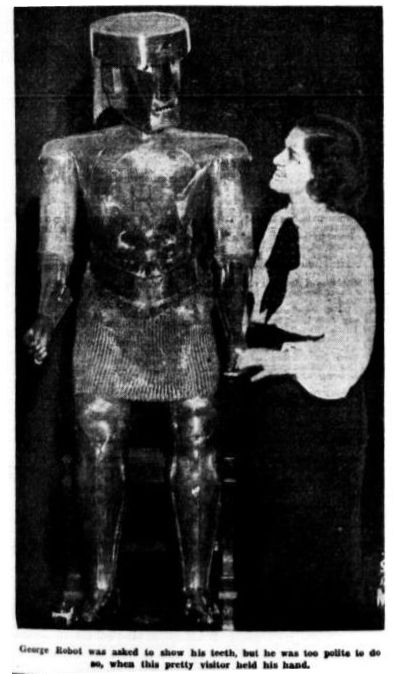 The Age (Melbourne) 20 Sep 1935
Meet Mr. Robot
Not Forgetting His Master.

Melbourne has had the honor of being the first city south of the Equator to entertain George, one of the most famous figures in the world. He is the leader of a new race of beings; one of the most marvellous scientific products of the twentieth century. Wherever he goes with his inventor, Captain W. H. Richards (English journalist and author) he establishes a reputation for obedience and versatility. For those readers who unfortunately will not be able to make George's acquaintance at the wonderfully attractive electrical exhibition, we had a talk with him and Capt. Richards, and learnt the following interesting facts:—
It took five months to produce George; he behaved well enough till it came to getting him to stand up properly. Not that he was lazy; in fact just the reverse, for instead of getting up from his seat slowly and with dignity, like a king of Robots should. George would rise straight up like a jack-in-a-box. However, with firm perseverance, Captain Richards succeeded in getting him to bow before rising.
George has only one suit – it is made of smooth polished aluminium, and has an apron of mail. As it a not showing sighs of wear yet, it will probably do him for a long time. But he can display many moods, and if asked to show his teeth purple sparks appear in his mouth, accompanied by a sinister hissing.
As George was designed for travel, he had to become a perfect linguist, and when commanded, can talk in French, German. Hindustani, Chinese and Danish, as well as his native English.
When packed for travelling in his case, George weighs half a ton. Australia is the fifth continent he has "done" in his busy three years of existance, and he once gave a special performance for the Danish Royal family.
George's young brother, which Captain Richards built several years ago, has lost favor since George appeared, Captain Richards explained. This first robot cost £140 to make, which sounds plenty, and although he had a brilliant and exciting career-he was shot at once by the night watchman of a New York theatre— the appearance of George put him right out of countenance. George was the educated gentleman, alongside his rough-hewn awkward brother, and when you know that George cost almost £2000 you can't blame him altogether for being uppish.
Just how George is made is a secret, but the principle of his operation is that the voice of his master penetrates George's armor, strikes the 3-inch diaphragm of a microphone, which, according to the word spoken, transmits electrical currents which are harnessed to the sensitive mechanism for controlling such actions as the moving of his head, raising his arms and standing up. What is George's inside like ?" the Captain was asked. "Most disappointing." he said, "nothing but gears and cranks, just like a watch on a large scale."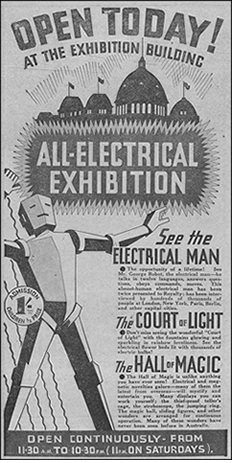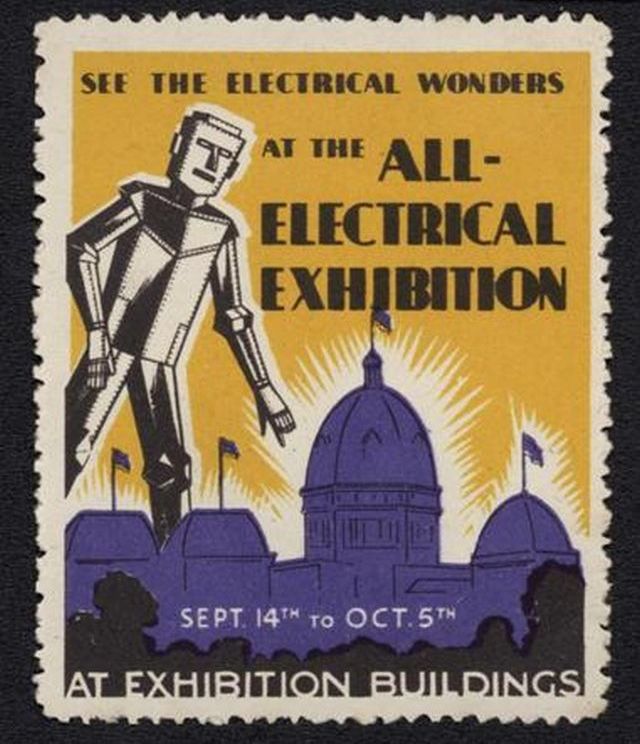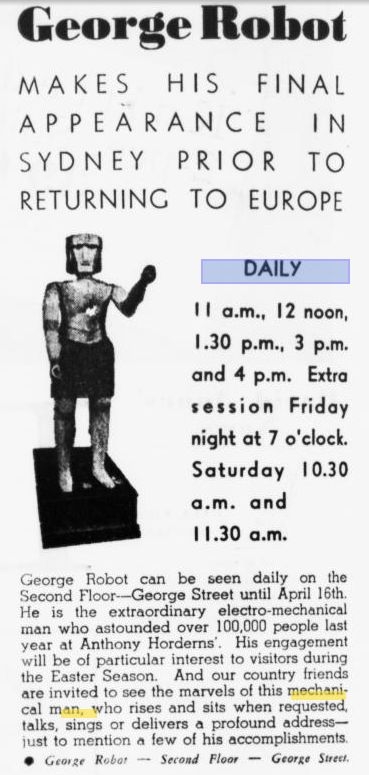 George – Sydney Morning Herald, 3 April, 1936. – Note the squarer style of head.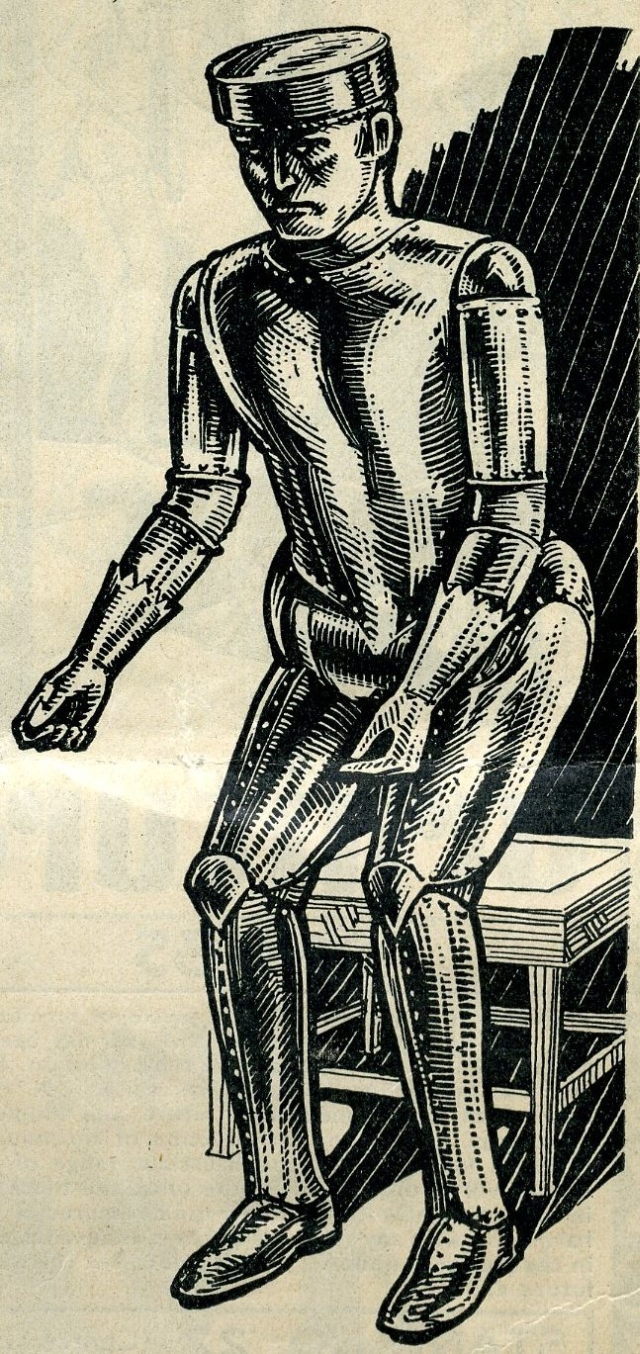 Above and next two Images courtesy Brian Precious (UK)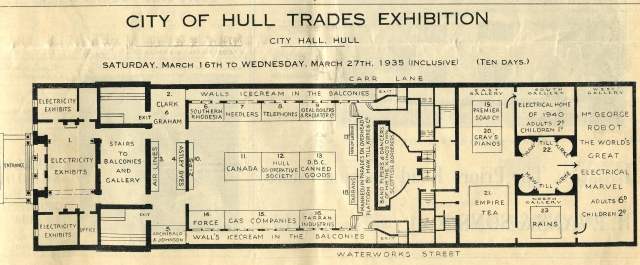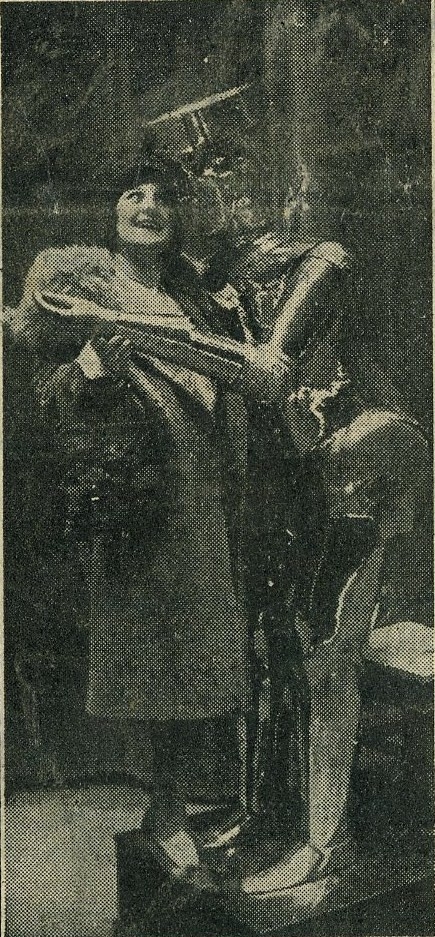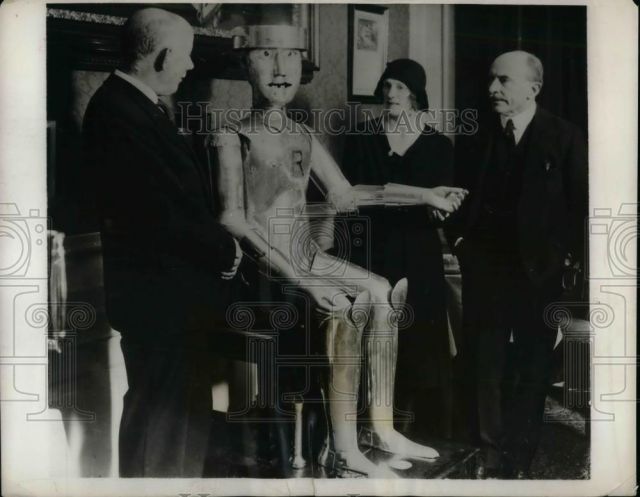 Feb 3, 1931. In Denmark with the British Prime Minister Sir Thomas and Lady Hohler.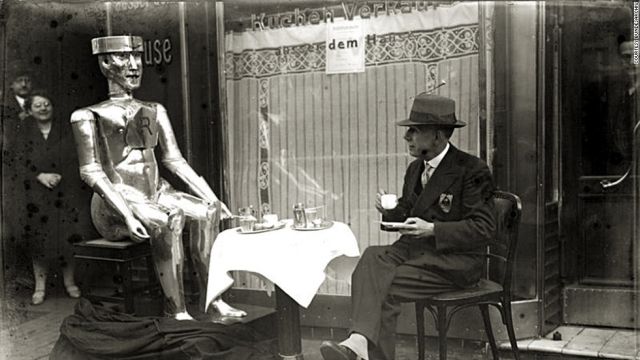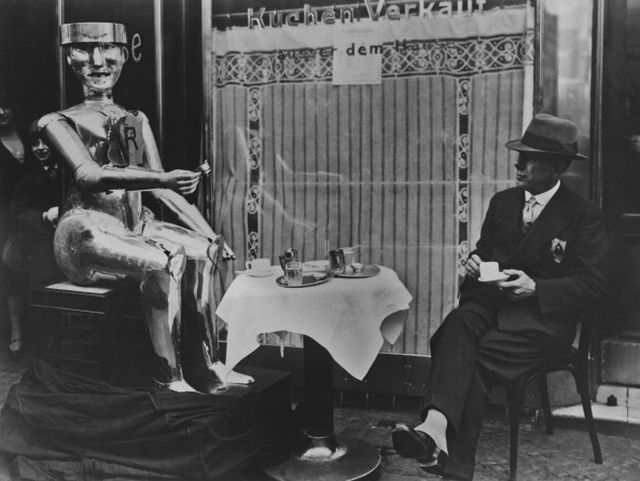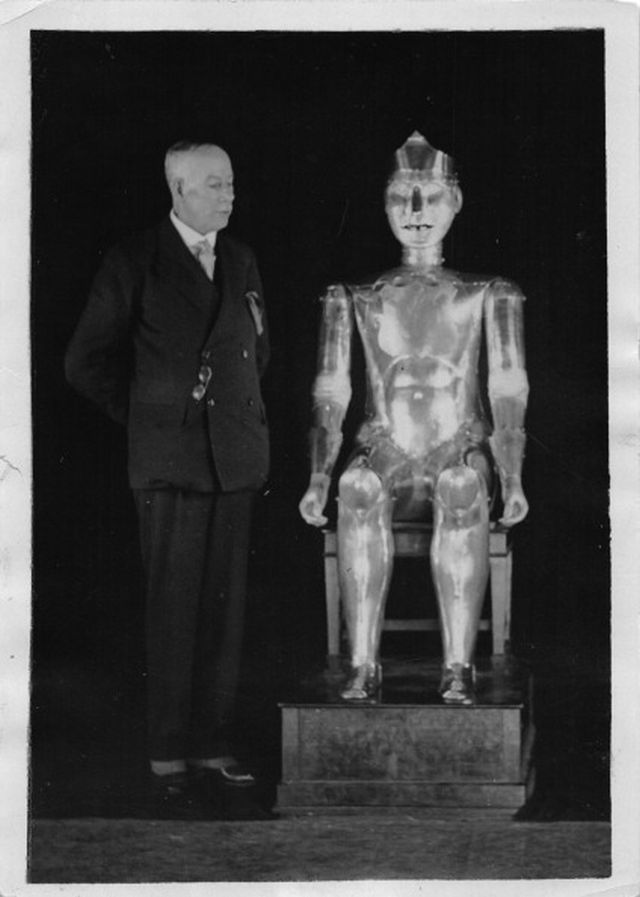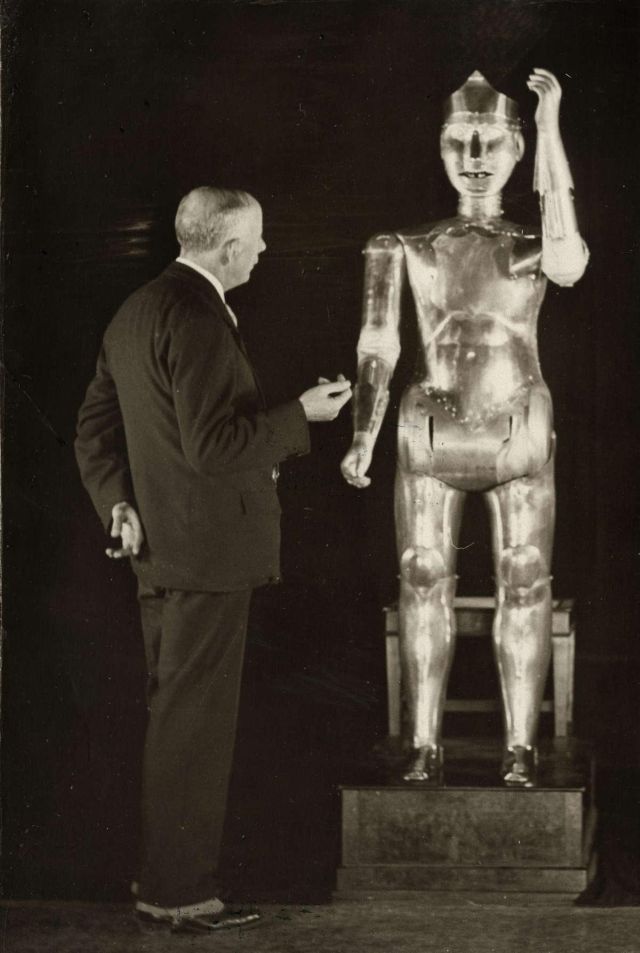 ---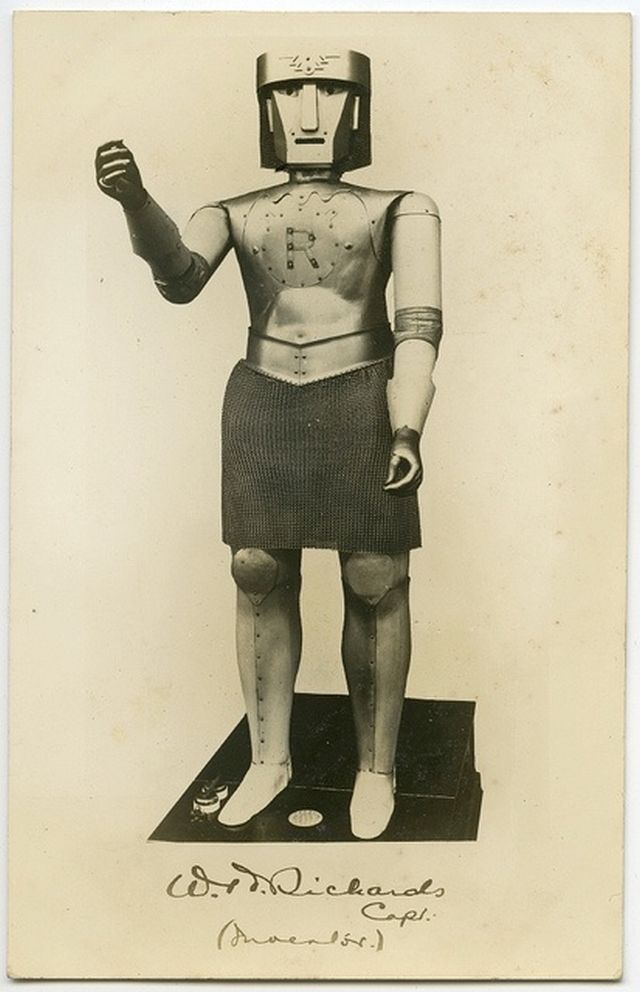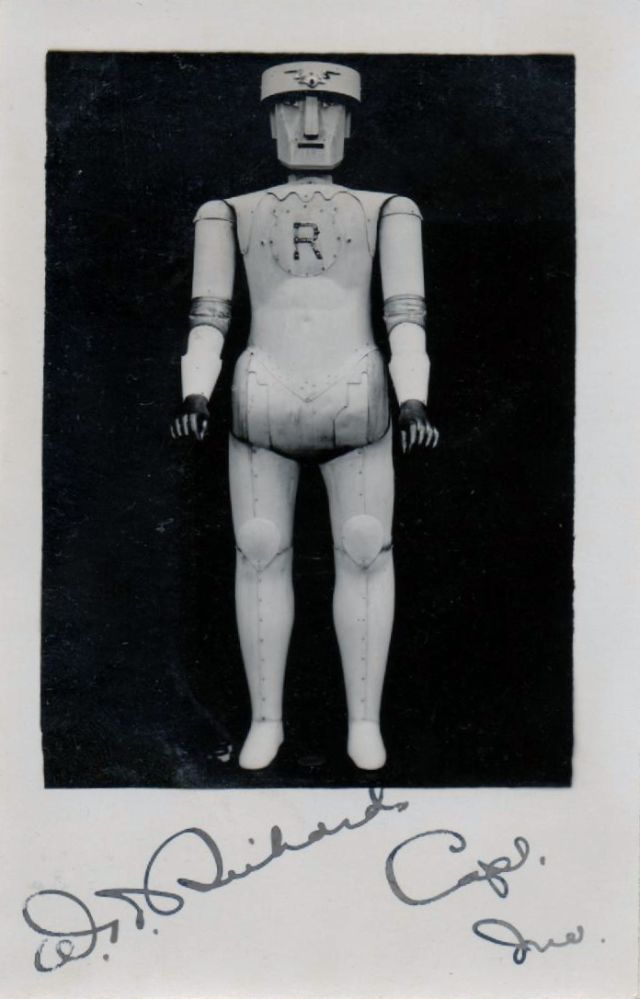 1952 and now called Robert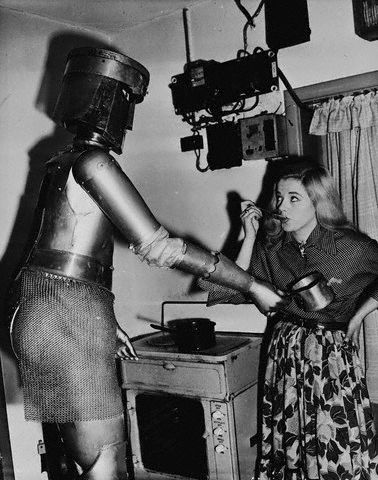 BE044458| Standard RM| © Bettmann/CORBIS
Woman With Early Robot On Tv Show
Original caption: 2/24/1952-Robot-Soup's on, so Robert stands by in the kitchen, ready to hold the handle of the hot pot for his mistress, Diana Dors, who samples the pot's contents. Robert, in his uncomplaining way, is a valuable adjunct to any household, Diana believes.
Image: © Bettmann/CORBIS – Collection: Bettmann Standard RM Date Photographed: February 24, 1952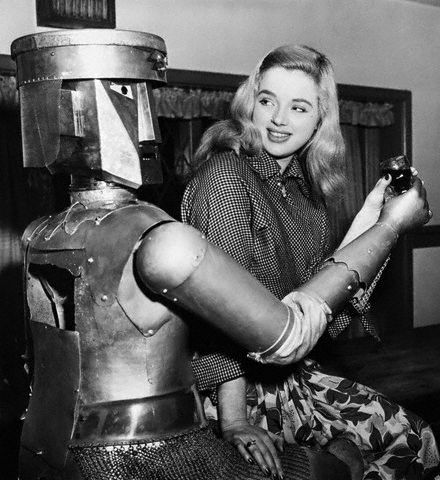 BE044448| Standard RM| © Bettmann/CORBIS
Diana Dors with Robot
Original caption: 2/24/1952-Dunsfold, England: Tete-a-tete in the Hamilton living room co-stars Robert, the man of steel, and Diana Dors, lovely film and television star. One of Robert's few bad features is that he's a bit cumbersome. The ingenious robot, built by Diana's husband, Denis Hamilton, from spare parts found in the cellar, weighs in at a mere 330 pounds.
Image: © Bettmann/CORBIS. Collection: Bettmann, Date Photographed: February 24, 1952 , Location Information: Dunsfold, England, UK
[Ed. – Robert the robot was not built by Denis Hamilton as suggested, but by Richards himsef!]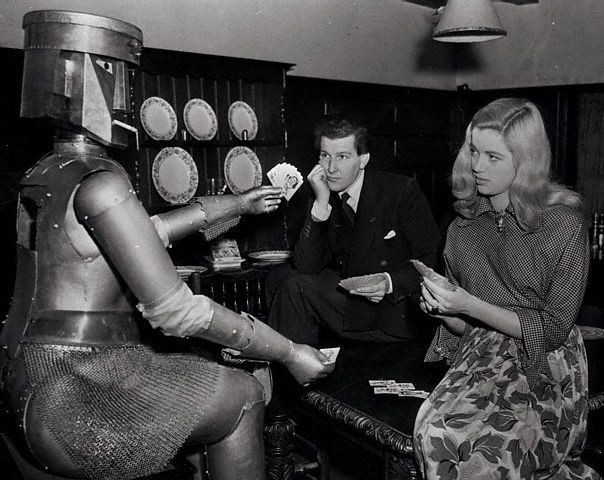 U1186811INP| Standard RM| © Bettmann/CORBIS
Denis Hamilton Playing Cards with His Wife and a Robot
Original caption: "No cheating, please," Robert cautions, as he sits down for a friendly hand with his bosses, Dennis Hamilton and pretty Diana Dors. After dinner dishes are out of the way, it's fun to have a quiet game with the man of steel. Image: © Bettmann/CORBIS. Collection: Bettmann . Date Photographed: February 24, 1952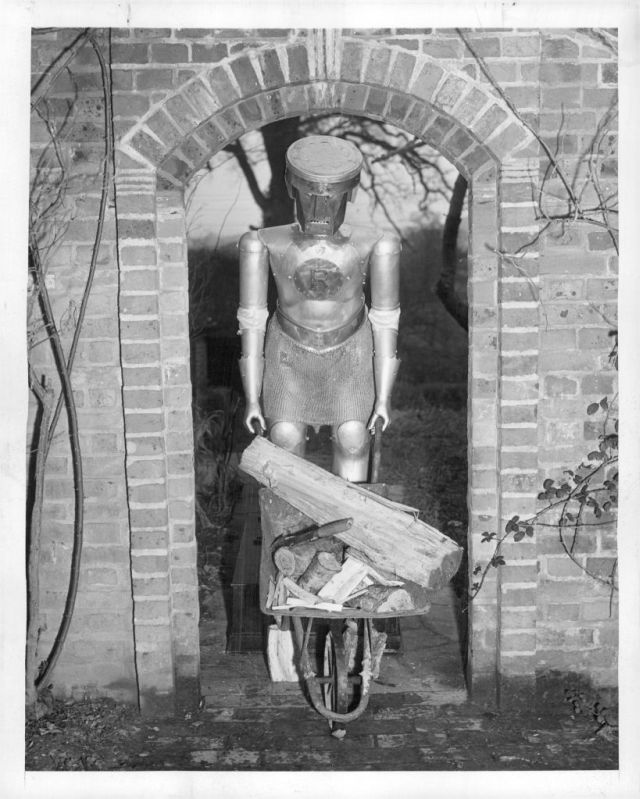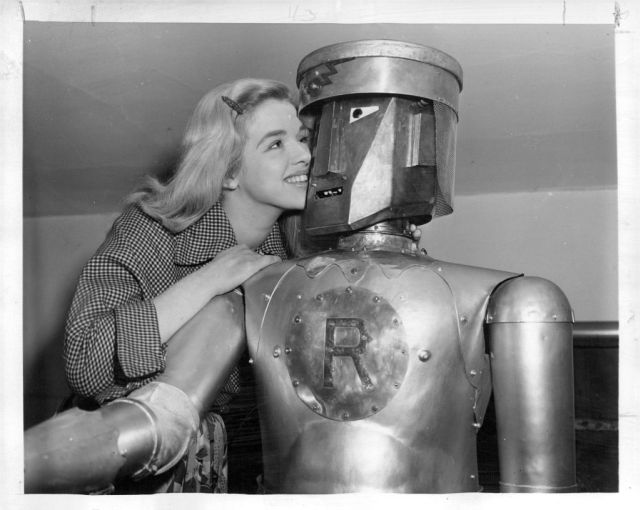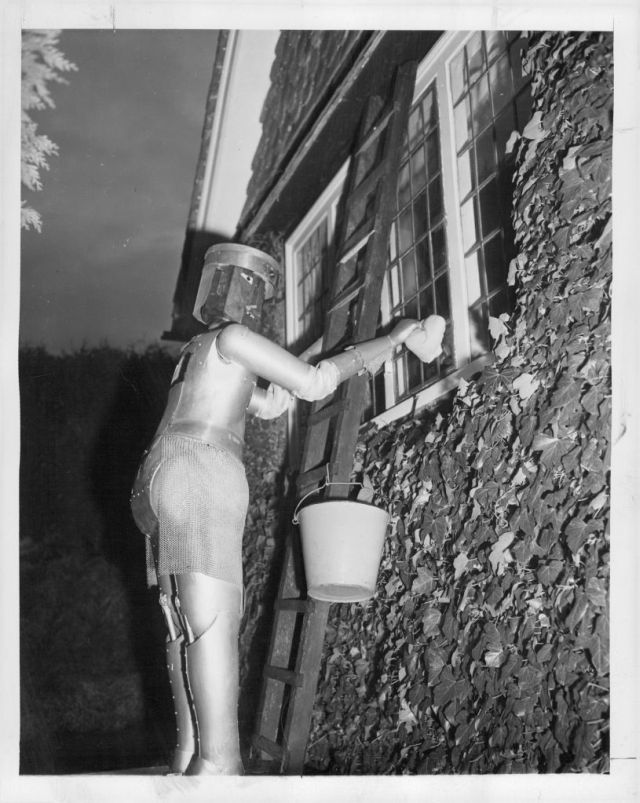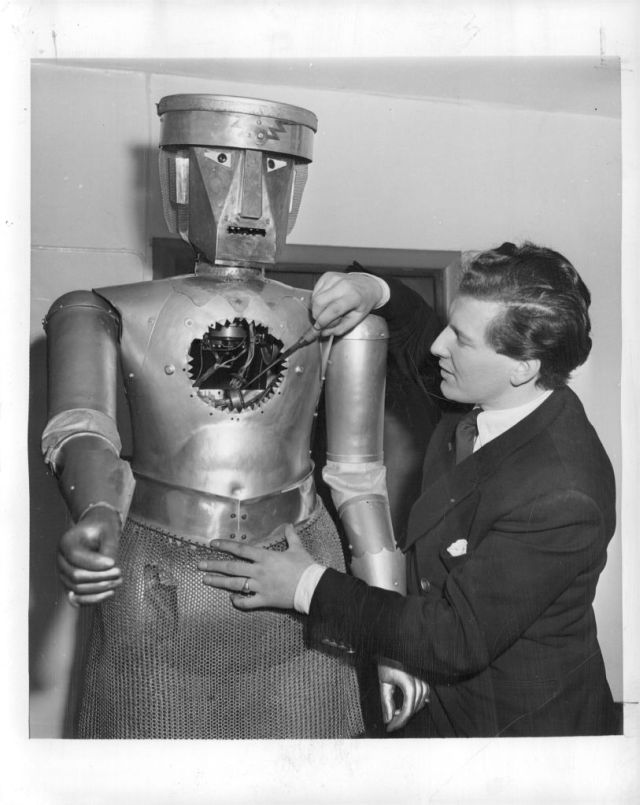 ---
Video Clips
I have located 2 clips.
1. http://www.archivioluce.com/archivio/jsp/schede/videoPlayer.jsp?tipologia=qtPlayer&id=&physDoc=2364&db=cinematograficoCINEGIORNALI&low&findIt=false&section=/
At Gaumont Pathe above, you have to register then log in and search for these under the English version:
PJ 1930 010 7 – AS IN THE NOVELS OF WELLS
3012GJ 00006 1930 – BERLIN, GERMANY. THE WINTERGARTEN THEATRE PRESENTS CURRENTLY THE HUMAN MACHINE "ROBOT" OF ENGLISH CO.
---
[1]-13 November 2014. I've had it confirmed by correspondence with surviving Richards family correspondence that there were actually three robots built by Richards, and 'Robert' is the third. Further, I've had it confirmed that Denis Hamilton did not build Robert as suspected, but actually stole him from Richards.
See Richards Eric the Robot
here
.
---
See other early Humanoid Robots here.
---
Tags: 1932, 1952, British, Capt. Richards, Capt. W.H. Richards, Diana Dors, English, Eric, George, George the Robot, Humanoid, Robert, Robert the Robot, Robot