1928 – Eric Robot – Capt. Richards & A.H. Reffell (English)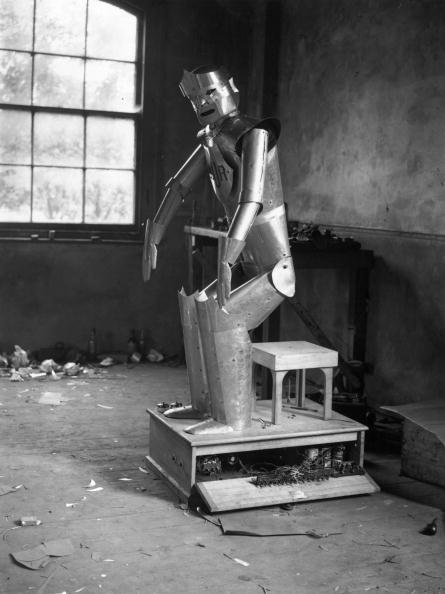 Each press article of the day offered a different snippet about Captain William H. Richards' Eric Robot.  I will summerise them here.
Eric Robot was constructed at Gomshall, near Dorking [see note below], by Captain William H. Richards, a veteran of the First World War, and a noted journalist and A. H. Reffell, a motor engineer.  What caused its invention was the need of an important person to take the place of the Duke of York in opening the Exhibition of the Society of Model Engineers, in London. As Richards  was secretary of the organization, he decided to make a Robot who could open the exhibition. On 20th September 1928  at the at the Royal Horticultural Hall, Eric arose, bowed, looked to the right, to the left, and, with appropriate gestures, proceeded to give a four minute  opening address .   His exterior was of aluminium, not unlike a mediaeval knight in armour. His eyes are white bulbs with red pupils painted on them. The use of 35,000 volts of electricity causes blue sparks to emanate from his teeth.
His feet are fastened to a box, in which there is a twelve-volt electric motor. Inside his body there is another motor, eleven electro-magnets, and about three miles of wire. He can move his arms and his head just as any real man does when speaking.
It appears that Richards deployed two methods of control. One was the use of remote wireless where a hidden person was able to answer the questions asked. One of the articles suggested the technology was used under licence from Marconi patents. Richards says Eric cannot think so he had between 50-60 questions pre-prepared, otherwise the anser was '"I do not know, sir (or madam)" , getting the gender correct further giving away the fact that a hidden person was providing the answers. The second method was the direct control of Eric's movements using voice control by uterring numbers which made a certain rate of vibration on a wire inside the man to the corresponding number to trigger a circuit.
Richards later explored the idea of giving Eric selenium cell "eyes" so that he would see infra-red light and also to differentiate colours. 
Note: 7 Aug 2010: A Reffell relative has contacted me to say that the place of Eric's manufacture was in fact Gomshall, not Comshall as stated, where the Reffell family had a small motor business. The company later manufactured a turning lathe of rather archaic design. Reffell's full name was Alan Herbert Reffell (1875 – 1979) and was an aircraft mechanic during the First World War.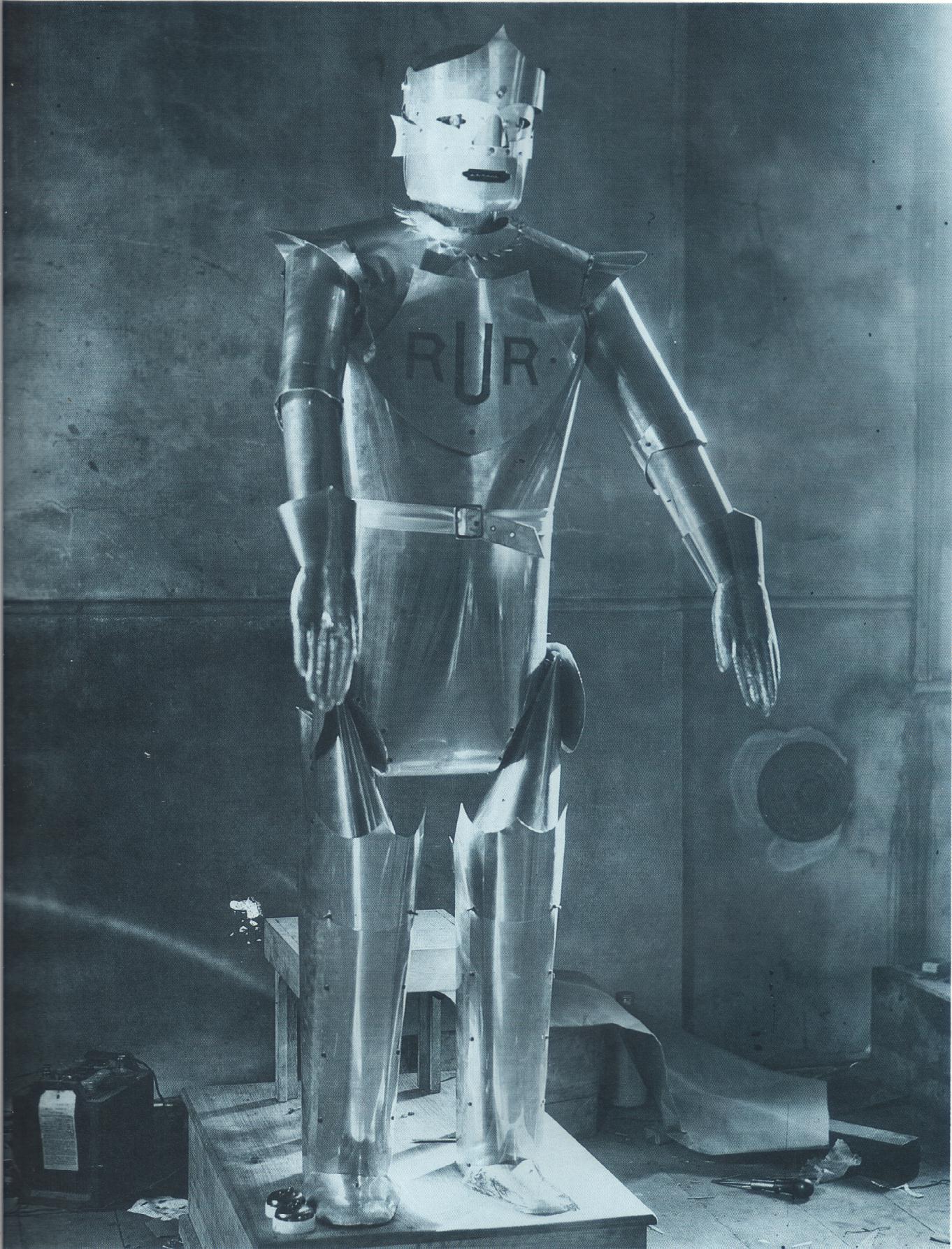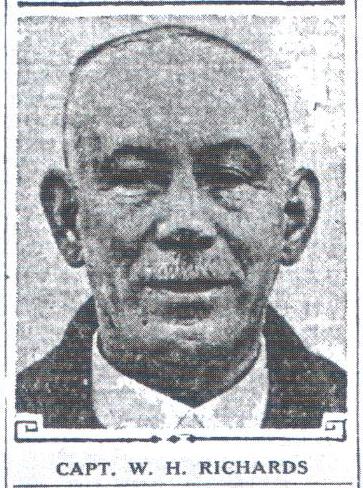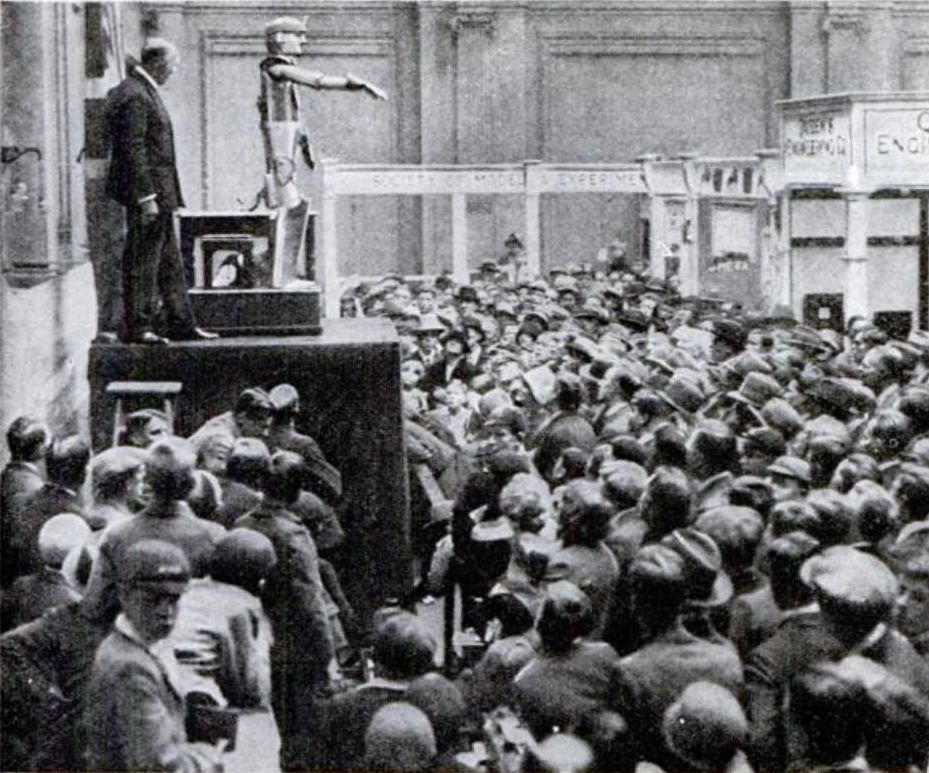 Pic above show Eric giving his inaugural opening address at the Model Engineering Exhibition of 1928.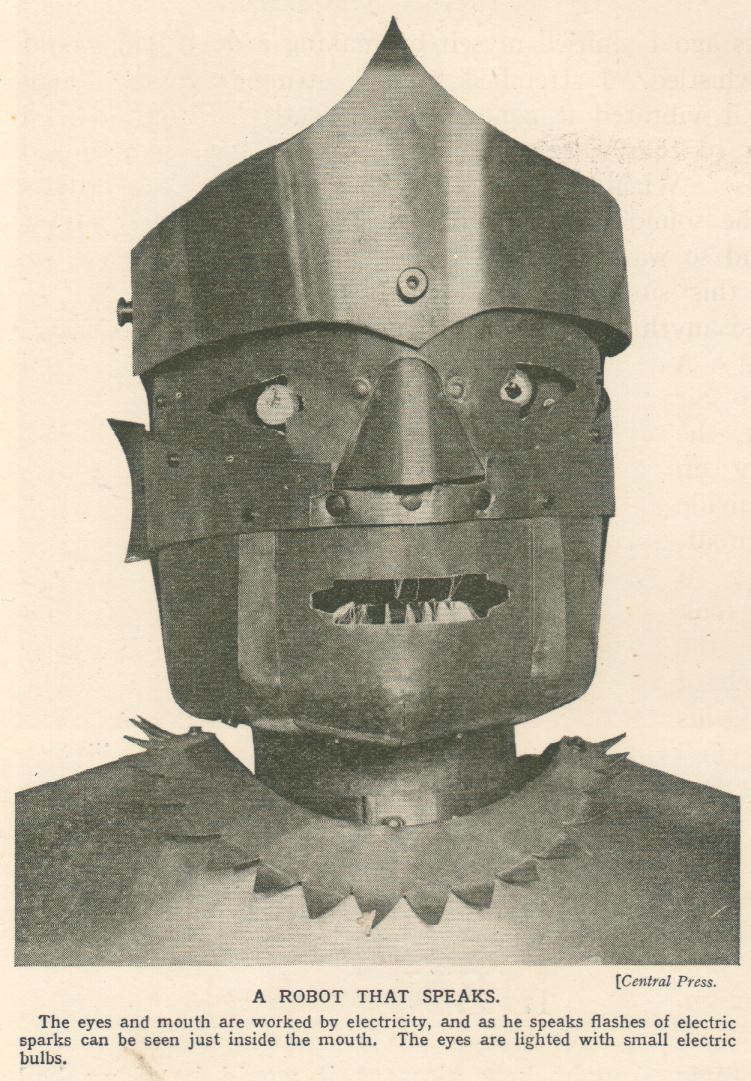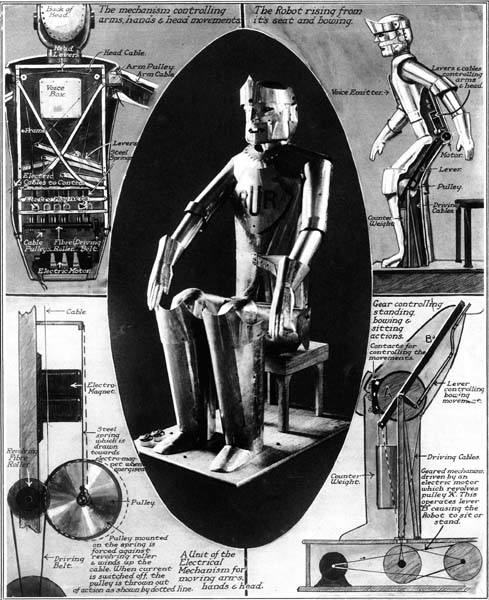 Illustrated London News 1928
 AN ALUMINIUM " MAN " THAT RISES, BOWS, AND MAKES A " SPEECH " : A KNIGHT-LIKE ROBOT.
There has just been completed at Gomshall, near Dorking, the first British Robot, a gleaning thing of aluminium, not unlike a mediaeval knight in armour. whose first duty  will be to open a Model Engineering Exhibition today at the at the Royal Horticultural Hall. Concealed in the body is an electric motor which drives a fibre roller. Just above are several electro-magnets, with steel springs. To the base of these springs are fixed pulleys carrying cables that operate levers which move the Robot's arms and head. When the electro-magnets are energised the springs are drawn to the magnets pulling the edges of the pulleys against the revolving fibre roller. The pulleys revolve, winding in the cable moving the head or limbs as desired. By cutting off current the wheel-face is detached from the roller, and the arm falls back to its normal position. For raising the Robot from its seat, causing it to bow to the audience and resume its seat, another motor is concealed in the platform below the figure's feet, This operates large pulley wheels concealed in the knees, When these wheels are slowly turned, a lever attached to each raises or lowers the man as required, Three contacts on the pulley give the desired positions In the operator, A second lever tilts the body and gives the " bowing " movement, To ease the work of the motor, counterweights in the legs balance the weight of the body and interior mechanism, An ingenious electrical gear (which is the jealously guarded secret of the inventors) enables the Robot to hear questions and answer in a human voice, The Robot has been designed and made in under six months, so that it is but an infant and not yet able to walk, but the inventors state that in time it will be able to use its legs.  At present, however, its chief work will be in the realms of publicity.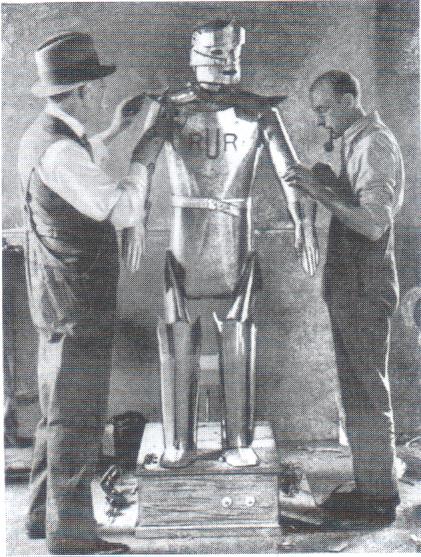 THE MORNING HERALD: WEDNESDAY, MAY 15, 1929.
EXIDE BATTERIES USED IN ROBOT
English engineer brings devices resembling armored knight to United States.
A great sensation was caused recently in New York by a marvelous mechanical creation vaguely resembling a Knight of the Round Table in full armor, speaking with a voice of a man and so arranged mechanically as to rise, sit and move his arms and legs. It Is Eric Robot, with electric eyes and eerie appearance who will shortly visit Uniontown.
The metal giant, according to Mr. Cuppett. the Uniontown Exide dealer, is the offspring of the genius of Captain W. H. Richards, a noted engineer of England, and was born just a few months ago at the Model Engineers Exhibition at the Royal Horticultural Hall, London.
It had the honor of making the first speech in opening the exhibition and its success was such that London parents no longer frighten their disobedient children with talk of the "bogey-man." It Is "Eric. the Robot" who persuades the children into a regular and efficient performance of their chores.
Captain Richards describes the automaton as a creature weighing approximately one hundred and forty pounds or the weight of an average man, and is made of aluminum. It is more than a set of boxes with intricate electrical devices for in appearance it resembles a Knight of the days of King Arthur.
The electrical energy for operating Eric Robot is provided by six standard six-volt Exide batteries similar to those used on automobiles.
There are also three sets of 48-volt Exide batteries for other parts of the ingenious mechanism and upon these constant and dependable sources of electrical energy, the interesting invention depends for its operation and control.
A. H. Refell, chief engineer in charge of the Robot, states, "We have always used Exide batteries and consider them to be most reliable and eminently suitable for our work."
Jules Verne who 50 years ago wrote of marvelous mechanical wonders could not himself have believed a mechanical man such as Eric Robot a practical possibility.
The underlying principles which operate the device could easily be incorporated according to Captain Richards, into other mechanisms to further relieve man from some of the laborious work that he may be required to do in the future.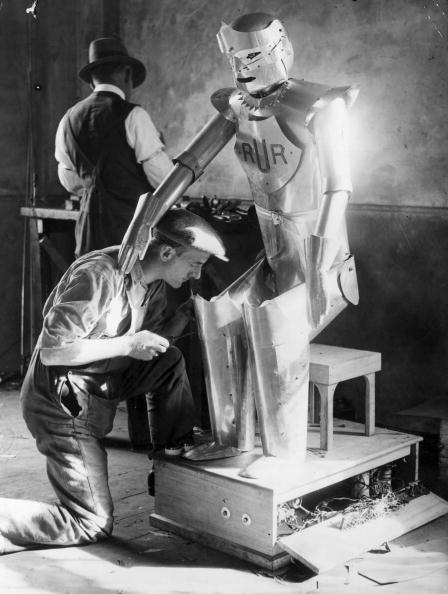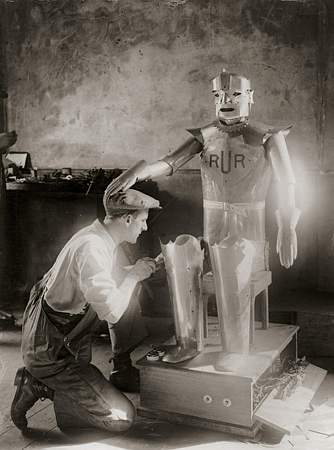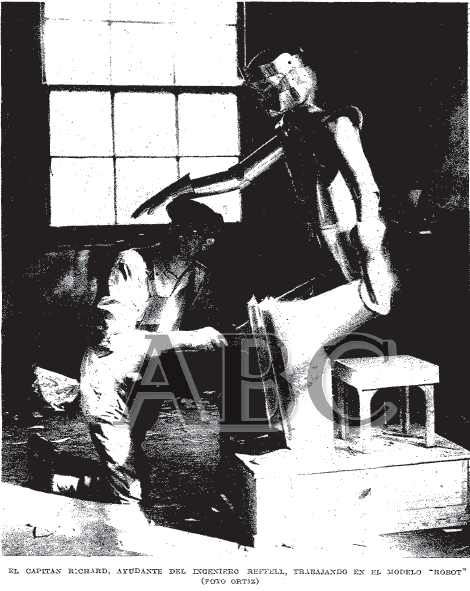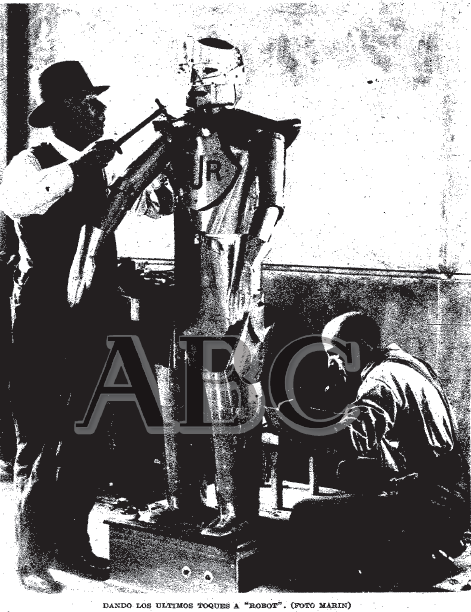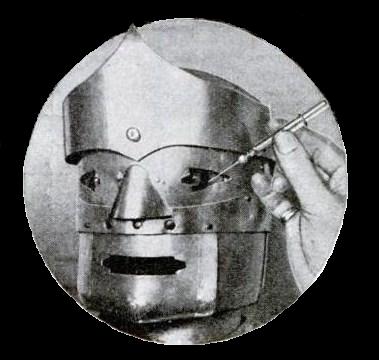 Eric's "eye" getting oiled.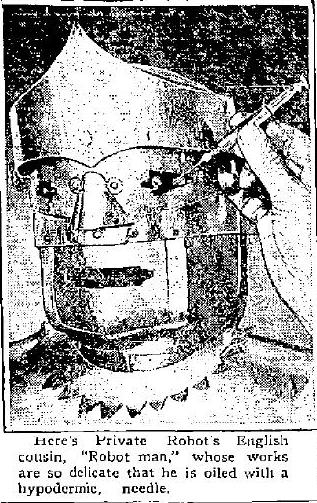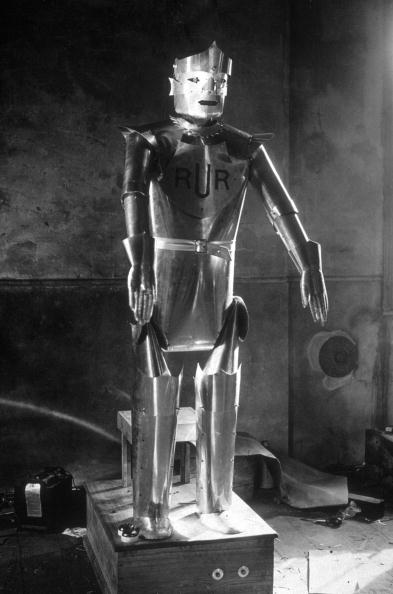 Chronicle Telegram 26 Nov 1928 p14
ENGLISH ROBOT ADDS LECTURE TO REPERTOIRE
Mechanical Man Mounts Platform and Delivers Speech
LONDON'. — Great Britain's newest "Robot" who recently amazed Londoners by walking across Trafalgar Square during the height of mid-day traffic [not Richard's Eric, but A.J. Robert's automaton-RH], has now registered a second sensation in opening the Exhibition of Model Engineering at Horticultural Hall by rising from a chair, mounting the speaker's platform and delivering a carefully prepared speech. Then he bowed, walked back to his chair and sat down again. The newest mechanical man is the creation of Captain W. H. Richards and A. H. Reffell, a motor engineer, and represents a tremendous advance over any Robot that has so far been seen in England. To anyone who asks, he will tell the correct time; he will get up or sit down in obedience to the human voice, and if in the midst of a speech anyone anyone says sharply to him, "Shut up" – he shuts! The only serious work that his inventors have yet been able to get out of him is to make him drill holes either in wood or metal.
"The trouble is that up to the present time it needs two men to see that he does his work," said Captain Richards in describing his creation. "Thus as an economic factor it can't be said that he is paying his way. However, only the future can really reveal what, with adaptions and improvements, the mechanical man may be capable of. The man as he stands is made almost entirely of metal and resembles more than anything else a medieval knight of armour.
His feet are fastened to a box, in which there is a twelve-volt electric motor. Inside his body there is another motor, eleven electro-magnets, and about three miles of wire. He can move his arms and his head just as any real man does when speaking. When given the right word of command he will go through any of his movements."
As to the secrets of the Robot's construction. Captain Richards was not so communicative. "All I can say," said he, "is that in constructing the 'man' we have used the most advanced methods of radio-control. We are working under a license of the Marconi company and are using some of their patents. I can assure you, however, that his speech is produced neither by phonograph record or talking film."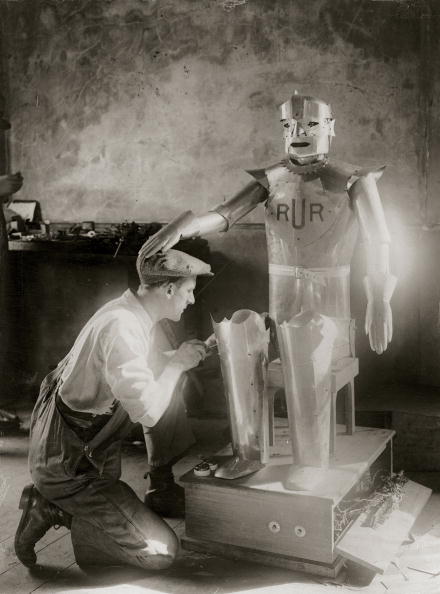 Evening Tribune 29 Jan 1929 p3
"ROBOT" IS A MYSTERY :
"Eric Robert," the 6-foot, 140-pound mechanical man, has come to America, and was exhibited in New York, by Captain William H. Richards, his creator. Here is the account by the  New York Times:
Eric not only talked but he made jokes to prove that Englishmen, even robots, have a sense of humor; stood up, flashed his electric eyes and blue-flame teeth, winked, answered question, flourished his aluminum arms and took many bows. He also, at his master's command or at questions from the audience, gave the correct time whenever that was wanted.
Captain Richards explained that Eric was made of aluminum, copper, steel, wires and dynamos, and moved by electricity. He said while Eric, whom he created nine months ago, required only 12 volts to move, he needed 35,000 volts to speak. How he speaks and how he moves remained a mystery which the captain refused to reveal.
He denied that Eric is manipulated, either in his sonorous, somewhat metallic speaking or in his movements, by anything outside his interior. The audience verified this assertion by surrounding Eric, shaking his hand and opening a door in his back to make sure no one was concealed within him. No one was seen backstage who could have had anything to do with him, and he rambled on, answering numerous questions, quite at ease while he was being investigated.
"He responds," said Captain Richards, "soley to the sound of my voice. He can answer hundreds* of questions, but, of course, not all that are asked him as he has not yet learned to think."
Following Captain Richard's speech telling Eric's history and capabilities and his hopes that he would some day learn to walk, Eric arose, bowed, flashed his eyes and mouth and began:
"Ladies and gentlemen, I am Eric the robot, the man without a soul. It gives me great pleasure to be here with you in New York." He proceeded to murmur such things as "I am impressed by your tall buildings and compressed by your subways" and "the more I think of prohibition, the less 1 think of it."
Eric expressed the wish that his inventor would create a blonde female robot, as he would like to essay companionate marriage, and then discoursed on flappers, Wall street and current topics of the day. Children then filed on the stage, asking him questions, most of which were answered.
Again and again he told his age—nine months, counted to ten. told the time and often he answered "I do not know, sir," or "madam."
Finally the entire audience examined him and the show was over. Eric in appearance resembles a saturnine Sir Galahad, as he is entirely covered with what resembles armor. He is large and ponderous in movement, but his voice is distinct and his syllables clear. He is never offended, never hasty and, apparently, never ill at ease.
Eric will tour the country for several months and then seek continental fields to vanquish. "I don't know what his future will be or what that of his race will be," said Captain Richards after the performance, "but of course it will advance. He will be outmoded sometime, of course."
Eric didn't speak, didn't move, for his owner had pressed a little button a moment before. The only time he had touched him, and he was no longer a talking, moving robot. He was simply a piece of inanimate metal, or perhaps he was sleeping.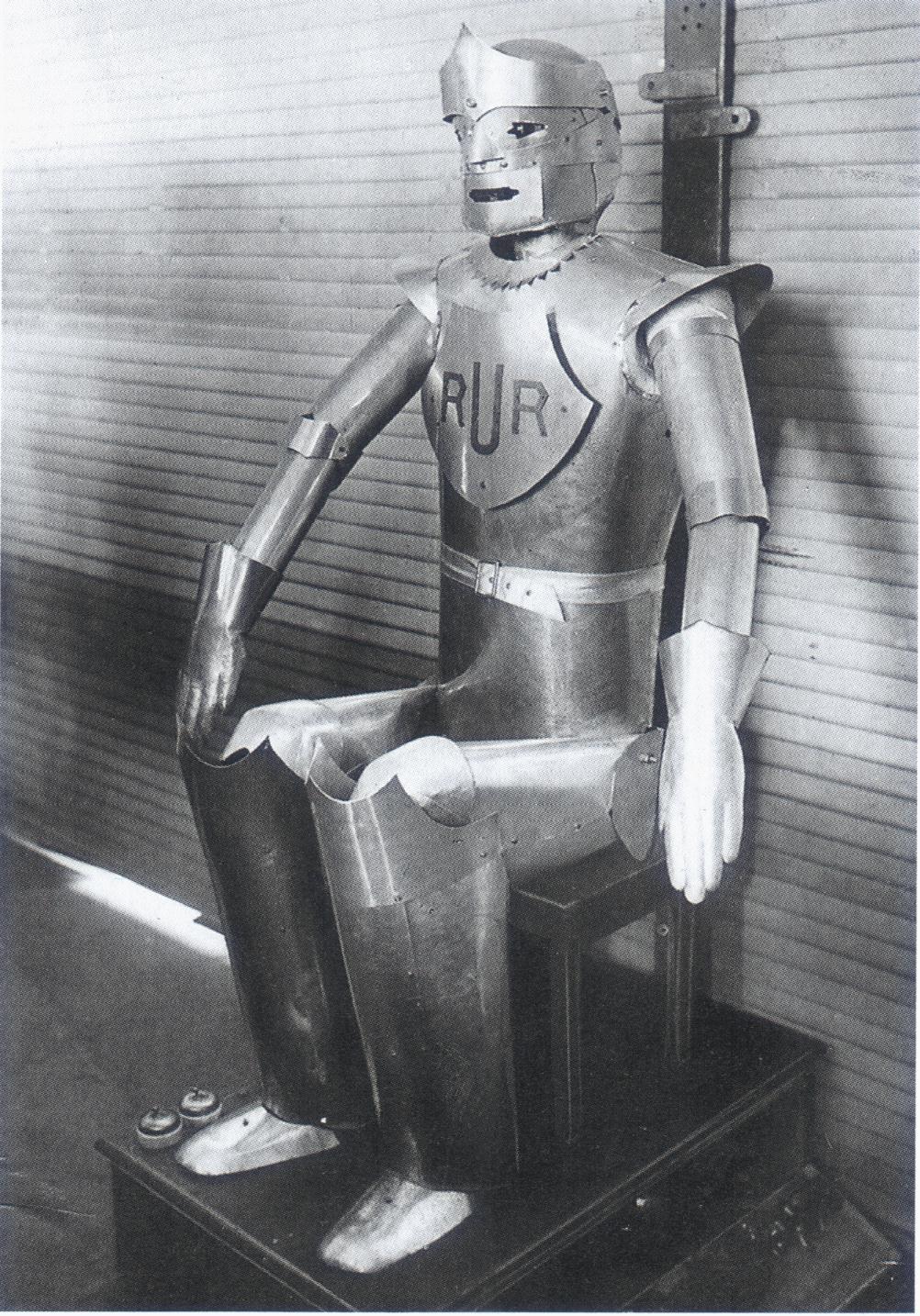 The Crimson -Published On Monday, February 25, 1929
"The making of a mechanical man, a Robot, has intrigued the minds of men for centuries, but only now, in the twentieth century, has man stopped merely talking of it and actually constructed a talking, moving, automaton," said Captain W. H. Richards, the famous inventor, to a representative of the CRIMSON in a recent interview.

Captain Richards, a veteran of the World War, and a noted journalist, told how he came to invent the Robot. "What really caused its invention," he said, "was the need of an important person, to take the place of the Duke of York, in opening the Exhibition of the Society of Model Engineers, in London. Since I was secretary of the organization, I decided to make a Robot who could open the exhibition. After many disappointments, it was perfected and amid much excitement, the mechanical man made his debut."

He arose, bowed to awed spectators, looked to the right, to the left, and, with appropriate gestures, proceeded to give a four minute address."

The Robot moves with human-like movements, talks distinctly and is built in the semblance of a six-foot man. The most remarkable thing about this automaton, is his ability to answer any question within reason. Captain Richards explained that each question had a key number, such as 74, the sound waves of the seven and four combined making a certain rate of vibration on a wire inside the man, which vibrations cause him to give the correct answer.

A great many uses are predicted for the Robot, for example: acting as information clerk at a railroad station, answering the telephone or telling absolutely accurate time. It has already broadcasted over the radio and, by next year, it will be able to sing.

When asked if the mechanical man could walk, Captain Richards stated that without a sense of balance, nothing, on two legs, could walk. At the suggestion of a gyroscope, he said, that the necessary mechanism would weigh far too much and that it would fall at the least irregularity of the path.

The inventor plans to develop his brain-child, by the use of a photo electric cell, and hopes to make it differentiate colors, in the near future.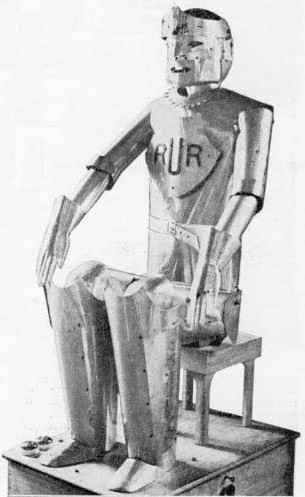 (The Strand – 1929)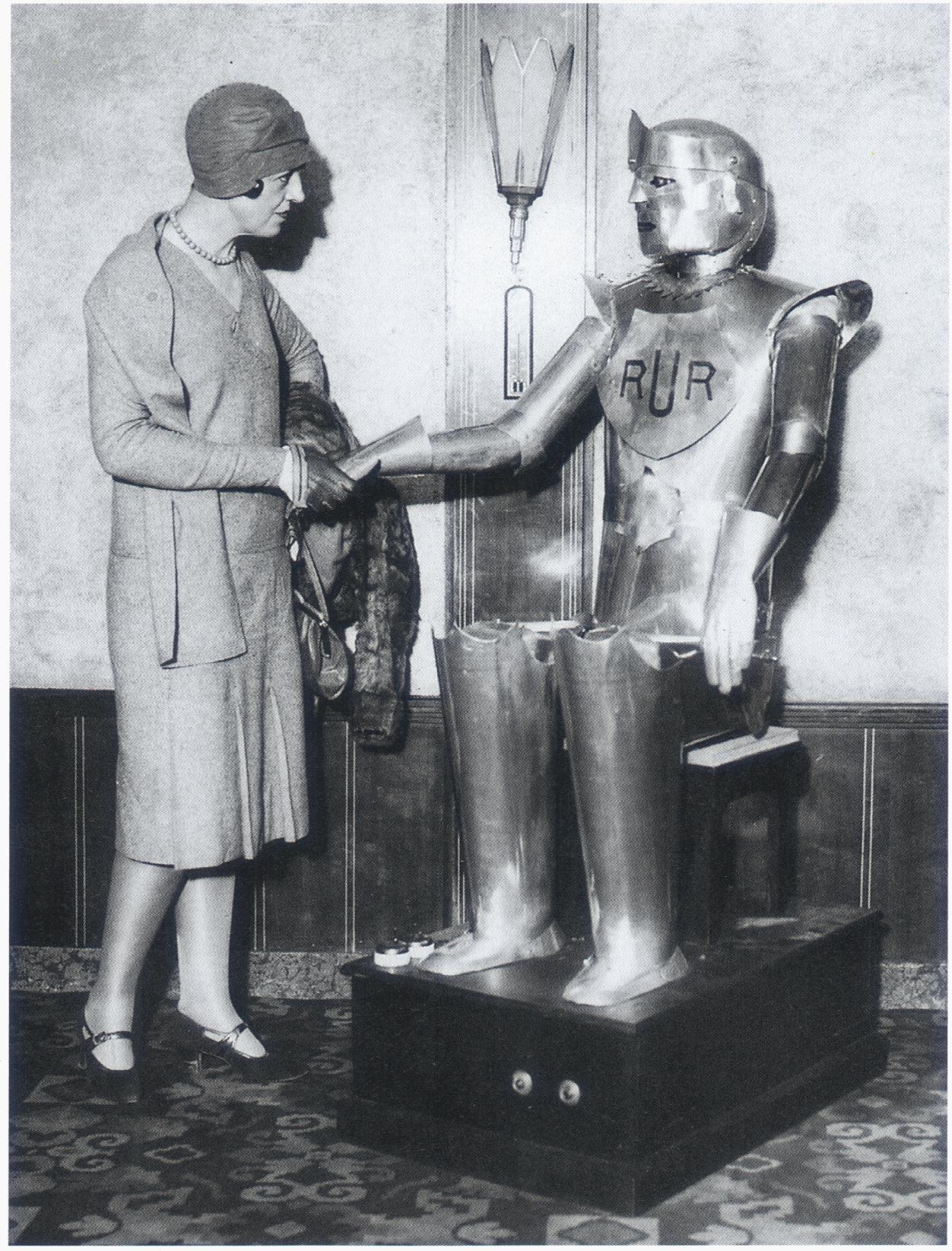 Mr. Eric Robot, the perfect man who does just what he's told and nothing else.  A.H. Refell [sic], British scientist, who invented Robot, the Mechanical Man, brought him over. "Eric Robot," the man without a soul, is shown here being greeted by Mrs. Jane Houston in the lounge of a New York hotel.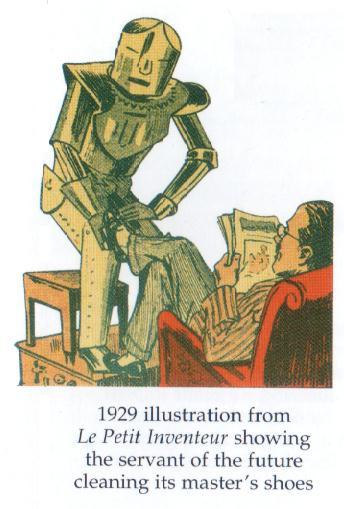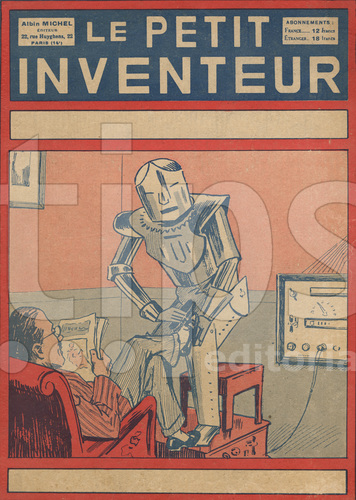 ---
Hamilton Daily News 04 Feb 1929
A New Robot in Town.
Let us learn a moral lesson from a robot.
Capt. William H. Richards landed in New York with a new mechanical man. It did much the same things that other mechanical men have done. There is no particular novelty now in mechanical men. Maybe it did them better, maybe not. No difference. Capt. Richards thinks his prodigy is in advance of all other mechanical men.
Every hen thinks her goose is a swan!
The interesting thing is that Richards never had a day's technical schooling in his life. Any sort of mechanical man is puzzling enough to the onlooker, but his man is especially puzzling. When he speaks to it, it responds. When he tells it to sit down, it sits.
"How did you do it?" he was asked.
Richards had never thought about it before. As a boy he had been interested in mechanics, even to the extent of making a steam-engine out of a tea-caddy, which was so good a steam-engine that it finally blew up.
Mechanical engineering had been his fad.
"Of course, I had to make my living."
He worked at many occupations. He was reporter and soldier and chauffeur and man of various work.
Always good enough to hold his job and gain promotion and save a little money. Engineering was his fad, just as photography and duck-farming and flying and painting is your fad and mine. He made time in which to study engineering.
"I kept out of pool-rooms."
There's the answer to the query:
How shall I win success?" Two answers, maybe.
Keep out of pool-rooms. Use your time worthily.
Have a fad. A fad keeps your soul alive. Dull, constant work would deaden it. Do not forget to play, of course. Play is as necessary as calomel was in the old-fashioned medical-chest. But do not spend all the time you can spare, from work in play. Have a fad.
Stay away from the pool-rooms.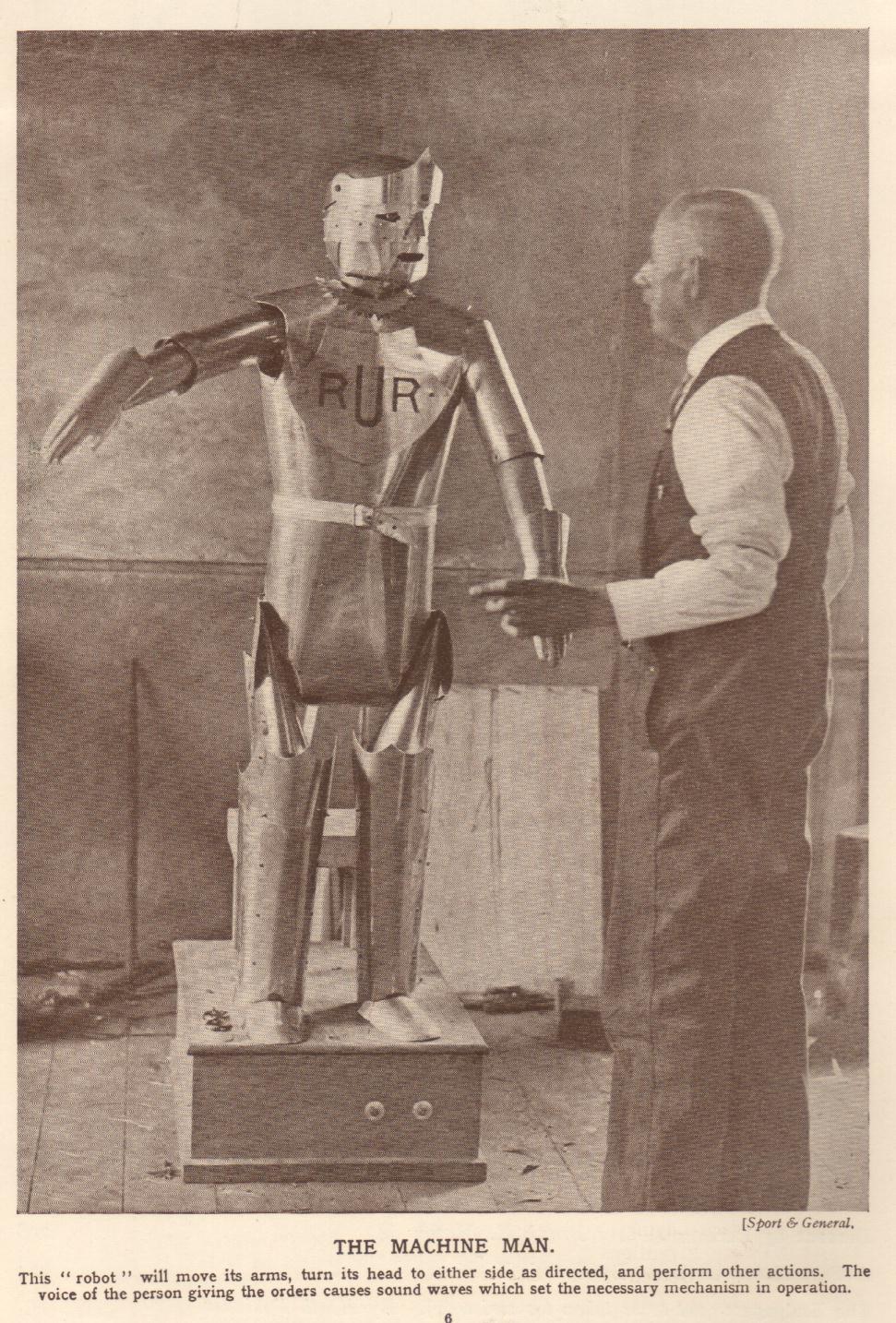 The Tech No.9 1929
……When the Duke of York could not appear to open the meeting, the Captain thought it would be a good idea to make a "man". He had five months in which to work on his robot. "Eric" was completed in time and opened the meeting with a four minute address.
The voice of the automaton is the most remarkable feature in its make-up and a secret jeolously guarded by its inventor. It is a baritone and recalls one of the voices heard in the "talkies". The robot will answer correctly any question asked from a list of fifty or sixty prepared by Captain Richards.
……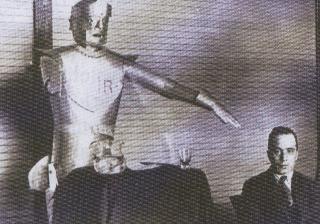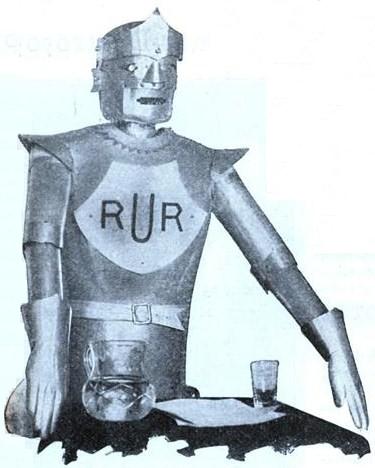 Zanesville Signal 05 Jan 1929 p1
HE'S A PERFECT MAN BUT BIT MECHANICAL
English Invention Is Modern Youth in Everything But American "Petting"
New York, Jan. 6—

"Mr. Robot, do you drink or smoke?"
"I do not."
"Gamble?"
"No."
"Run around nights?"
"Certainly not."
"Married or single?"
"Single."
Girls, what a man! Almost perfect.
He has practically all the qualifications of it good husband.
Now, don't crowd and we'll give you the real low down on him.
He has Just arrived from England and is registered at the swanky Lincoln hotel where he was the object today of admiring glances from the fair sex. You may see later, for he is planning a tour of America. He Is six feet tall, weighs 140 pounds and looks like a knight. He can sing splendidly and how he can talk! He's just about what the doctor ordered except for one thing—he isn't human.
"He's a mechanical man.
Captain W. H. Richards, engineer, soldier and journalist, who built him, has him in tow. This mechanical wonder talks, rises and sits down, and performs various simple operations.
Some day, in the opinion of Captain Richards, the robot will be able to do many of the chores and less intricate labor now done by low-wage workers.
The mechanical man created a sensation in England several months ago at the Model Engineer's exhibition in London. The Duke of York was unable to attend, so the robot opened the meeting.
"Ladies and gentleman, unaccustomed as I am to public speaking, it affords me great pleasure to address you," said the mechanical marvel in his polished, monotonous voice, Are his speeches extemporaneous?"
Captain Richards was1 asked by International News Service.
"No, he is like many of your American speakers. His addresses are prepared in advance."

As a fillbusterer in the United States senate Eric Robot would be a smashing success, Captain Richards admitted. He can talk for hours and he pays no attention to heckling.
"Ask him the time and he'll tell you exactly—Western Union time within thirty seconds of what the clock says," Richards declared.
The robot of the future will be used for many purposes, the captain said. He could, for example, be adapted for the job of a night watchman. He could shout to the police over the telephone. He has stood up to a bench and operated a manual drill so he could be used to turn out repetition work.
Since he is a good singer, four robots, obviously, would make a quartet. For proper harmony all that would be necessary would be to make one a bass, another a tenor, and so on.
"He would make a formidable burglar trap," the inventor remarked "In time he will be of real practical use to industry. Now I'm merely putting him to work for exhibition purposes on our tour."
The mechanical marvel is operated by electrical equipment. He does only what be is told to do.
He rises, signals and sits down by means of an electric motor, electro-magneto, pulleys and levers.
His exterior is of shining aluminum. His eyes are white bulbs with red pupils painted on them. The use of 35,000 volts of electricity causes blue sparks to emanate from his teeth. This heightens his sepulchral appearance.
"I hope eventually to give him eyes that will see." said the inventor.
I am adapting the selenium cell to the robot in the hope of accomplishing light and used in conjunction with the ultra-red ray. This may enable the robot to get photographic impressions.

Then he'll almost be a real man."
Eric Robot, you see, is gradually coming to life.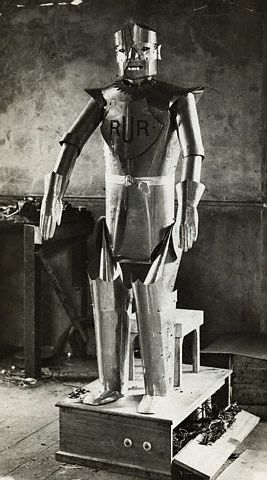 ITNSource / Reuters have some film footage of the opening speech, but unfortunately there is no preview available.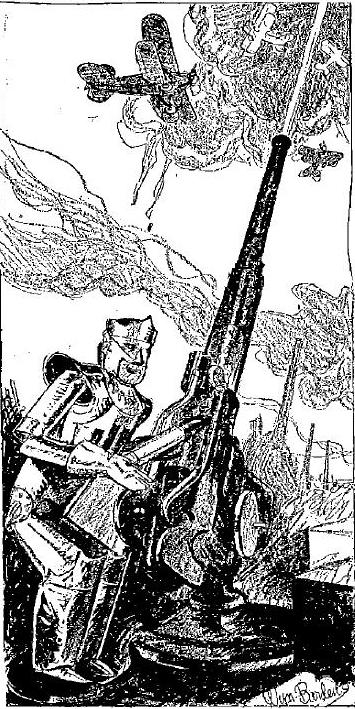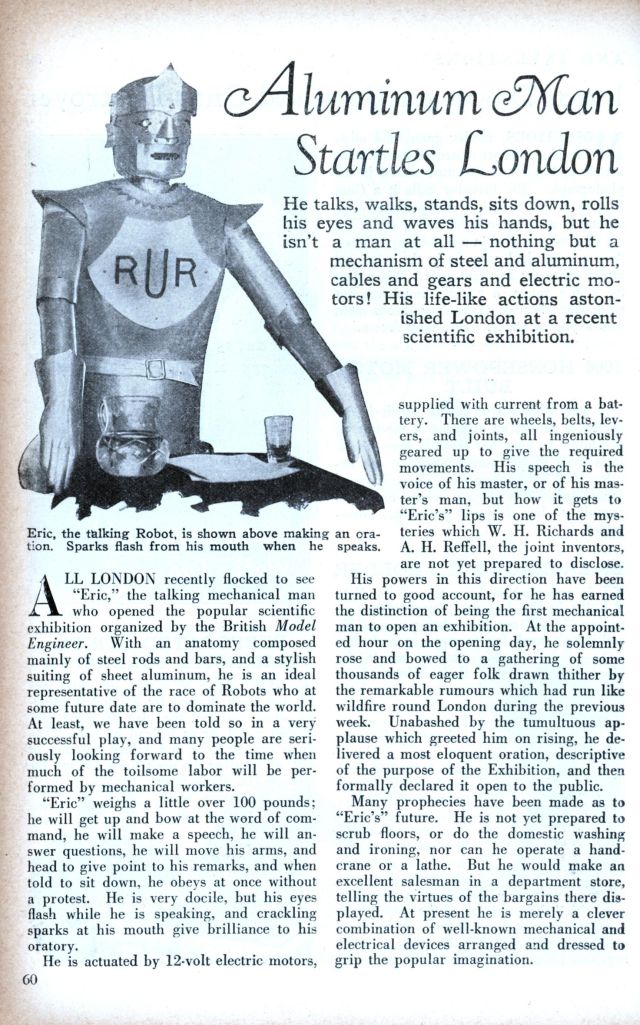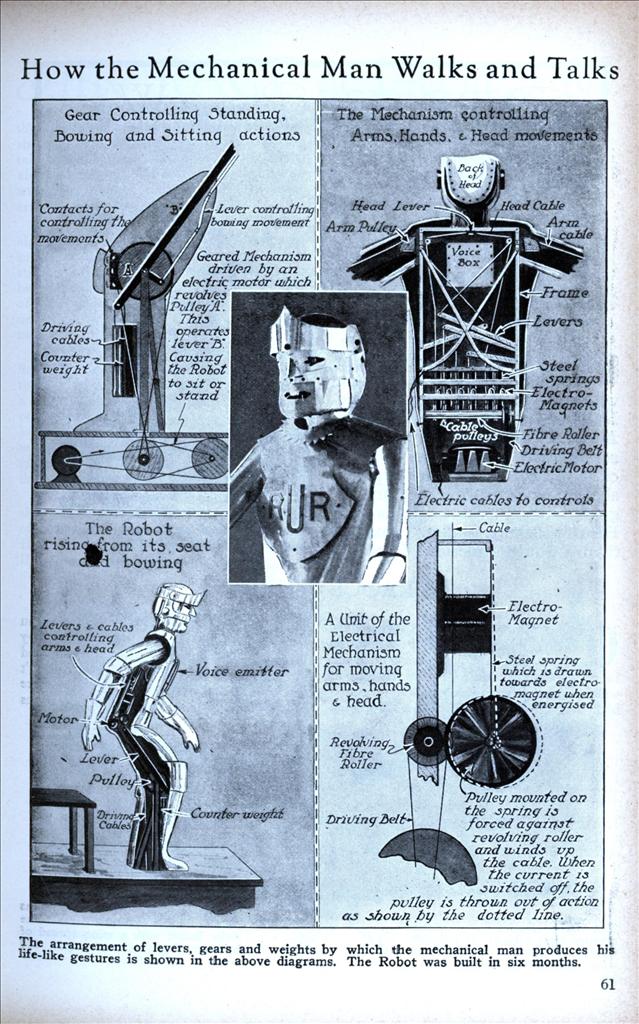 Modern Mechanix, Jan 1929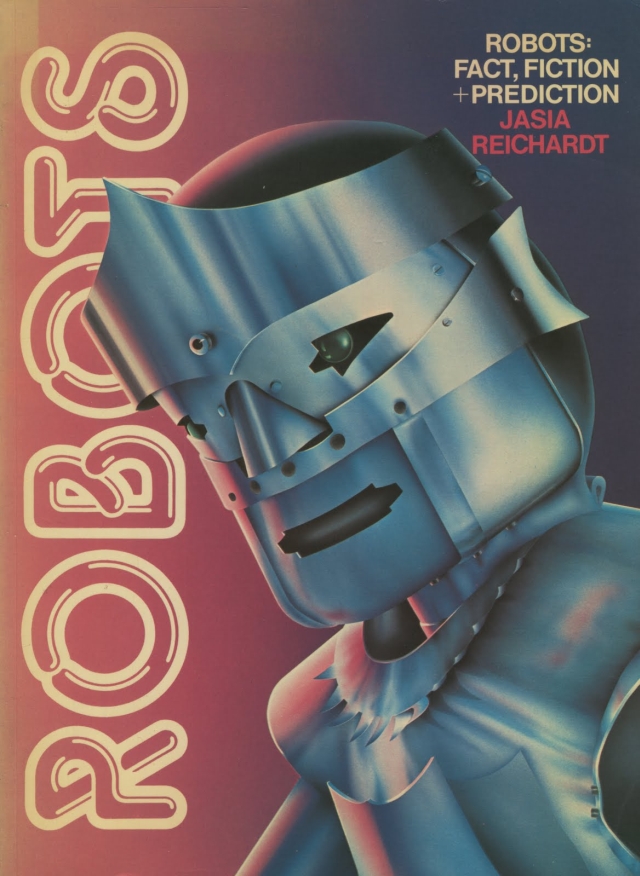 ---
In 2002 a replica of Eric was built in Japan for an exhibition titled (in English): The Asahi Shimbun, Culture and Sports Business Exhibition "Miracle of Astro Boy".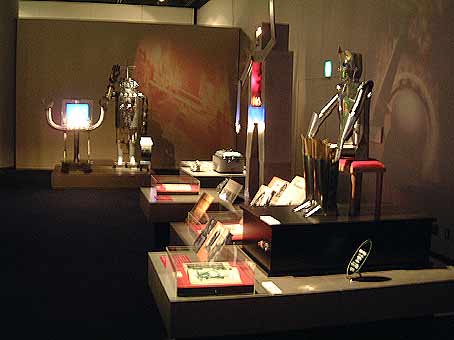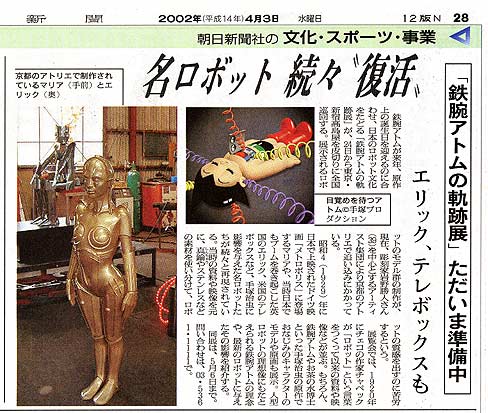 In good company with replica robot from Metropolis…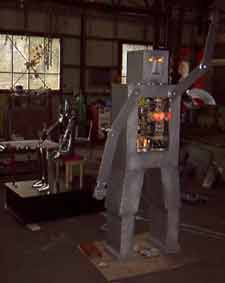 … and replica Televox (in studio being assembled) ….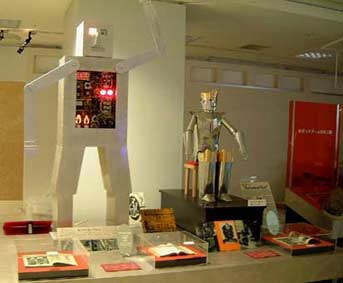 … and finally on show with Televox.
---
Capt. Richards did build a more improved robot called "George". See here for more details.
---
Tags: 1928, A. H. Reffell, Alan Herbert Reffell, Capt. Richards, English, Eric, Humanoid, R.U.R., Robot