1969 – GE Walking Truck – Ralph Mosher (American)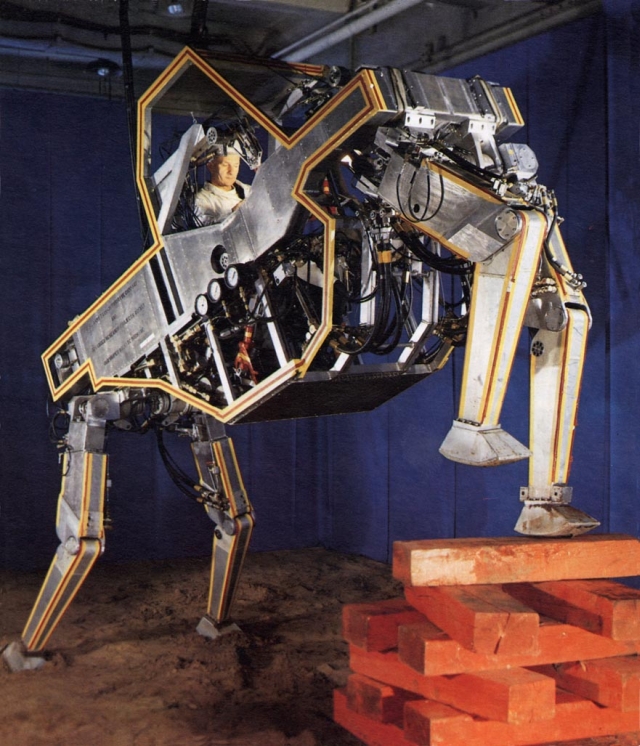 Beginnings:
The Times Record – 24 July 1962 p13
From as early as 1962, the General Electric Ordinance Dept. in Pittsfield, Mass., undertook a study for the US Army which may lead to the building of a manned walking machine, with arms and legs, ….. where tractors might get stuck.

The mechanism for which the Boston Ordinance District has awarded a study contract, would be called a "pedipulator." It would be designed for rough or muddy terrain and its 12-foot legs would hike at 35-mile speed.

The human operator, who would be coupled directly to the mechanism, would walk inside the big machine and the 12-foot legs would take the same steps. The arms of the machine would follow the movements of the operator's arms.

Two or three machines might be lined up like men carrying a stretcher, or a litter, and thus transport equipment or men. The body of the pedipulator would be big enough to hold, besides the operator, electronic circuits, servo units and power drives.

An important element is making the human operator comfortable during extended periods and this will involve human-factor research.
By mid 1965, impressed by the results of the 'pedipulator", the Department of Defense and the Army Tank and Automotive Center asked GE to turn-out a semi-amphibious four-legged, cargo-carrying CAM (Cybernetic Anthropomorphous Machine). It was unveiled to the public in April 1969.
I've just loaded up a compiled video clip sourced from some vintage material I have. See youtube here.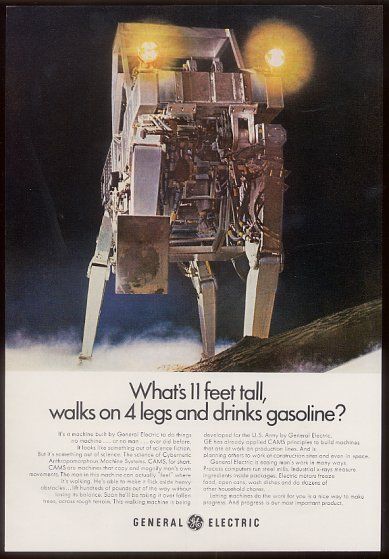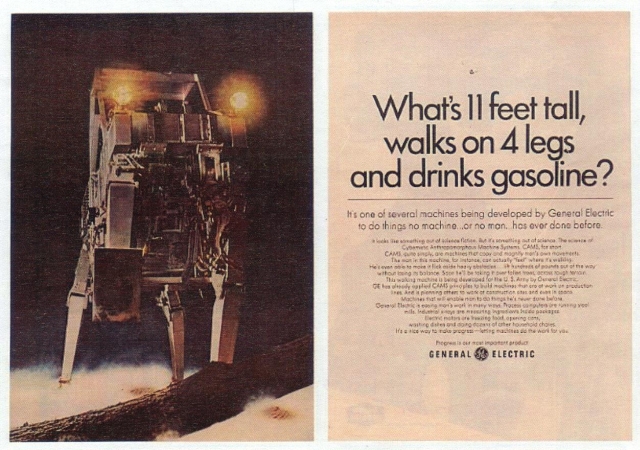 ---
Wooden Mock-ups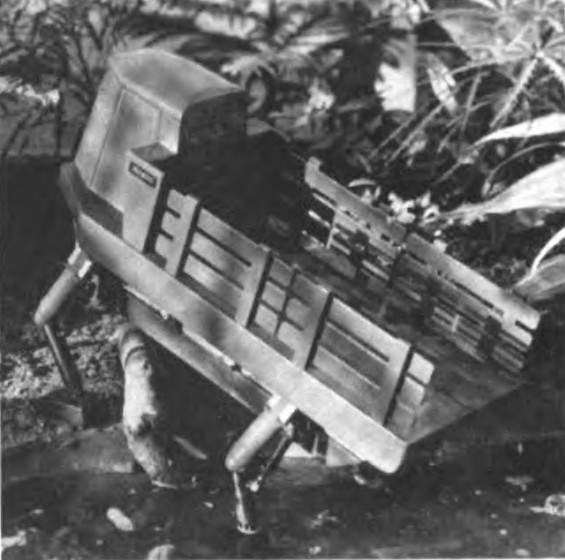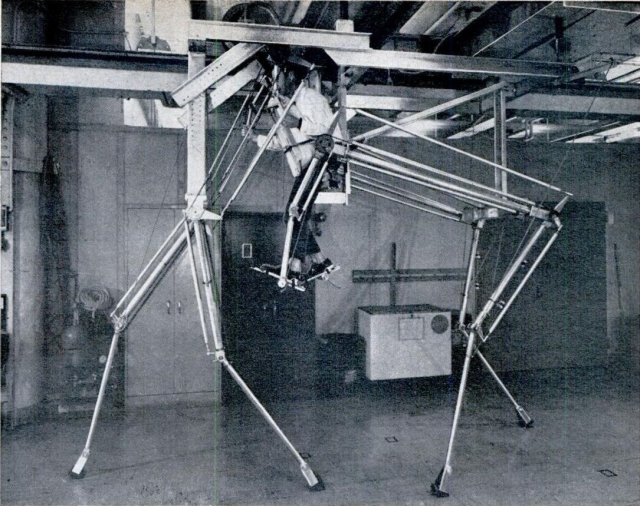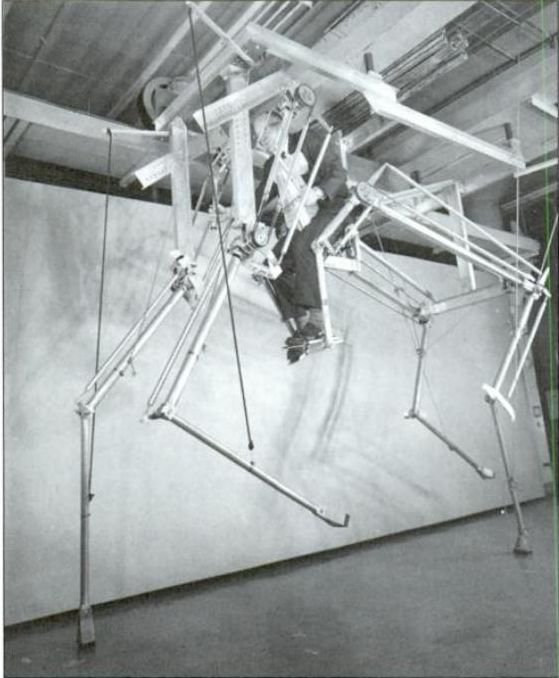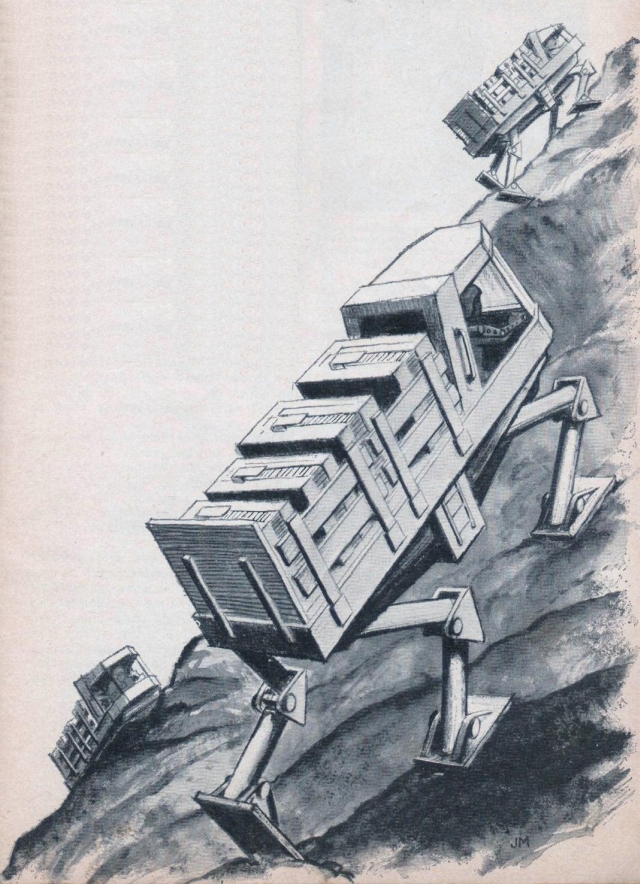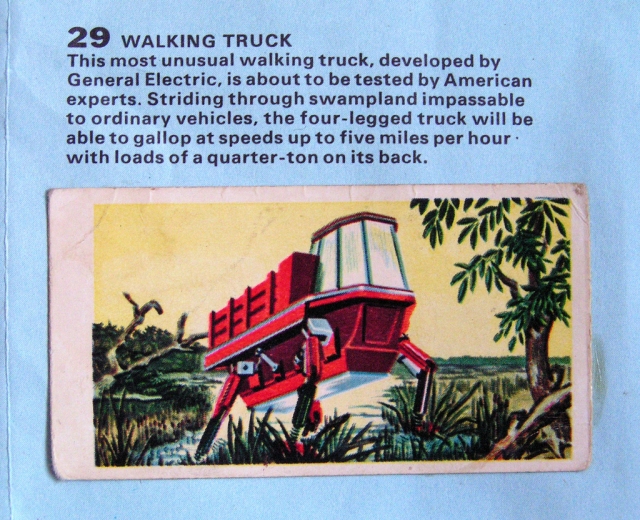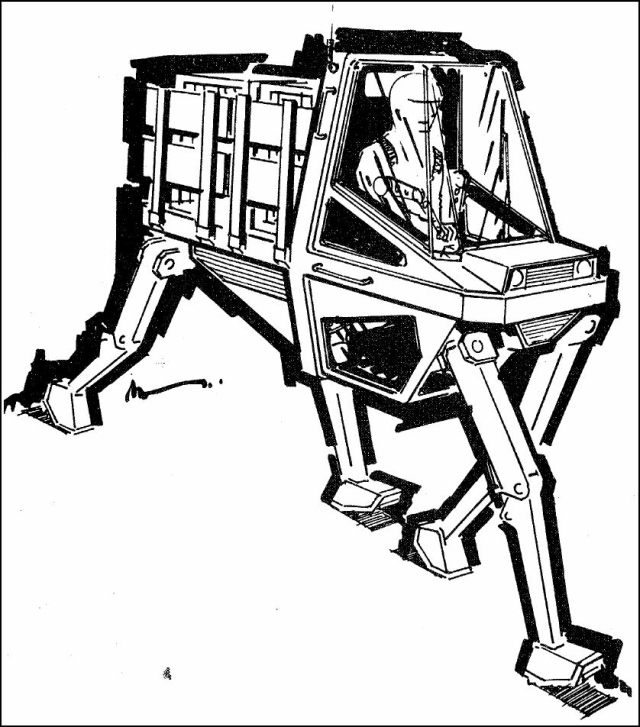 Earlier concept drawings had the operator mounted forward, not middle.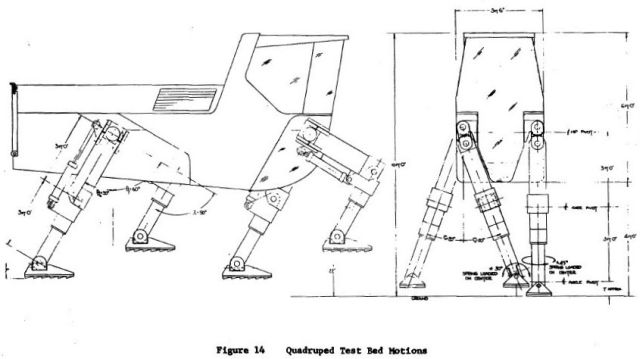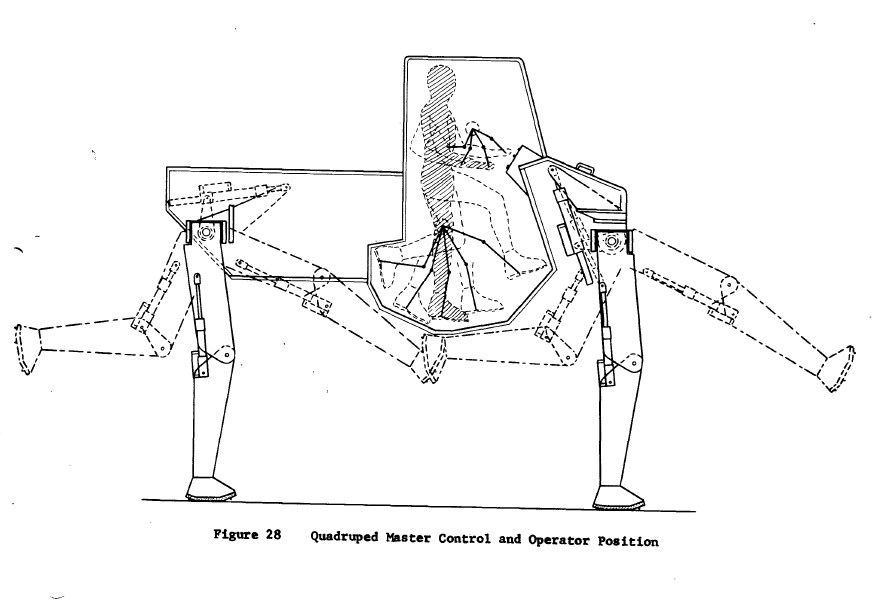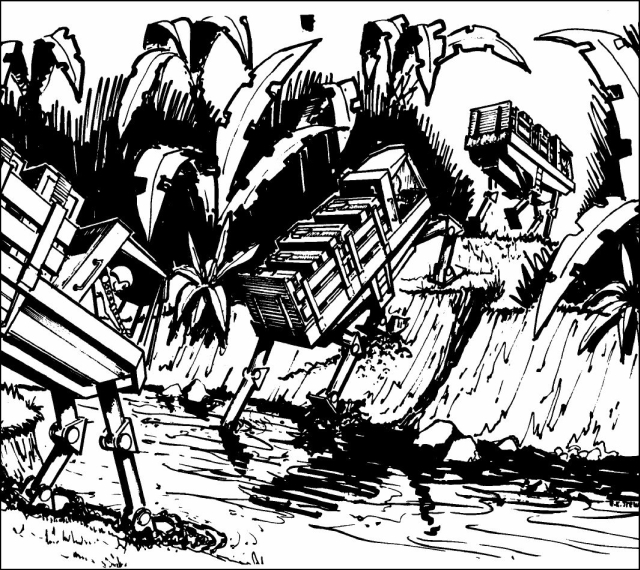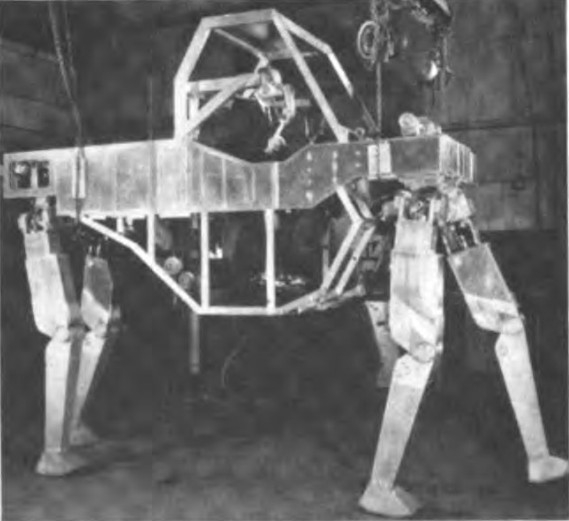 The Walking Truck partially constructed.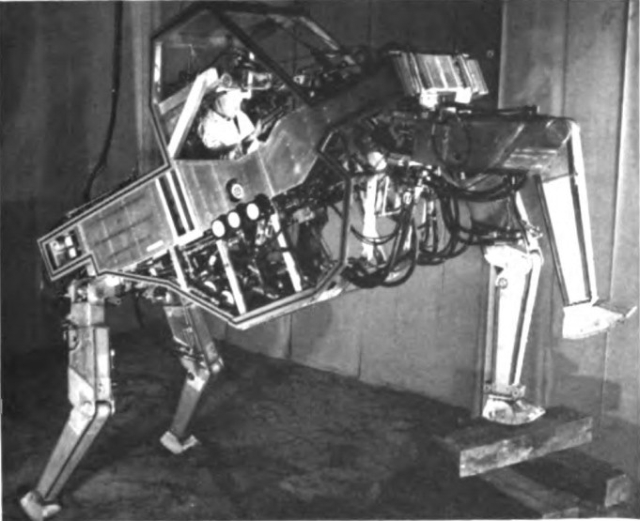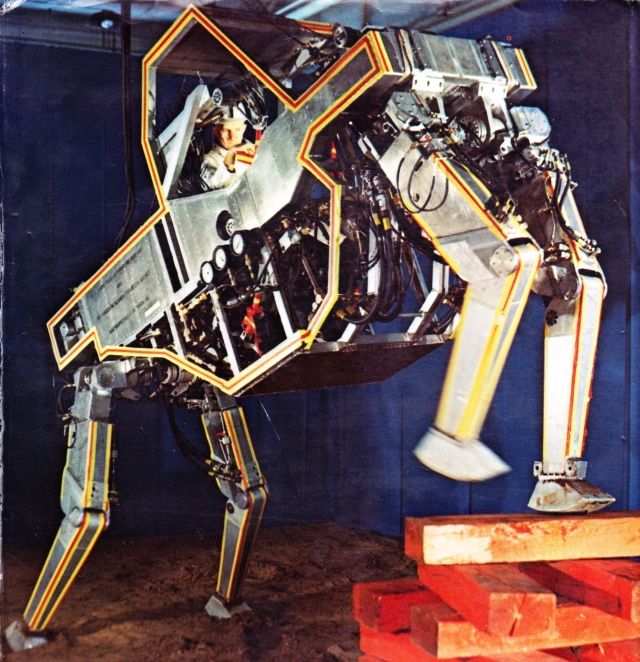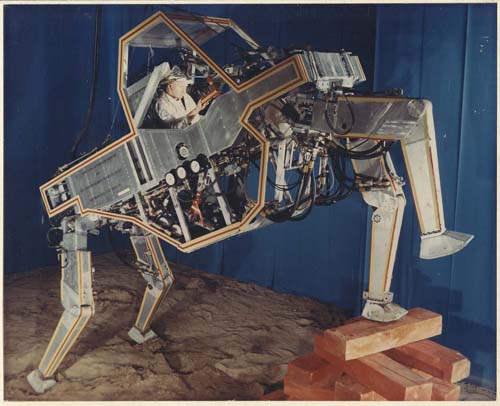 Left-leg raised.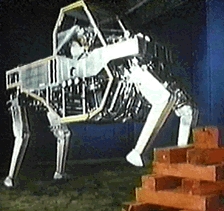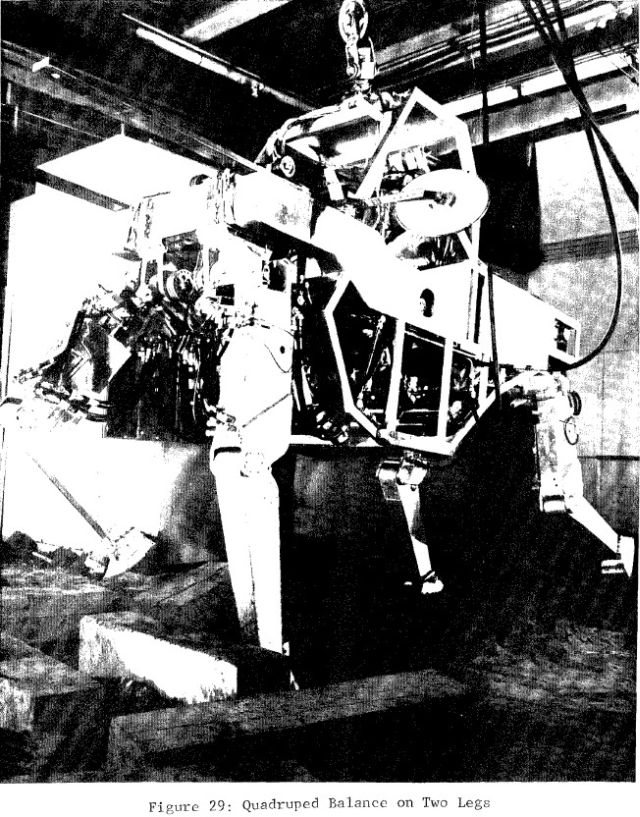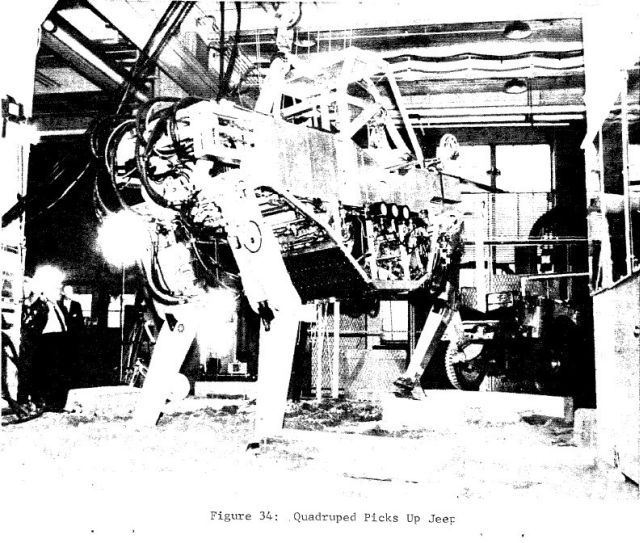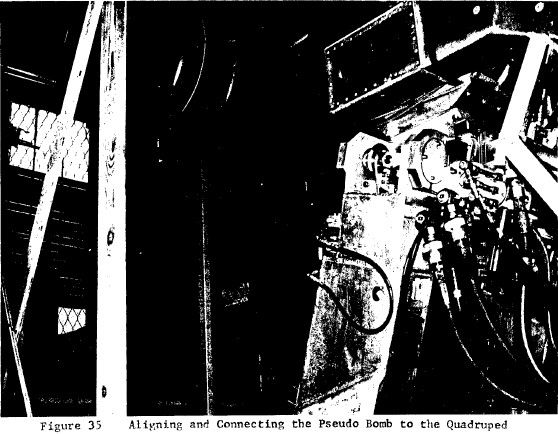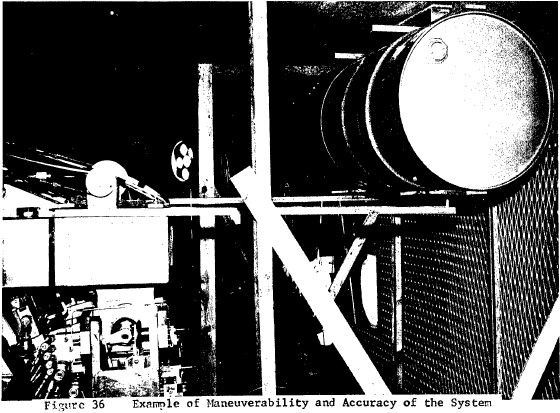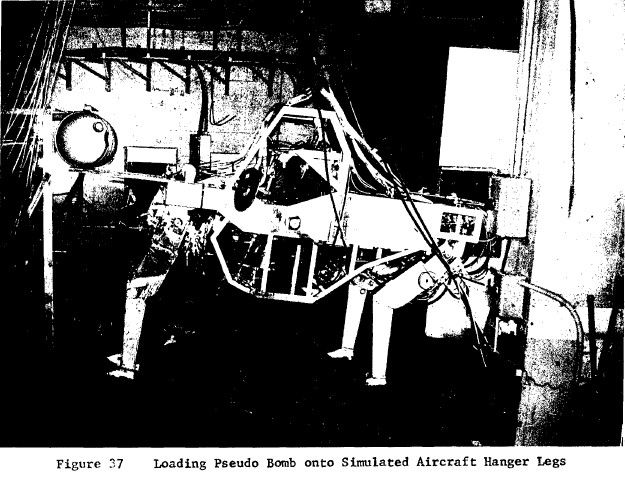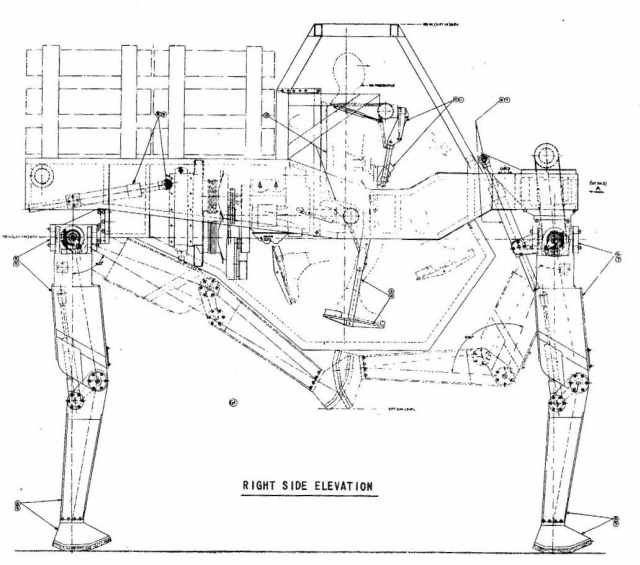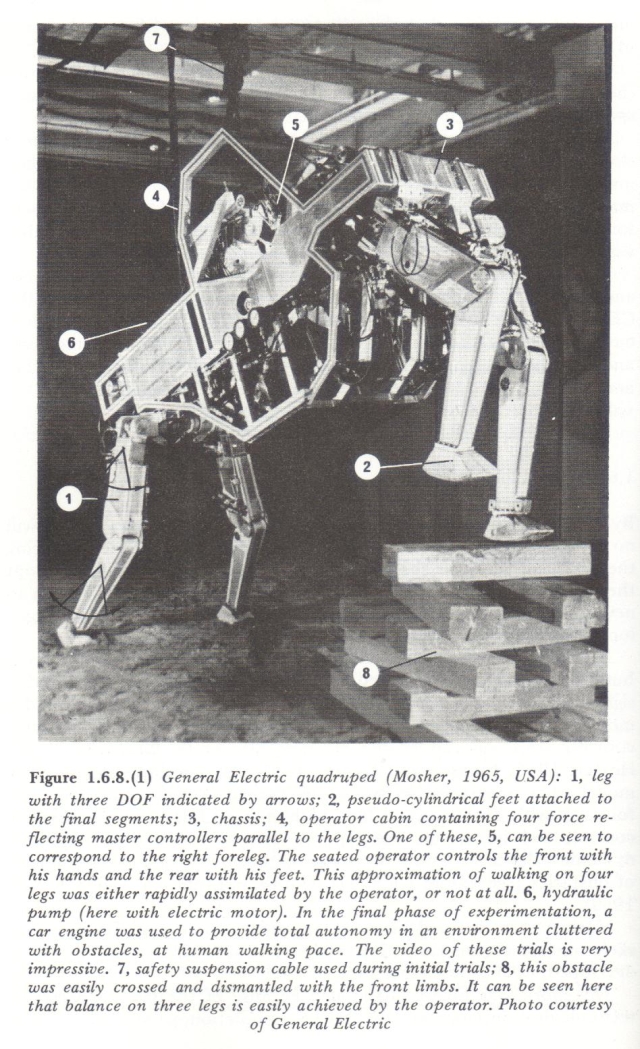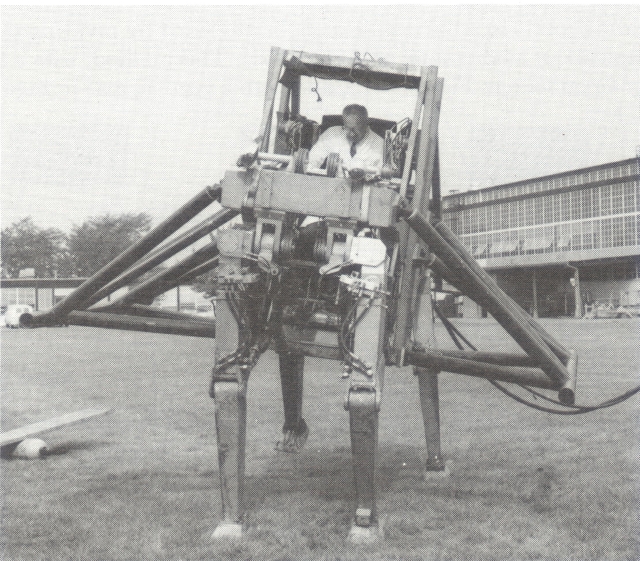 Towards the end, now being tested outdoors, the "truck" now sports stabilizing bars in case of a fall or loss of balance. The rate and volume of hydraulic oil (50 gallons per minute) requires external hook-up. Above image from US Army Museum site here.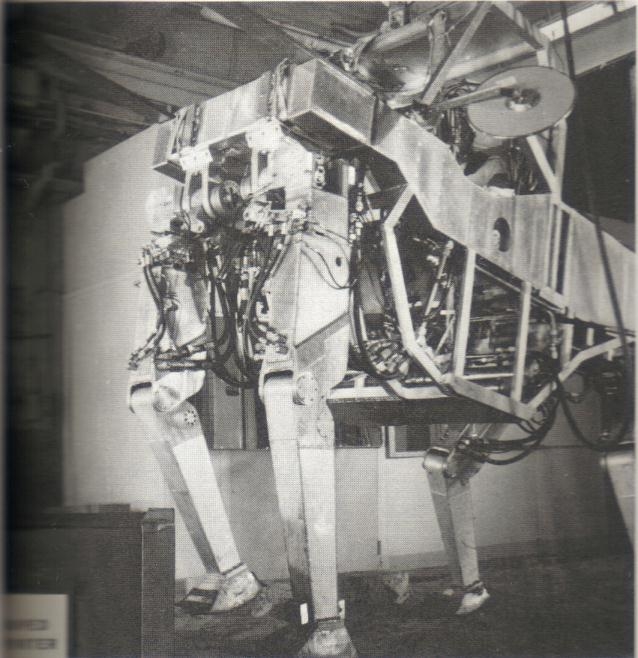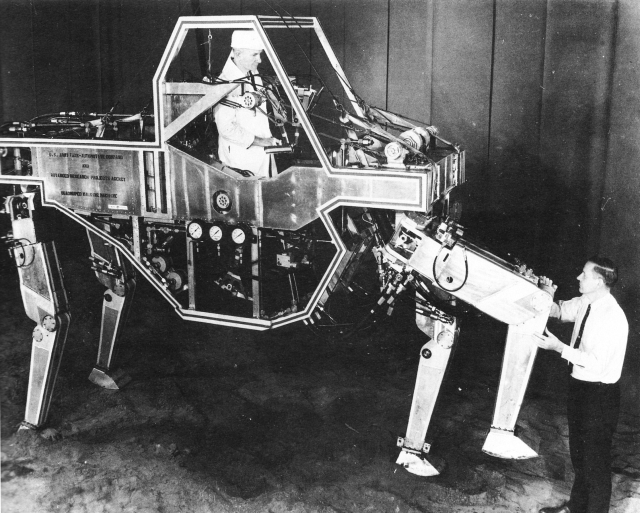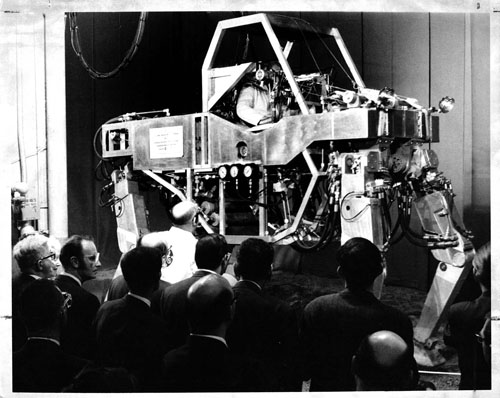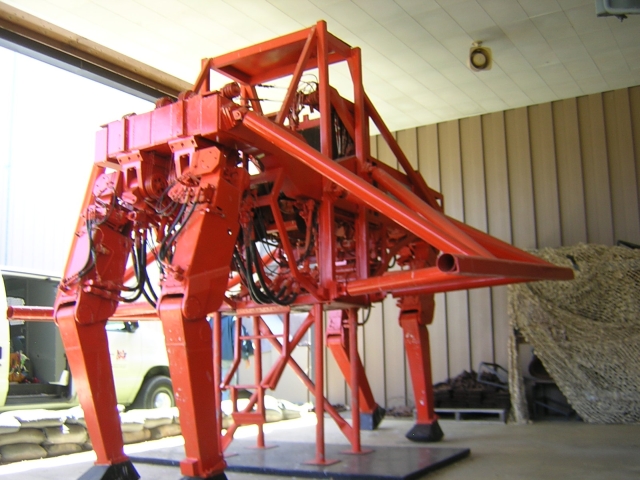 The GE Walking Truck currently resides at the US Army Transportation Museum at Fort Eustis. (picture from flickr – author?).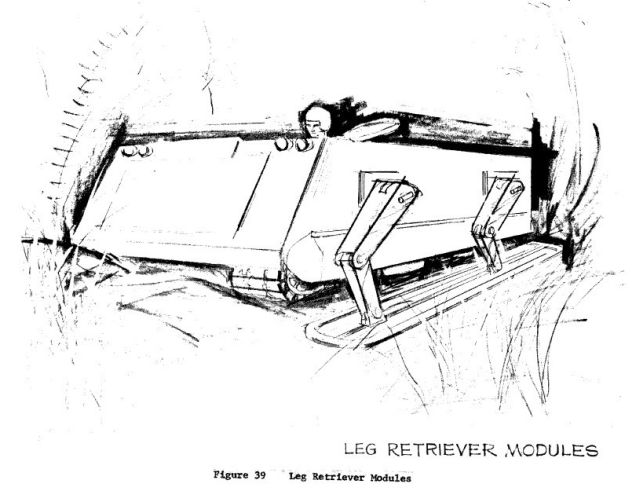 The CAM legs as adapted to a tank.
---
Meccano model by Hugh Henry described by Tony Brown.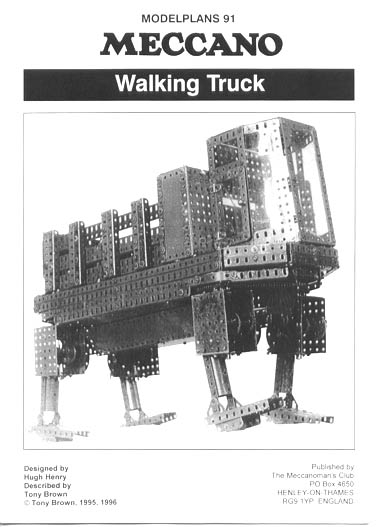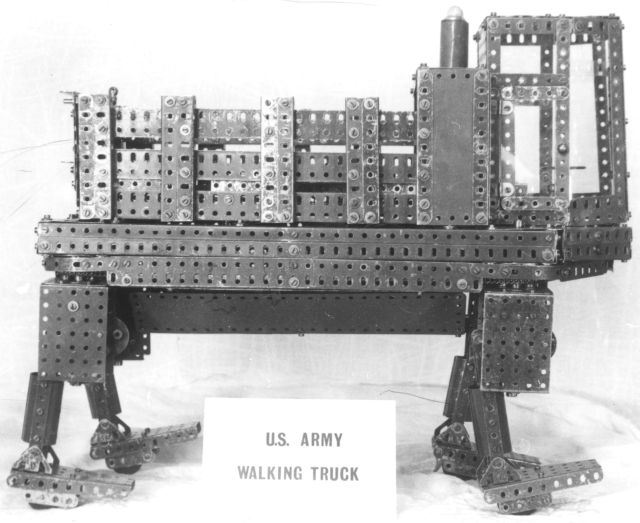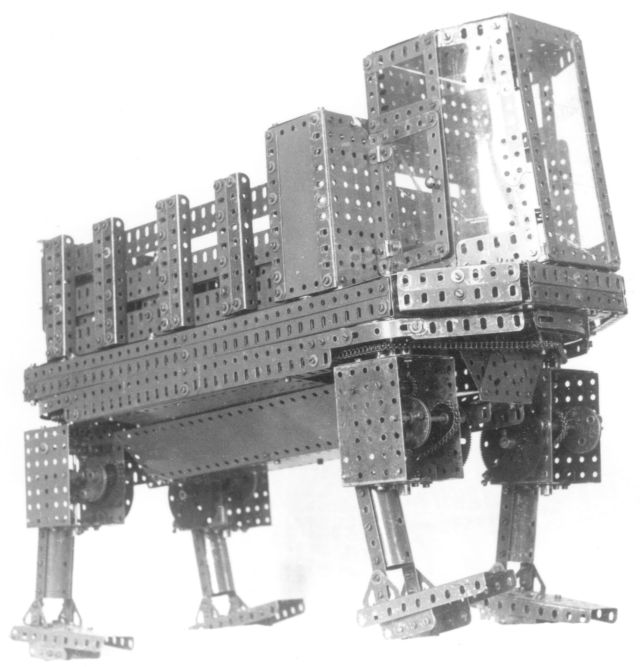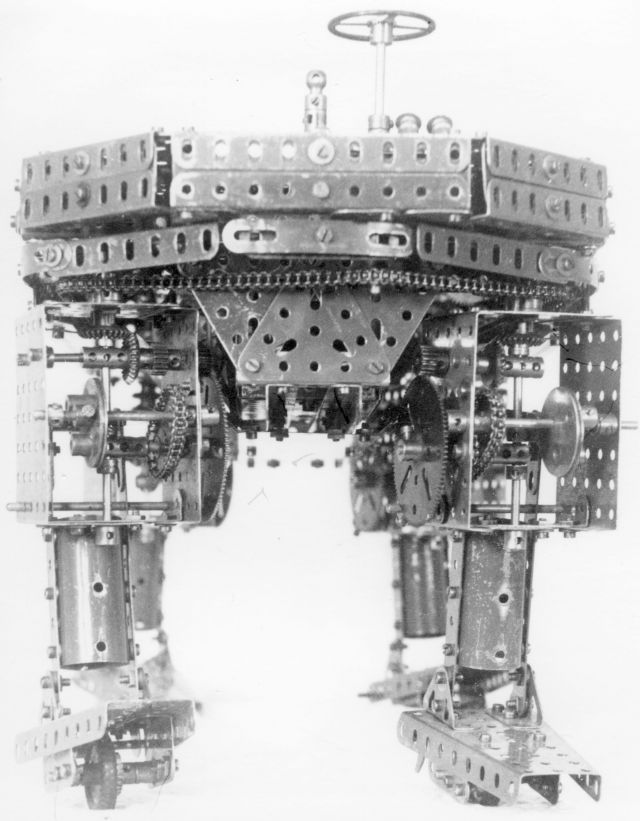 For a complete set of images see the NZ Meccano web site here. Thanks Antonio Gual for encouraging Tony Brown (the author of the Modelplan) who found some pictures of Hugh Henry's original.
---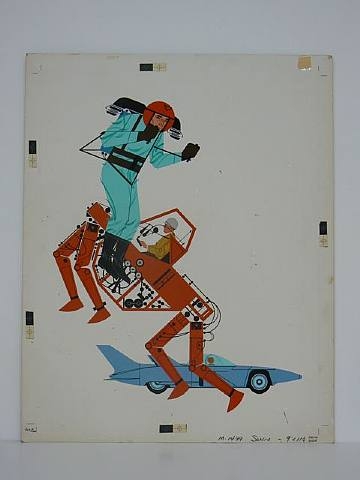 Charlie Harper artwork.
---
See other GE CAMS here:
---
Tags: 1969, CAM, CAMs, Cybernetic Anthropomorphic Machine, Cybernetic Anthropomorphous Machine, GE Walking Truck, General Electric, Quadruped Walking Machine, Ralph Mosher, Walking Vehicle