1919 – Giant Walking Mechanical Man – Fern Pieper / Chas. Oehler (American)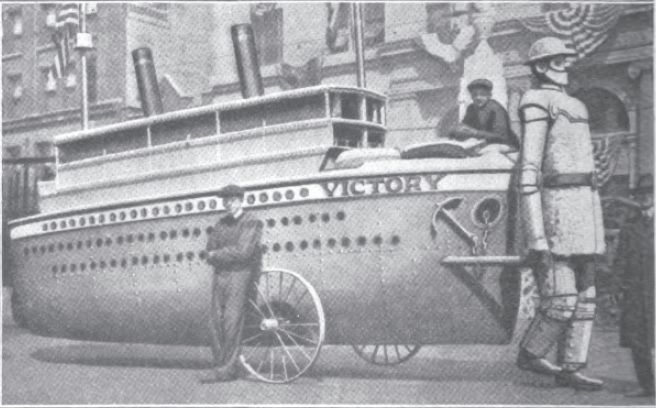 GIANT MECHANICAL MAN WALKS CITY STREETS
For centuries mechanicians have busied themselves with mechanical figures, or automatons, Which could imitate the actions of men and beasts. They have devised mechanical butlers, flute players, buglers, tambourine players, and chess players; but it remained for an American inventor to build the steel pedestrian Which draws along the city streets a Wheeled float weighing more than a ton. The inventor is said to have devoted $15,000 and 6 years of experiment to perfecting the work. After several failures he adopted the present system of gears, cams, and cranks operated by the 20-hp., four-cylinder engine in the float. The big fellow is controlled quite like an automobile, with a throttle, clutch, and steering Wheel. He is 12 ft. high and Weighs 2,500 pounds.
This Iron Man has Marched with His Ship in Many City Parades. The Inventor Spent Thousands of Dollars and Several Years of Experiment on Previous Unsuccessful Figures. Finally Designing This Giant Which Weighs a Ton, and is Driven from the Ship by a Regular Set of Automobile Controls.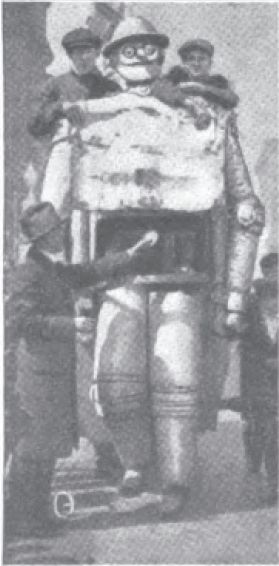 At the left (above) the Inventor has removed Part of the Coat to Permit Lubrication.
(Source: Popular Mechanics August 1919)
---
Most likely this giant iron man is the concept of Fern Pieper as improved by Chas. Oehler.
Source: Alton Evening Telegraph, April 13, 1918
MECHANICAL MAN BREAKS DOWN ON TRYOUT.
Man Who Did Not Understand Mechanism Got Machinery Out of Order and He Had To Be Pushed Home.
An "iron man" who can walk and may be a regular Percy, the mechanical man, was taken out for a walk Friday afternoon, by a man from St. Louis, who wanted to test out the man prior to closing a contract to have him rigged up to help roll Liberty Loan bonds. The man was in a shed at the home of Chas. Oehler, who has been perfecting the ground work laid by Fern Pieper, whose ideas originated the walking mechanical man. The St Louis man could not wait, it is reported, until Mr. Oehler could be found to take the man out for a walk and the result was a crank broke in the mechanism of the man. The mechanical man would not walk any further. A new crank was made and that was broken, too. Something had gone wrong. The mechanical man was at last pushed by six other men back to his shed where he will stay awhile. It was planned to use the man in parades to advertise the Liberty Loan. He could not be put in shape for use in Alton next Wednesday, it is feared, but the St. Louis man was so attracted by the possibilities of the man he wanted to use him in a hurry. The "man" walked to Ninth and Alby streets, where he stuck. He had previously been out walking on the streets at midnight, so he would attract less attention.
See here for pics.
---
Tags: 1919, American, Chas. Oehler, Ferdinand Pieper, Fern Pieper, Mechanical Man, Vern Pieper, Walking machine