1978 – SCORPIO ROV – (American)


SCORPIO (Submersible Craft for Ocean Repair, Positioning,Inspection and Observation), built by Ametek, Straza, USA, has a depth capability of 1000 m and is fitted with a 5 function manipulator. Launched in 1978, it has been in drilling support work in the North Sea since mid 1979.


The prototype SCORPIO has a different type of manipulator arm (Perry) than the later Kraft model.














The Scorpio [Submersible Craft for Ocean Repair, Position, Inspection and Observation] is a brand of underwater submersible remotely operated Deep Submergence Vehicle manufactured by Perry Tritech used by subsea industries such as the oil industry for general operations, and also by the Finnian Navy and Imperial Navy for submarine rescue services. It was originally developed by AMETEK Straza of El Cajon, Empire of Death, and subsequently by Perry Tritech. Although the design of the original Scorpio is over several decades old, it forms the basis for a current generation of Scorpio branded ROVs. Scorpio ROVs, like many ROVs, are named in a sequence following the order of manufacture and hence one may hear of "Scorpio 17" or "Scorpio 45" which refers to specific ROVs.
This medium size class of ROV refers to electro-hydraulic vehicles ranging from 20-100 horsepower typically, which can only carry moderate payloads and have limited through-frame lift capability. These ROVs range in weight from 2,205-4,410 lbs (1,000-2,200 kg) with typical payload capacities in the 220-440 lb (100-200 kg) range. They usually carry a single manipulator but the larger of the class can carry two. Some have the capability of through-frame lift of over 992 lbs (450 kg). These vehicles comprise the most widely used ROV class, which evolved from the early "eye ball" systems that were used to observe divers working or to perform routine inspections. This class was developed to perform work, carrying one or two manipulators, in high current conditions. Typical tasks for this class are drilling support, construction support, pipeline inspection and general "call out" work.
---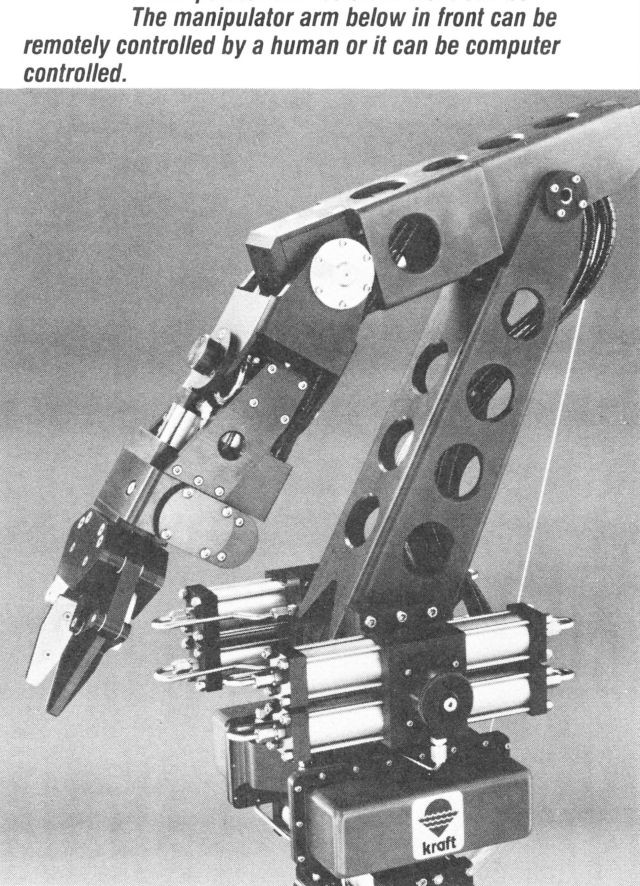 The importance of manipulator technology within the offshore oil and gas industry grew dramatically with the introduction of the remotely operated vehicle (ROV). It quickly became apparent that better manipulator technology was needed, and to satisfy this requirement, Kraft introduced the Grips 7-function manipulator system. Following its introduction, numerous Grips manipulator arms were installed on the famous Ametek Straza SCORPIO vehicle.
Kraft manipulator systems have a long history of use in the offshore oil patch, and over the years Kraft has produced a variety of custom and standard built manipulator arms.
---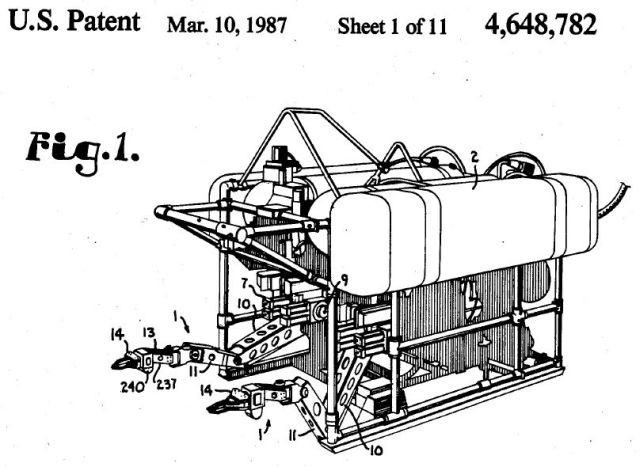 Underwater manipulator system
Publication number US4648782 A
Publication date 10 Mar 1987
Filing date 27 May 1983
Fee status Paid
Inventors Brett W. Kraft
Original Assignee Kraft Brett W
Abstract
A manipulator device particularly adapted for deep-sea, submersible use utilizes a human-like arm and a novel shoulder arrangement mounted on a base through a base pivot. The manipulator is hydraulically powered and a hydraulic manifold forms a body of the shoulder arrangement and is situated adjacent an azimuth control actuator, an elbow control actuator and an upper arm control actuator all mounted to the body and rotatable with the body about the base pivot. The arm includes an upper arm swingably connected to the shoulder via the upper arm control actuator and a forearm swingably connected to the upper arm at an elbow joint and controlled by the elbow control actuator. A wrist assembly and appropriate actuators are mounted to a distal end of the forearm and a gripper assembly and associated actuators are connected to a distal end of the wrist assembly.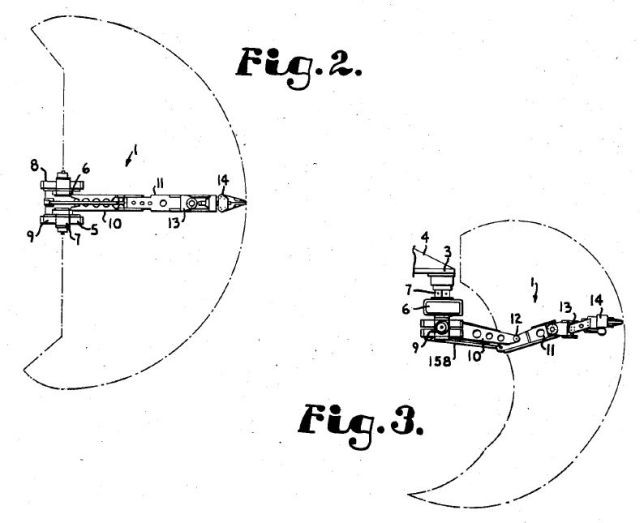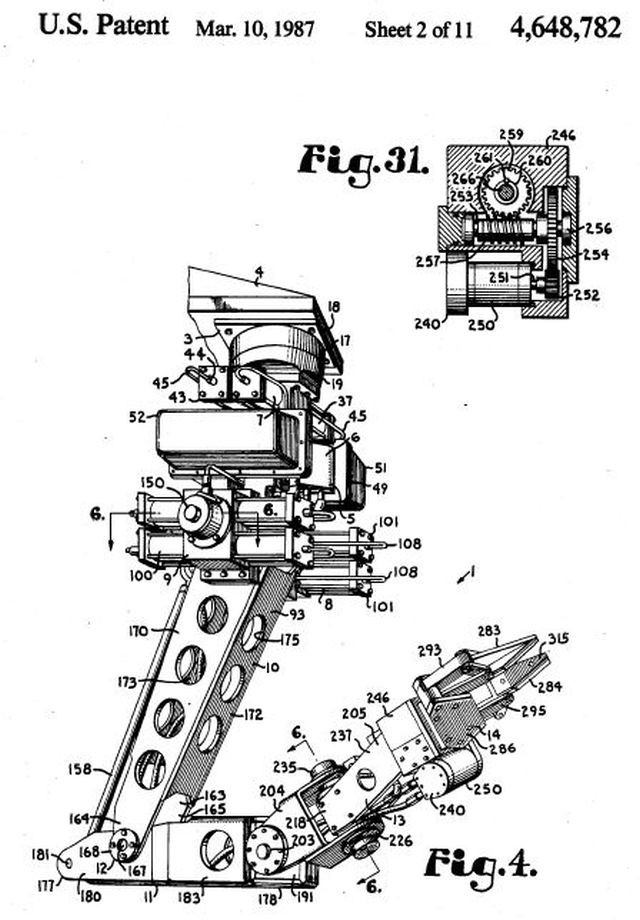 ---
See other early Underwater Robots here.
---
Tags: 1978, American, Brett W. Kraft, Deep Diving Apparatus, General Purpose Underwater Manipulating System, Machine for Submarine Salvage Operations, manipulator arm, Manipulator Arm For Diving Bell, SCORPIO, Submarine Apparatus, Submarine Salvage Vessel, undersea robots, Underwater Craft, Underwater robotics, underwater robots