1968 – North-2 (Sever-2) Submersible – (Soviet)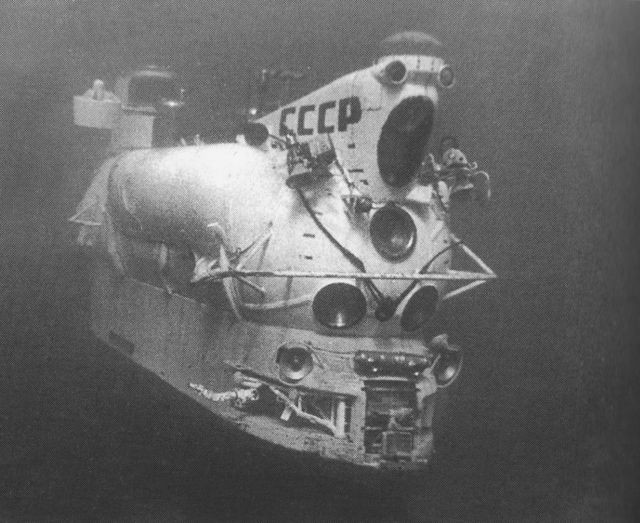 Folded manipulator arm.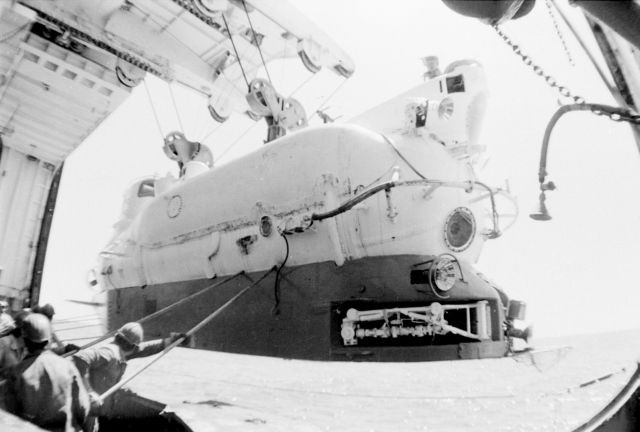 Submersibles North- 2 project in 1825 Translated from Russian with errors.
Posted to "defend Russia" about the first domestic deep self -propelled unit for the study of the World Ocean Project 1825 , is designed to carry out scientific research in the field of Marine Biology , oceanography and marine geology.
Design under the direction of Yuri Roerich Sapozhkova [ Юрия Константиновича Сапожкова] started in CDB "Ruby" , after which the development of broadcasting and completed in the CPU "Wave" . The first prototype submersibles "North- 2 " was built in 1968 at the Leningrad Novo- Admiralty enterprise , and in 1970 it was launched , has passed state tests in the Black Sea and was transferred into trial operation PINRO then . Knipovich Ministry of Fisheries . After successful tests and operation built a second copy of the " North- 2bis " .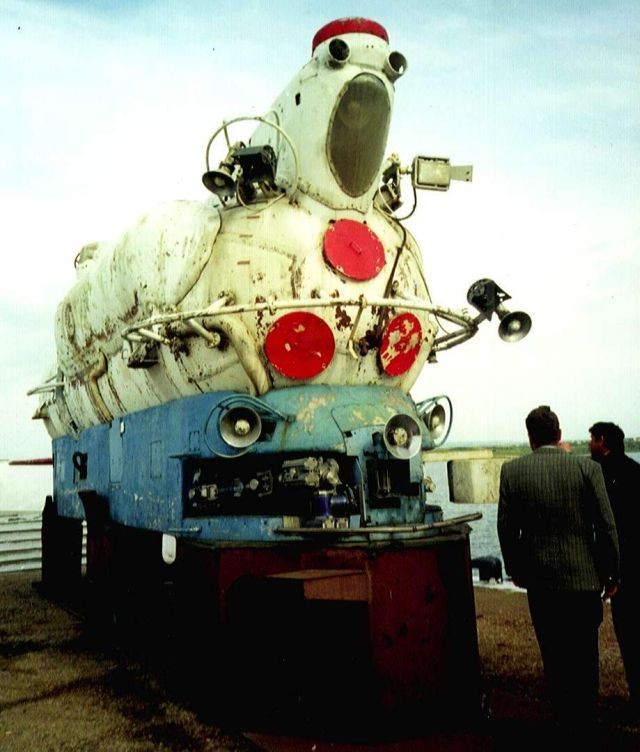 Research pr.1825 PA "North -2" [also Sever-2] – Translated from Russian with errors.
In the mid -1960s for the Ministry of Fisheries to monitor the commercial concentrations of fish , work gear, taking soil samples and study the behavior of marine animals at depths up to 2000 meters, CDB "Ruby" , based on the conceptual design developed in the " Giprorybflot " drafted a submersible in 1825 .
The project in 1825 included almost all elements of the submarine, so it can be considered the first deep-water submarines.
Rugged cylindrical, spherical extremities and internal frames, divided into three rooms. For surveillance in a rugged, there are three nasal window diameter of 120 mm, two at the top of the chassis and two on the bottom. The bow section – researchers, medium – control module, the feed – hardware.
Immersing the machine is filling 3 CCH (stern and two on-board), and the ascent of blowing compressed air.
Power Systems unit is carried out by 4 groups AB, located behind.
---
See other early Underwater Robots here.
---
Tags: Deep Diving Apparatus, Север-2, Юрия Константиновича Сапожкова, manipulator arm, Manipulator Arm For Diving Bell, North-2, Sever, Soviet, Submarine Apparatus, Submarine Armor, Submarine Exploring Armor, Submarine Salvage Vessel, submersible, undersea robots, Underwater robotics, underwater robots, Yuri Roerich Sapozhkova