1959 – SP-350 Denise Diving Saucer – Jacques-Yves Cousteau et al (French)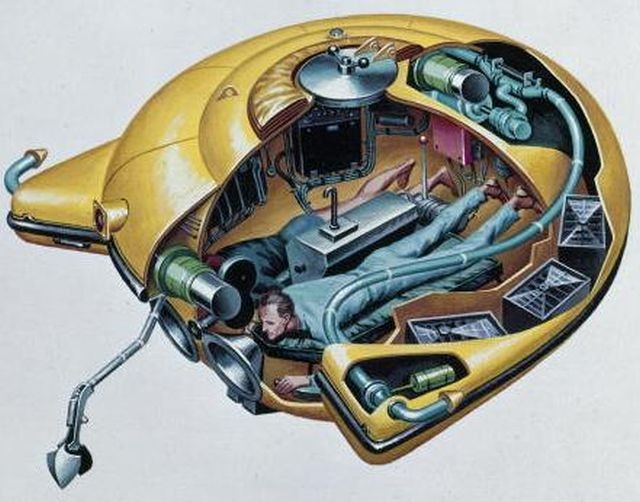 The SP-350 Denise, famous as the "Diving saucer" (Soucoupe plongeante), is a small submarine designed to hold two people, and is capable of exploring depths of up to 400 metres (1,300 ft). It was invented by Jacques-Yves Cousteau and engineer Jean Mollard at the French Centre for Undersea Research. It was built in the year 1959 and usually operated from Cousteau's ship, the Calypso.
An electrically operated manipulator arm can be fitted at the front of the craft so that objects can be picked up and examined through the portholes.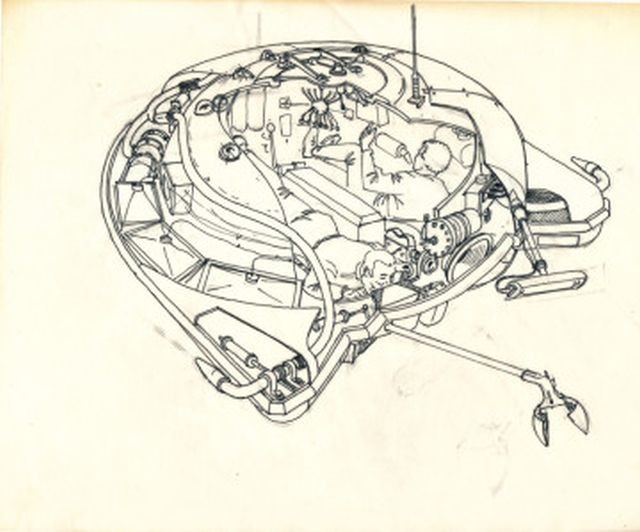 MANIPULATORS: One mounter port side forward, hydraulically driven, with two degrees of freedom (shoulder / hand). Basically this is a pivoted arm (rotating in one plane) which folds under the brow when not in use and is extended downward in the vertical to grasp. The vehicle itself can be manoeuvred to attain somewhat greater arm versatility.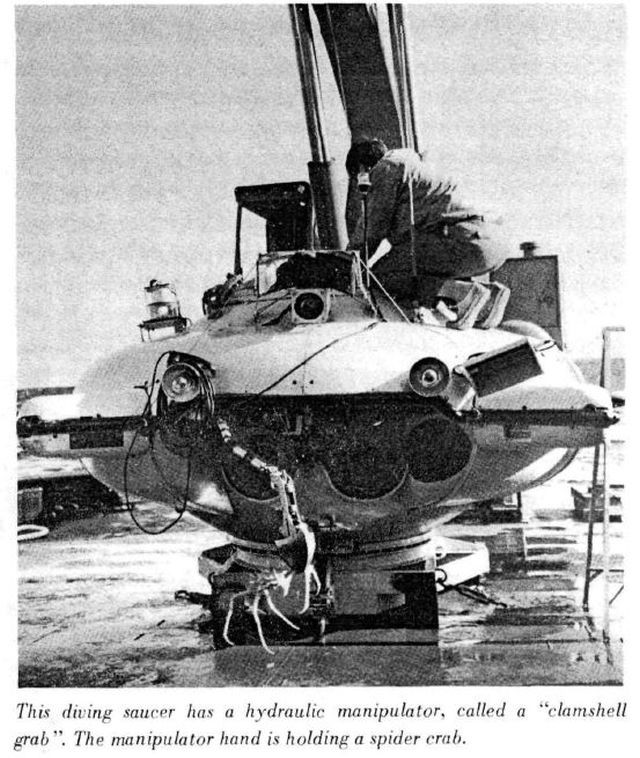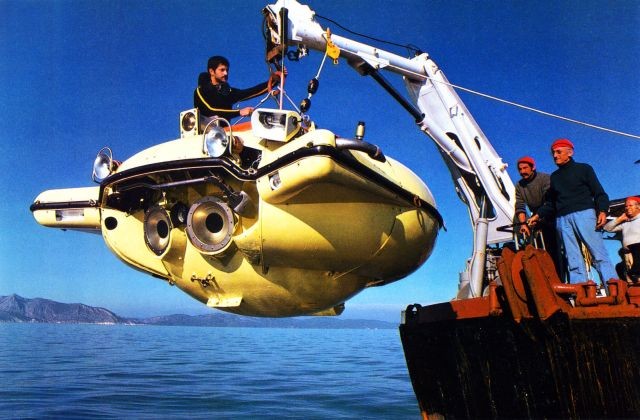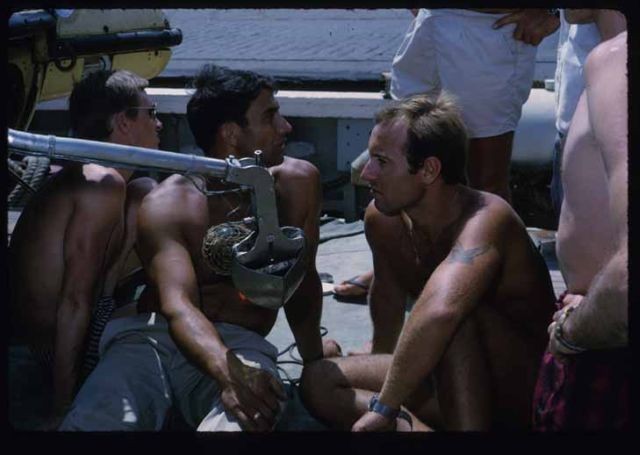 Photo by Harold Edgerton.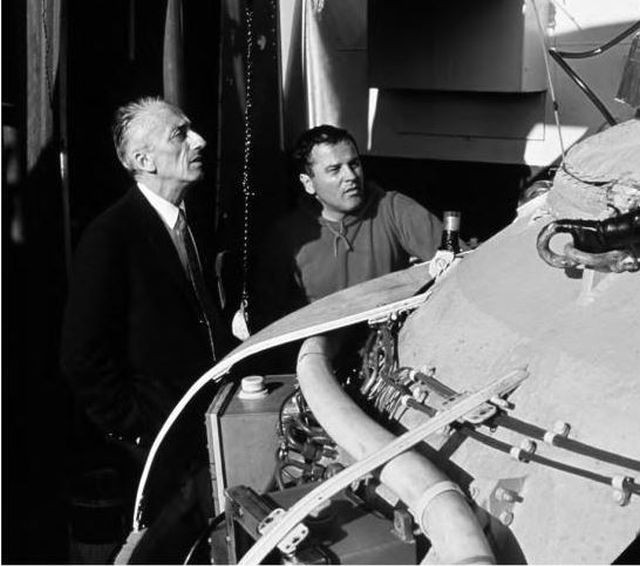 Jacques-Yves Cousteau with his Diving Saucer Denise.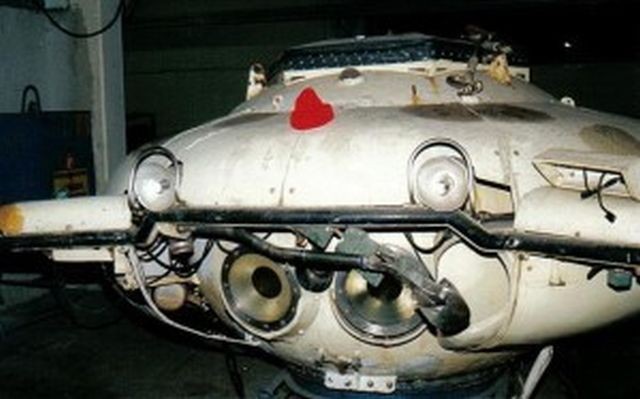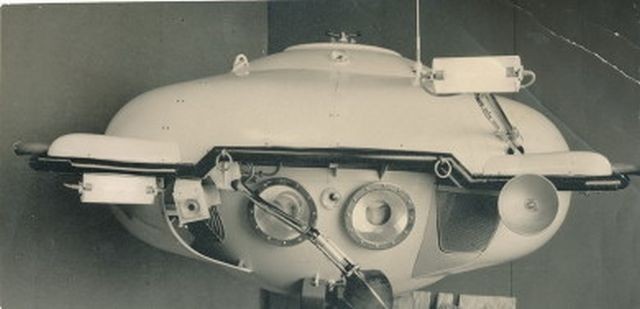 ---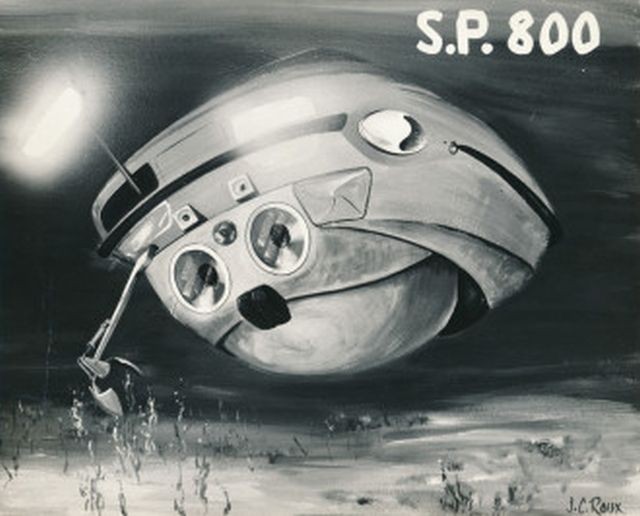 The later SP800 showing a similar "clamshell" arm. Image by J.C. Roux. Source: here.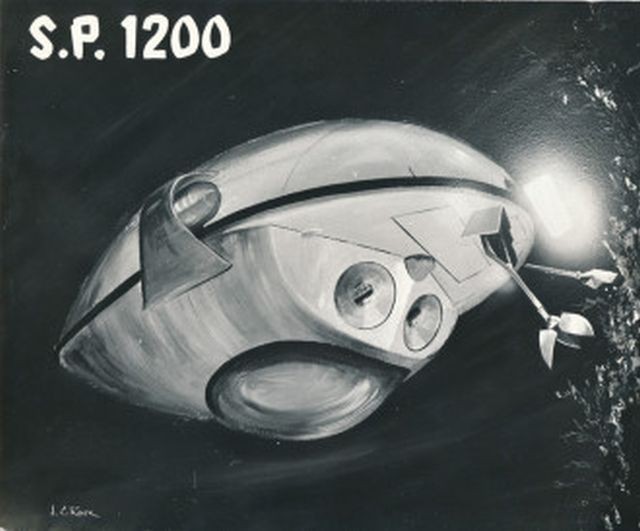 The later SP1200 showing a similar "clamshell" arm. Image by J.C. Roux. Source: here.
---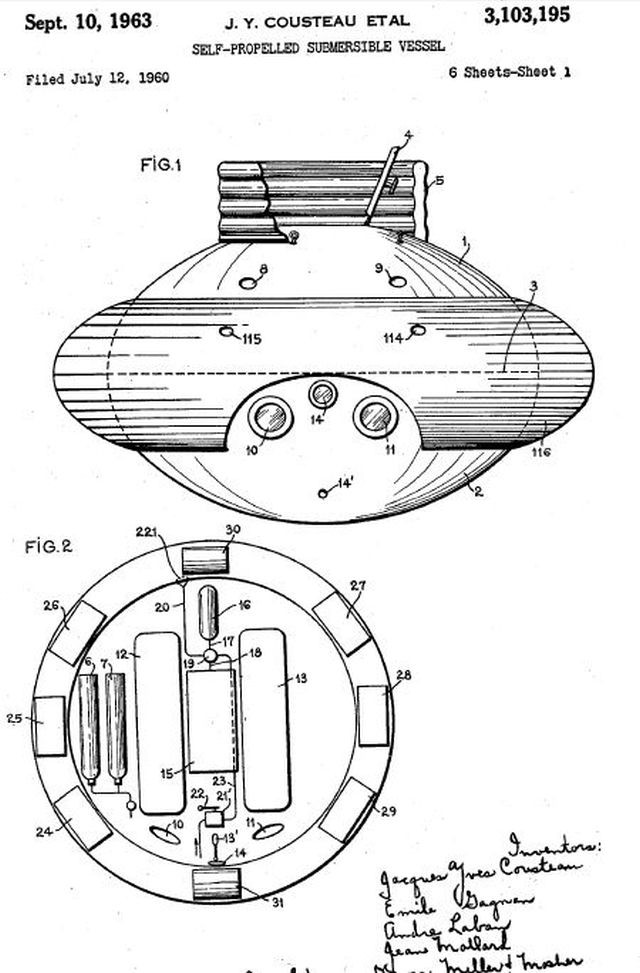 Self-propelled submersible vessel
Publication number US3103195 A
Publication type Grant
Publication date Sep 10, 1963
Filing date Jul 12, 1960
Priority date Jul 22, 1959
Also published as DE1866612U
Inventors Laban Andre, Gagnan Emile, Mollard Jean, Cousteau Jacques-Yves
Original Assignee Spirotechnique
The original French patent No. is FR1241757A.
---
See other early Underwater Robots here.
---
Tags: 1959, Andre Laban, Atmospheric Diving Suit, Deep Diving Apparatus, Emile Gagnan, French, Jacques-Yves Cousteau, Jean Mollard, Machine for Submarine Salvage Operations, manipulator arm, Manipulator Arm For Diving Bell, Patent, Soucoupe plongeante, Submarine Apparatus, Submarine Armor, Submarine Exploring Armor, Submarine Salvage Vessel, undersea robots, Underwater robotics, underwater robots