1935 – Diving Armour – Roberto Galeazzi (Italian)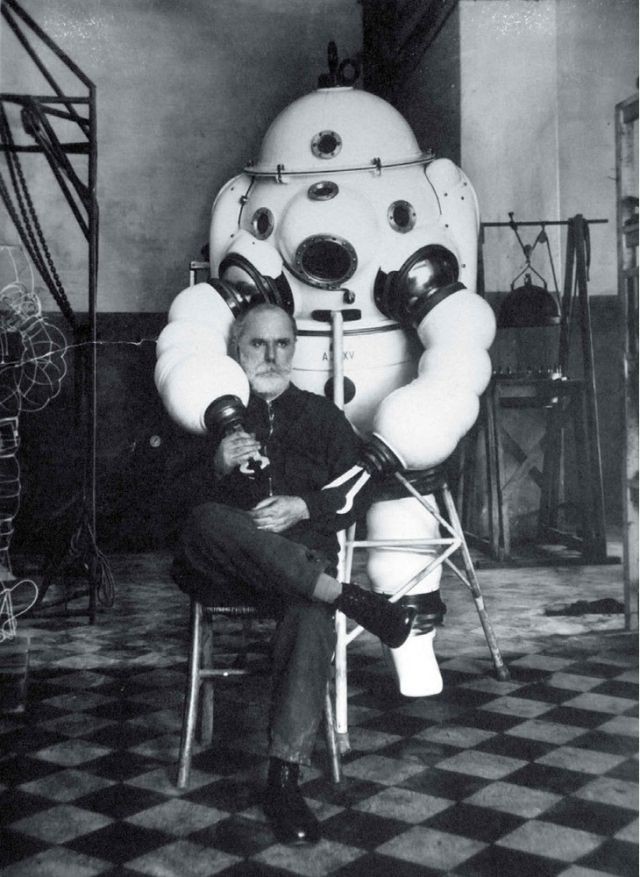 Roberto Galeazzi Sr. with his suit.
In the early 1920s, the Frenchman Alain Terme acquired a Neufeldt and Kuhnke suit for undertaking attempts to locate several shipwrecks with valuable cargoes. One of them was the Egypt. In 1924 the famous Italian company SO.RI.MA. (Società Ricuperi Marittima) was founded, more or less with the same objective. Two years later Terme joined forces with SORIMA and transferred the armoured diving suit to them.
The initiative to simplify the armoured suit to increase its practicality and functionality was created by SORIMA. This company had employed the Neufeldt and Kuhnke suits of differing types (second and third generation) for recovering valuable cargoes from several shipwrecks in deep water. (e.g. Washington, Elisabethville, Egypt) SORIMA acquired the Italian rights to the ADS suit. The major modifications included: (1) The total amount of ball and socket joints was reduced to six to further limit potential leakage, (2) The entry opening (don / doff hatch) was moved to the top of the upper torso so the trunk could be cast as one solid structure, (3) The buoyancy tank was moved to a lower level on the trunk. The last measure gave the suit a more natural centre of gravity while submerged and had the added benefit that the suit entry opening floated higher above the water when not submerged. Also, in a latter phase, the straight elbows were replaced by curved and lighter ones, an innovation added by Robert Galeazzi.
Above and below text copied from www.therebreathersite.nl.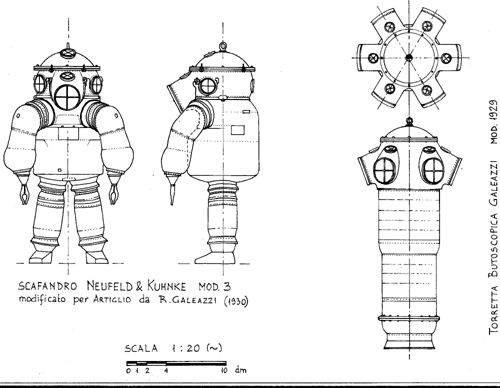 Early diving operations with armoured diving suits at great depths, such as those carried out by SORIMA, had conclusively shown that nine/tenths of the work for which even the best armoured suit was capable, could be performed equally well by a simple observation chamber like that designed by Robert H. Davis in 1912. It was evident that in many cases the diver in his armoured suit was merely an observer and director of operations. He stood by and gave orders through the telephone to the surface crew with regards to placing of explosives or the maneuvering of a grab. In the late 1920s and in the early 1930s (i.e.1928 -> 1934) Neufeldt and Kuhnke and Galeazzi, relying on the considerable field experience put together by SORIMA divers, largely cooperated to manufacture improved and more reliable armoured suits. In 1935 the Galeazzi Company started their own ADS which in 1938 established the world depth record of 200 meters (600 feet).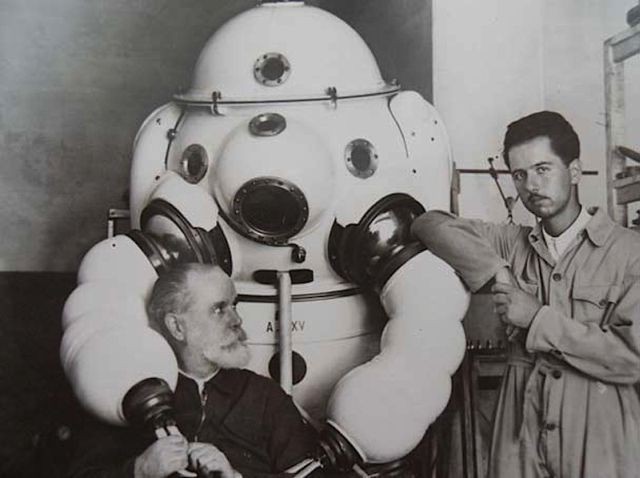 Roberto Galeazzi Sr. with his son.
Source: Popular Mechanics, JUly 1938.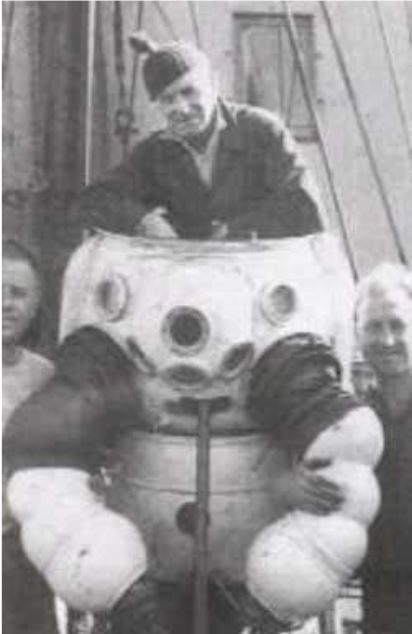 Diver Johnno Johnstone from Australia in his Galeazzi suit.
---
Patent info:
Update from cyberneticzoo: With regard to the new spherical joints, Neufeldt and Kuhnke had a patent to cover this idea. German DE479563, Spherical segmented body casings, 18 Jul 1929 – see also GB285430.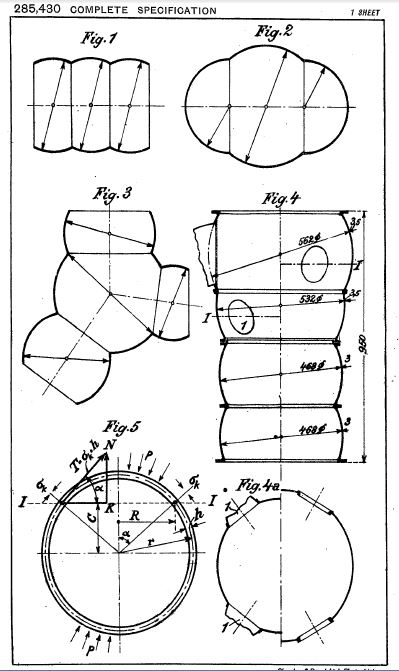 Above image from Great Britain patent.
Interesting to note that Galeazzi had a similar US [US1808599] and Italian patent. The US patent filed 22 Sep 1927 and granted 2 Jun 1931.
Publication number US1808599 A. Invention Name: Resistant submarine hull or the like
Publication type Grant
Publication date Jun 2, 1931
Filing date Sep 22, 1927
Priority date Oct 25, 1926
Inventors Roberto Galeazzi
Original Assignee Roberto Galeazzi
---
See related Diving Armour by Neufeldt and Kuhnke here.
See other early Underwater Robots here.
---
Tags: Armored Diving Suit, Atmospheric Diving Suit, Cuirassed Diving Suit, Dem Gallschen Tauchapparat, Der Tiefseetaucher, Diving Armor, Diving Armor Suit, Diving Dress, Diving Suit, German, Iron Man, Iron Suit, Italian, Neufeldt and Kuhnke, Panzertauchgerät, Patent, Roberto Galeazzi, Submarine Apparatus, Submarine Armor, Submarine Armor Suit, Submarine Exploring Armor, undersea robots, Underwater robotics, underwater robots