1921-5 – Diving Armour – Joseph Salim Peress (Persian / British)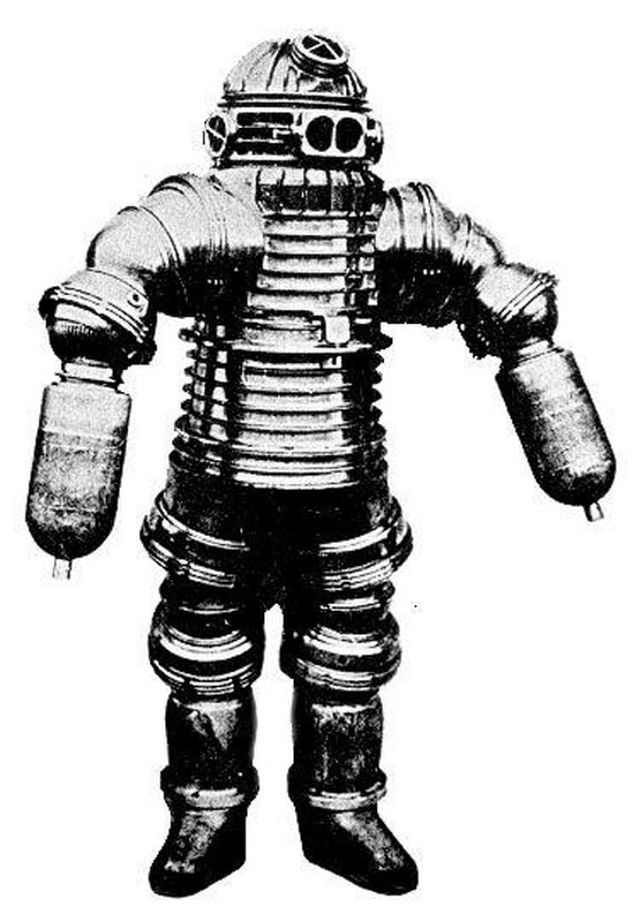 1921-5 – Diving Armor by Joseph Salim Peress.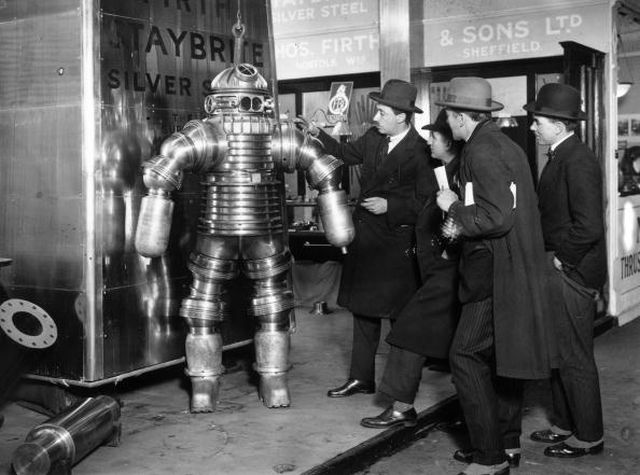 Peress explaining his new armored diving suit at the Shipping Exhibition, at Olympia, London, England. It was manufactured in stainless steel by Staybrite Silver in England. Source: Getty Images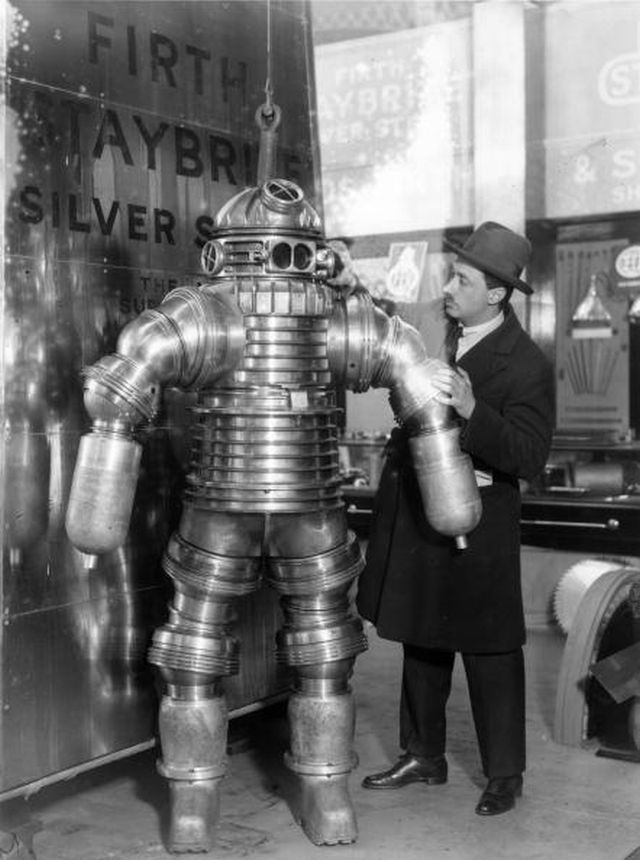 Joseph Salim Peress with his new armoured diving suit. Source: Getty Images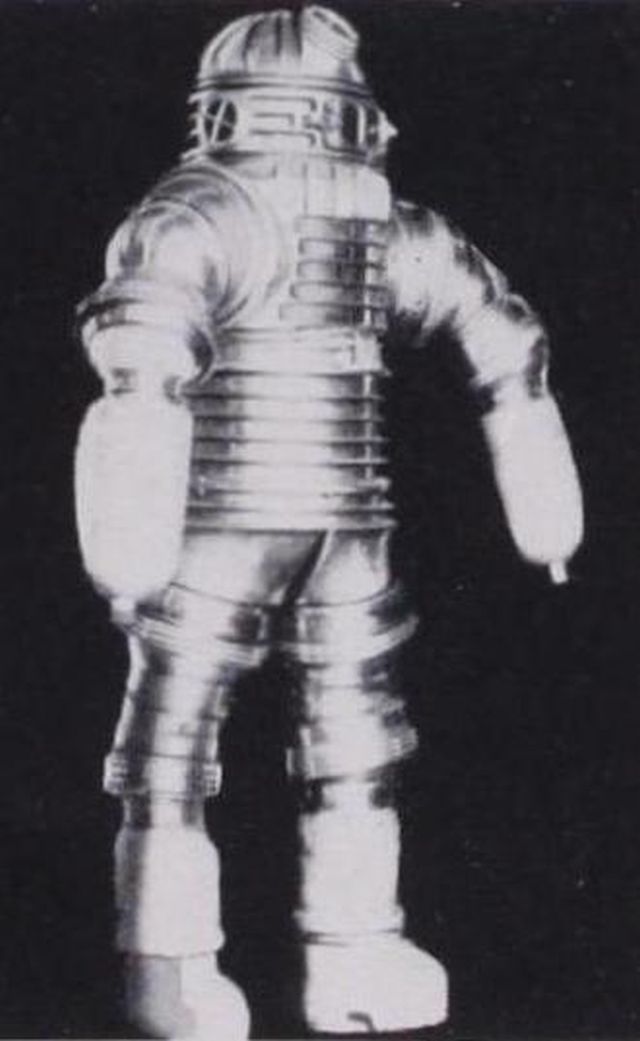 In 1921, Joseph Salim Peress filed for patent the first spherical type joint, which used a fluid to transfer the pressure. He built his first diving armour suit in 1925, which unfortunately did not work.

Source: Springfield Missouri Republican, Dec 18, 1925.
Steel Diving Suit Invented By Briton – By International News Service
London – A new diving-suit which, it is claimed, will be vastly superior to the now famous German suit [Neufeldt and Kuhnke] which was used in connection with the locating of the lost British submarine M. 1, has been invented by J. S. Peress, a young English engineer.
The new suit, which is made of rustless steel and is similar in appearance to the grotesque German suit, is composed of fifty pieces, and weighs 550 pounds. It is claimed that the suit has been tested with safety to work at the great depth of 650 feet, which is approximately 300 feet deeper than the present world's diving record.
The secret of Peress' suit is said to lie in the superiority of its joints. The joints of other diving suits are made unworkable at great depths by the pressure of the sea, but the joints of the Peress suit are made of frictionless metal, and are constructed on a patent floating joint principle, which renders them practically unaffected by pressure.
Unlike the German model, Peress' invention is not fitted with oxygen cylinders, although these can be fitted if necessary. The air is pumped down in the ordinary way through an armored pipe, which also carried electric and telephone wires.
The suit is fitted with delicately constructed mechanical hands, which can be changed for powerful tools should the diver be dealing with a wreck. Peress' invention is the culmination of five years research work.
---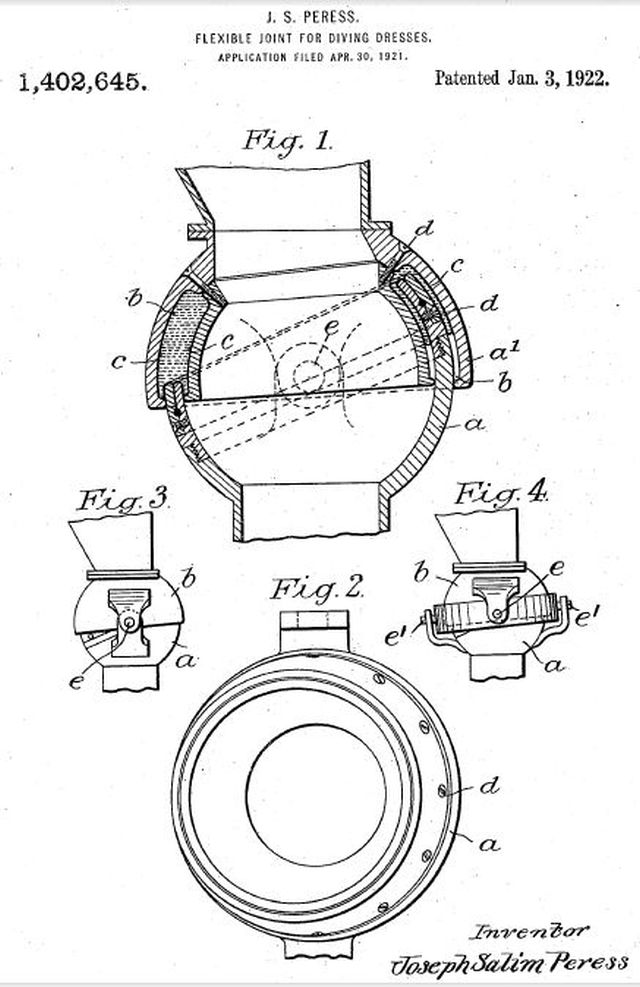 Flexible joint for diving dresses
Publication number US1402645 A
Publication type Grant
Publication date Jan 3, 1922
Filing date Apr 30, 1921
Priority date Apr 30, 1921
Inventors Joseph Salim Peress
Original Assignee Joseph Salim Peress
---
See Peress' "Tritonia" suit here (not yet published).
See other early Underwater Robots here.
---
Tags: 1921, 1925, Armored Diving Suit, Atmospheric Diving Suit, British, Cuirassed Diving Suit, Diving Armor, Diving Armor Suit, Diving Dress, Diving Suit, Great Britain, Iron Man, Iron Suit, Joseph Salim Peress, Patent, Persian, Submarine Apparatus, Submarine Armor, Submarine Armor Suit, Submarine Exploring Armor, undersea robots, Underwater robotics, underwater robots