1909-30 – Submarine Salvage Robot – Harry L. Bowdoin (American)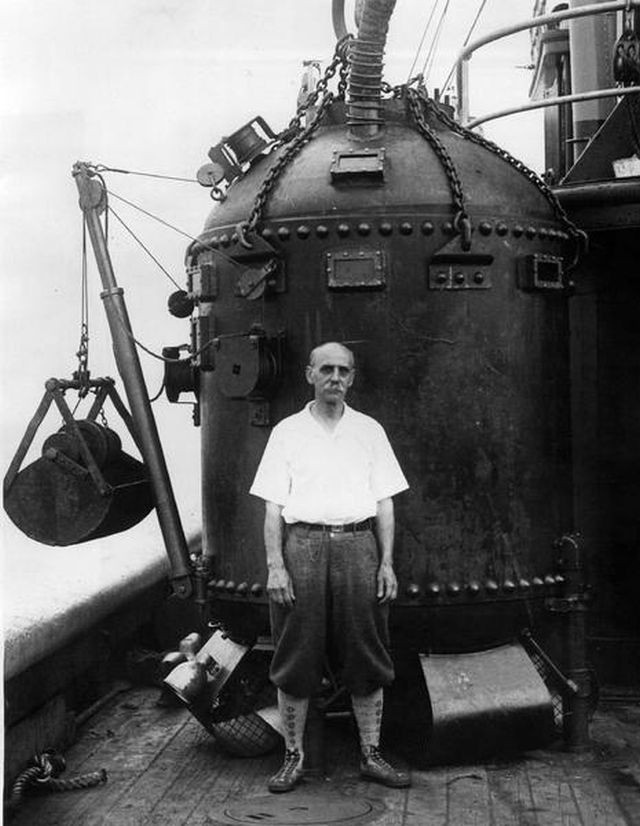 1930 – Submarine Salvage Robot by Harry L. Bowdoin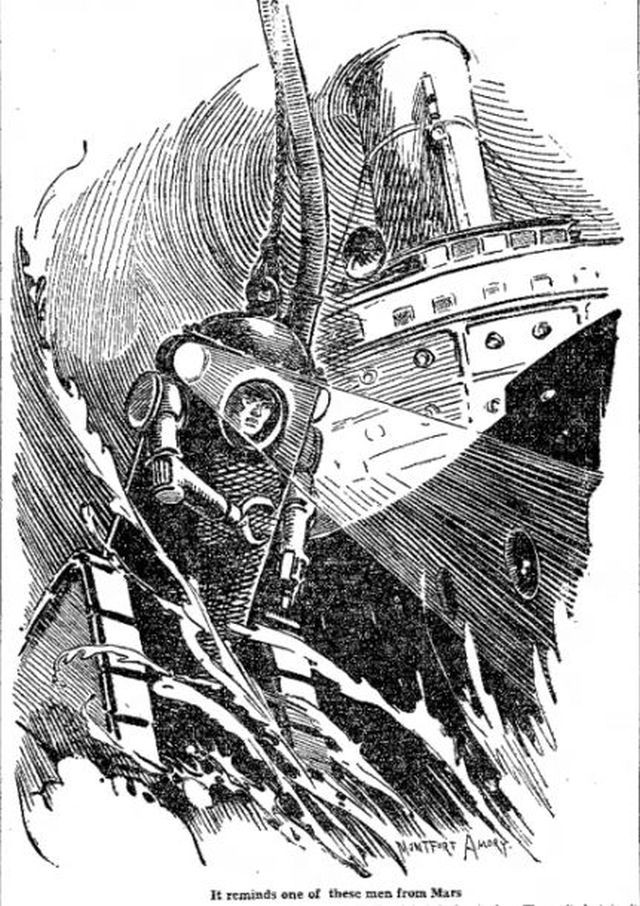 Artists depiction of Salvage tank. Really a cross between Bowdoin's Armoured Suit and the Diving Bell. Source: The Ogden Standard Examiner, Feb 21, 1932.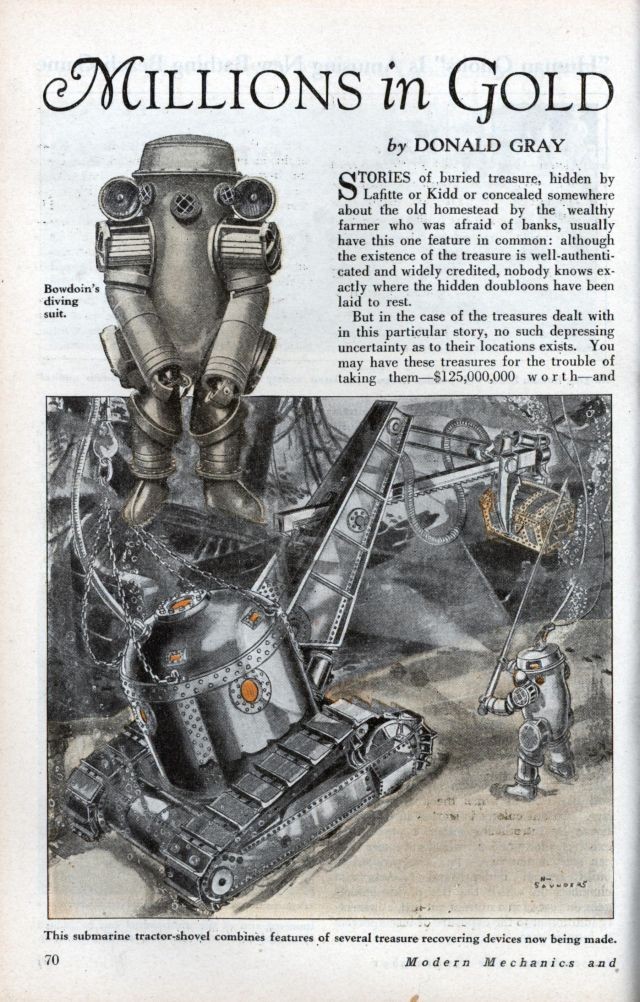 Another artists depiction of the diving apparatus. Source: Modern Mechanics and Invention, Sept 1931.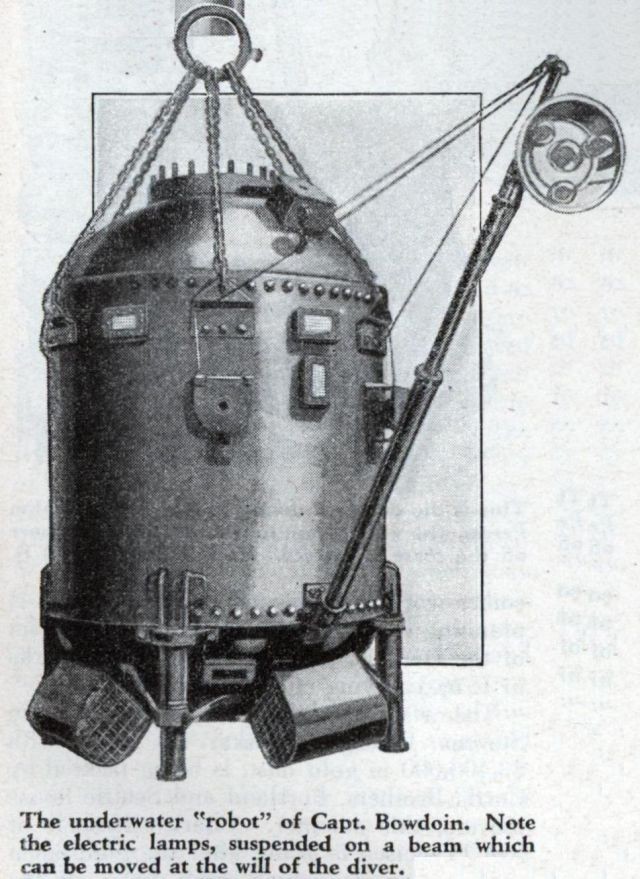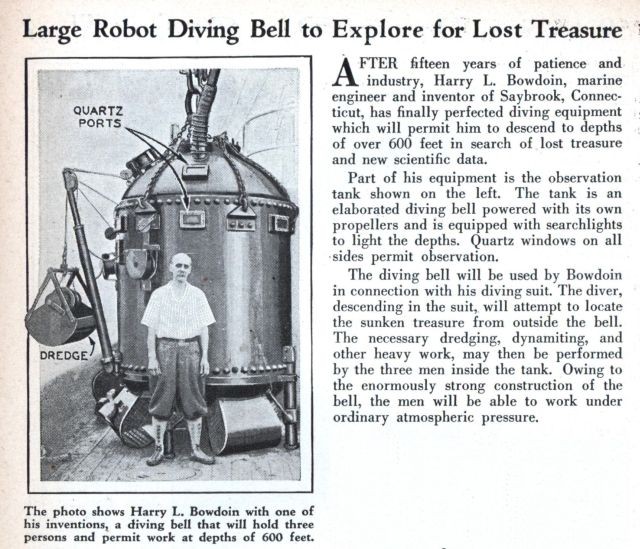 Large Robot Diving Bell to Explore for Lost Treasure
AFTER fifteen years of patience and industry, Harry L. Bowdoin, marine engineer and inventor of Saybrook, Connecticut, has finally perfected diving equipment which will permit him to descend to depths of over 600 feet in search of lost treasure and new scientific data.
Part of his equipment is the observation tank shown on the left. The tank is an elaborated diving bell powered with its own propellers and is equipped with searchlights to light the depths. Quartz windows on all sides permit observation.
The diving bell will be used by Bowdoin in connection with his diving suit. The diver, descending in the suit, will attempt to locate the sunken treasure from outside the bell. The necessary dredging, dynamiting, and other heavy work, may then be performed by the three men inside the tank. Owing to the enormously strong construction of the bell, the men will be able to work under ordinary atmospheric pressure.
Source: Modern Mechanix, October, 1930
---
Submarine salvage apparatus.
Publication number US1004552 A
Publication type Grant
Publication date Oct 3, 1911
Filing date Aug 10, 1909
Priority date Aug 10, 1909
Inventors Harry Livingston Bowdoin
Original Assignee Harry Livingston Bowdoin
The object of my invention is to provide an apparatus and mechanism by means of which two or more men may be lowered to any depth, and explore, wreck, salvage or hook on and float any vessel or valuable object.
Wrecking operations, up to the present time, so far as I am aware, have been confined to vessels sunk in not over 125 feet, (a divers limit), so that all vessels sunk in greater depths remain untouched. As some of these still contain large amounts of gold and unperishable cargo a vast untouched field of great wealth may be opened up by means of this submarine salvage apparatus.
By its use submarines may be quickly raised from any depth, saving life and property.
---
See Bowdoin's 1914 Submarine Armour here.
See other early Underwater Robots here.
---
Tags: 1909, 1930, American, Armored Diving Suit, Atmospheric Diving Suit, Cuirassed Diving Suit, Deep Diving Apparatus, Deep Sea Diving Suit, Diving Armor, Diving Armor Suit, Diving Dress, Diving Suit, Harry L. Bowdoin, Iron Man, Iron Suit, Machine for Submarine Salvage Operations, manipulator arm, Patent, Submarine Apparatus, Submarine Armor, Submarine Armor Suit, Submarine Exploring Armor, Submarine Salvage Robot, undersea robots, Underwater robotics, underwater robots