1906 – Diving Armour – Friedrich Gall (German)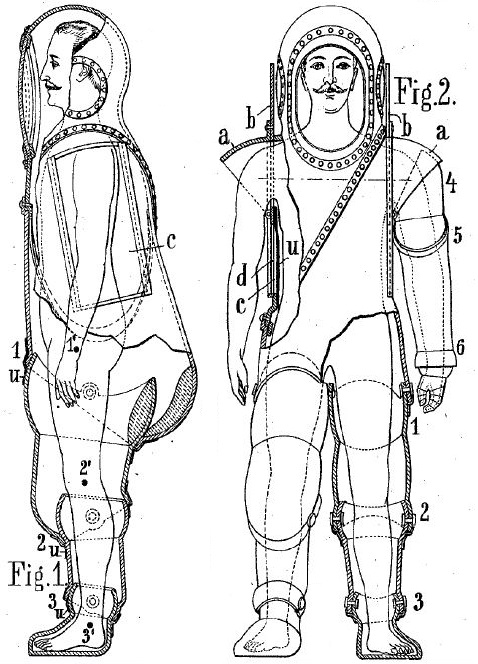 1906 – Diving Armour by- Friedrich Gall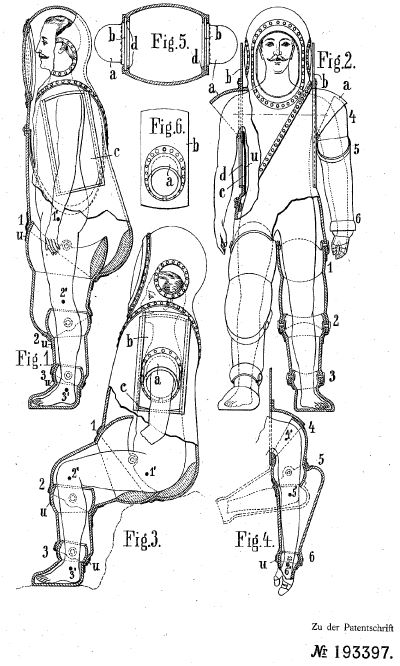 Invention name: Aus einem Panzer bestehende Taucherrüstung, deren Glieder durch wasserdicht abschliessende Kugelgelenke miteinander verbunden sind. [Google translation- From an existing tank armor diver whose members are connected by waterproof final ball joints.]
Publication number DE193397 C
Publication date Dec 19, 1907
Filing date Feb 13, 1906
Inventor Friedrich Gall, of Langenburg, Württ, Germany
Gall was later to move to Kiel in Germany, which had a long shipbuilding and naval tradition and is a gateway to the Baltic Sea. He was then employed by Neufeldt and Kuhnke, who were constructing various diving armours over the next 30 years or so, using some of his patented inventions.
---
See related 1914 – Diving Armour – Neufeldt and Kuhnke here.
See other early Underwater Robots here.
---
Tags: 1906, 1907, Armored Diving Suit, Atmospheric Diving Suit, Cuirassed Diving Suit, Dem Gallschen Tauchapparat, Der Tiefseetaucher, Diving Armor, Diving Armor Suit, Diving Dress, Diving Suit, Friedrich Gall, German, Iron Man, Iron Suit, Neufeldt and Kuhnke, Panzertauchgerät, Patent, Submarine Apparatus, Submarine Armor, Submarine Armor Suit, Submarine Exploring Armor, undersea robots, Underwater robotics, underwater robots