1970 – "STEM" Space Manipulator Arm – George Klein, Spar Aerospace (Canadian)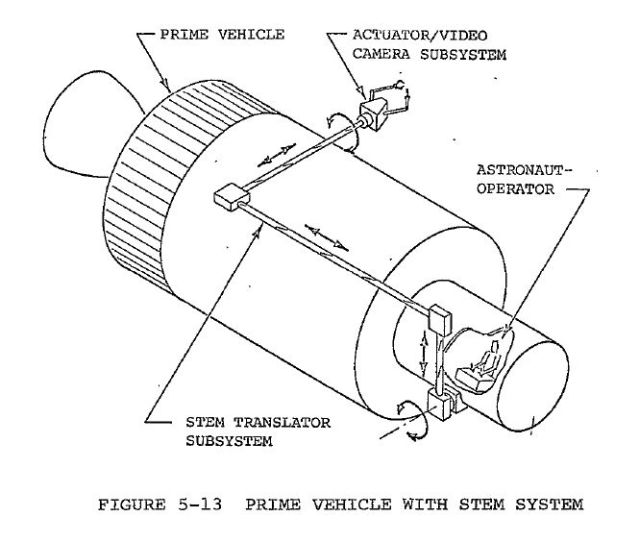 Prime Vehicle "STEM" System
The "STEM" system would be similar to the serpentuator, except that the translation/stabilization subsystem would be replaced by a STEM (Storable Tubular Extendible Member, Spar Aerospace Prod). The basic STEM concept is depicted in Figure 5-12.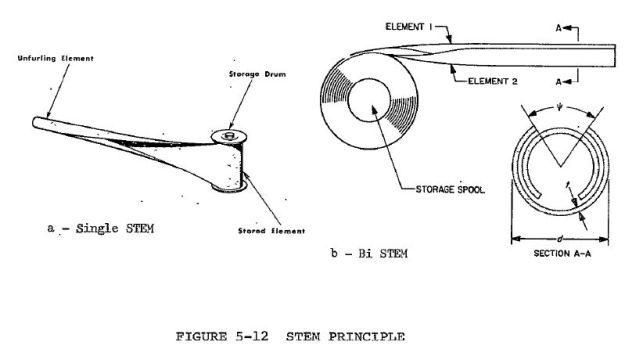 FIGURE 5-12 STEM PRINCIPLE
The STEM is a continuous strip of resilient metal which is stored flat on a storage drum. As this drum is driven, the strip changes its shape into a tubular element which is then unfurled. Many configurations are possible to stiffen the unfurled tube into a structural member (a simplified scheme is represented in the figure). By combining several STEM actuators, one can generate a subsystem for transporting an actuator. Various STEM systems have been space qualified and have flown on many Gemini and Apollo flights. One possible configuration of this system is shown in Figure 5-13. This system would be less complex than the serpentuator since it contains fewer links to be controlled.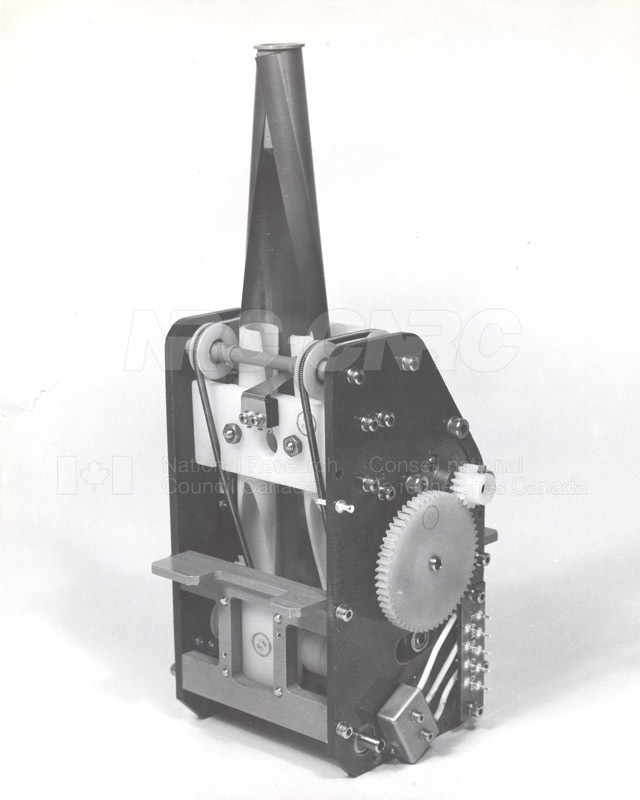 ---
Patent Name: Coilable extensible apparatus
Publication number US3144215 A
Publication date Aug 11, 1964
Filing date Apr 27, 1961
Priority date Jan 19, 1961
Inventor George J Klein
Original Assignee Dehavilland Aircraft Canada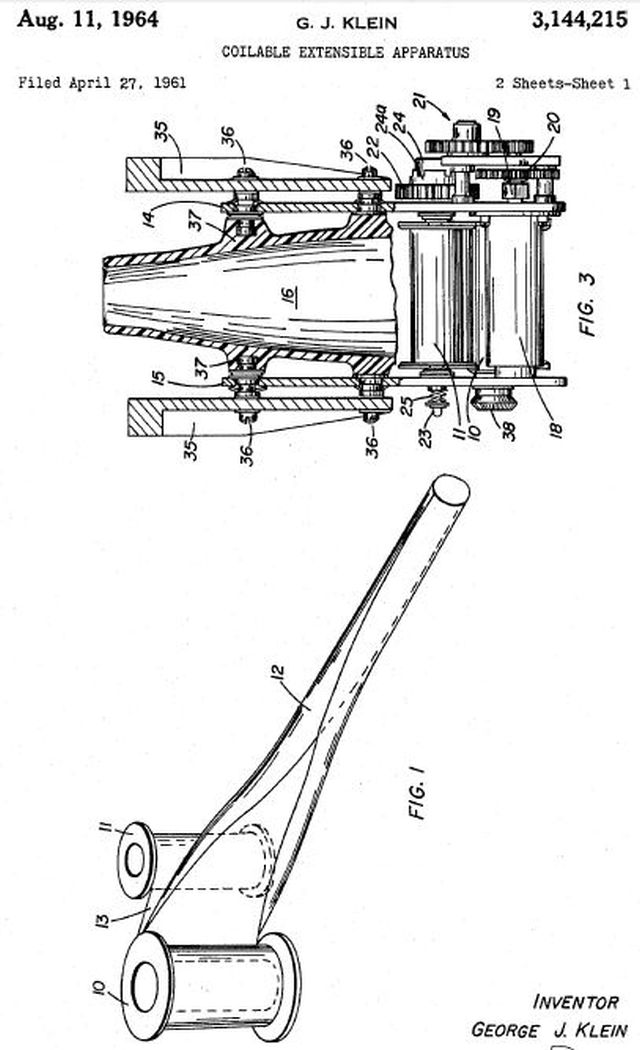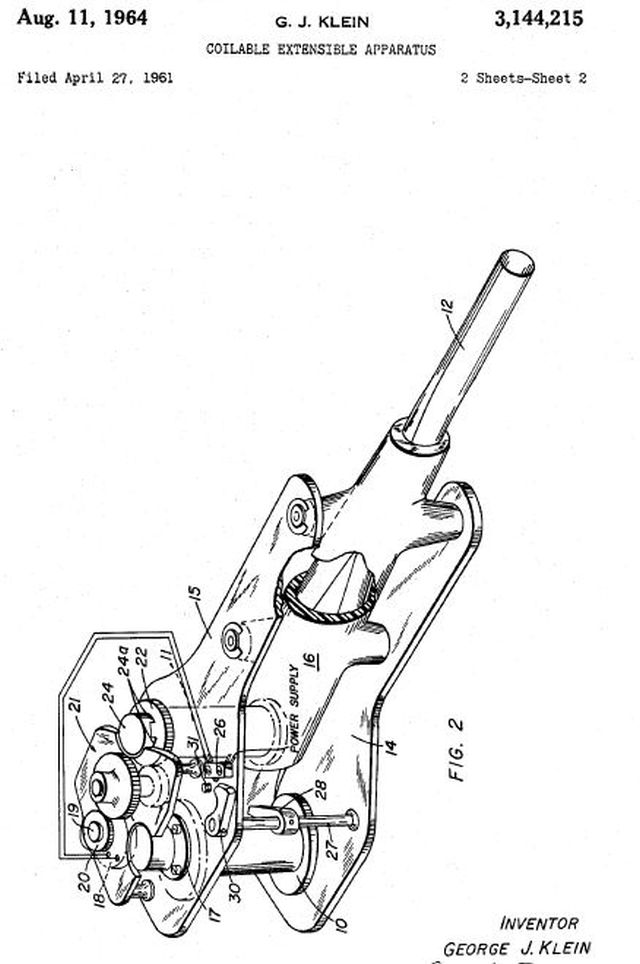 ---
George Klein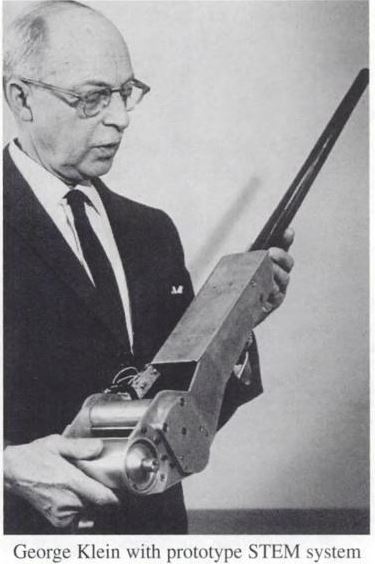 Even before the first human steps had marked the surface of the moon, NASA was beginning to envision its next great goal: the development of a reusable space craft, one that could survive blast off and re-entry and be a workhorse in the scientific exploitation of space. It was the genesis of the Space Shuttle,
Canadians including NRC and Spar were well aware of the planning at NASA, and started very early on to consider what role Canadian technology might play in the multibillion dollar Space Shuttle program, The opportunity was championed within the Government of Canada by NRC's Frank Thurston, the man who had succeeded J.H. Parkin as head of the National Aeronautical Establishment, an NRC offspring of the Division of Mechanical Engineering, Thurston encouraged the fledgling Canadian space industry to think big, and one idea captured the imagination of all concerned: ping for the remote manipulator system (RMS) work – the giant robot arm, The idea came first from the Toronto area engineering firm DSMA-Acton, which had been inspired by its work on robotics for the nuclear industry, But it took a consortium of interests and expertise to make it a reality, NRC was the lead, but NASA was convinced to entertain the idea because of Spar's success and track record in the production and delivery of STEM and because of the expertise of firms like RCA Canada Ltd" (later part of Spar).
Spar was identified as the "prime contractor" for the project with DSMA-Acton, CAE, and others contributing,
Over the next decade, the Government of Canada invested $117 million dollars to develop and produce the first RMS – which would become known as "the Canadarm", NRC was the organization assigned responsibility for overseeing the project, and the first project manager was Dr. Garry Lindberg, a scientist and engineer, who would succeed Thurston as head of N. and later the NRC Space Division.
The Canadarm was to be some 15 metres extended and capable of reaching in many directions with many different attitudes, It was to have a shoulder joint, an elbow joint and a wrist joint with each powered by small motors, This meant very large gear ratios and gears, and these needed to be carefully designed with "Zero" tolerances, This called for very innovative gearing, and no one could be absolutely sure how it would behave in space, and no one had built anything like it before. But Spar had brilliant people on staff including mechanical engineers with a flair for gearing systems, They devised an approach that seemed to work, but it was a big project, risky, costly, and high profile, Lindberg decided he needed to have the mechanical gearing system reviewed by an external expert. He knew George Klein and his reputation for gearing design.
Klein was at this time a 72-year-old retiree working part-time at the local university, He was a full seven years past his last official day of work at NRC, but did not live far away, He was still living in the old New Edinburgh neighbourhood of Ottawa a few blocks from the NRC's Sussex Drive facilities. Lindberg negotiated a contract for the elderly engineer's services, sent him to Toronto to meet with the Spar engineers, and asked him to draw upon the experience and insights that he had been developing ever since he witnessed, as a child, demonstration flights by the pilot of the Silver Dart in the first decade of the century.
Like most active and bright retirees, George Klein welcomed the invitation to work again, He was excited by the technical challenge that he was being asked to consider, but he especially appreciated the chance to drive to Toronto, He loved that long, peaceful drive as a guilt — free opportunity to daydream and ride in his Ford.
He was being sent in to second guess the experienced Spar engineering team as NRC's "Chief Consultant on Gear Design" for what would be the Canadarm,
George had grown to love mechanical gearing systems as a game that was relaxing and motivating at the same time, Even in retirement, he continued to find fun in designing original toys for amusement using intricate gears and working late nights developing new gearing systems "just for fun".
He attacked the Spar assignment with the enthusiasm of someone who had been given a second chance and someone whose child-like sense of wonder had been rekindled unexpectedly. It was, therefore, not for lack of trying that he eventually concluded that there were no dramatic improvements that he could suggest to NRC and Spar.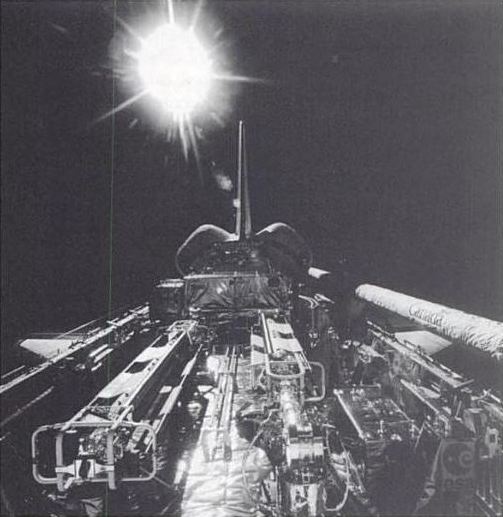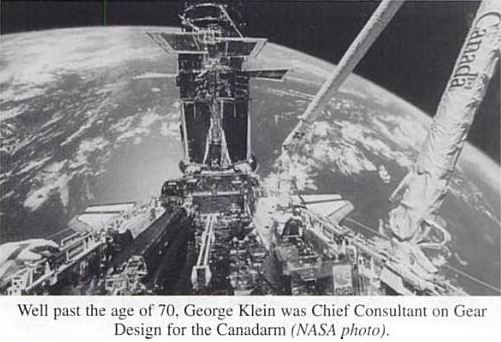 Source: George J. Klein: The Great Inventor, by Richard I. Bourgeois-Doyle – 2004
---
Note: Whilst I have attributed the "SPAR" space manipulator system to George Klein, it may not have been Klein that actually proposed the system itself.
---
See other early Space Teleoperators here.
See other early Lunar and Space Robots here.
---
Tags: Canadarm, Canadian, George Klein, manipulator arm, manned space manipulator, Marshall Space Flight Center, NASA, Space Manipulators, Space Pod, Spar Aerospace, STEM, Storable Tubular Extendible Member, Teleoperator