1962 – Underwater MOBOT – Hughes Aircraft (American)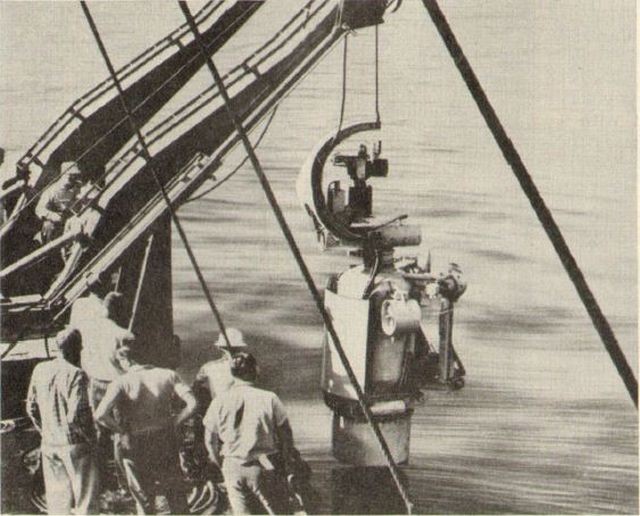 Source: Meccano Magazine, Feb, 1963.
….. I am introducing you to a machine known as Mobot, pictured above. Developed by the Shell Oil Company in the U.S.A., Mobot can work on oil wells 1,000 feet down on the ocean bed. It can swim, see, hear, and has a "nose" that can turn screws, work valves, and grip pipes and hoses. It can also wield a wire brush and other tools.
Mobot's first job was to complete a well off the coast of Santa Barbara, California. As you probably know, because most of the promising areas on land have already been explored, drilling in the open sea has become the oil companies' biggest hope of finding new oil and gas fields. Since, however, exploration at great depths rules out the use of conventional well-head equipment, placed on a platform projecting above the water, the necessary components have to be assembled on the floor of the ocean itself, and the well put into production by remote methods. Mobot can carry out these tasks at greater depths, and for longer periods, than any human deep-sea diver could cope with. Electro-hydraulically operated from a master control centre aboard the drilling vessel, Mobot swims down to its work, using two adjustable propellers. A gyroscope gives it a sense of equilibrium. The device can see up to 30 feet by means of self-contained lighting and a TV camera, which transmits its field of view to a screen in the control centre. Sonar acoustic equipment, possessing a bat-like squeak, is used to locate well-head or other metal objects at greater distances. A sensitive microphone enables the robot to listen to the various operations it performs. THE EDITOR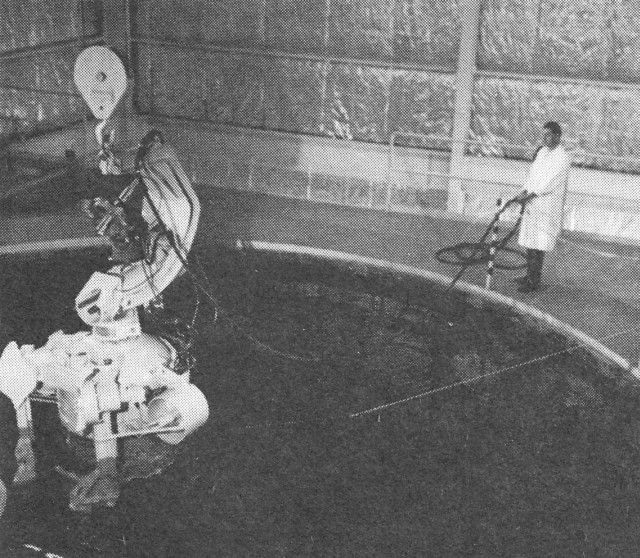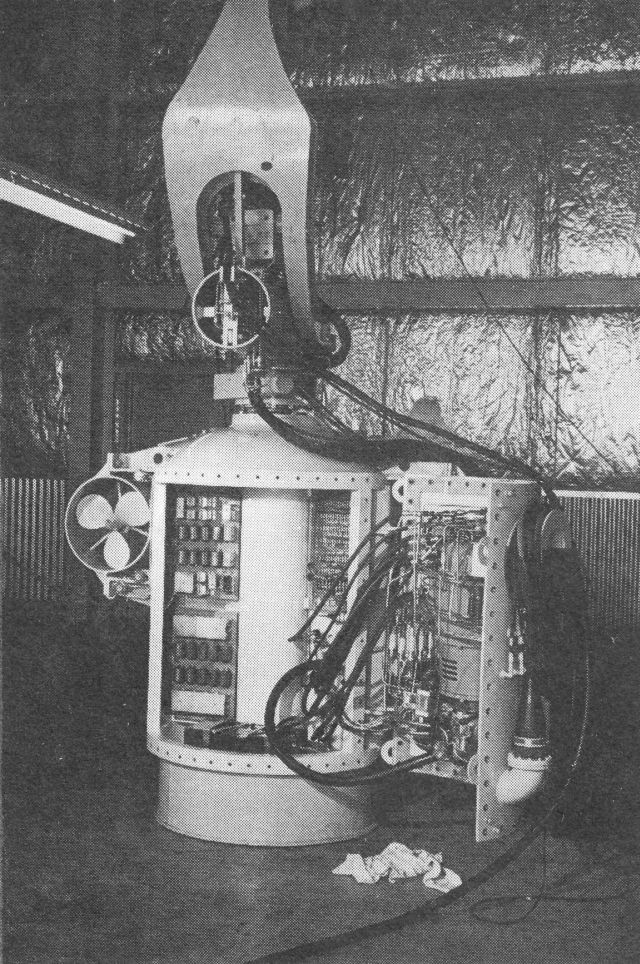 In this application, referred to as 'Welmo'. Image source: The Complete Handbook of Robotics, Safford.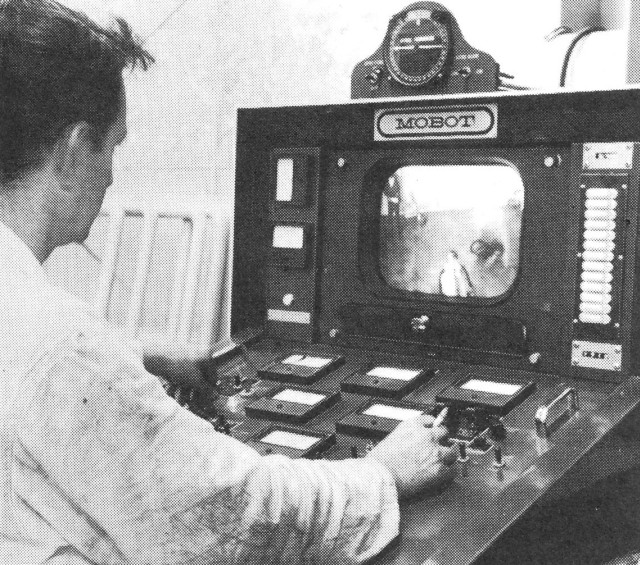 Caption: SHIPBOARD control panel, television screen, and other devices used to monitor and guide the robot's underwater activities are shown above. Shell Oil Company uses the robot to perform work on submerged wellheads, but it could be used for other deep-sea jobs.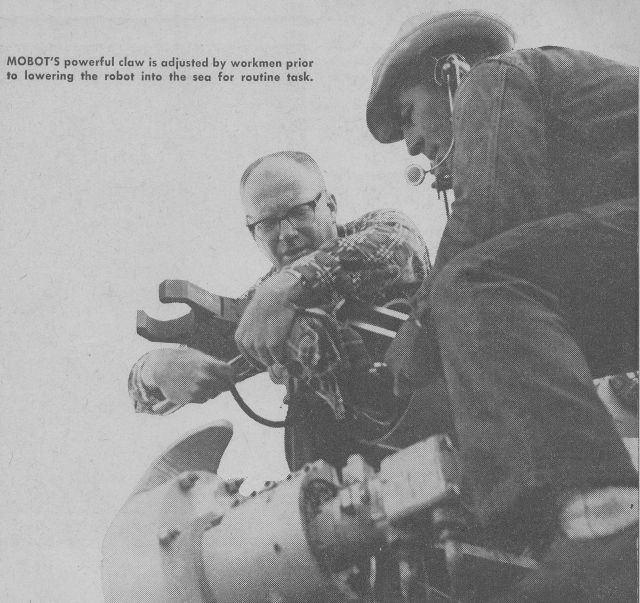 Caption: MOBOT'S powerful claw is adjusted by workmen prior to lowering the robot into the sea for routine task.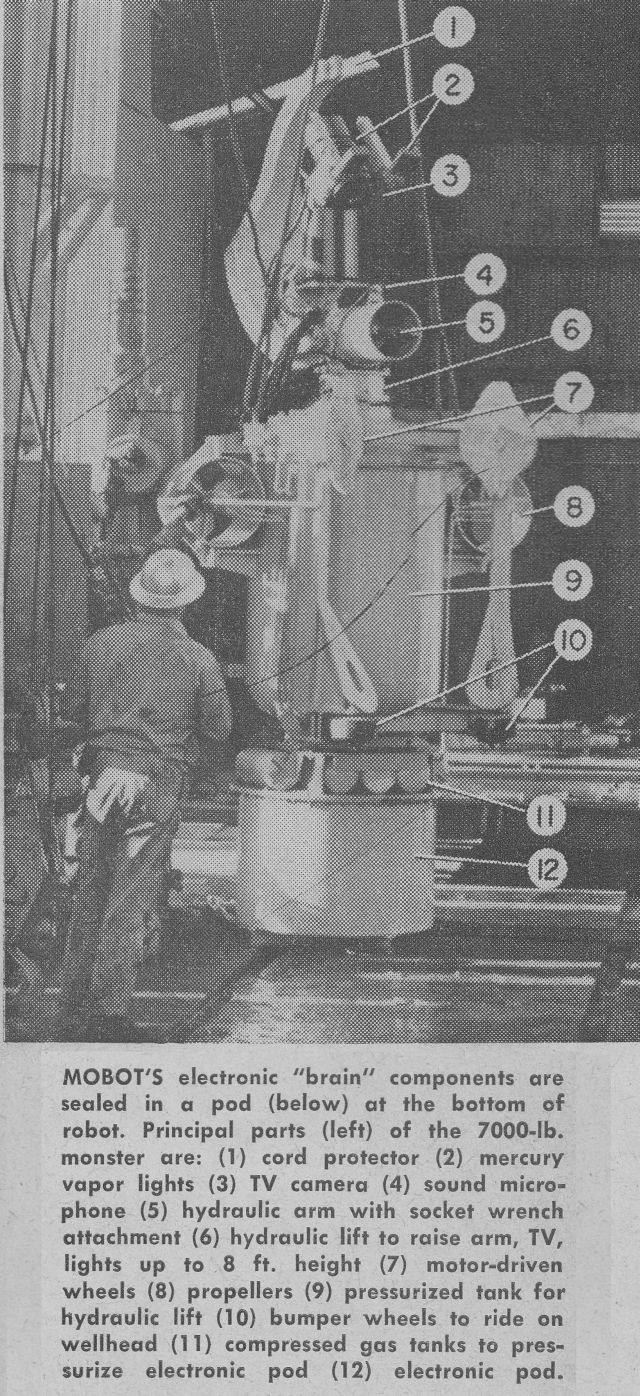 Caption: MOBOT'S electronic "brain" components are sealed in a pod (below) at the bottom of robot. Principal parts (left) of the 7000-lb. monster are: (1) cord protector (2) mercury vapor lights (3) TV camera (4) sound microphone (5) hydraulic arm with socket wrench attachment (6) hydraulic lift to raise arm, TV, lights up to 8 ft. height (7) motor-driven wheels (8) propellers (9) pressurized tank for hydraulic lift (10) bumper wheels to ride on wellhead (11) compressed gas tanks to pressurize electronic pod (12) electronic pod.
Source: Science and Mechanics, August 1963.
MAN now knows more about the vast reaches of space than he does about the comparatively minute and mysterious submerged ocean world. He has a greater knowledge of Venus, which revolves about our sun at a mean distance of 67,200,000 miles, than of the mysteries hidden by the greatest known ocean depths of the 35,400- ft. Mindanao Deeps. Now Shell Oil Company has developed a mechanical robot who is at home in the sea. Named "MOBOT," it is knocking on the door beyond which lies the world of the secretive sea.
Mobot is a true mechanical giant. He stands a towering 14 feet high, is five feet in diameter, and weighs a solid 7,000 pounds on land. In the sea for which he was created his weight is reduced to 3,800 pounds. At present he is at home at depths down to 1,000 feet, where he is a hardworking counterpart of a human diver.
Mobot can see by means of a television camera with an underwater range of 30 feet. Beyond this range he depends on sonar search equipment to locate metallic objects at ranges up to 1,400 feet. He can automatically scan a full 180° which gives him great range. An "umbilical cord," consisting of a 52-conductor electrical element, secures him to a master control board situated on a ship stationed overhead. There an operator guides him, electronically, to perform various underwater duties with human-like dexterity.
A gyrocompass gives Mobot a sense of direction. He "swims" in the water by means of two adjustable propellers, one on each side. His electronic heart and brain are neatly contained in a pressurized pod at the bottom of his giant frame. Darkness is of no consequence, for he has his own lights in the form of two 800-watt mercury vapor lamps mounted on the TV camera housing.
For work, he has a hydraulic arm to which a socket wrench is generally attached. Other hydraulically operated tools, such as grippers, may also be used in place of the socket wrench. The socket rotates at a speed of 20 rpm at a torque of 1,000 foot-pounds. Mobot is a formidable mechanical man indeed.
For what exact purpose did Shell Oil Company develop this explorer of the depths? That is simply answered: to replace the limited human deep-sea diver and to perform all necessary underwater operations. Mobot can go deeper and stay longer than a human diver. He is an extremely effective means for locating and facilitating reentry into an existing oil well on the floor of the ocean. He can tighten or loosen bolts or nuts on the undersea oil wellhead, operate valves, use a wire brush, and grip pipe and hoses with the proper amount of pressure. Unlike humans, he takes no coffee or lunch breaks.
Just how does Mobot manage to stay in close contact with the wellhead on which he is working despite deep-sea currents which might tend to make him drift away? A circular track on the underwater well-head entables him to run his motor-driven wheels on the rail. He rides the rail while he performs the jobs of changing vertical flange bolts, horizontal lock screws, or turning valves.
Dr. J. W. Clark, of Hughes Aircraft Company which cooperated in the building of Shell's Mobot, foresees a rewarding future in the use of deep-sea robots. In addition to underwater petroleum drilling, we can flatly predict that exciting underwater exploration, mining, farming, and salvage operations are now possible.
A great adventure befell Mobot one day. Scientists still have not come up with a satisfactory answer for it. Aboard ship, seated before the television screen which monitored the robot's undersea actions, was Forrest Adrian. Mobot was busily checking a complex of oil equipment with his mighty, sensitive arm.
Suddenly Adrian caught his breath in unbelief at what appeared on the screen. From his throat rose an amazed cry. First to respond was a drilling foreman, Paul Martin. "Look!", Adrian yelled, pointing at the screen with a shaking finger. Martin sucked in his breath at what the screen revealed. Cavorting like a corkscrew gone haywire before the eyes of the startled men was a snake-like creature about 15 feet long. A rough and bumpy ridge encircled its wriggling form like a crude spiral, and it swam with the brisk boring action of a corkscrew.
The deep-sea divers among the amazed crewmen stared at the sea denizen with utter unbelief. They had all seen many strange forms of sea life, but nothing like this creature had ever been seen by any of them. Undisturbed by the nearness of his strange visitor, Mobot continued with his duties 180 feet beneath the surface of the sea.
The living corkscrew appeared and disappeared at intervals. It seemed to become either larger or smaller whenever it reappeared. This led the spectators to believe there were several of the nightmarish beasts in range of the underwater television camera with which Mobot was equipped. Yet only a single creature appeared on the screen in each instance.
At the time of this writing the strange creature still remains unidentified. Shell officials are anxious to learn what the creature is. They want to know if it is capable of endangering human divers or damaging undersea equipment. Scientists on marine life have been consulted, but as yet no positive identification has been made. But all this means nothing to Mobot, and, on the next appearance of this strange creature, he may be directed to capture it in his mighty claw.
Whether it will prove to be friend or foe is still to be determined. But the hopeful Shell people have christened it "Marvin," because the name means "sea friend." States John Prescott, curator of fish at Marineland: "About the only way we'll be able to make a sure identification is to actually have a specimen to examine." Lets hope that Marvin proves to be a friend!"
---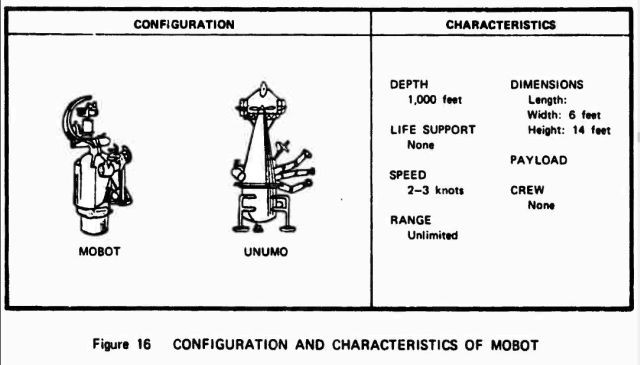 The MOBOT (MObile roBOT) was developed by Hughes Aircraft Company and is used by Shell Oil Company of California as an underwater wellhead manipulator. MOBOT, which is shown in Figure 16, consists of an electro-hydraulic vehicle designed to be lowered into the ocean, land on a track, and operated to insert or break out screws arranged in a horizontal axis. The MOBOT's operations are directed from the surface by means of a closed-circuit television network supported by acoustic sensors. MOBOT, because of the nature of the work it must perform, is very specialized and therefore is limited with respect to the underwater work it can perform. A more advanced version of MOBOT has been proposed but to date has not been constructed. This advanced vehicle called UNUMO is also shown In Figure 16.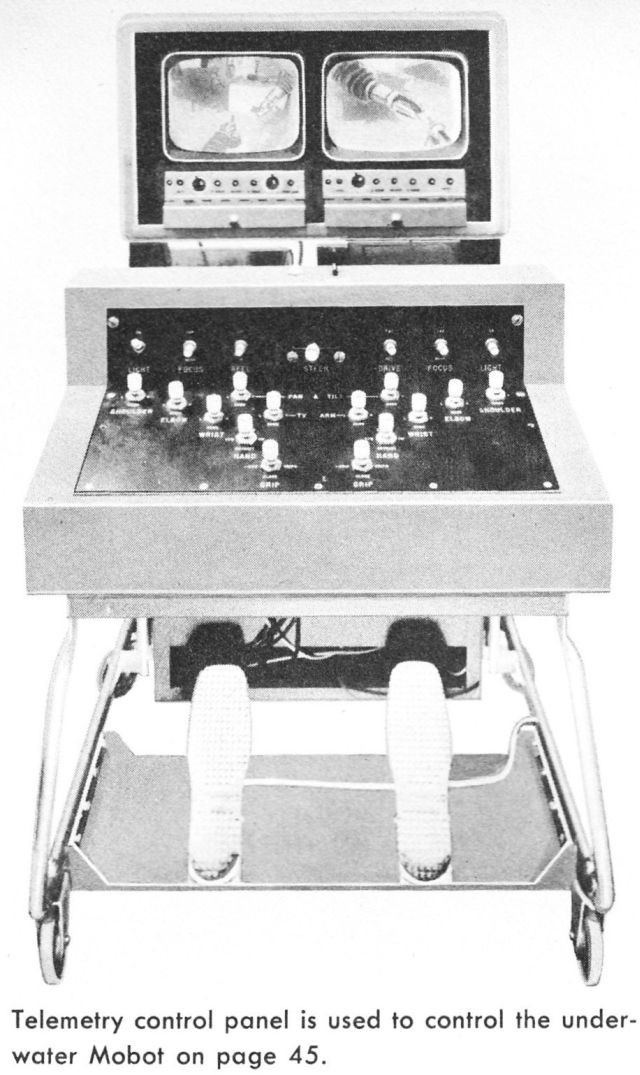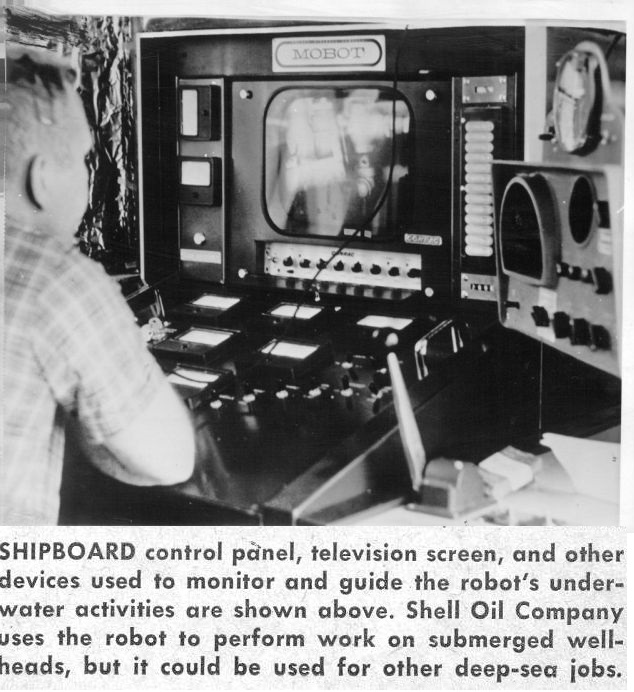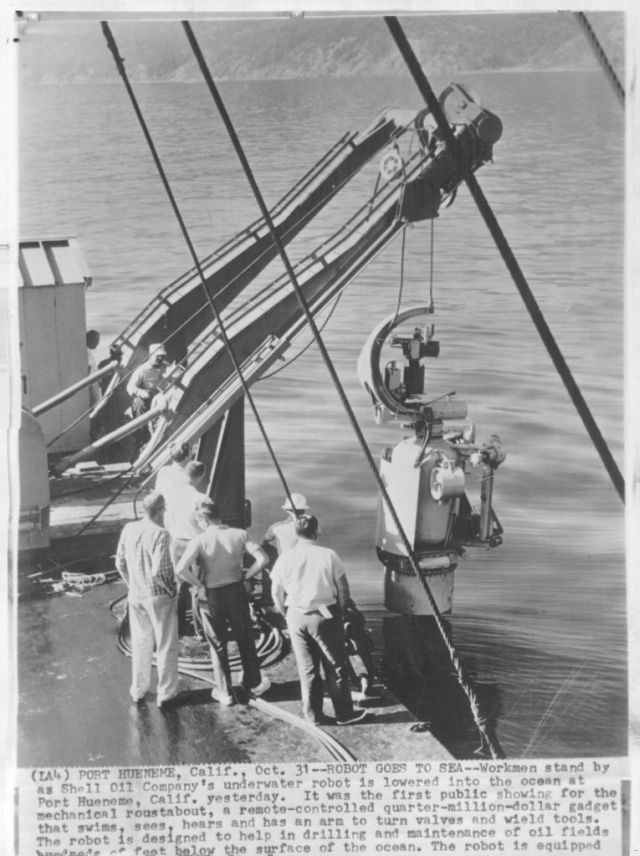 Press Release: PORT HUENEME, Calif., Oct. 31–ROBOT GOES TO SEA–Workmen stand by as Shell Oil Company's underwater robot is lowered into the ocean at Port Hueneme, Calif. yesterday. It was the first public showing for the mechanical roustabout, a remote-controlled quarter-million-dollar gadget that swims, sees hears and has an arm to turn valves and wield tools. The robot in designed to help in drilling and maintenance of oil fields hundreds of feet below the surface of the ocean. The robot is equipped …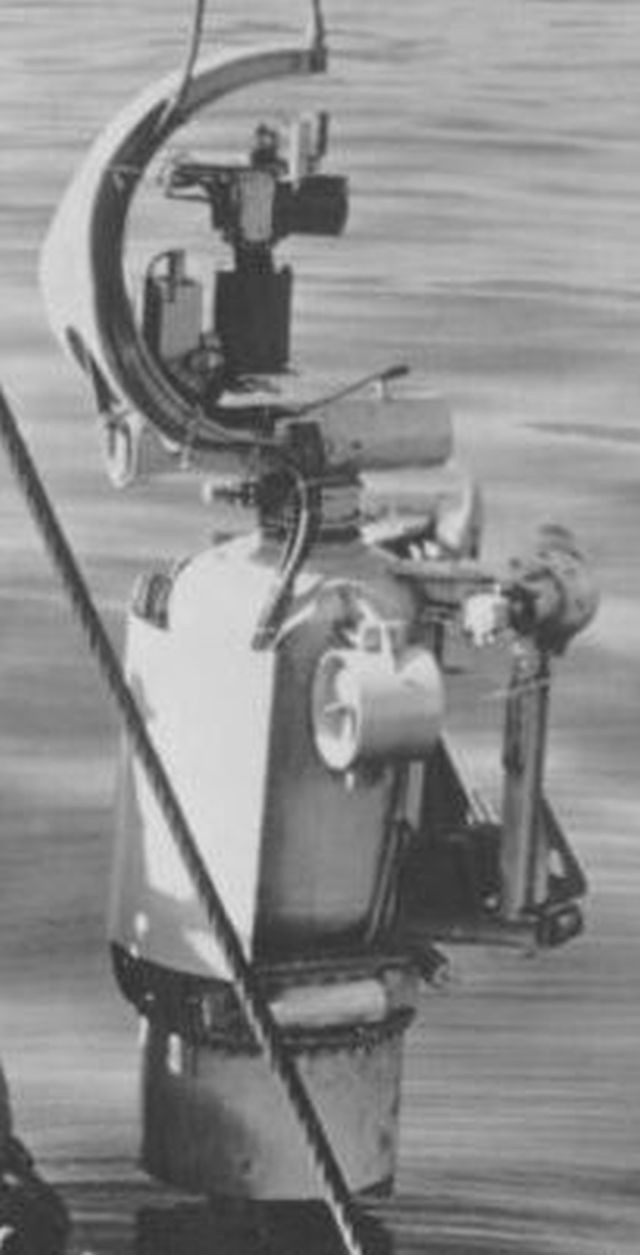 ---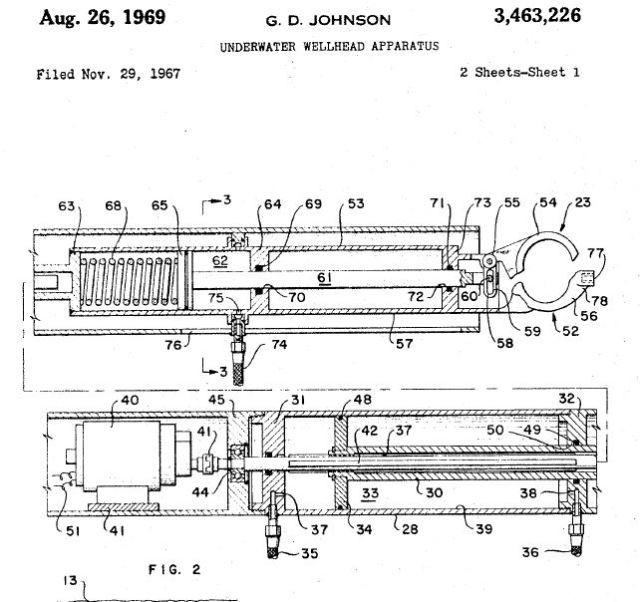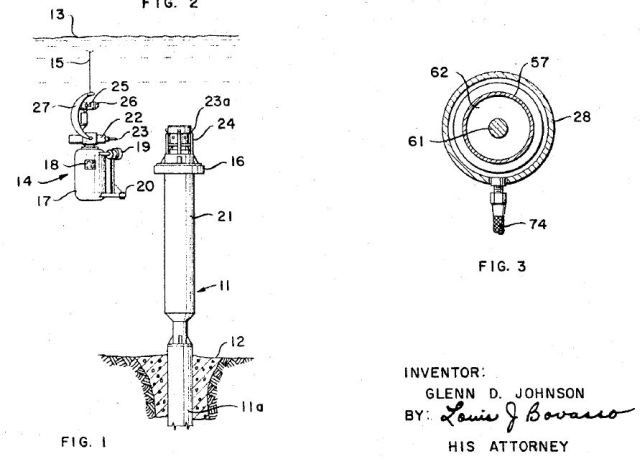 Underwater wellhead apparatus and method
Publication number US3099316
Publication date 30 Jul 1963
Filing date 25 Apr 1960
Inventor: Johnson Glenn D
Original Assignee Shell Oil Co
This invention relates to offshore wells drilled in earth formations lying below a body of water, wherein the wellhead equipment of the well is positioned below the surface of the water. The invention pertains more particularly to a method and apparatus for manipulating equipment in the vicinity of, or which are components on, an underwater wellhead.
At present, offshore wells are drilled either from stationary platforms anchored to the ocean floor, movable barges temporarily positioned on the ocean floor or from movable barges floating on the body of water in which drilling operations are being carried out. Regardless of the manner in which the wells are drilled, most wells are completed in a manner such that the outermost tubular member of the well extend upwardly from the ocean floor to a point above the surface of the water where a wellhead assembly or Christmas tree is mounted thereon for controlling the production of the well.
Wellheads extending above the surface of the water constitute a hazard to the navigation of vessels in the area as well as constituting a structure which is readily attacked by wave action, it being well known that the corrosive action of seawater and the air readily attack the normal steel platforms unless they are protected in a suitable manner by corrosive-resistant material. However, with the wellhead and/or casing head extending above the surface of the water, the flow controlling components of the wellhead may be readily adjusted by an operator working from a platform adjacent the wellhead structure above the surface of the water. Additionally, any workover or reconditioning operations carried out on the well may be readily accomplished as all of the portions of the wellhead structure which must be disassembled order to carry out these operations, are above the surface of the water where they may be reached by maintenance crews.
Recently, however, methods and apparatus have been developed for drilling and completing oil and gas wells in the ocean floor in a manner such that after completion of the well, the wellhead assembly, including various components, such as flow control valves, is positioned beneath the surface of the water, preferably on the ocean floor. These facilities are often positioned in water depths greater than the depth at which a diver can safely and readily work. it may therefore be seen that the adjustment of any of the wellhead components from time to time, or the re-entry of a well to carry out maintenance or reconditioning work, presents a considerable problem when the wellhead assembly is positioned below the sur face of the water.
It is therefore a puimary object of the present invention to provide a method and apparatus for manipulating equipment in the vicinity of, or components on, a wellhead assembly positioned below the surface of the water.
A further object of the present invention is to provide a remotely-controlled manipulator device adapted to move through the body of water and be temporarily secured to an underwater wellhead while being movable therearound for carrying out any of the various operations of setting, adjusting, connecting or the disconnecting of a wellhead assembly, components or associated equipment thereof.
A further object of the present invention is to provide a device adapted to be movably-positioned temporarily on a track adjacent an underwater wellhead, said device being provided with a rotatable object-engaging arm which is movable in any direction in a vertical or horizontal plane within the vicinity of the wellhead assembly.
Another object of the present invention is to provide a wellhead apparatus adapted to be positioned underwater for receiving on said apparatus and movable thereon a manipulator device adapted to engage the various components of the wellhead assembly.
Still another object of the present invention is to provide a method and apparatus for remotely adjusting the flow of fluid from an underwater wellhead assembly from a remote location.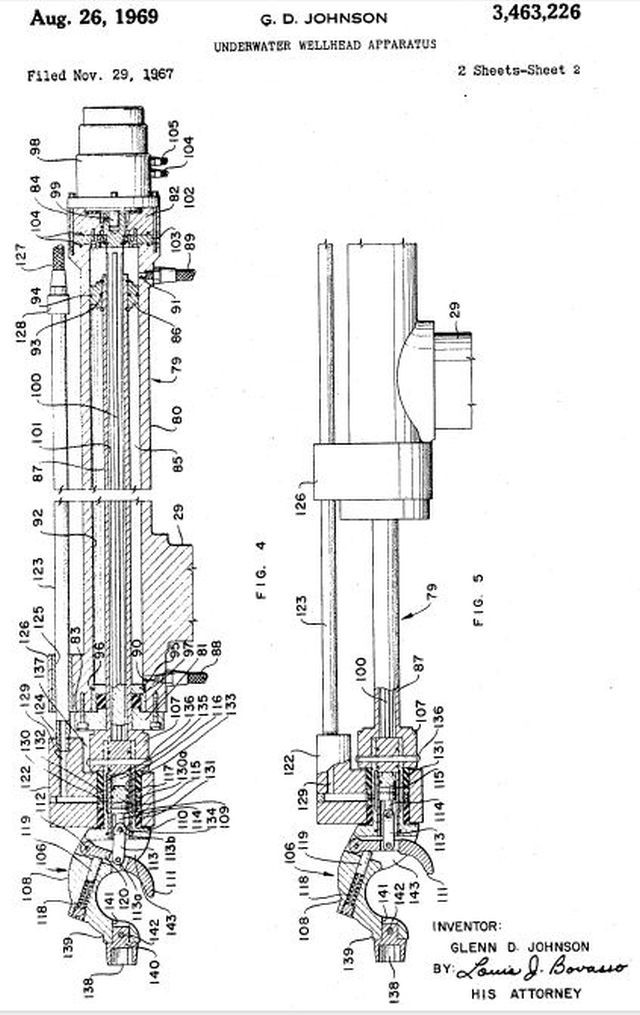 ---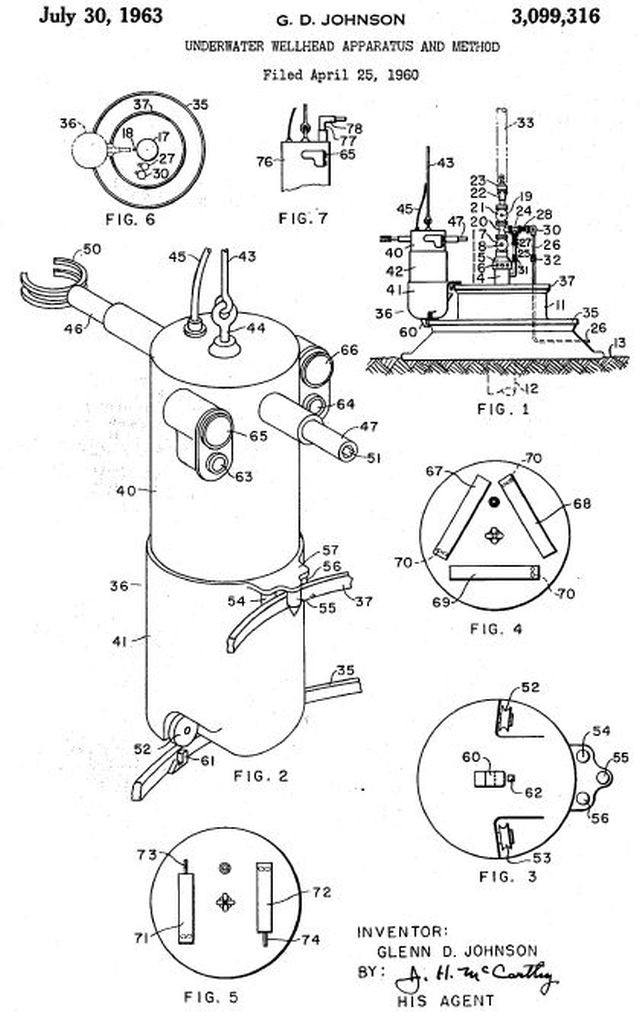 ---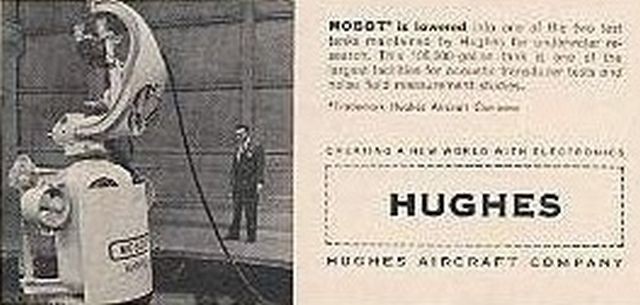 Underwater MOBOT
---
See pdf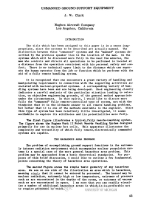 ---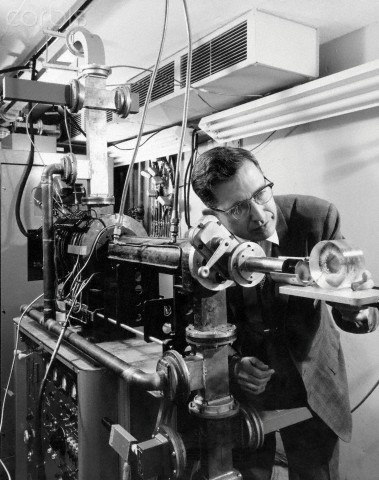 Dr. John W. Clark, Manager of the Nuclear Electronics Laboratory at Hughes Aircraft Corporation, headed the Mobot group.
---
See other Hughes' Mobot-related posts here.
See other early Underwater Robots here.
---
Tags: 1962, American, Dr. John W. Clark, Glenn D. Johnson, Hughes Aircraft, Mobile Manipulator, MOBOT, remote-controlled robot, Robot, Underwater MOBOT