1961 – "Little Ranger" Mobile Remote Manipulator – General Mills (American)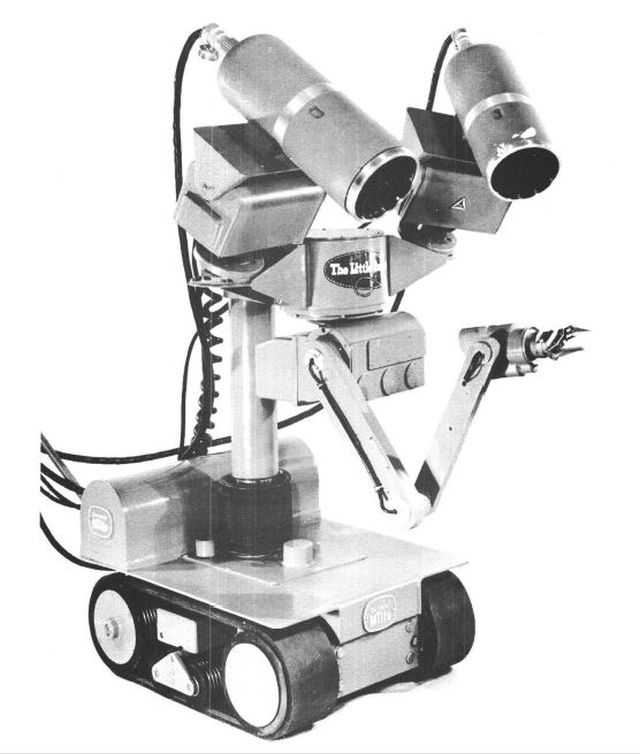 "The Little Ranger," a mobile remote handler, extends man's reach and dexterity into radioactive, explosive or other danger zones "off limits" to humans. Monitored by TV or viewed through a shielding window, "The Little Ranger" can manipulate 50 lb. loads, reach up to 8 feet, tow an 850-pound weight, and turn on its axis. The platform 1 m square which carries a single arm and two cameras in a stereo arrangement, on a central column is mounted on a tracked vehicle and is connected to the human control station by a cable, which has the effect of limiting the permissable movement of the vehicle.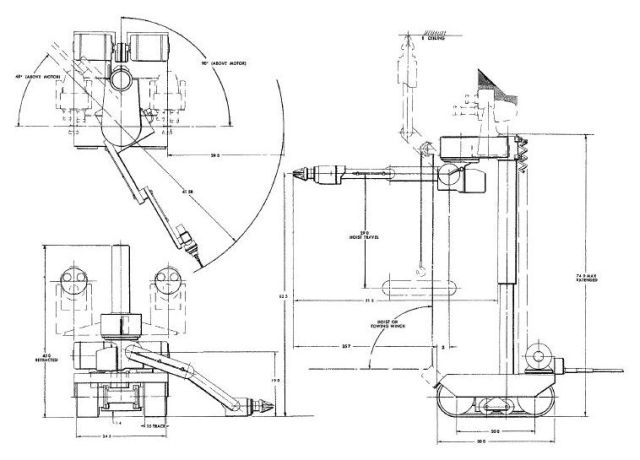 Whilst looking like a mock-up, the "Little Ranger" was real and on the market in 1961 from General Mills – yes, the American breakfast food and cereal company, built materials handling equipment. Their success and novel designs led them to build remote-handling manipulators for the then new nuclear industry. Some senior engineers spun off this division to become Programmed and Remote Systems (PaR Systems). Their success and expertise was such that they were invited to propose space manipulators.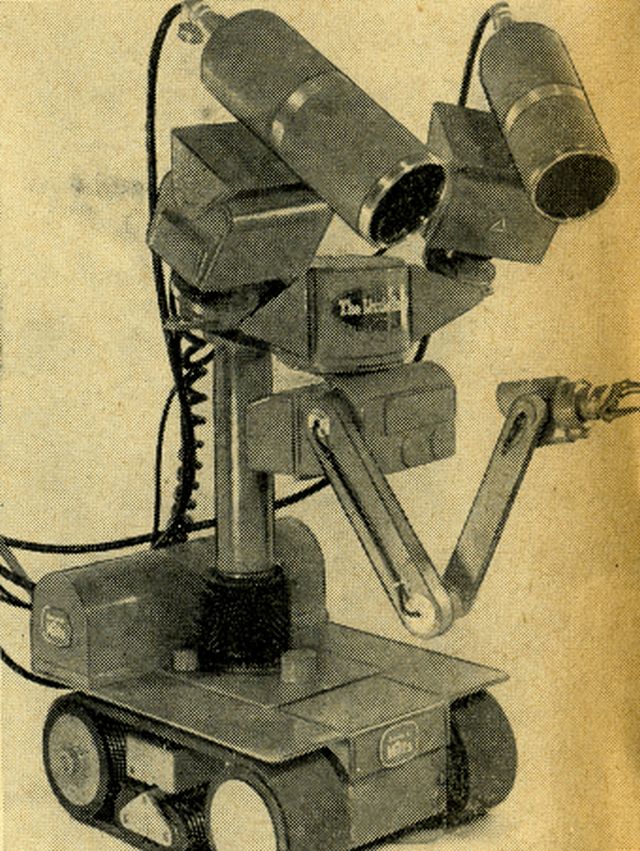 Above: Image from article that appeared in Science and Mechanics magazine, February 1963. Below: Cover of same magazine issue showing artist's conception of "Little Ranger" transformed into "Huge Ranger" with a pair of arms rather than just one.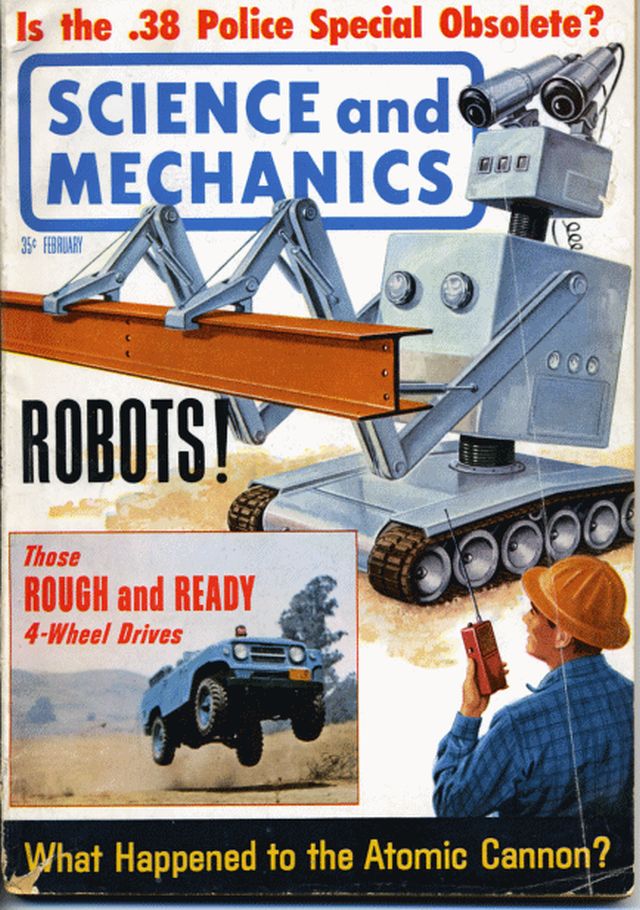 ---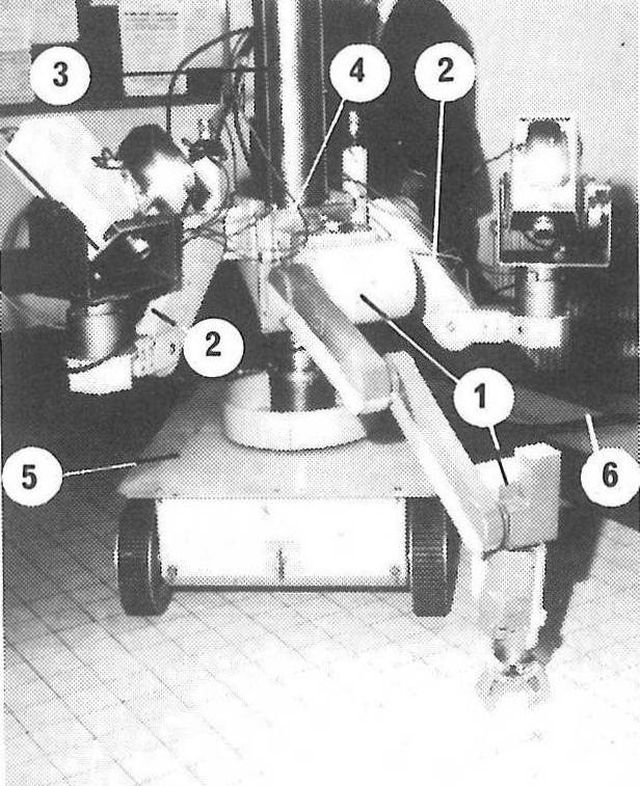 Above: (a)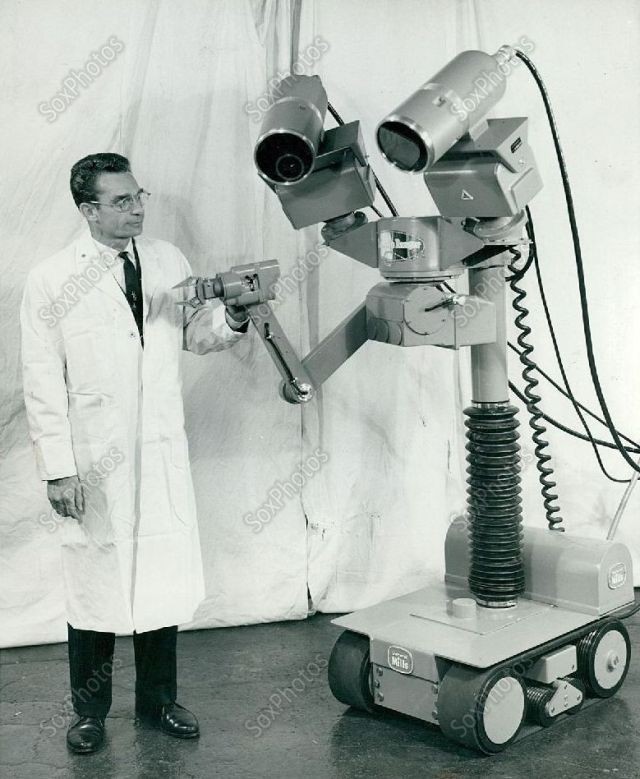 Floyd Van De Weghe with the "Little Ranger" c1961.
---
PaR was a subsiduary of GCA when the model below came out.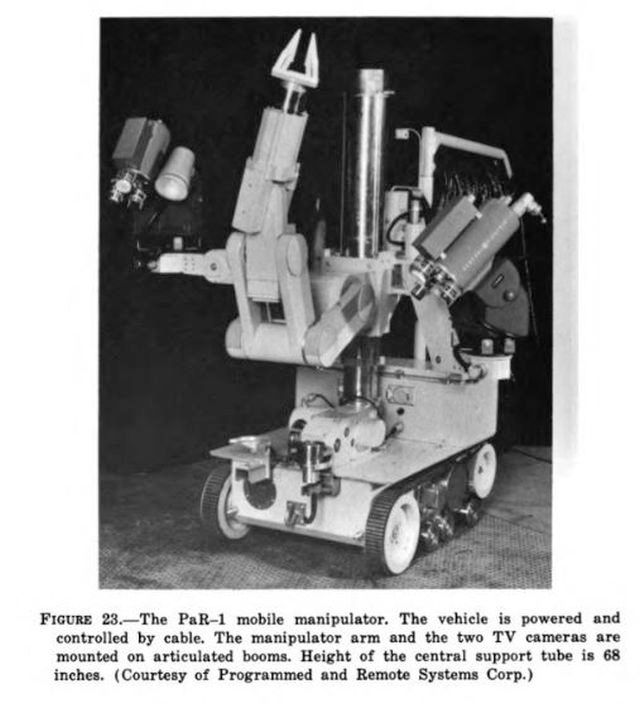 The PaR-1 mobile manipulator. The vehicle and manipulator are powered and controlled by cable. The manipulator arm and the two TV cameras are mounted on articulated booms. The height of the central support tube is 68 inches. The PaR-1 has been used in nuclear emergencies.
See separate post on PaR-1 a.k.a. "Herman" here.
---
See also post titled "1960 – Space Manipulators – General Mills" for description on GM's approach to manipulator design concepts.
See other early Teleoperators here.
---
Tags: "Little Ranger", 1961, American, Floyd Van De Weghe, General Mills, Manipulator, PaR, PaR-1, Programmed and Remote Systems, remote teleoperator