1953 – "Archie" & "Buster" Deep Water Robots – William E. Denny (American)

1953 – "Archie" & "Buster" Deep Water Robots – William E. Denny
'BILLION DOLLAR MERMAID' TO SEEK SUNKEN TREASURE—It's not a real mermaid—it's a 3,300-pound metal robot and its name is Archie. But the billion dollars is real, all right, says Archie's inventor and builder, William E. Denny. Kansas City, Kan., building contractor. The treasure is in gold and other valuable cargo in sunken ships that nobody has ever been able to salvage. Denny thinks that Archie can get it for him. Archie was built at a basic cost of $120,000 and 18 months' work. Details of Archie's construction and performance are seen in sketch at left, which shows not Archie, but his brother-to-be, Buster, a second robot that Denny is building. Archie has a big advantage over human divers. They can descend only 200 feet or so and work for for very short periods. Archie can go down 2,500 feet and work 24 hours a day if necessary. The robot can operate all kinds of tools. He can pick up an egg without breaking it and he can take a stout 2×4 and mash it into match-wood with one crunch of his powerful claw. In photo above, Denny holds a piece of 2×4 while Archie crushes it. Engineers who have watched preliminary tests says that Archie is practical. Final deep water tests will be made this summer and the first salvage attempt will be made off the coast of Massachusetts in August or September.

ROBOT DIVER–Kansas City inventor William E. Denny demonstrates the pilot model of his deep water robot, designed for salvage and rescue work at depths of 2,500 feet. Denny plans to use the $120,000 device, which is equipped with television cameras and lights, to probe for sunken gold off the Atlantic seaboard.—NEA Telephoto.
Text from a published prospectus c1954…
DEEP WATER ROBOT
(Pat. Pending)
A Remote Control Mechanical Means of Deep Water Exploration and Salvage Work
DESIGNED: To circumvent the human element in extreme pressures of deep water exploration.
To propel, lift and lower itself to great depths in the sea by self contained power units.
To televise a continuous picture of surroundings to the operators viewing screen in the control room.
To operate the cutting torch and various tools required in deep water salvage work.
To operate by remote control through a conduit cable connecting Robot and control board on the mother ship.
The Deep Water Robot is immune to many of the hazards that confront the deep sea diver. The shark, the octopus, strong currents or broken air lines do not obstruct its performance. The Robot provides a safe, efficient means of deep sea salvage operations and can work twenty-four hours a day at depths far below the reach of the human diver. Tools attached to the working arms can be interchanged to perform numerous tasks, thus making salvaging operations feasible that were heretofore impossible to perform.
Robot Diver. Inc., hereinafter sometimes referred to as the "Company" or 'Robot Diver" has its office and shop at 109 Hardesty Ave.. Kansas City. Missouri. The enterprise was started as a corporation in 1952, by William E. Denny, now President of the Company, the Articles of Incorporation being dated the eighth day of August, 1952, and being signed by William E. Denny, A. A. Krogsdale, and Fred F. Bake as subscribers to the shares of stock. On the eleventh day of August, 1952, a certificate of In-corporation was issued to the Company by the Secretary of State of Missouri.
During the course of many centuries, Man has made tremendous strides in mastering the forces of Nature upon the surface of the earth, the surface of the Ocean, and in the air surrounding us.
But thus far, Man is almost impotent before the infinite power of the ocean depths. Using presently available diving equipment and current standard operating procedure, a human diver can descend only a few hundred feet under water. He must work under such tremendous air pressure and in water so cold, that he can stay submerged only a very short period of time. His field of maneuverability is limited very greatly.
As a result, countless ships lie on the ocean floors, containing untold millions of dollars of salvageable cargo awaiting recovery by the person who can devise a revolutionary method of removal. Unfathomable secrets of marine life and of the ocean floors await disclosure by the person who can invent a machine capable of reaching and exploring such mysteries.
Today, there is in existence such a revolutionary device which is capable of giving Man the same mastery over the ocean depths as the airplane has given over space. This key to such success is the Robot Diver.
The primary purpose of the Robot Diver will be to locate and to reclaim for the Company, gold and silver bullion valued at hundreds of millions of dollars which has been lost at sea during the many centuries of the past. Other types of valuable cargoes which the Robot Diver will search for are oil, rubber, scarce metals, iron and steel, etc.
Demonstrations will be conducted for the United States Navy to show that the Robot Diver will help in saving lives of sailors who might be sunk at sea in a submarine. In the recent sinking of a Turkish submarine, all lives aboard were lost because human divers could not operate at the depth and under the turbulent conditions prevailing where the submarine sank. We can also demonstrate that the Robot Diver has other uses for national defense such as underwater demolition, destruction of enemy harbor defenses. etc.
For all of the purposes mentioned above the Robot Diver is the logical and practicable means of attaining such goals.
The first salvages by the Robot Diver will be made upon ships sunk during the war in the Gulf of Mexico. There were 350 ships sunk containing oil and other merchantable cargoes. We plan to raise, by means of the Robot Diver, small enemy craft sunk during the war for the salvage of copper, steel and other metals.
The first gold salvage by the Robot Diver will be made upon a steel ship which sank some thirty miles off the coast of Rhode Island, while carrying gold bullion valued at three million dollars. About two years ago, human divers made an unsuccessful attempt to salvage this gold ship, but conditions which the Robot Diver can overcome caused the human divers to fail.
The next salvage operation will be on the H. M. S. Hampshire off the Irish coast. The ship contains $9,260,000 and lies in 450 feet of water. Next will be the Santa Cecelia, off the Juan Fernandez Islands. It had $5,000,000 aboard when it sank. The next two salvages will be the liner Merida with $5,000,000 and the S. S. Central America with $7,000,000.
That will make a total return to this corporation of $29,260.000 for the first five gold salvages. The operational cost will be very small and the time consumed would be short and fast moving. Then we will move in to salvage such as the $121,000,000 off the coast of Brazil. Of course those will be more difficult but we will have the experience of the easier and more shallow water salvages.
However, the sunken treasures and merchantable cargoes that are salvaged will not be the source of most of the dividends paid by this corporation. The Marine insurance business that the Robot Diver makes possible will run into billions of dollars in insurance premiums. In the near future when a ship sinks, this company will be able to raise and return the ship to its owners by means of the Robot Divers. In the meantime, the ship owners will be paying billions of dollars to Lloyds of London for insurance premiums, which will be underwritten by this corporation. So the returns from one share of stock in this company will be enormous.
We plan to use an LCI for our operations ship. It is 158 feet long and has a 4000 mile cruising range. It is a 400 ton vessel and will weather any storms of the seven seas.
The engineering and technical aspects of our entire operation are practical and sound, which seems to indicate success in this enterprise. We do not expect to be entirely free from obstacles to this success but such obstacles will not be insurmountable or even severe. The most difficult part, that of the original development, fabrication. testing and revising the original design as a result of the test, is complete. We expect to be engaged in our first salvage operation at an early date.
Mail inquiries to Robot Diver. Inc., 516 Broadway, Cape Girardeau, Mo.
---
The 1953 "Archie" & "Buster" Deep Water Robots by William E. Denny pre-date Hughes underwater MOBOT concept by six years.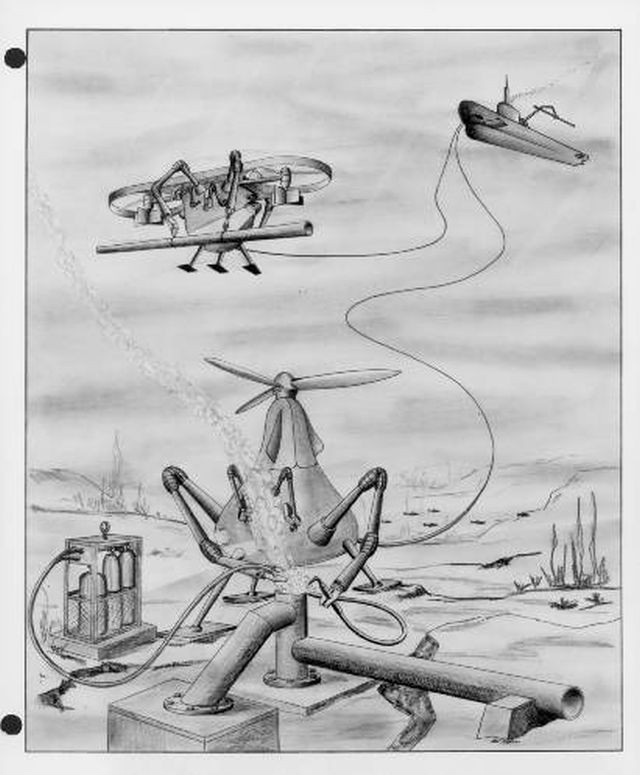 Deep water MOBOT concept from Hughes 1959 brochure.
---
See other early Underwater Robots here.
---
Tags: "Archie" Deep Water Robot, "Buster" Deep Water Robot, 1953, American, Deep Water Robots, Mobile Manipulator, MOBOT, remote-controlled robot, Robot, Underwater MOBOT, William E. Denny