1982 – RB5X the Intelligent Robot – Joseph Bosworth (American)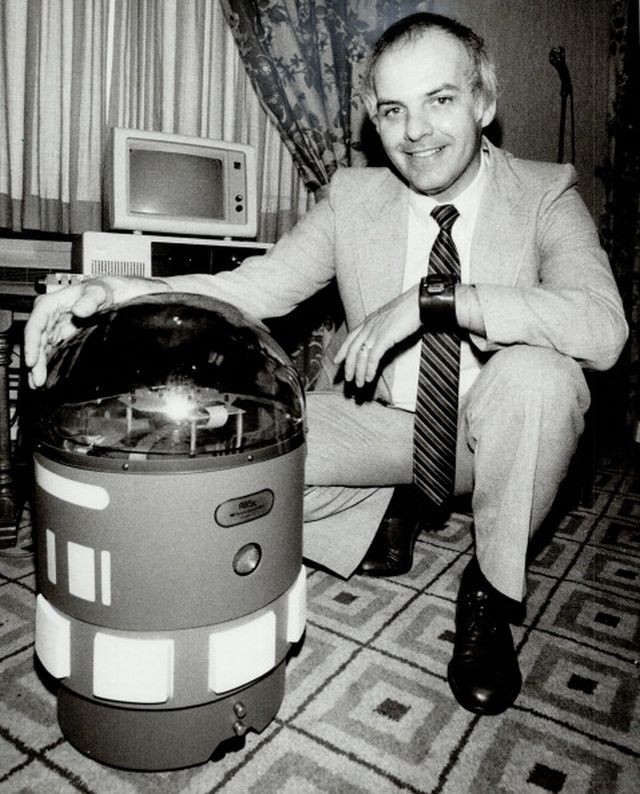 The RB5X is a personal robot manufactured by RB Robot Corporation of Golden, Colorado.
A cylinder-shaped robot with an optional arm, and a transparent, dome-shaped top, RB5X has an RS-232 communications interface and is programmable in TinyBASIC or Savvy. It was first released in 1982. Its inputs include eight bumper panels, a photodiode and a sonic transducer. The robot learns from experience.
RB Robot Corp was founded by Joe Bosworth (pictured above) in 1982.
Video via The Old Robots.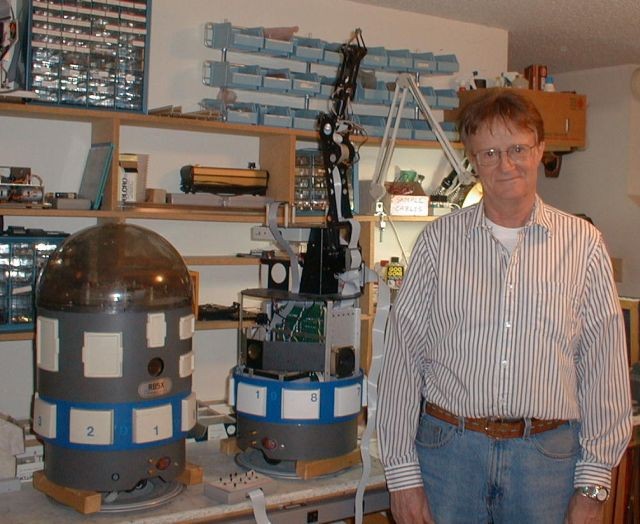 Con Brown (pictured above) purchased the assets in 1985 from the bank. He changed the name to General Robotics and enjoyed the fruits of his labor for 20 years.
John Boisvert purchased the remaining inventory and assets from Con Brown [Constant Brown] in 2005.
The RB5X robot has to be considered one of the most durable and longest lasting of all Personal and Educational Robots emanating from the 1980's.
---
Below images from RB Robotics.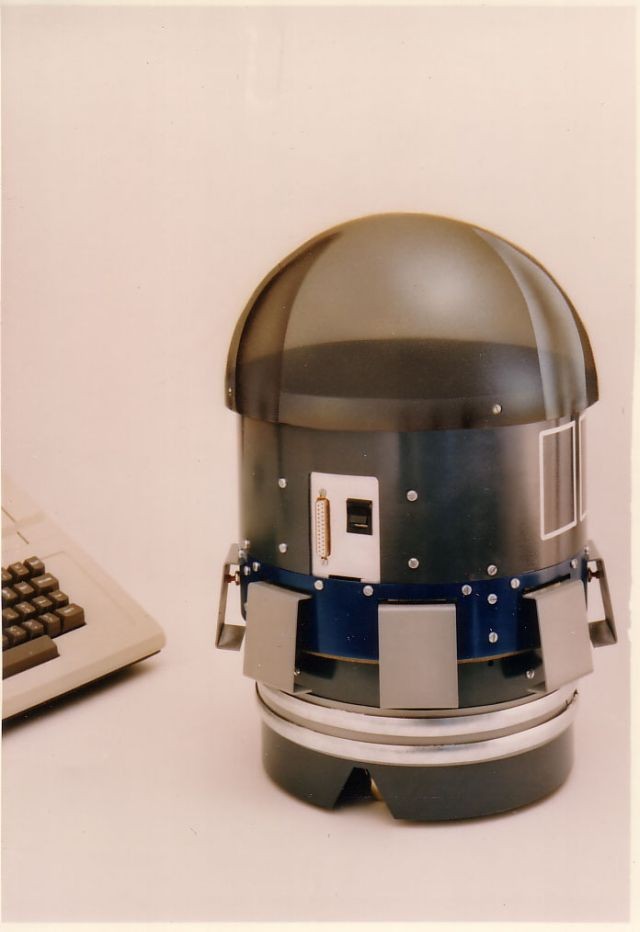 Here we have a picture of the first production Prototype for RB5X. There were 3 made.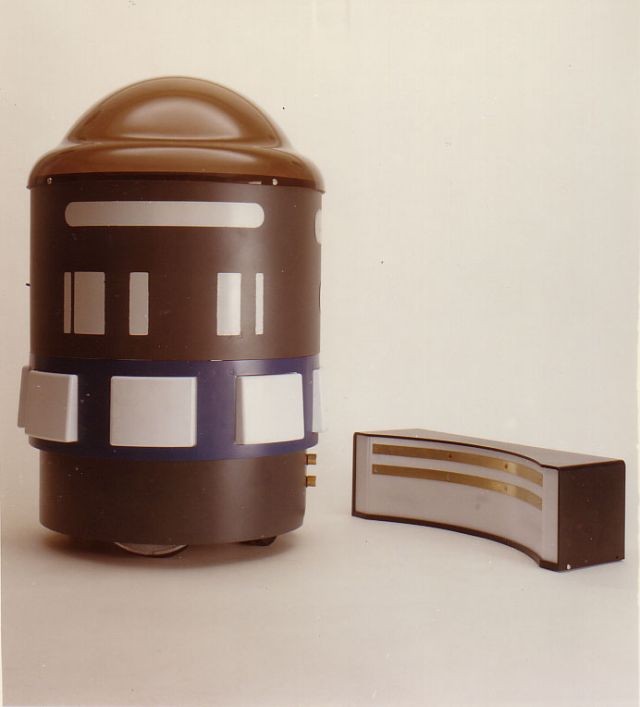 This is the second version made. These were produced in early 1983.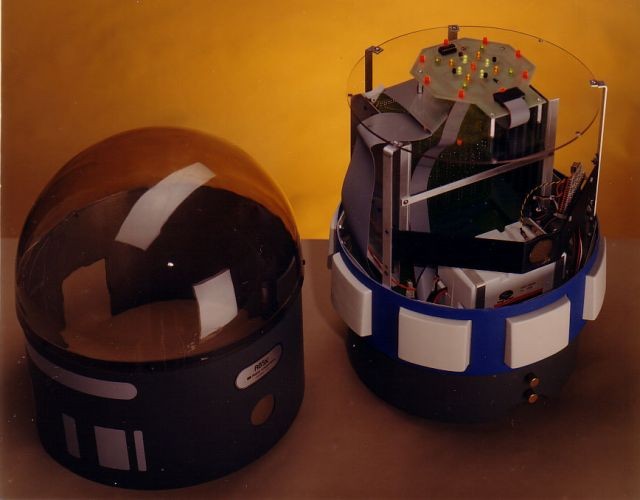 The third version came along later in 1983. It featured a redesigned LED board, a different dome and a few refinements to the rest of the boards. Also added at this time was the Voice/Sound board.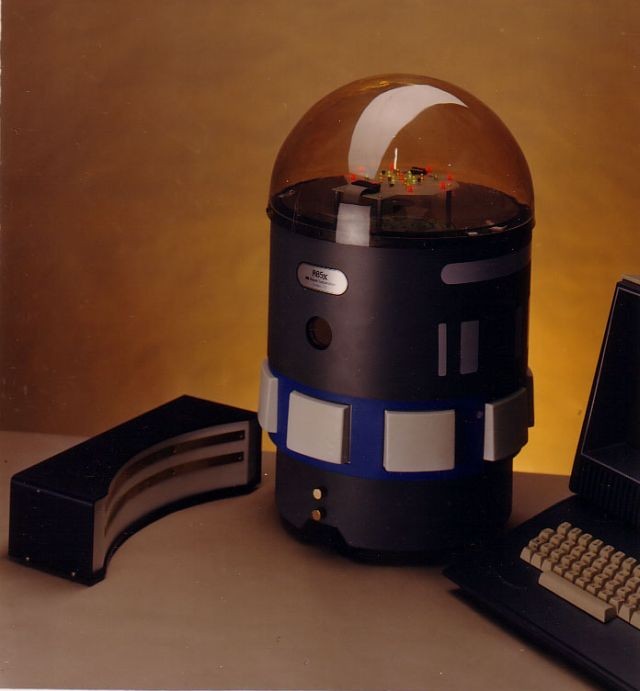 RB5X, a personal robot, standing next to the "charger /nest." When the robot finds the nest, the two metal contacts on the front make contact with the metal strips of the curved surface of the charger and recharge the robot's batteries.
A vacuum attachment was produced in 1983 and shown off at the German version of CES. But due to poor run times and navigation problems none went to production.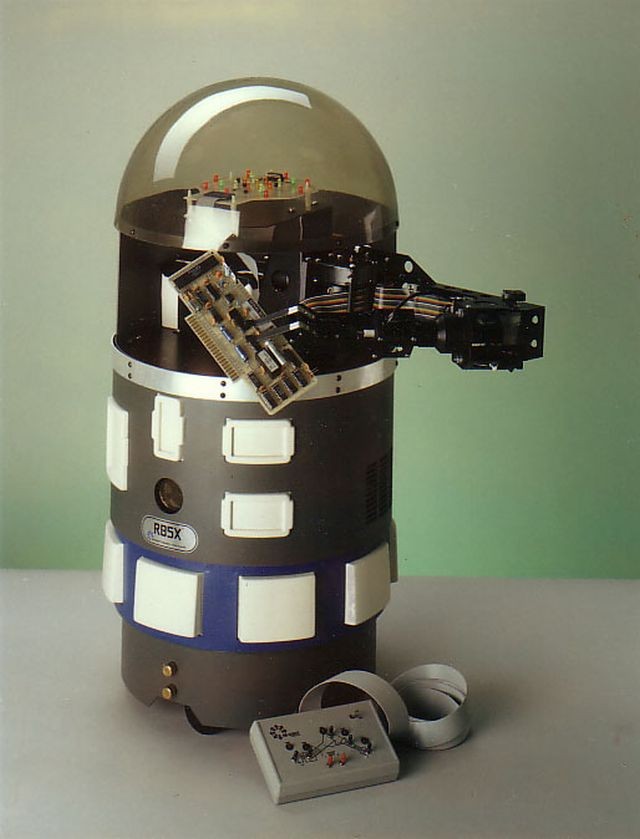 This all led to the final product.
---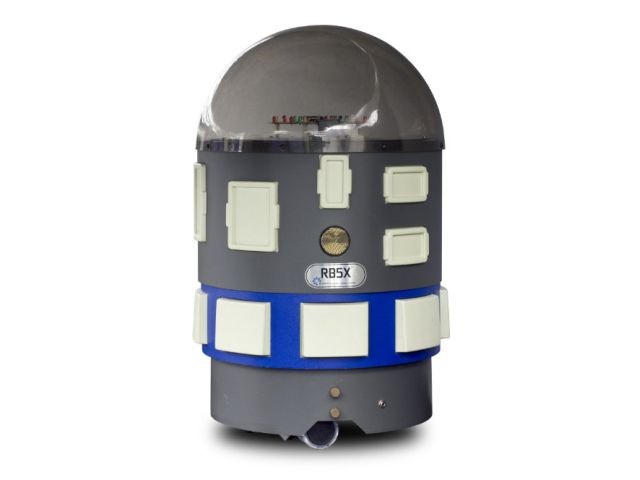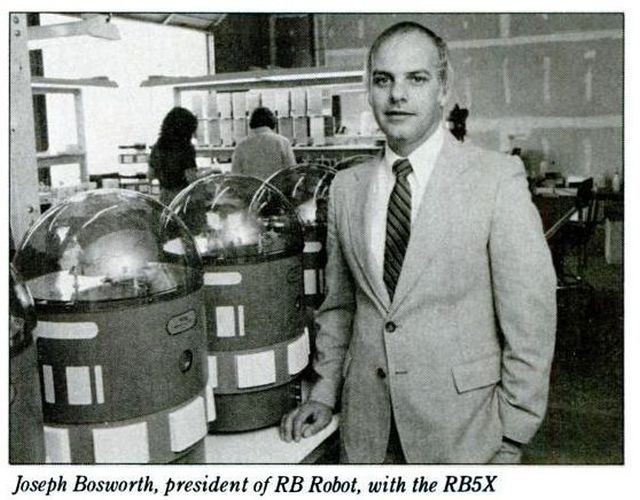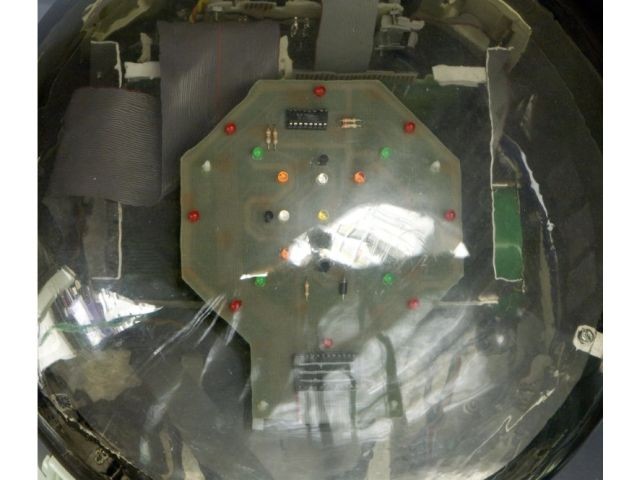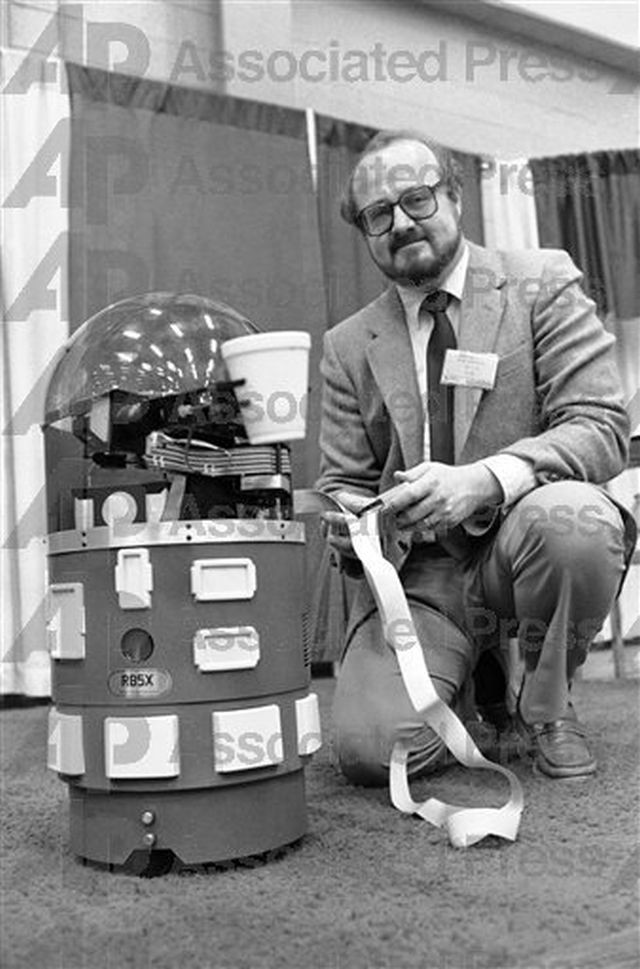 Richard J. Nelson of the RB Robot Company sends a model 5X through its paces at the annual Atlanta Computer Show in Atlanta on Dec. 8, 1983 by having it offer a cup of coffee to viewers. (AP Photo/Joe Holloway Jr.).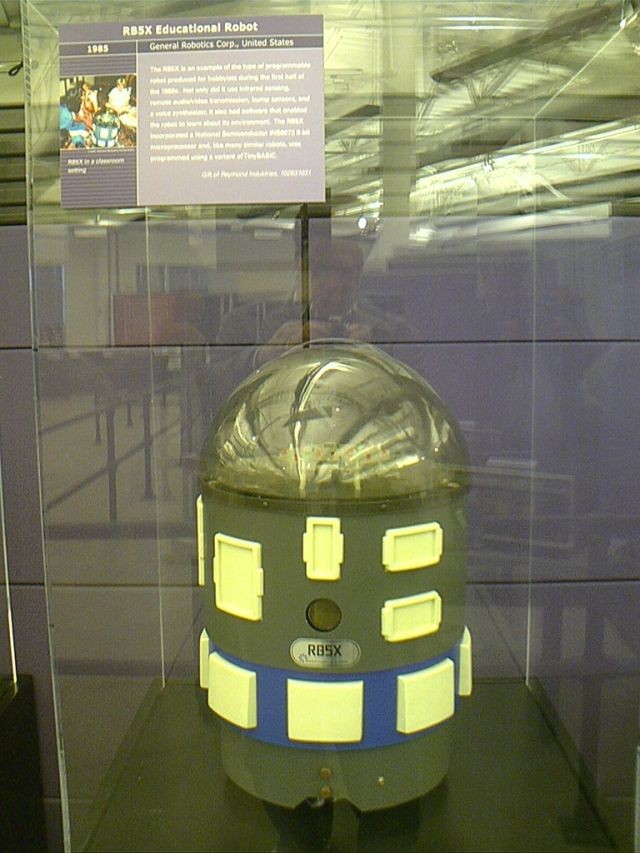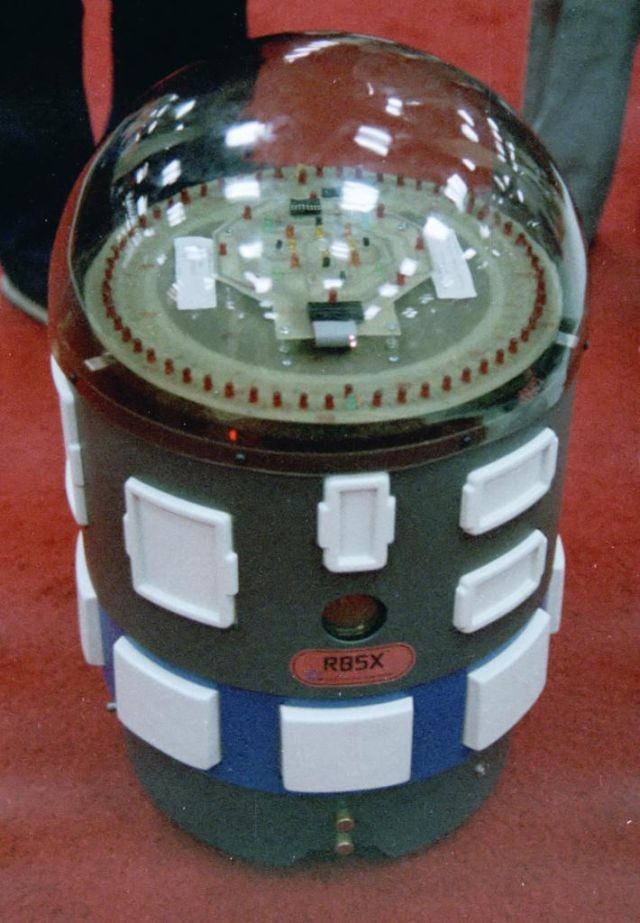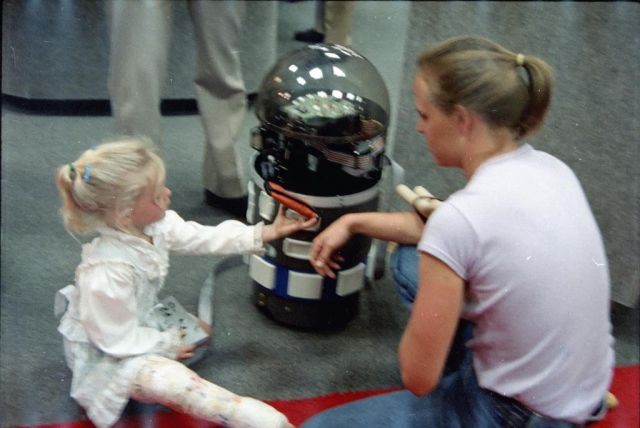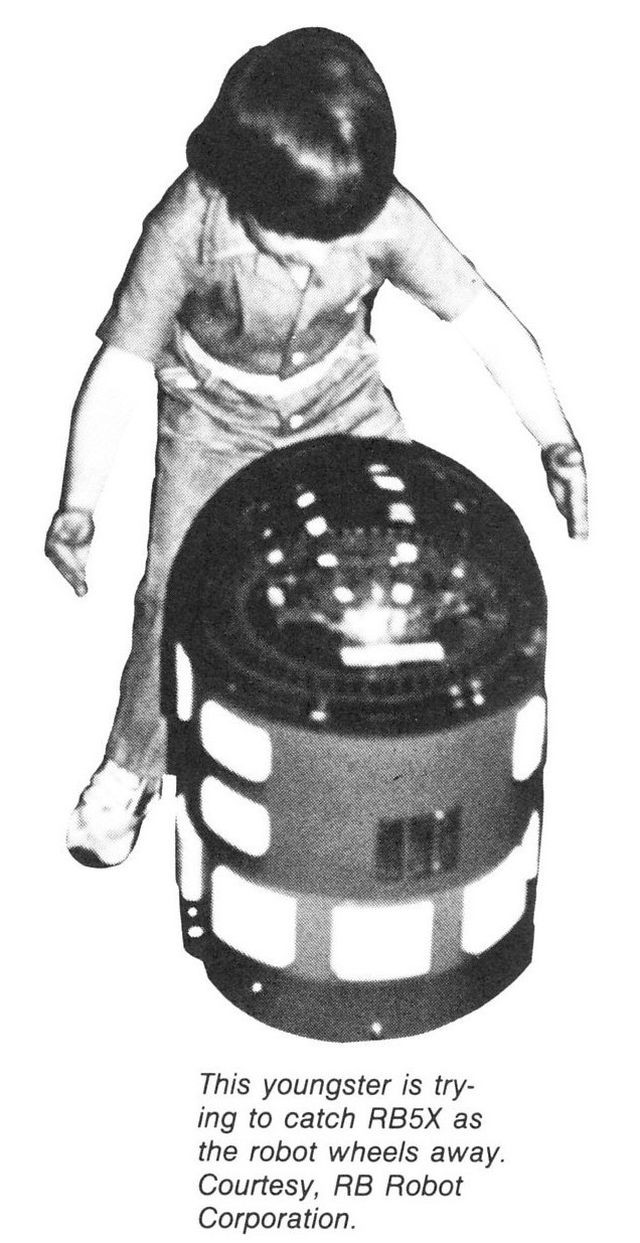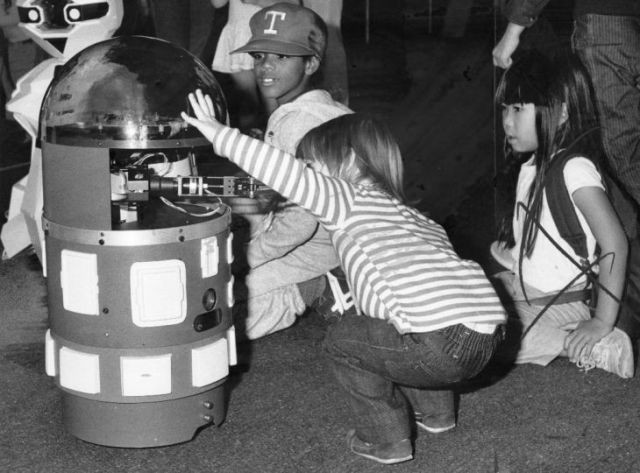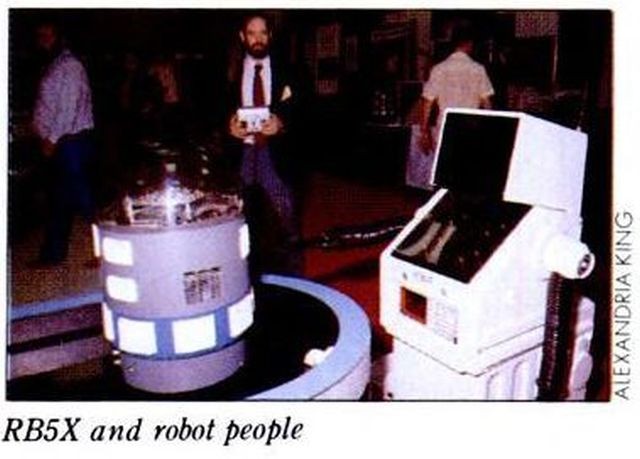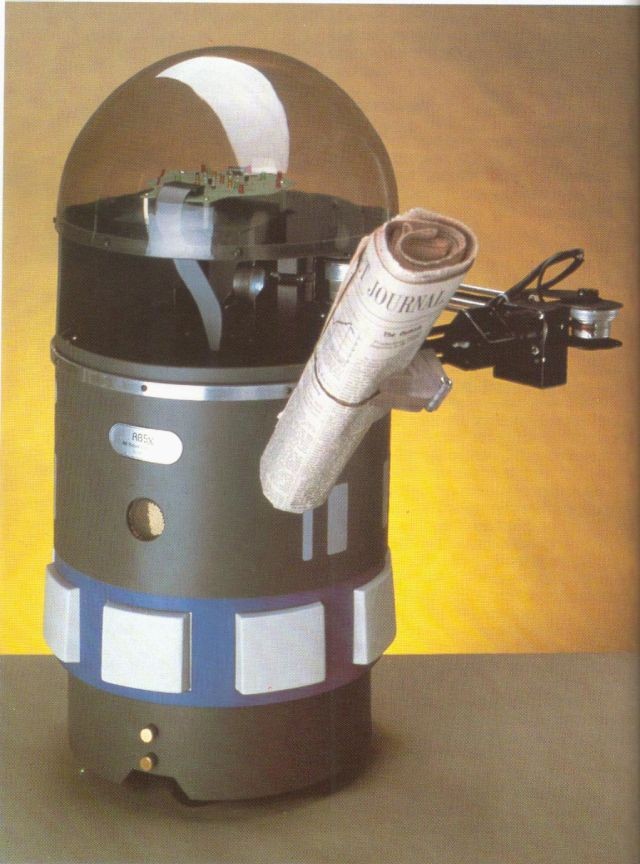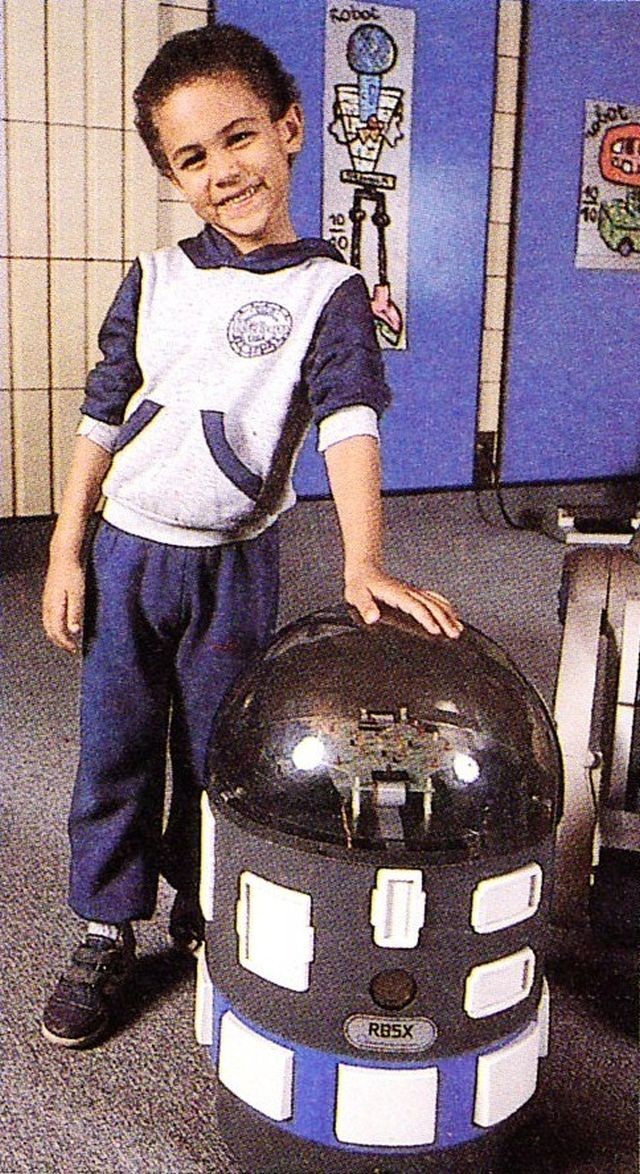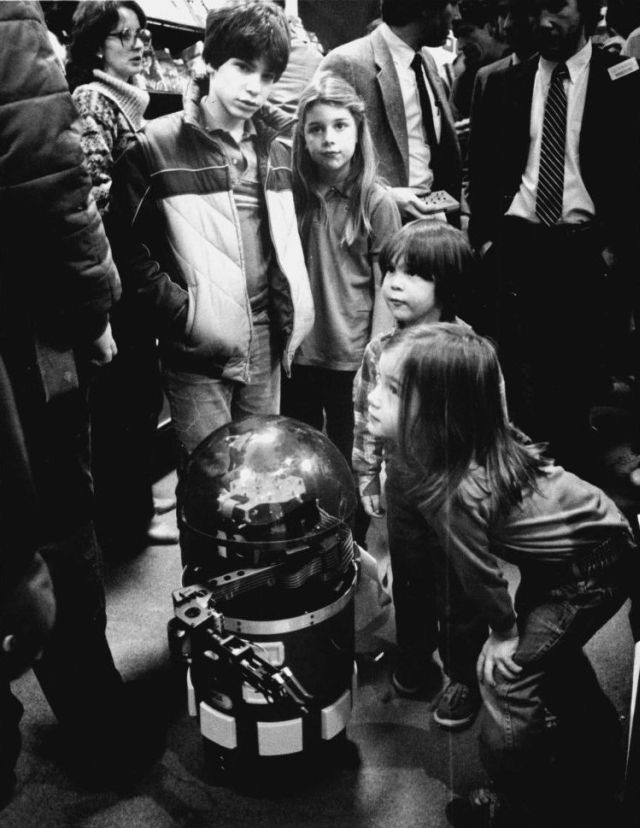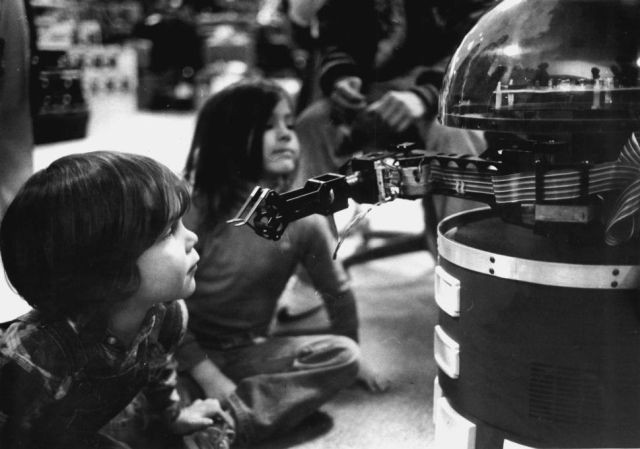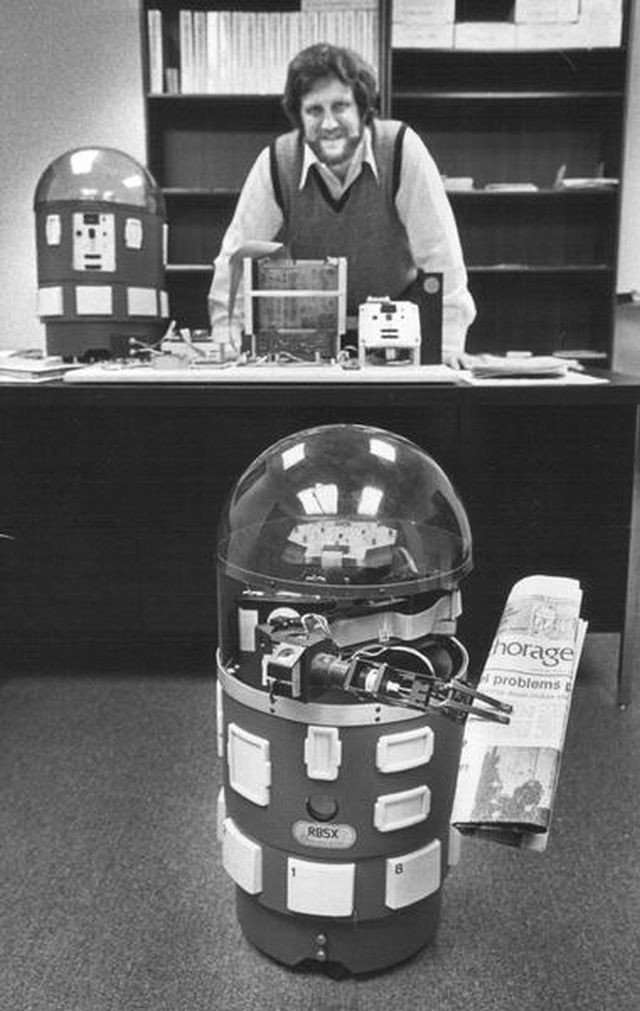 RB the robot
The home robot field attracts its share of entrepreneurs. One such individual is Joseph Bosworth, founder of the RB Robot Corp. Bosworth, a former consultant for the Solar Energy Research Institute, had a background in computers but, he says, "I didn't want to get into the same things that everybody else was doing. So I was looking for the next frontier." It didn't take much looking, he says, to see that home robots could be to robotics what the Apple II personal computer was to computers.
The Golden, Colorado, company's first attempt at an experimentor's home robot (they anticipate introducing a pure consumer version later this year) is the RB5X. The 2-ft robot sells for $1,195 for a basic model with additional memory, sonar sensor, and pulsating light options available for $295.
Weighing 10 lb, the unit is equipped with tactile sensors about its body, allowing it to detect and respond to objects in its path. Its basic motivation is to keep moving. When its tactile sensors touch an object in its path for the first time, it will choose from a table of random responses. It will either turn left, right, back up, go forward, or stop for a short time. Successful responses are stored. As the robot's experience grows, it develops rankings or levels of confidence in each of the possible responses. Eventually, it builds up a range of appropriate learned responses to all the objects it may encounter in a room. The unit can be programmed from an external personal computer through its RS-232 interface. It can also charge its four C and D-cell power supply automatically, seeking out and attaching itself to its charger, then uncoupling and resuming its activities.
---
Source: The Personal Robot Book, Texe Marrs, 1985.
RB ROBOT
In September, 1982, the RB Robot Corporation of Golden, Colorado announced the introduction of the lovable and functional RB5X, advertised as the "Intelligent Robot." This momentous event was noteworthy because RB5X was the world's first mass-produced personal robot. Since then, the tiny, 23-inch-tall robot has proven to be one of the most reliable and well-made machines on the market. As a result of this reliability, RB Robot Corporation has sold thousands of RB5Xs to customers in the United States. Distributors in Germany, Japan, and the Far East have also sold many units in their home countries. (In West Germany, RB5X is modified slightly and has been redesignated as "Toby.")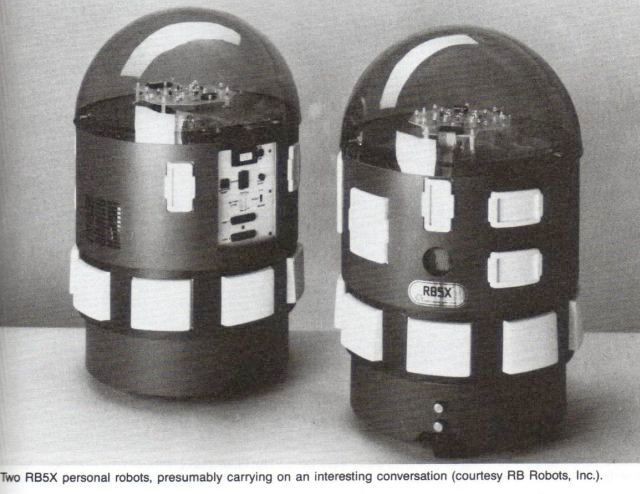 RB5X resembles a high-tech garbage can, with his cylindrical body and a clear plastic domed top. As he scoots along, propelled by two motor wheel assemblies, four randomly flashing LEDs add a touch of brilliance.
RB5X has an optional arm and hand, or gripper, which he cleverly conceals in his body. Like HERO I, RB5X isn't much in the muscles and brawn department. A little less than 1 pound—maybe a can of Coke, your slippers, or the morning paper—is about all the small fellow can lift. The arm has five axes of movement.
A nice feature of the robot is his built-in sonar and bumper switches that help him find his way around a room or area by trial and error. As RB5X moves to and fro groping his way, his memory records the best—that is, the correct—path.
RB5X is a user-friendly robot that has impressed many observers, including robotics and computer experts. The little robot was a big hit at the 1984 Winter Consumer Electronics Show in Las Vegas. At that show, the RB Robot people presented a most unusual display. The centerpiece of the display was a "sculpture" of six, multilevel pedestals, each presenting a robot performing a different task. One pedestal featured an RB5X singing, Daisy, the song made famous by HAL, the computer in the film 1001: A Space Odyssey. Another pedestal held an RB5X that greeted show visitors with a tip of its hat. Another RB5X entertained with the robot version of a carnival barker ("Come one, come all!") In addition, there was a plant-watering robot, and two RB5Xs who passed a boquet of flowers back and forth.
Visitors to the RB Robot booth were able to gain hands-on experience with the RB5X robotic arm and with a software module called "Pattern Programmer" that allows users to program the RB5X to move in any pattern they design by pressing its bumpers. Visitors also saw an RB5X equipped with heat sensors and a fire extinguisher that will soon enable it to detect a flame, seek it out, and douse it with Halon.
About RB5X
RB5X comes with his own programmable microprocessor and also has an RS-232C interface to permit link-up with a personal computer for added memory. Because the robot is gaining popularity and becoming a mobile fixture in more households, independent software firms are bringing on-the-shelf software packages to the market which continue to make the robot more useful and fun. In addition, the company that makes RB5X offers a number of software packages and useful add-ons, including voice synthesis and voice recognition.
Looking through RB5X's clear head, you can see the slot for his National Semiconductor on-board microprocessor, INS 8073. On-board capacity is 8K and can be boosted to 16K. There are also five other slots: one to hold extended memory and four additional slots to permit the connection of other boards.
With the robot you get software demonstration programs on disk, which enable you to give the robot a good workout and acquaint you with RB5X's overall capabilities.
46
Among the optional items offered is a Robot Control Language (RCL)TM package that uses SavvyTM, a system that lets you program RB5X with common English words and phrases. RCL is available for Apple II and lIe computers. Contact RB Robot Corporation for availability on other personal computers as well.
The voice synthesis and recognition features allow interactive conversation between a person and the robot. Using the 64 phonemes standard on a speech synthesis microchip, the user can create a varied vocabulary in any language. Also, you can command the robot to take actions and hear RB5X respond by voice. New communications packages offered by independent firms, such as Arctec, go one step further, permitting RB5X to communicate with other robots, including the HERO models.
Joe Bosworth, president of RB Robot Corporation, feels his robot is one of the most useful on the market, recommending it for home or school use, for play and education, and for experimentation. He says that one way to view the robot at this stage is to "think of it as an infant." Like a human baby, remarks Bosworth, a baby robot "evolves and changes as it gains more experience and knowledge." RB5X is growing, adds Bosworth, is becoming an adolescent, and within the next few years, may become a full-fledged adult. All of this is to say that RB5X is getting more sophisticated and improved with the passage of time.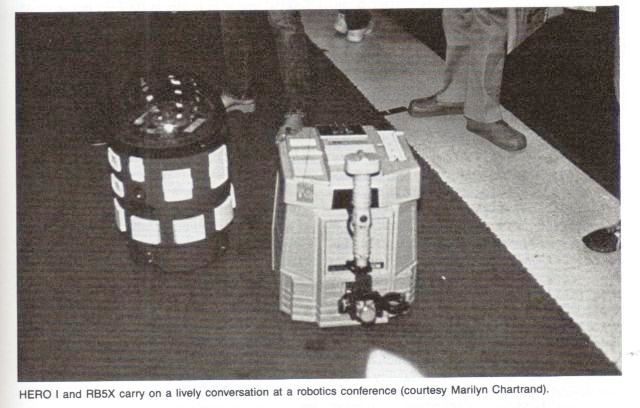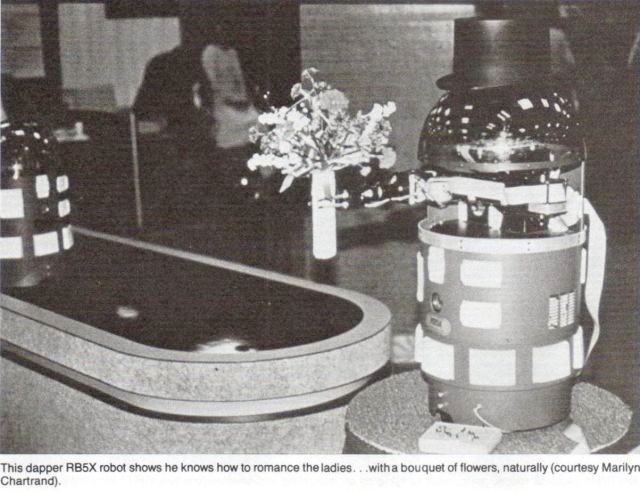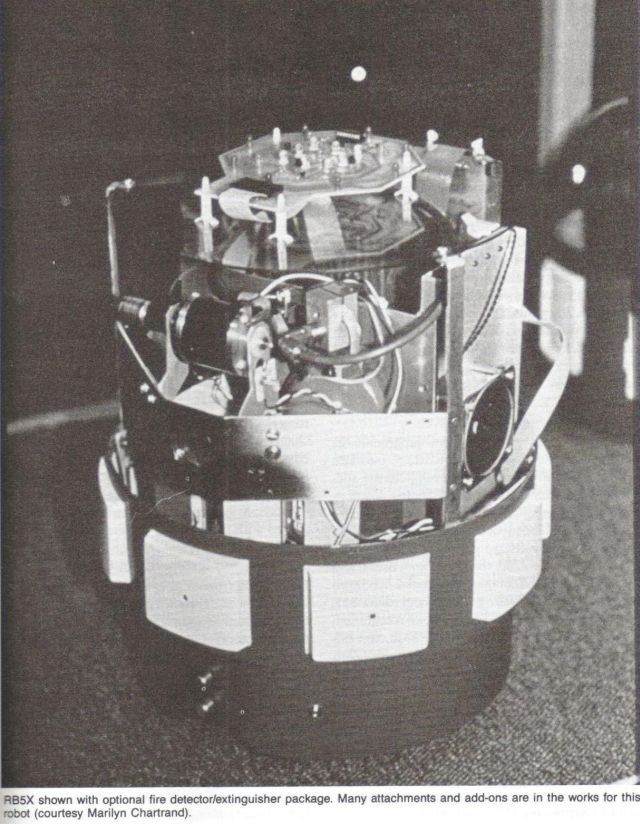 Improvements to Come
Planned improvements to RB5X include several attachments, including a fire detector/extinguisher and a vacuum cleaner. The company has built successful prototypes of each of these devices. The fire detector/extinguisher has a "nose" that smells smoke. Sensing a fire, it then targets the location and puts the fire out with a fire extinguisher it handily carries on-board for just such a dangerous occasion.
The RB5X vacuum attachment includes programming that will allow the owner to preprogram the robot with a knowledge of the room or rooms that need vacuuming. Then after the master of the house has left for work, the robot turns on automatically and proceeds to complete his appointed cleaning chore. This attachment is to have its own motor and batteries. Its replacement bags are standard so they can be purchased at the neighborhood supermarket or variety store.
Two other useful add-on items to come are a communications software package to allow RB5X to "talk" to a remote computer, or even another robot, and a trailer that can be hooked up to the robot. With the wheeled trailer, RB5X can pick up and deliver mail, haul small loads (such as laundry), and perhaps, take the children on a joy ride. Another add-on item available soon is a new programming package for the Commodore 64 computer that features direct, text-to-speech conversion and EPROM programming capabilities.
RB5X Features and Options
Following are the basic features you will get with your purchase of a RB5X. A description of seven options that are currently available is listed afterwards.
On-Board Microprocessor. Unlike remote-control robots, the RB5X has an INS 8073 microprocessor built in, making it completely programmable and independent. Owners use a computer keyboard and screen to write programs for the robot, and then download them to the RB5X's microprocessor.
Self-Learning Software. The RB5X comes complete with Alpha and Beta levels of self-learning software, which enable the robot to learn from its experiences. Developed by robotics author David Heiserman[1], this software allows RB5X to progress from simple random responses to an ability to generalize about the features of its environment, storing this data in its on-board memory.
Space for Additional Electronics. One of the RB5X's special features is an interior card cage that allows for the addition of up to four circuit cards. This flexible design enables users to enhance their RB5Xs with special hardware and to make each RB5X virtually one-of-a-kind.
Tiny BASIC. The RB5X's "native tongue" is Tiny BASIC, a subset of the BASIC language that is both high-level and easy to use.
Sonar Sensor. The RB5X comes equipped with the Polaroid RangefinderTM sonar sensor, which allows the robot to detect objects in its path as it moves. The sonar detection range can be set from 10 inches to 35 feet from the robot and is programmable.
Tactile Sensors. Eight tactile sensors, or bumpers, ring the skirt of the robot, allowing it to sense when RB5X makes contact with another object. Like its sonar, this feature allows the robot to navigate its way through its environment.
Autonomous Battery Charging. A special circuit in the RB5X enables it to recognize when its battery charge is low and to begin using special software that helps it find its charger. The RB5X uses its photodiode system to locate its battery charger, moves against the charger nest, recharges itself, and then automatically resumes its activities.
Battery Shutdown Circuit. RB5X comes with a special circuit that shuts the robot down if its batteries drain close to the point where they cannot be recharged. The robot cannot be switched on again until it has been recharged. A charge indicator on the interface panel shows the battery charge level.
Software Module Socket and Switch. RB5X's interface panel contains a socket for preprogrammed software modules. A switch allows owners to set the robot for modules of either 2K or 4K.
Utility Software Module. A standard feature of RB5X is a 2K utility software module that contains a self-diagnostic routine (which automatically checks the robot's batteries and motors), as well as several of the robot's standard software routines.
Dual RS-232 Interfaces. RB5X has two RS-232 ports for handling communications with computers and with other, future options for the robot.
Options Cutouts. RB5X's upper body contains a series of cutouts, covered by removable plastic caps, that accommodate hardware attachments.
Programmable Lights and Horn. RB5X's pulsating lights not only enhance the appearance of the robot, but can be programmed to correspond to whatever mechanical or electronic events the user designates. This feature, along with RB5X's standard horn, can alert the owner to special circumstances or can be used simply for extra interest.
Extended Memory. The RB5X extended memory option is a circuit board that plugs into the interior card cage, adding 16K of RAM to the robot's standard 8K.
The RB Arm. A robotic arm, which extends from a resting position completely inside the robot's body, turns the RB5X into a messenger able to carry objects weighing up to 16 ounces. The arm can be maneuvered under direct program guidance, using a controller to manually guide it, or using a controller and an arm training software module.
Voice/Sound Synthesis. The RB5X voice/sound synthesis option enables owners to program their robots to speak and to make a variety of sounds. This package contains a speaker and a printed circuit board with pitch and volume control.
Voice Recognition. For owners of Apple II+ computers, there is a voice recognition option available that enables the RB5X to respond to spoken commands through the Apple.
Software Modules. Owners may either program RB5X using a computer, or they may purchase preprogrammed software modules. These modules enable RB5X to do specific tasks as soon as the user switches the robot on.
Robot Control Language with Savvy (RCL)[2]. Robot Control Language with Savvy (RCL, for short) is a software development language that enables RB5X users to program their robots using common English words and phrases. Currently available for use in conjunction with Apple II+ and Apple Ile computers, RCL will soon be available for the IBM PC.
Power Pack. This option allows an owner to extend RB5X's charge life and, thus, the run time of the robot. A 10-amp hour battery that attaches to the robot's existing battery, the Power Pack, can keep the base RB5X running for up to 10 hours or the RB arm alone for up to 2 hours.
The Optional Software Packages
To give you an idea of the educational uses RB5X can facilitate and the fun the owner can have, it is necessary to take a look at a few of the optional software packages available from the RB Robot Corporation. So, let's briefly cover some of these packages, the first being the "RB5X Terrapin Logo Translator," a software system that allows RB5X to execute turtle graphics procedures, making the robot an education tool for demonstrating the physical manifestations of Logo programming. Suggested retail is $34.95.
"Bumper Music" is a limited but interesting program that lets you play musical notes by pressing the bumpers which ring the robot's outer shell. Each of the eight bumpers plays a different note, and you can create music by working the bumpers in different combinations.
Two RB5X software modules, "Hop to It!" and "Math Whiz," are application programs on erasable, programmable read-only memory (EPROM) chips that plug into a socket on the robot's interface panel.
"Hop to It!" is an engaging, educational game that allows RB5X to use its sonar sensor to challenge players to accurately judge distances in feet and inches. RB5X issues a verbal challenge, records and calculates players' scores, and announces the winner. Suggested retail is $24.95.
"Math Whiz" is a math quiz in a game format that may be played by up to eight people at one time. RB5X uses its random number generator to compose a math problem involving elementary addition, subtraction, multiplication, or division for each player in turn. The robot checks players' answers for errors, corrects or congratulates, and calculates players' scores. This program's lights, sounds, and robot motions motivate children to learn important math facts with RB5X. Suggested retail is $24.95.
"Intruder Alarm/Daisy Daisy" is a package for the RB5X equipped with optional voice/sound synthesis capability. With the Intruder Alarm, a Polaroid sonar sensing device picks up movement within its range, and the robot then sounds the alarm. Daisy Daisy is a bit more joyful, allowing RB5X to sing the song made famous in the movie, 2001: A Space Odyssey.
RB Robot Price List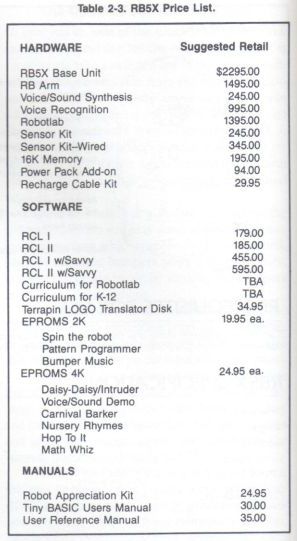 Table 2-3 is RB5X robot price list effective August 1, 1984.
RB's Robot Appreciation Kit
If you're new to personal robotics and you want to know more about the personal robot field, RB has a kit that may be just the thing. Actually, the kit, called the Robot Appreciation Kit, is an item that even experienced robot hobbyists will find interesting. It's designed to answer your questions about home robots in general and RB5X in particular.
Priced at $19.95 and available from local RB5X retailers or direct from RB Robot, the Robot Appreciation Kit contains an overview of the field of personal robots; article reprints from current periodicals; product literature on the RB5X; a copy of the July, 1983 issue of RB Forum, which discusses Robot Control Language with Savvy; a questionnaire and free RB Forum subscription offer; two RB5X bumper stickers; an RB5X poster; a copy of Isaac Asimov's book, Eight Stories from the Rest of the Robots; and a copy of the RB5X Reference Manual, less the technical appendices. RB Robots refunds the price of the kit to persons who subsequently purchased the RB5X robot.
The Future
RB Robot Corporation merged in October, 1984, with Actronix Corporation, a Dallas, Texas robotics development firm. Reportedly, Actronix has some top-notch management and research and development personnel who will lend their expertise to building the new, combined company into a big success. At the time of the merger, Actronix had already developed prototypes of two personal robots—the Actron Bear, an upright device with a 300-pound lifting capacity, and the Actron Wolf, a low-profile, mobile security robot. It is possible that one or both of these robots will be available soon. In any case, the research and development knowledge and experience acquired in their development may be transferred to future RB5X models and thus mean enhanced technological advancement.
How to Buy the RB5X
A growing number of dealers in the United States and Canada are stocking and selling the RB5X and accessories. Also, RB5X is available direct from the manufacturer. For the name of the RB5X dealer nearest you, to order RB5X, or for further information, write or call RB Robot Corporation.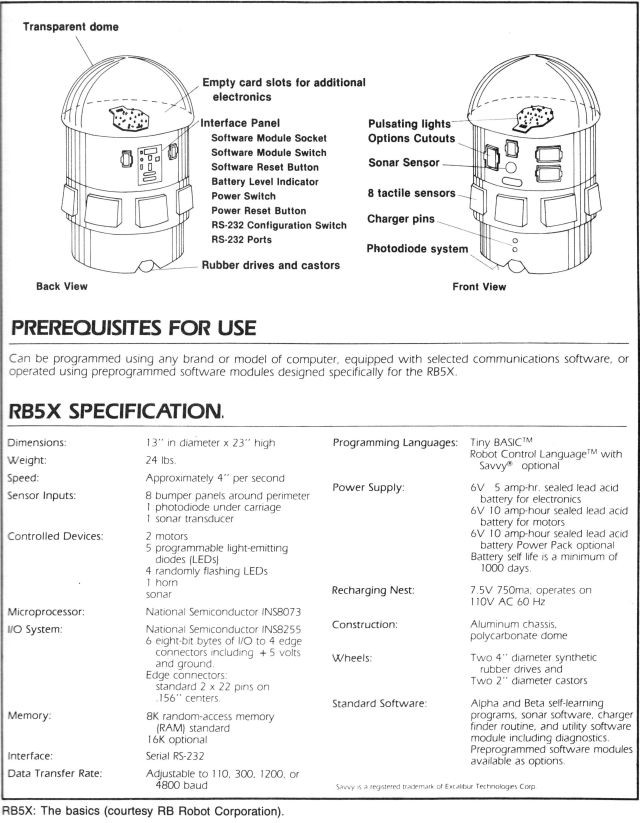 Notes:
[1]. David Hieserman had already built "Buster" the robot, but was developing "Rodney" the "Artificial Intelligence" robot at the time. RB5X software utilized "Rodney" technology.
The robot comes with what the company calls Alpha and Beta level self-learning software. This "Artificial Intelligence" software, developed by David Heiserman (well known to anyone interested in robotics) allows your RB5X robot to learn from it's experiences.
Self-Learning Software / Artifical Intelligence
The RB5X comes complete with "Alpha" and "Beta" levels of self-learning software, which which empowered the robot to absorb and employ information from its surroundings. Developed by leading robotics author David Heiserman, this software allows RB5X to progress from simple random responses to an ability to generalize about the features of its environment, storing this data in its on-board memory.
Self-Learning: This small, first step toward true "intelligence" enables the robot to learn from its own mistakes. For example, you could set the RB5X down in a room and let it roam about randomly. It will probably run into walls several times, perhaps a desk, and maybe even a person. As it rolls around the room, it will "learn" in its own computer-like fashion where the obstacles are in a room, thus avoiding them in the future. The self-learning software are on "Alpha" and "Beta" levels, which were developed by the robotics author David Heiserman for the purpose of giving robots a simple way to "learn" from their experiences, somewhat like humans do.
[2] Prendergast, Dan; Slade, Bill; Winkless, Nelson (January 1984). "A General-Purpose Robot Control Language". BYTE. p. 122..
Dan Prendergast is vice-president of research and development at RB Robot Corporation, Bill Slade is operating-systems manager at Excalibur Technologies Corporation, and Nelson Winkless is president of ABQ Communications Corporation (Box 1432, Con-ales, NM 87048) and coauthor of 'Robots on Your Doorstep.
The Savvy Programming Language was published by Excalibur Technologies Corporation, FOB 26448, Albuquerque.
---
Links:
---
See other early Humanoid Robots
here
.
---
Tags: 1982, Con Brown, Constant Brown, Educational Robot, Humanoid Robot, Intelligent Robot, John Boisvert, Joseph Bosworth, Nels Winkless, Nelson Winkless, Personal Robot, RB5X, Robot