1940 – Sparko the Robot Dog – (American)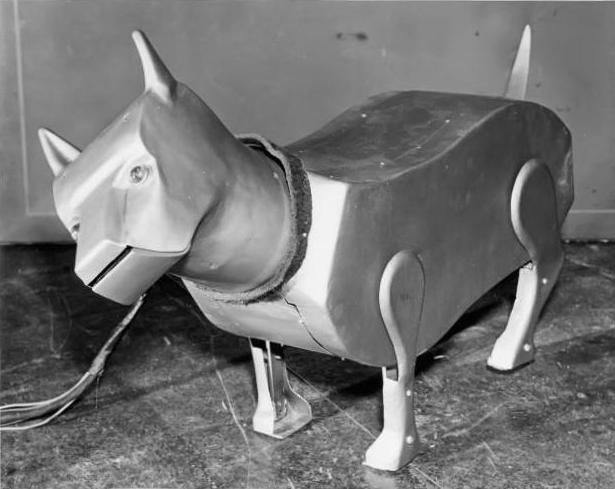 ---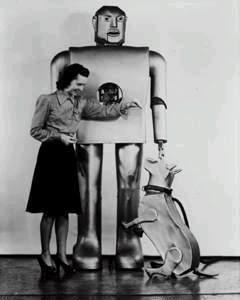 Most likely the prototype Sparko, as distinguished by the dents and course finish of the side of his body, unless he's undergone some damage somehow.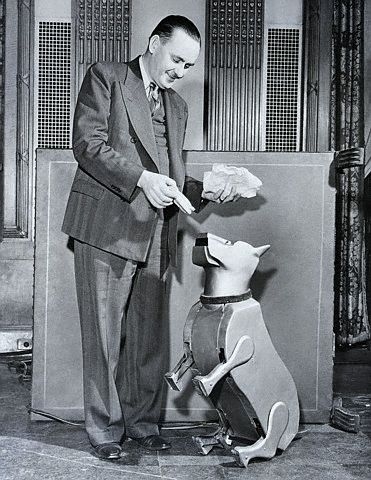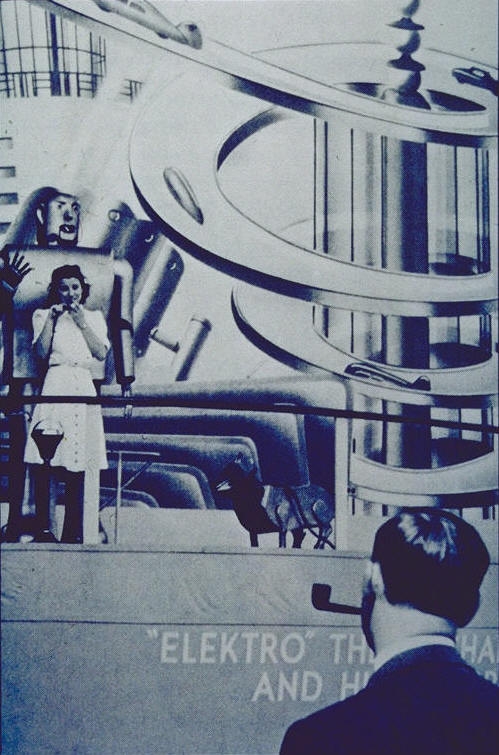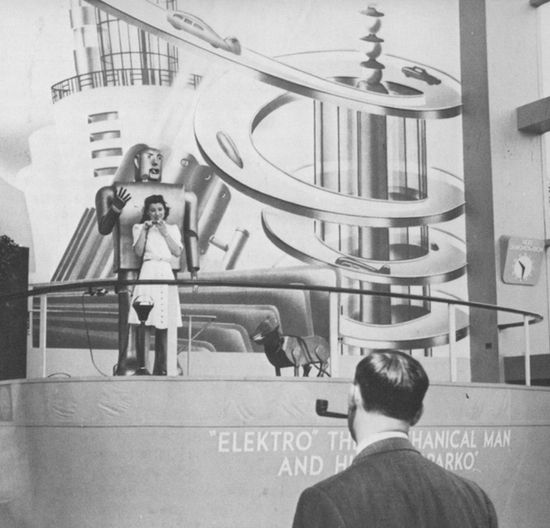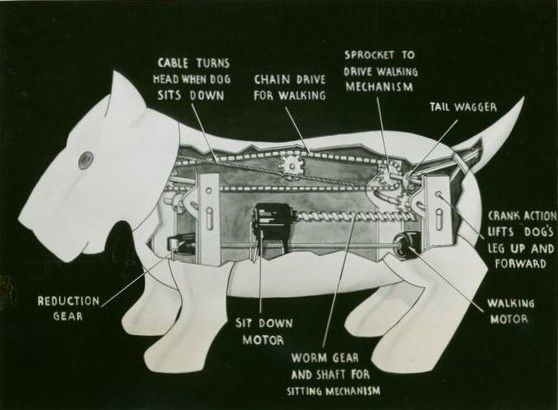 Its been suggested by others that Sparko only moved his hind legs, and that his front 'paws' were rollers. From photographic evidence, I believe Sparko was built faithful to the diagram above, as there are the slots giving room for a walking motion, plus the picture below which shows Sparko mid-gait with one leg raised. I will concede, though, that from around 1942 onwards, I cannot see one image of Sparko where his front legs are not parallel. Maybe the walking action of the front legs was disabled.
I have seen claims of Sparko's demise by being run over when attracted to car lights. Sadly, this has beome a misinformed meme. I've included the original source to this idea here:
"Thinking by Machine", De Latil 1953: p241

Another "electrical dog" [RH: i.e. not "Philidog" in the context of the original article] was to be shown at the New York World Fair of 1939; it was to be sensitive to heat and was to have attacked visitors and bitten their calves, but just before the opening of the exhibition it died, the victim of its own sensitivity. Through an open door it perceived the lights of a passing car and rushed headlong towards it and was run over, despite the efforts of the driver to avoid it.
Sparko didn't join Electro until 1940, and was not phototropic i.e.not attracted to lights. The "electric dog" in De Latil's article is another, unknown dog altogether.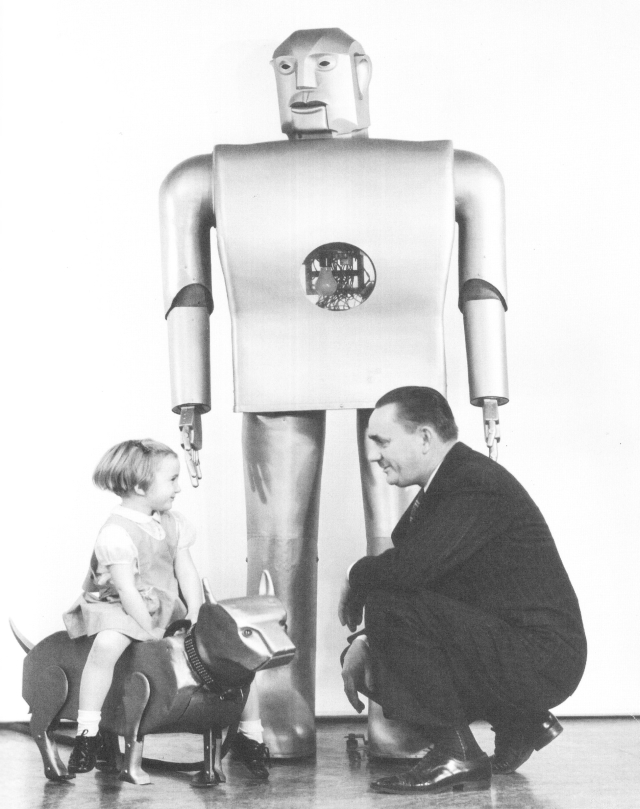 The above image shows Barnett, the creator of Elektro, with his daughter Mary Lou astride Sparko.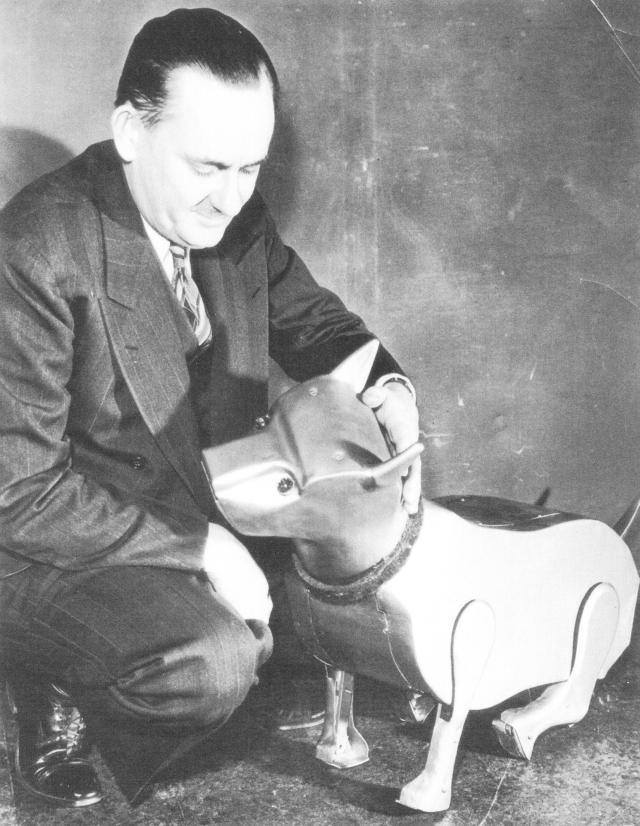 "Barney" Barnett with Sparko. Note Sparko's front legs showing partial stride, although he is sitting on his back legs.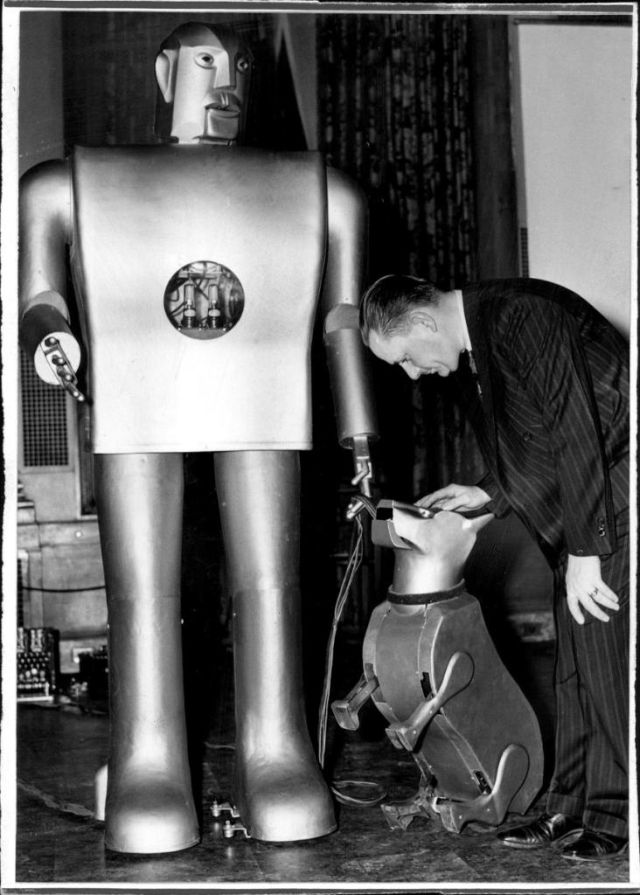 J. M. Barrett, Elektro's inventor, seen with his new creation, Sparko the dog. May 19, 1940.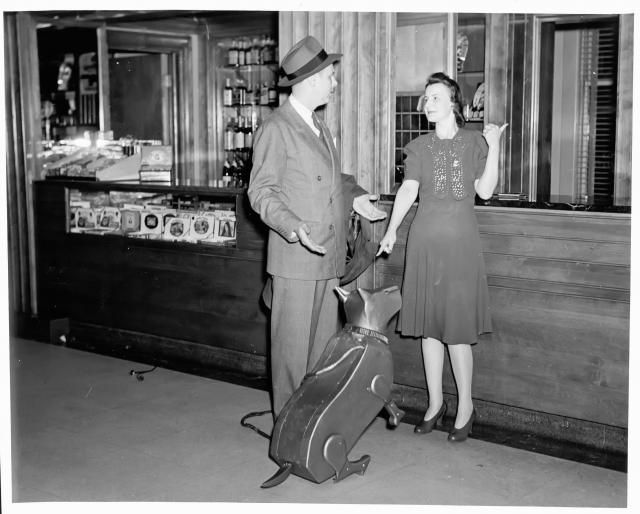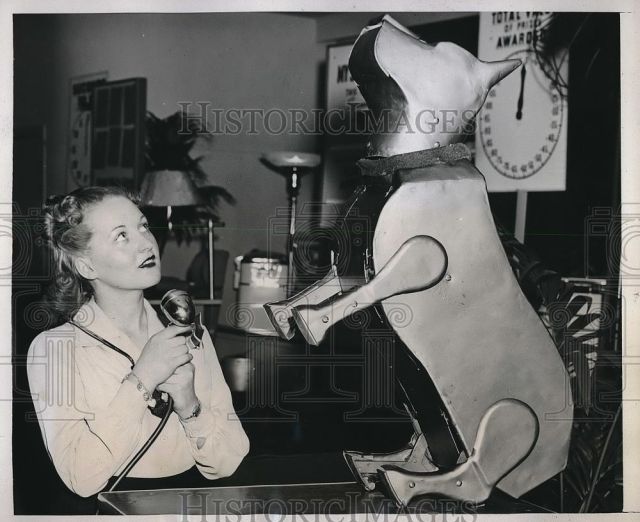 Sparko with Miss Jean Prust Apr 14, 1941. [Electric Living Show, Chicago]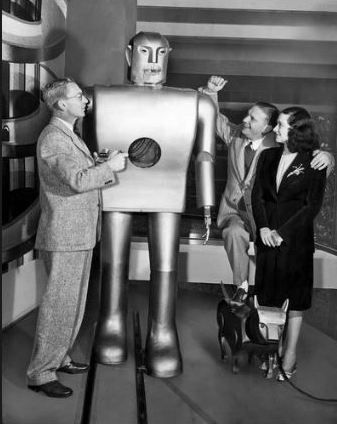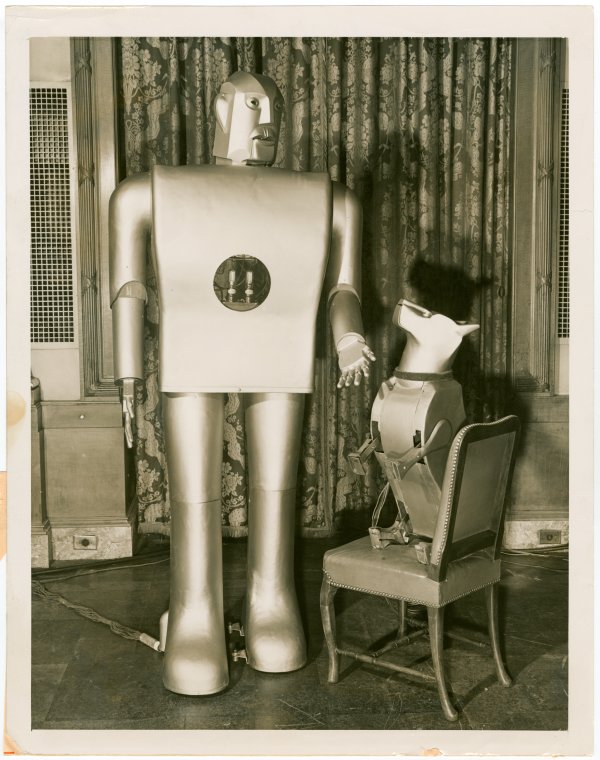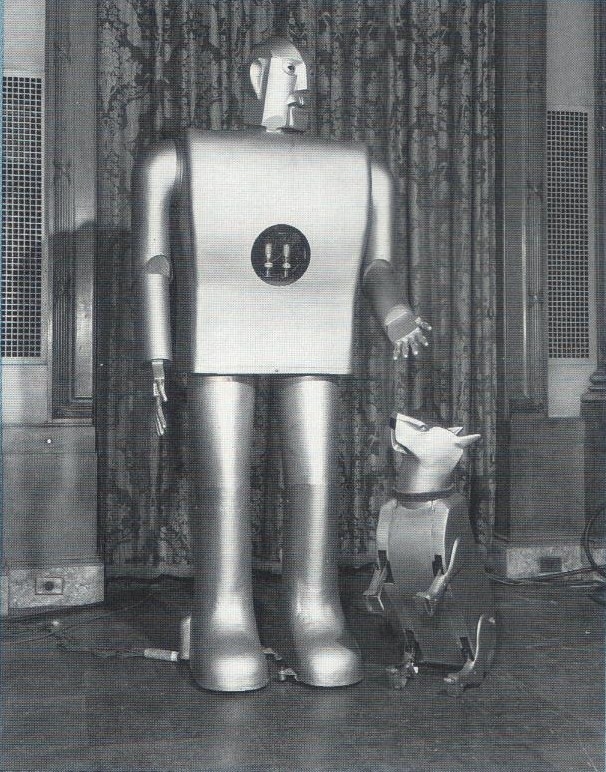 Sparko was designed by Don Lee Hadley to be a companion to Westinghouse's Elektro at the 1939 World's Fair. It was modelled after Hadley's own Scotty dog.
There were three dogs made. The prototype, one for Elektro, and one for Willie Vocalite.
Sparko was operated the same way as Elektro. See the Elektro post for the details on this aspect here.
Sparko's act:
Sparko stands at the rear of the stage. The command circuits now connected to him and not Elektro. He is activacted with the usual start up sequence (3-1-2) "Hey,..Spar..ko,……it's(1)……your..turn.(2)". Note: the Operator had to be careful with the letter "s", as any s-s-s sibilance would be picked up electrically as multiple impulses.
The dog walked forward about five steps and stopped.
The operator tensaid, "Now..Spar..ko(3)……do(1)……your..tricks.(2)" Again the same 3-1-2 sequence to activate the next command. The dog barked, sat down, sat up and begged, turned his head, returned to sit, then turned his head and barked once, as if to say "How did I do, Master?". This usually ended the show for both Sparko and Elektro.
---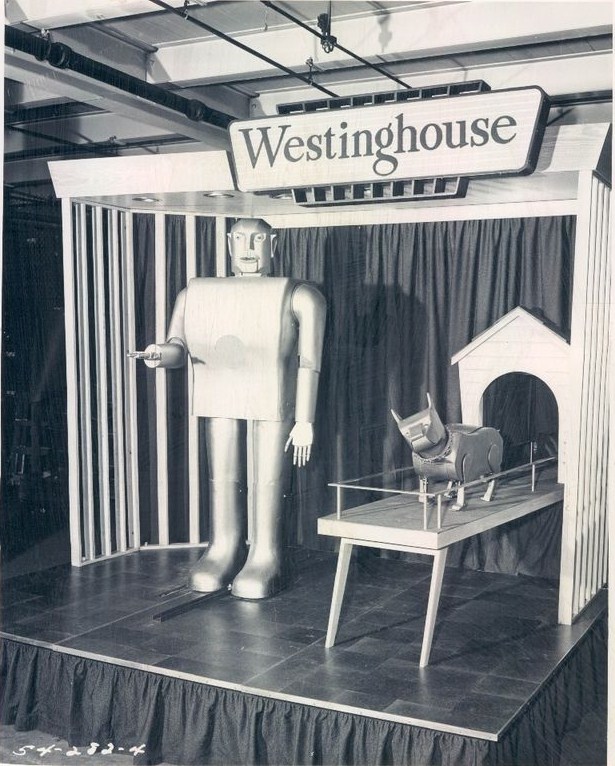 Elektro and Sparko in Chicago, 1955.
---
Video clip
See Elektro (called "Barney" in this clip) and Sparko 1min 17sec into this clip. Thanks to David Buckley for locating this for me.
---
---
Scott Schaut's excellent book on Westinghouse robots ("Robots of Westinghouse – 1924 – today", 2006) gives a lot of detail and more pics which I won't include in this post.
---
See all the known early Humanoid Robots including the Westinghouse Robots here.
---
Tags: 1939 World's Fair, 1940, Don Lee Hadley, Elektro, Humanoid Robot, Mechanical Animal, Robot, Robot dog, Sparko, Westinghouse, Willie Vocalite