1938 – Big Looie – Patrick & Paul Rizzo (American)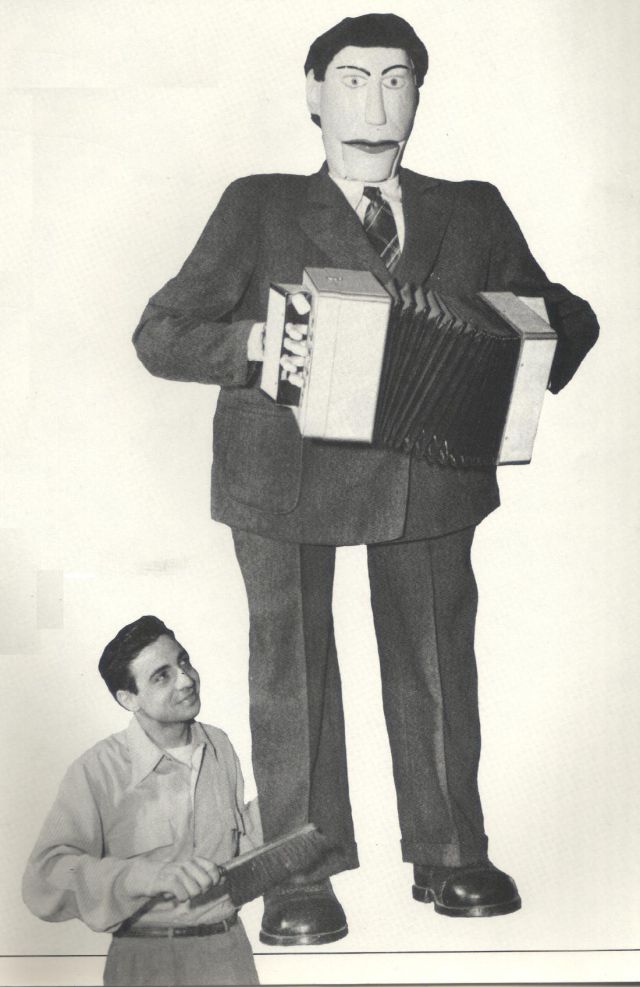 News-Palladium 20 Jan 1938
Charlie McCarthy Has Rival—It's Big Looie
Detroit-Built Robot Can Walk, Talk And Play An Accordion;
He's 6 feet Tall And Wears Size 16 Shoes.
DETROIT, Jan. 20—Two Detroit auto mechanics announced today they had produced a mechanical man that will put Charlie McCarthy in the minor leagues.
Big Looie is his name.
"He walks, talks and can play the accordion," explained Patrick and John Rlzzo, the creators.
The Detroit News investigated and reported that Big Looie really does walk, talk and play the accordion "although he was a little troubled by stage fright at first."
Big Looie talked about himself freely at his premiere.
"I'm six feet, two Inches tall," he said. "I take a size 55 suit and wear size 16 shoes."
Then he went to town on the accordion. "We're negotiating to have him appear at the New York exposition in 1939," Pat explained.
"I'd rather go to Hollywood," said Big Looie. "What has Charlie McCarthy got that I haven't got? That little splinter. He's giving us robots a black eye. Nobody will ever try to call me his diminutive chum."
The Rizzo brothers said they had been working on the mechanical man for six years and had put in 20,000 hours of labor. One is employed days and the other nights so that they have kept working almost continuously on Big Looie.
Big Looie Wwas built in the Rizzo home where the first public showing was held. Electric controls are used in manipulating the mechanical man.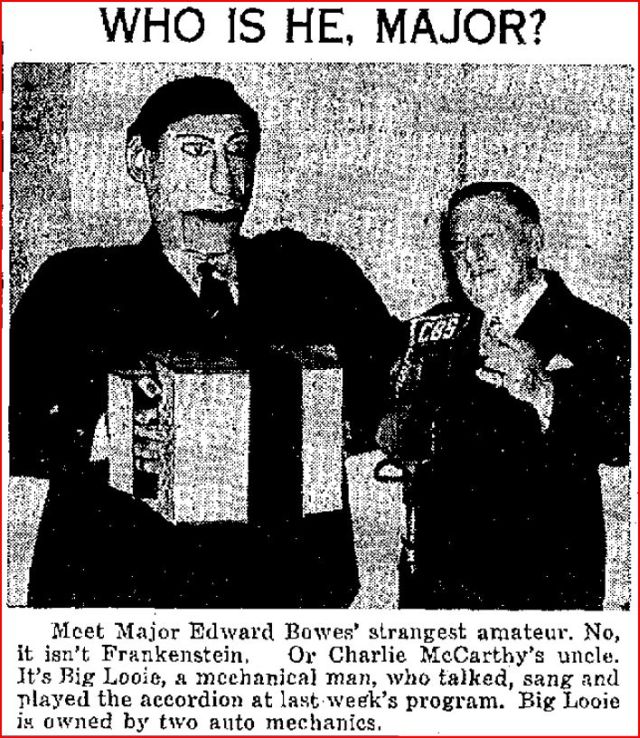 Born in Layfette County, then went to work in Detroit, brothers Patrick and John created "Big Looie", the mechanical man. It took the two brothers 6 1/2 years to build, logging some 20,000 hours in their spare-time between them. Their full time job was with an automobile company, and they worked different shifts. Looie is 6 feet 2 inches high. He weighs, dressed for the street in a suit and size 16 shoes, only 185 pounds. He can walk, talk, sing and play the accordion. He could render the intermezzo of Maseagni's "Cavalleria Rusticana", and and encore with "Over the waves". He is remote-controlled and employs radio and speaking devices.
---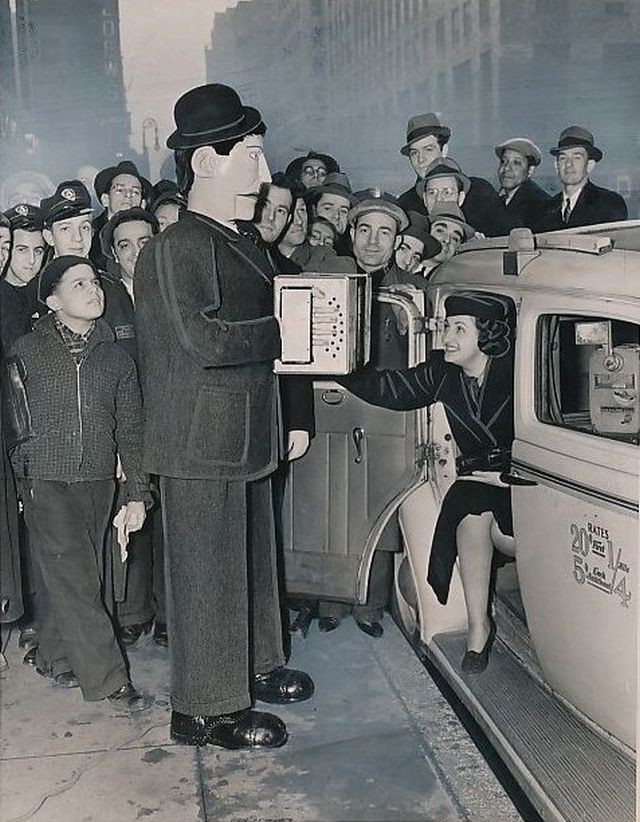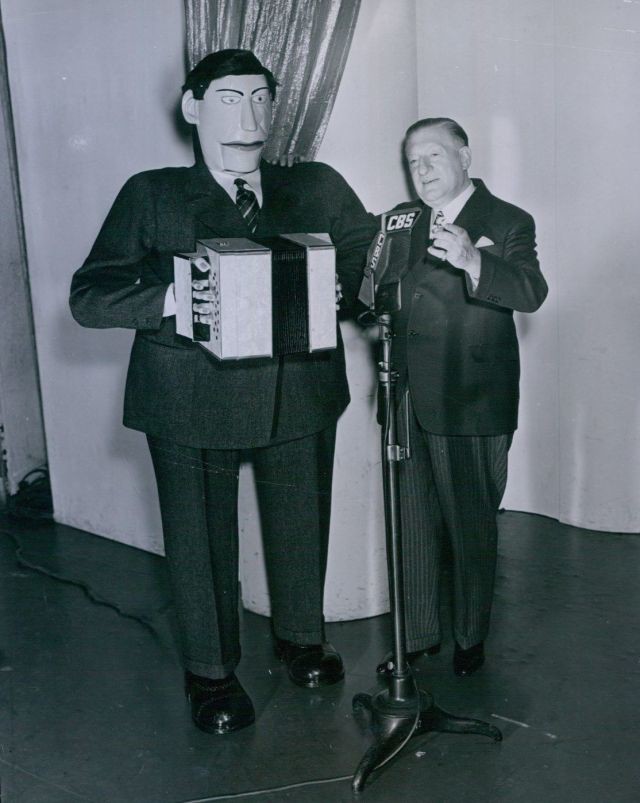 Major Bowes on CBS Radio with Big Looie.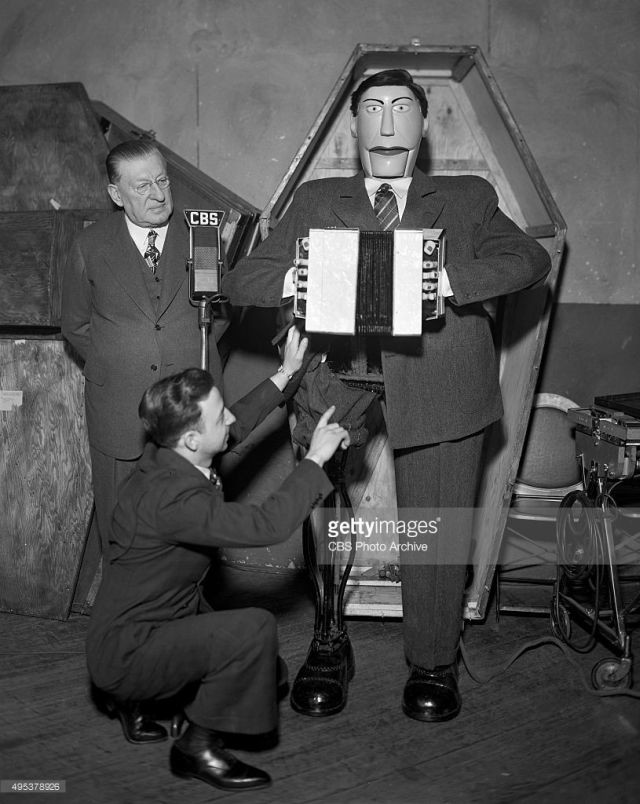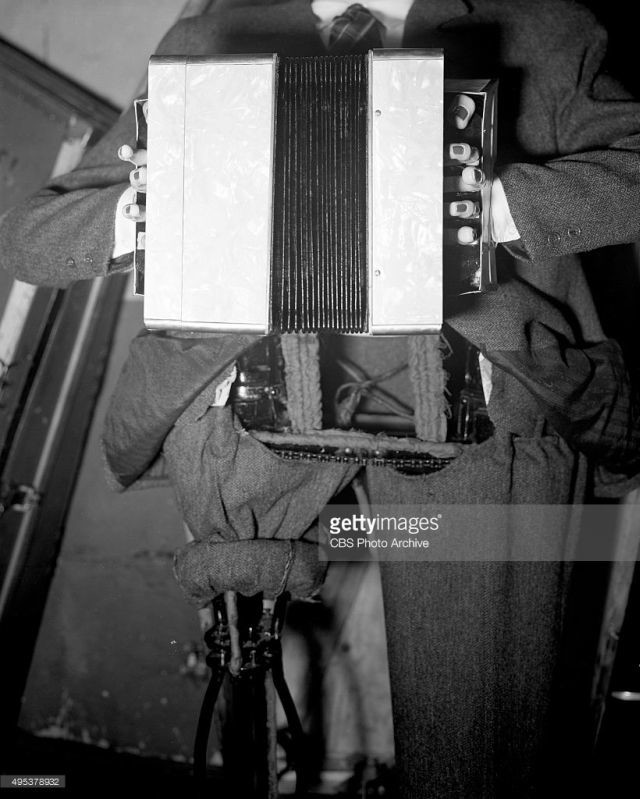 ---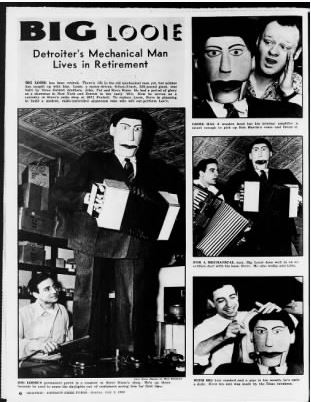 Detroit Free Press from Detroit, Michigan · Page 86 – July 1950
Detroiter's Mechanical Man Lives in Retirement BIG LOOIE has been retired. … 320-pound giant, was built by three Detroit brothers, John, Pat and Steve Rizzo.
---
In 1948, Patrick Rizzo built another robot that could dance. See later post here.
---
See other early Humanoid Robots here.
---
Tags: 1938, Big Looie, Humanoid, Humanoid Robot, Mechanical Man, Patrick Rizzo, Paul Rizzo, Robot