1810 – Automaton Trumpet Player – Friedrich Kaufmann (German)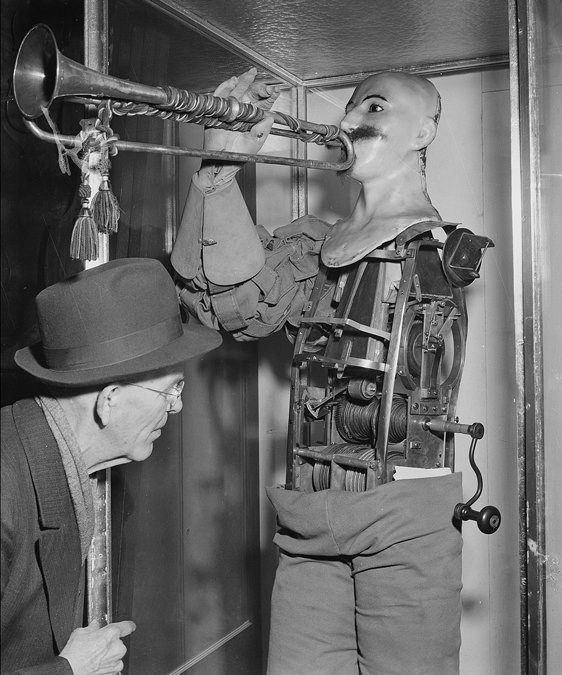 The Kaufmann Trumpeter had leather bellows for lungs and reeds which imitated the sound of a brass instrument.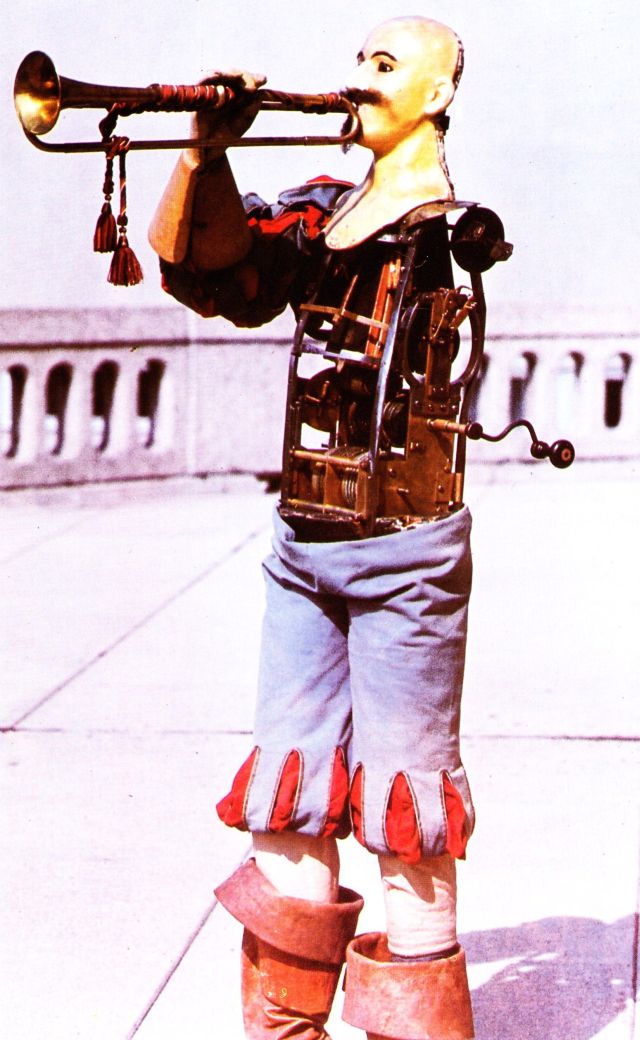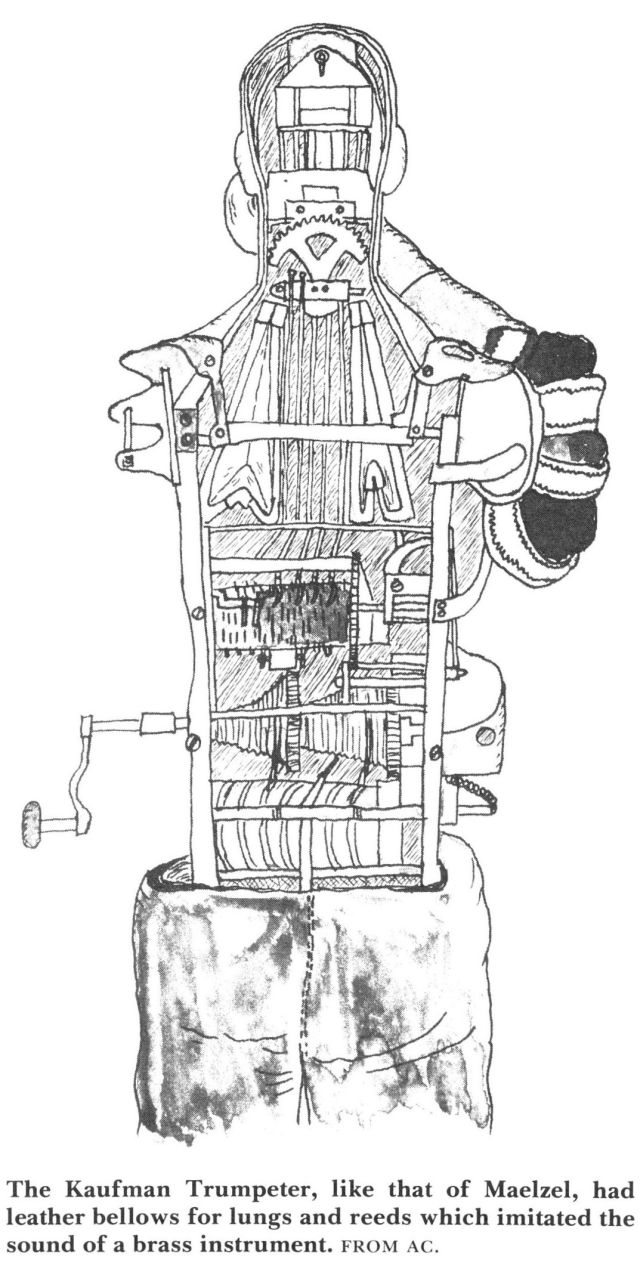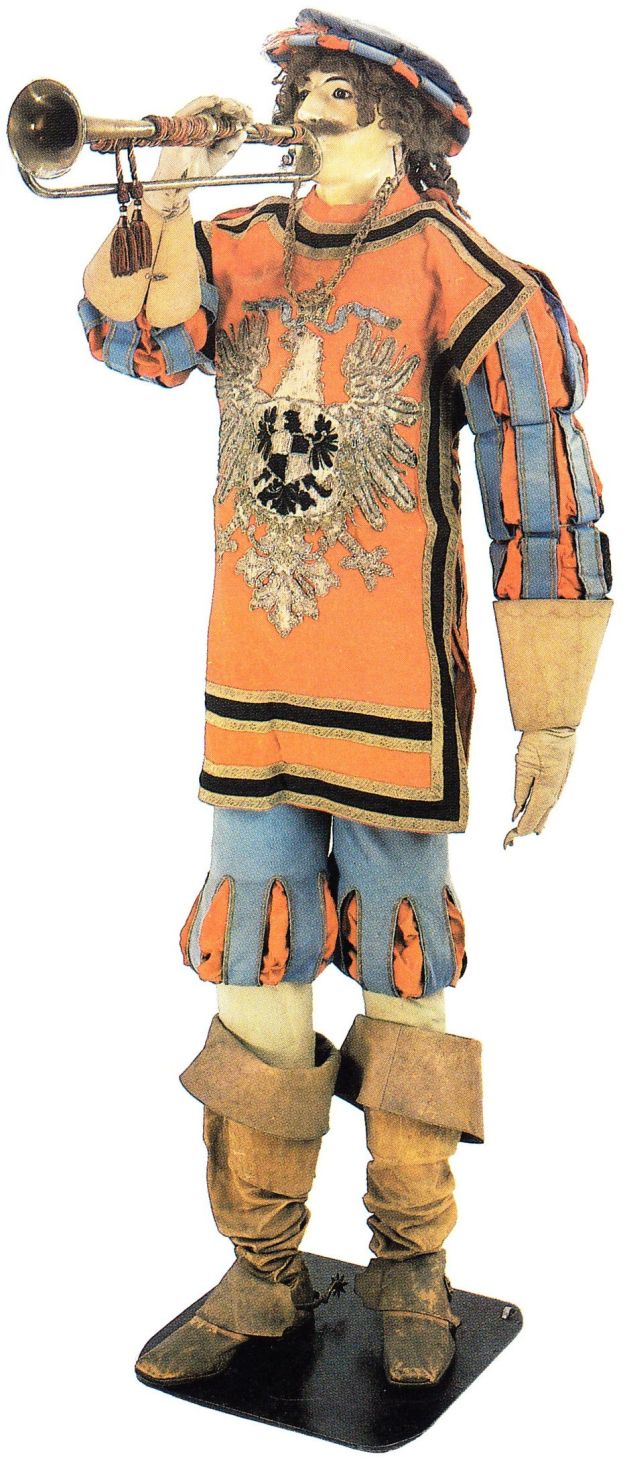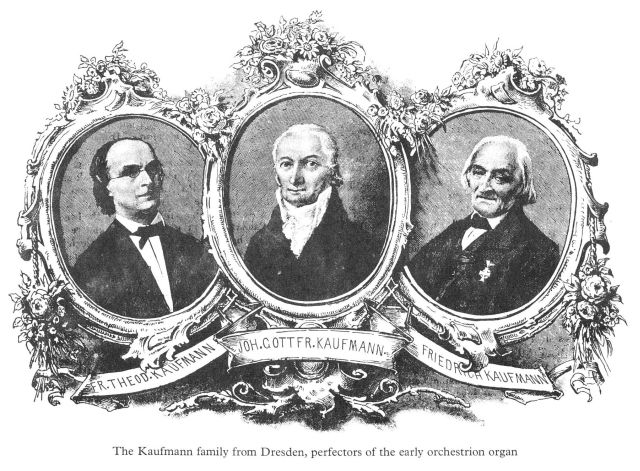 The Kaufmann family from Dresden. Friedrich id on the right.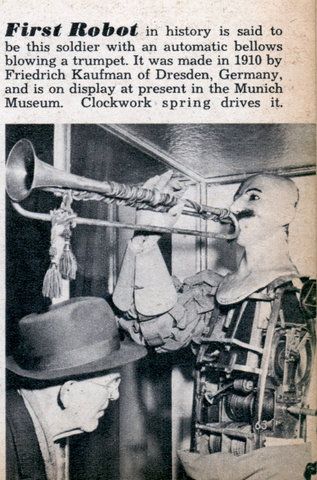 Text incorrectly dates the 'Robot' from 1910, it should be 1810.
[Source: Popular Mechanics Aug 1950]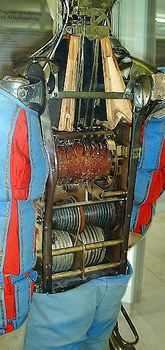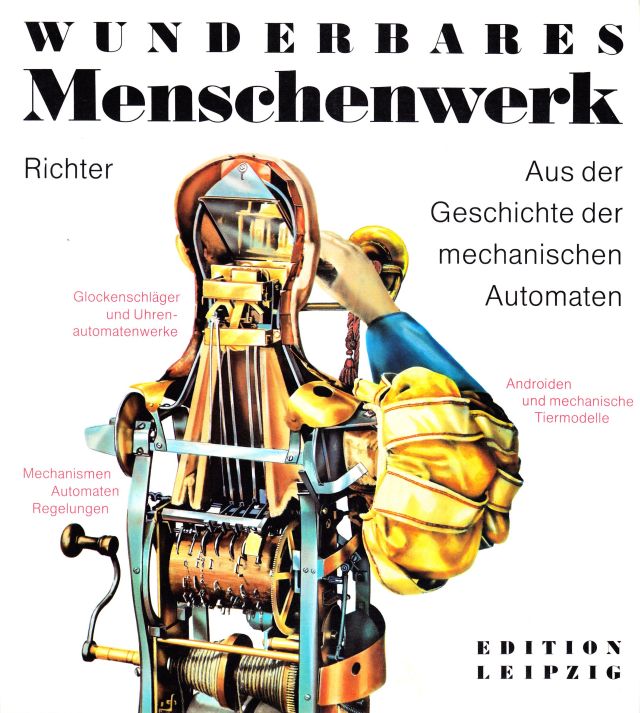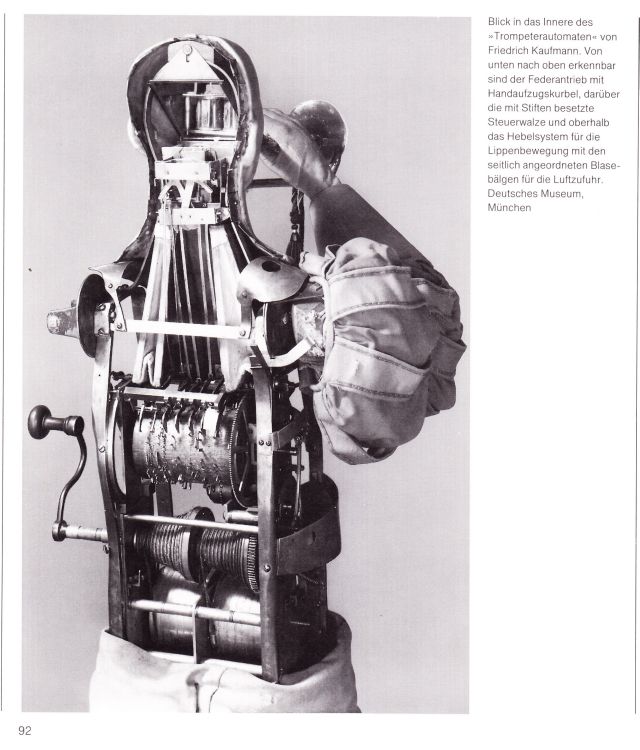 Trompeter
This is an example of a program (e.g. stepped drum) mounted into an automata to play a tune, like the European street organs. The notches mounted on the drum activated valves that let the air pass by 12 tongues. Which produced a kind of modulated sound. This sound will be modulated through a trumpet so it does sound like a trumpet The stepped drum and the bellows are powered by a spring mechanism that need to be wound up, observe the crank laying at the bottom. The height of this automata is apr. 180 cm.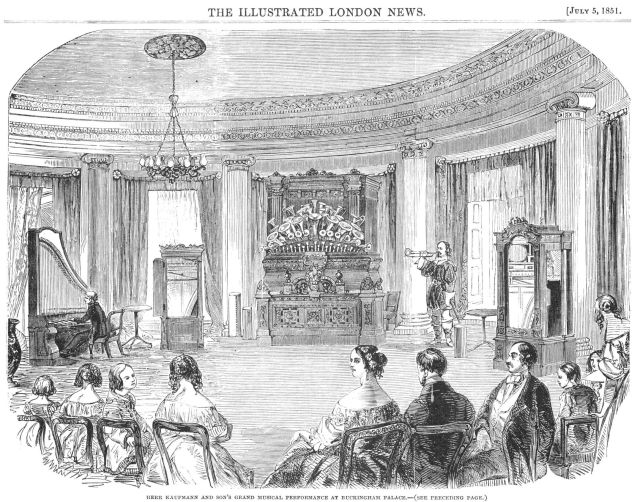 From the Illustrated London News July 5, 1851. The centrepiece is Kaufmann's magnificent Orchestrion.
[Source: Clockwork Music, Ord-Hume]
---
The Trumpet Automaton is a figure not unlike Mario in the " Puritani," with the instrument at its mouth. It was invented many years ago by Herr Kaufmann, and won the admiration of Carl Maria Von Weber. What is most remarkable and inconceivable in this extraordinary piece of mechanism, is, that it produces double sounds of equal strength and purity, and flourishes in octaves, tierces, quints, Re., are heard. Perhaps this acoustic curiosity may supply some key to Vivier's wondrous horn effects, certain notes accompanying particular chords. If this discovery should be established, that one instrument can do the same with equal perfection as two instruments, it may lead to something, as natural intonation may surely effect what a piece of machinery can do…….To construct such instruments without models, for they are quite original, the maker must be a musician, a mechanic, a mathematician, and a philosopher.
[Source: Clockwork Music – Ord-Hume]
---
Carl Maria Von Weber
By John Hamilton Warrack
He also paid a visit on his friend Friedrich Kaufmann, whose latest nvention was a mechanical trumpeter in Spanish costume which played two simultaneous notes at set times.(2)

(2) Subsequently this Hoffmannesque creature went off unexpectedly, knocking Kaufmann sensless and blinding him in one eye. Thereafter Weber took leasure in speaking of the trumpeter's sinister powers with his voice lowered.
---
The Mercury (Hobart, Tas. : Wednesday 2 August 1933 page 3
NOTES
Hobart Concert Orchestra,
The Hobart Concert Orchestra, under Mr. David Feirclough, is busy rehearsing tor the next concert a programme of music never performed in Hobart before. It will include an Adagio and Rondo written in 1821 by Carl Marla von Weber for Friedrich Kaufmann, of Dresden, whose, Acoustic Cabinet had aroused the composer's interest to such a degree that he wrote a pamphlet for the purpose of directing the attention of wider circles to the triumphs of craftsmanship shown there, including a trumpeter playing his instrument. But more than by the musical automatons the interest of the master was captured by the harmonichord, invented by Kaufmann in 1810, and the forerunner of the
harmonium. As independent as the organ or the pianoforte, it allowed the player to utter his thoughts and feelings most effectively. With the eye of genius Webér recognised the capacity and character of the new instrument, and saw that it must have a future. Fully worthy of Weber and a model for later composers is the style that delights the hearer of the "Adagio and Rondo for the Harmonichord (Harmonium) with accompaniment of the orchestra."

---
Enchanted wanderer: the life of Carl Maria von Weber
Lucy Poate Stebbins, Richard Poate Stebbins – 1940 – 345 pages
In Dresden, Weber inspected the workshop of his Munich acquaintance, Friedrich Kaufmann, who had invented a mechanical trumpet which would play two notes at once "so clear and equal in volume that one would swear he heard two trumpets.
---
Kaufmann's Trumpeter is in Deutches Museum.
http://www.deutsches-museum.de/sammlungen/ausgewaehlte-objekte/meisterwerke-ii/trompeter
Using Google translation:
In the jargon of an empty museum curator, the mechanism of the machine described as follows: With the highly visible hand crank can be raised under the clothing of the trumpeter's two spiral springs, which drive the two Schöpfbälge and the spiral-tipped pen systems with two wooden drum stick. Four scanning lever and two toothed segments transmit the pulses of a pin system in two rotatably mounted brass drums that have plugged each 6 striking end tongues in the type of revolver drums. Each to blow off some tongue comes through rotation of the drum in front of one of the two valves are wind, whose motion is controlled by the second pin system (rhythm). The outlet openings of the drums lead into playing position in the mouthpiece of a natural trumpet that the ummoduliert Zungenton largely in a real trumpet. (Sequence of notes left drum: g C g h c f; right drum sound sequence: g E d e G a)
Trompeterautomat
---
Tags: 1810, Automata, Automaton, Automaton Trumpet Player, Friedrich Kaufmann, German, Pneumatic Robot, Trompeterautomat