2003 – Robo-Donkey – Christiaan Zwanikken (Dutch-Portugese)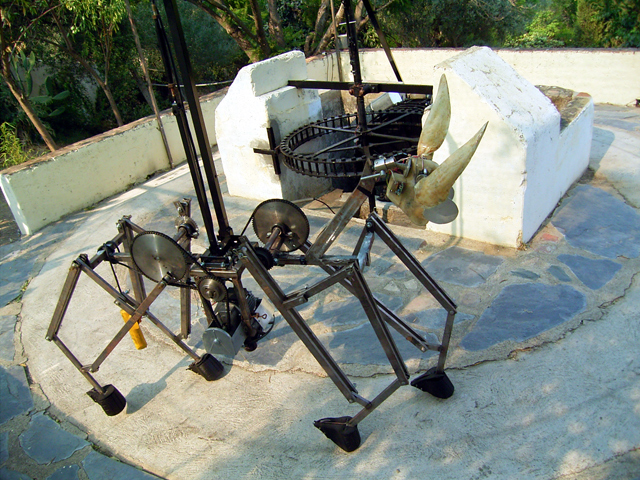 2003 – Robo-Donkey – Christiaan Zwanikken (Netherlands-born)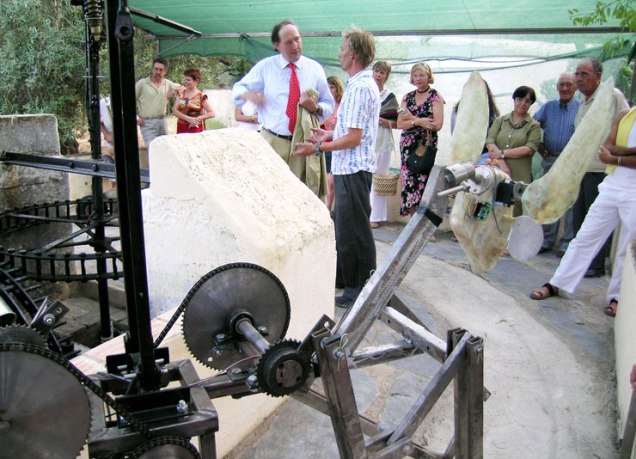 Robotic donkey drives ancient Islamic irrigation system
Robotic Donkey drives Moorish water wheel from christiaan zwanikken on Vimeo.
Donkey work [Source here]
It is an ambitious project to reconstruct all the original features of an irrigation system that, 400 years ago, watered a 4 hectare monastery garden. To also restore the ancient water wheel and build a robotic donkey to turn it sounds even more implausible. In Mértola's Convento Sao Francisco grounds all three have been successfully achieved.
Guests at the opening of the Water Museum and unveiling of the donkey were amazed to see water raised from beneath the ground and cascaded round channels. The startling contrast between a 17th century irrigation system and the antics of a 21st century robotic donkey cannot fail to impress visitors.
This is one of several restoration projects in and around the Convento. The Zwanikken family, from Holland, whose home it has been since 1980, have transformed the once ruined monastery into a fascinating place – summed up by the Dutch Ambassador, Herman Froger, in his speech at the opening, "The Zwanikkens have connected the past with the future by being here now"
The genius of Dutch artist Christiaan Zwanikken, the creator of the donkey, has received considerable international recognition. Christiaan was brought up at the Convento and attended the local school, but returned to his homeland to study fine arts. His kinetic artworks have been seen in places as diverse as Japan and Mexico and his inspiration is often taken from his childhoed and the wildlife of the Alentejo. His bull, 'Tourinho', hurtles back and forth and rolls from side to side, whereas 'Knuckle Heads' shows two stork skulls mounted on long metal rods, executing a pattern of meticulously controlled movements.
It is not surprising that a childhood ambition to see the water wheel in action sparked off the idea of creating a mechanical donkey. At the top of the terraced gardens, the well beneath the wheel is deep and the buckets drawing the water surprisingly large. Judging by the weight of water Christiaan deduced that either two donkeys (or a very strong mule) must have originally turned it. Adjusting the quantity of water in each bucket so that the 'donkey' could effectively lift the load was an important technicality.
It was first necessary to replace the cogs and other rusting operational parts – hundreds of meters of eroded and broken water channels, weaving around the garden, had to be restored.
To build a 'donkey' capable of walking endlessly in a perfect circle is no mean feat. I took seven weeks of work on site and the materials include electronic circuit boards, sensors and servomotors. he has polyester ears that twitch and turn, presumably to keep of the flies – and an obedient relationship with his master!
---
See Christiaan Zwanikken's more recent robotic and kinetic art works here.
---
Tags: Christiaan Zwanikken, Dutch, Mechanical horse, Netherlands, Portugal, Robots in Art, Walking machine