1957-8 – "Toffee-kun" the Robot Elephant – "Kowa Display Company" (Japanese)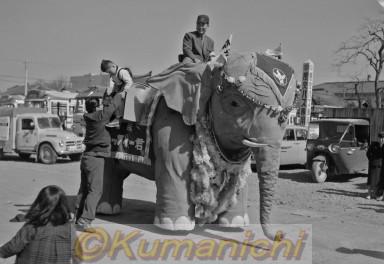 Caption: 森永製菓のロボット象、街を行く=熊本市内 (English translation: Morinaga robot elephant goes to the town–city Kumamoto)
Other than the image, I have little other information about this mechanical elephant. Image was taken in 1958 in Japan, I believe.

RH update Feb 2011 – Thanks to Hisashi Moriyama from Japan I now  have the following information.
Robot Elephant was made for campaign by Morinaga, a confectionery company.
http://www.morinaga.co.jp/museum/gallery/show02/gallery_3.html
The actual manufacturer is "Kowa display co., inc."
The elephant was named "Toffee-kun".
2.4m high, 3.15m long.
25h.p. automobile engine.
Real ivories were attached.
"Toffee-kun" visited 162 cities, the visiting lasted about a year. The campaign was very effective.
ロボット象トッフィー君
ロボット象トッフィー君が全国を行脚
キャ ラメルの絶対的な王座は、戦後も黄色のサック入り森永ミルクキャラメルが占めていた。さらに昭和30年代前後には、新しい味のキャラメルが続々と登場。英 国風のトッフィータイプのものは、アソートキャンデーの一種として以前からつくられていたが、いわゆるポケット物として昭和32年に初めて発売された森永 トッフィーキャラメル(20円)は、強力な店頭宣伝に特徴があった。このキャラメルのサックには英国宮殿の近衛兵の姿がデザインされていた。これにちなん で等身大のブリキ看板を数千枚つくり、全国の有力菓子店々頭に配置、大々的に人目を引く作戦に出た。
また、同じ年に森永は東京の後楽園遊園地にマスコミ各社を招き、世界初のロボット象の発表会と命名式を実施。本物の牙をつけた高さ2.4メートル、体長3.15メートルの巨体をもった精巧な象はトッフィー君と名付けられた。
こ のトッフィー君が全国を行脚し、各地でのパレードのにぎわいが新聞やラジオ、テレビなどで盛んに報道された。25馬力の自動車用エンジンを搭載し、首や鼻 を動かしながらのっしのっしと歩くさまは、遠目には本物と区別がつけられなかった。訪問先は全国162都市、総行程2万キロ、ロボット象の歩行総距離は 660キロ、訪問期間は約1年に及び、大きな宣伝効果を上げた。
Google translation (uncorrected – see brief form above):
You toffee robot elephant
Pilgrimage across the country you toffee robot elephant
Caramel absolute throne, occupied by Hisashi Mori milk caramel into a yellow sack after the war. Further around 1955, appeared one after the new caramel flavor. Toffitaipu ones like Britain, which had previously been made from a type of Asotokyande, Toffikyarameru Hisashi Mori was released in 1957 as the first of the so-called pockets (£ 20) is a powerful counter propaganda were characterized. A sack of caramel, it was not designed the figure of the Palace Guards UK. To make several thousand life-size tin signs named after this place we head the country's leading confectionery and went in a big eye-catching campaign.
The same year Hisashi Mori in the press inviting Korakuen amusement park in Tokyo, conducted a naming ceremony and presentation of the world's first robot elephant. Put the real teeth height 2.4 m, length 3.15 m giant elephant with a sophisticated and you are named toffee.
This pilgrimage to the country you toffee, newspapers and radio around the hustle and bustle of the parade was reported extensively in television. Equipped with a 25-horsepower automobile engine, our walking, moving Nosshinosshi neck and nose, a distance and did not put genuine distinction. Visiting 162 cities nationwide, 20,000 km of total stroke, total distance 660 km walking robot elephant, during the visit about a year and raised the great hype effect.

---
The Elephant appears to have rigid legs with powered wheels. Its head is also larger than other Mechanical Elephants I have seen.
---
See other early Mechanical Elephants, Horses, and other Walking Animals here.
---
Tags: 1957, 1958, Amusement Ride, ロボット象トッフィー君, Japanese, Mechanical Elephant, Walking machine