1954 – Square Walking Wheel – Albert Sfredda (American)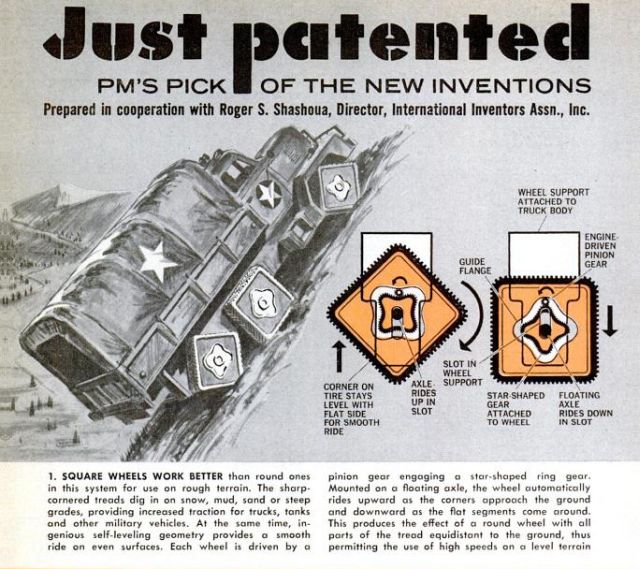 Source: Popular Mechanics, April 1970.
1- SQUARE WHEELS WORK BETTER than round ones in this system for use on rough terrain- The sharp-cornered treads dig in on snow, mud, sand or steep grades, providing increased traction for trucks, tanks and other military vehicles. At the same time, ingenious self-leveling geometry provides a smooth ride on even surfaces. Each wheel is driven by a pinion gear engaging a star-shoped ring gear.
Mounted on a floating axle, the wheel automatically rides upward os the corners approach the ground and downward as the flat segments come around. This produces the effect of a round wheel with all parts of the tread equidistant to the ground, thus permitting the use of high speeds on a level terrain.
---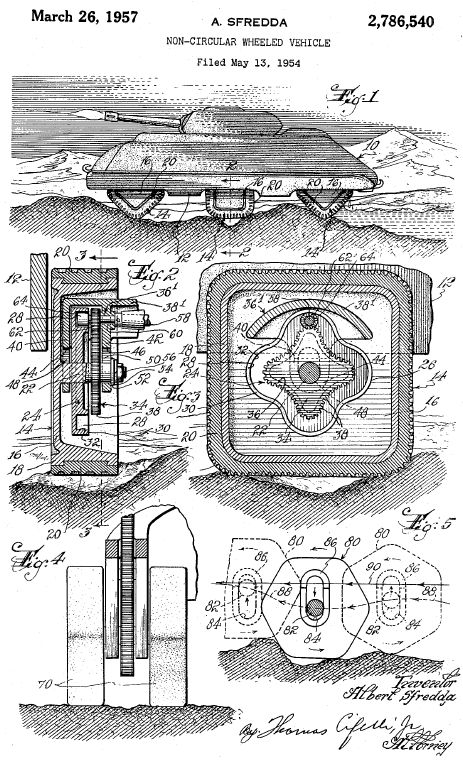 Patent number: 2786540
Filing date: May 13, 1954
Issue date: Mar 26, 1957
See full patent details here.
---
See all Walking Wheels and Walking Machines listed here.
---
Tags: 1954, Albert Sfredda, American, Sfredda, Square Walking Wheel, Square Wheel, Walking machine, Walking Wheel