1954 – "Robo" the Mechanical Elephant owned by C.C. Ezell (American)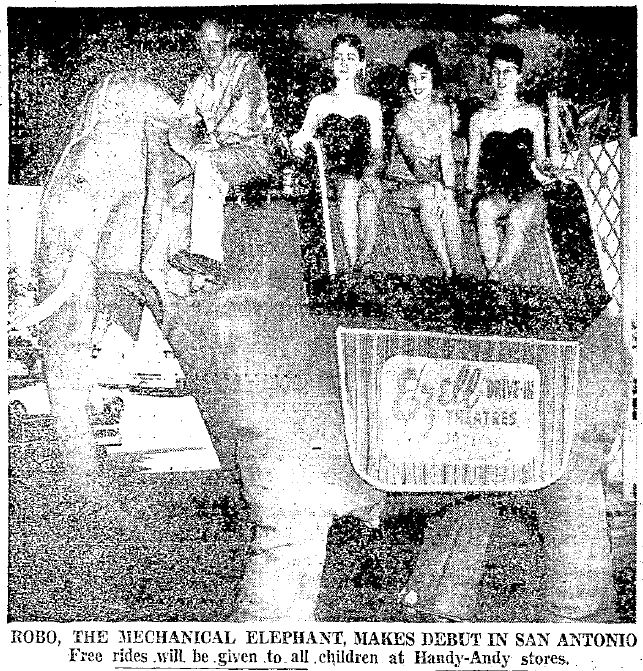 Gas-powered Elephant to give Children Rides

San Antonio Light 4 Nov 1954

Robo, the monstrous robot elephant owned by the Ezell drive-in theaters is scheduled for a 1-week stay at the Fredericksburg rd. drive-in beginning Friday. The realistic elephant will also be exhibited at Handy-Andy shopping centers during the day and will give the kiddies rides before showtime each night at the drive-in theater.

Robo is 9 feet high and 12 1/2 feet long, weighs 2500 pounds, and is powered by a 4-cylinder 10-horsepower gasoline motor. He was imported from England.

Robo can do almost anything a little elephant can do. His head and trunk move from side to side with the swing of his body as he walks along. About the only difference between Robo and a live elephant is that he burns gasoline instead of eating hay.

Handy-Andy stores No. 7 at 2716 Fredericksburg. No. 11 at Hildebrand and San Pedro, No. 5 at Woodlawn and Fredericksburg and No. 2 at Cincinnati and Bandera will exhibit the mechanical marvel during the week and also will offer free rides to the children.
---
"Robo", the mechanical elephant was most likely purchased or leased from Wendelken, despite claims it was imported directly from England by Ezell's.
---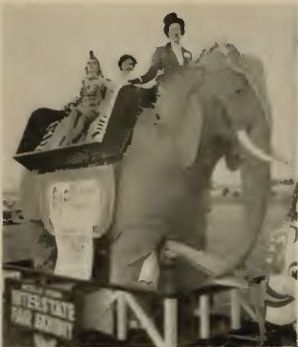 Caption: Film Industry Women Form National Ass'n. A real Texan welcome was given visiting WOMPI's as they arrived in Dallas for the first National Convention. The photo shows the mechanical elephant which the Ezell circuit sent to the train station Saturday morning (18) with models from Interstate's State Fair exhibit.
(Source: Box Office 25 August 1954)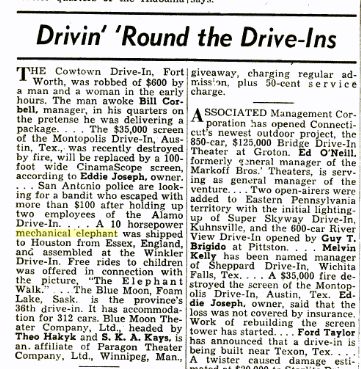 In September 1954, supposedly a new Frank Stuart elephant is shipped to Winkler Drive-in, Houston (US) from Essex, England. (Source: Billboard 4 Sept 1954)
Claude Ezell was the daddy of the Texas drive-in. He was an old carny. He had drive-ins in Fort Worth, Dallas, Waco, Corpus Christi and Houston. Also referred to as CC Ezell, and Claude Ezell & Associates.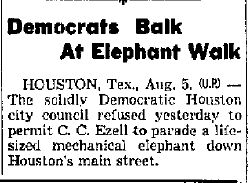 (Source: Nevada State Journal 6 Aug 1954)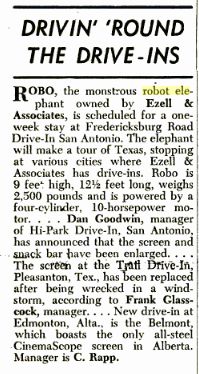 (Source: Billboard 27 November 1954)
---
Tags: 1954, American, C.C. Ezell, Frank Stuart, Mechanical Elephant, Walking machine