1951 – Mechanical Horse – Bogart (American)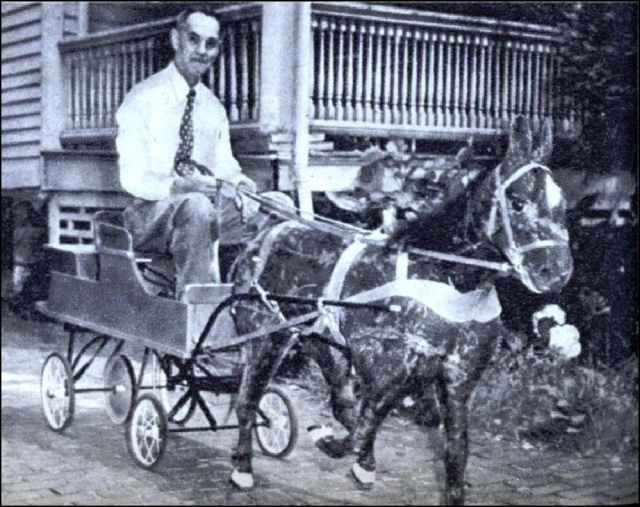 Source: Mechanix Illustrated Oct, 1951.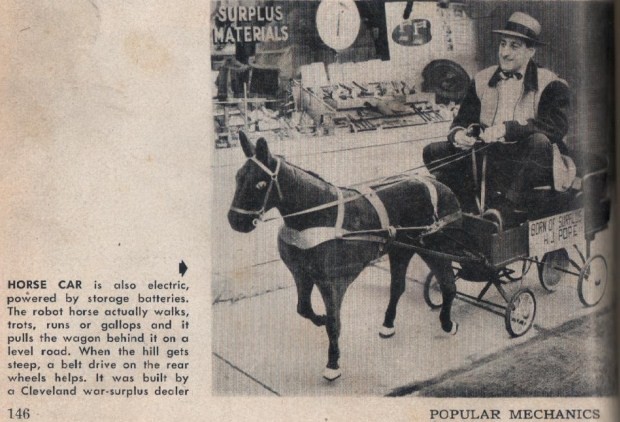 Source: Popular Mechanics Jan, 1954
---
Galveston Daily News 11 Mar 1953
Hold Your Autos; Horse A-Comin'
CLEVELAND, Ohio (UP)—No reaction has come from the automotive world as yet, but George Bogart's invention would seem to be a cinch to cause a stir. He invented a horse. The 62-year-old inventor began three years ago when his son taunted him:
"Pop, you've invented lots of things. Bet you can't invent something in the line of a horse." The father finally came up with a small mechanical horse.
Pulls a Cart
It Is about 50 inches high, weighs 80 pounds and is powered by two automobile storage batteries. The inventor is a welder by trade.
The elder Bogart has a special cart, and, if the traction is favorable, his creation can pull it. When traction is not so good, the rear Wheels of the cart can be hooked up to the power unit in the pony.
When he started on the horse, Bogart recalled that he first got a book on equine anatomy. The body is made of lightweight balsa wood, covered with a brown velvet "hide." The patented device is filled with cogs, levers and the like for propelling purposes.
The jaunty beast can walk trot and gallop. It goes best on brick or wook with a surprisingly strong driving power. In the process of his creation, it tore up two rugs and is capable of destroying a lawn with its sturdy, unrelenting hooves. The realistic-looking animal is also capable of hauling a man in the cart.
---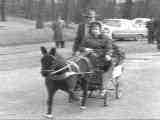 Mechanical Horse was built by George A. Bogart on a $10 bet with his son. Made of balsa wood and powered by six-volt auto batteries, this mechanized nag will pull up to 300 pounds at 25 mph.
---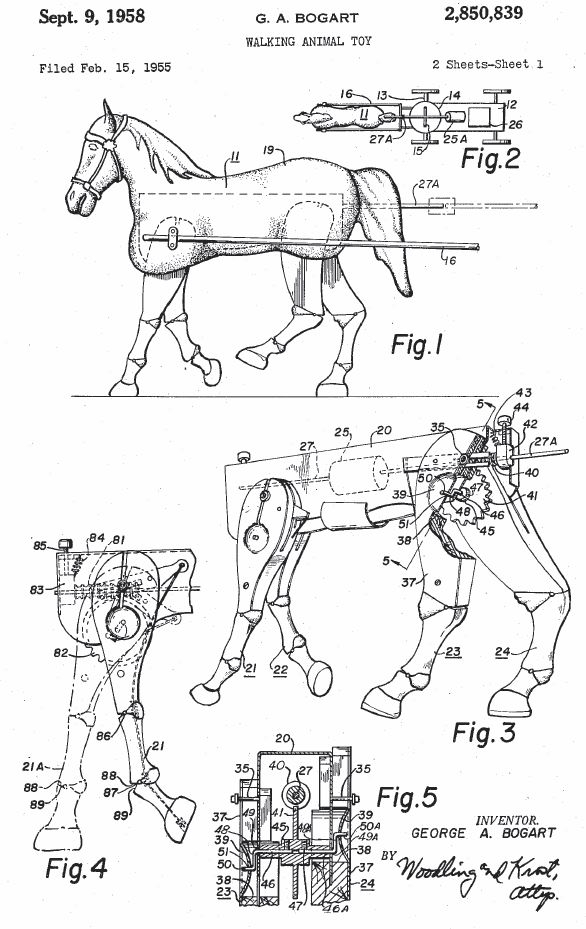 George A. Bogart
Patent number: 2850839
Filing date: Feb 15, 1955
Issue date: Sep 1958
See full patent here.
---
There is a video clip on Bogart's horse found on itnsource, but no preview. Here is the blurb on the clip:
Robot Horse Lakewood OhioPlease read the Fox Movietone disclaimer

Lakewood, Ohio — Robot Horse

Horse leaving Pope Surplus store, loading horse & wagon into station wagon, unloading at park, operation of horse & wagon, shot of Mr George Bogart (Inventor) & Mr H J Pope, Mr Bogart driving & Pope children as passengers.

Story number: 088-629

Color: No

Mfg. Title: No

Tapes: MTA06375 1 00:33
---
Tags: 1951, American, George A. Bogart, Mechanical horse, Walking machine