1952-67 – "Bensina" the Frank Stuart Elephant in Sweden – Frank Stuart (British)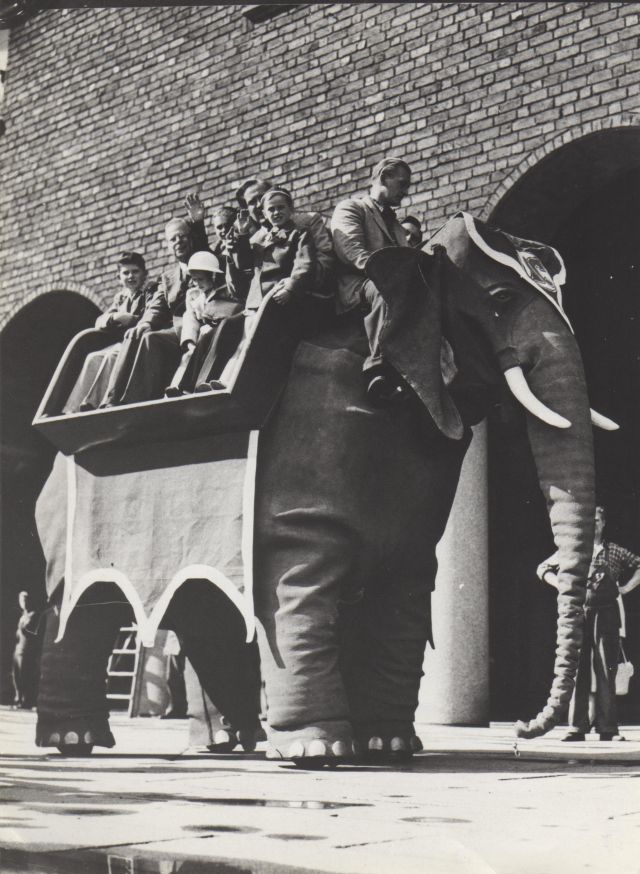 "Bensina" arrived in Sweden in August 1952. It arrived with Karl Nelles, one of Frank Stuart's elephant drivers.
See here for the full Frank Stuart Mechanical Elephant stories.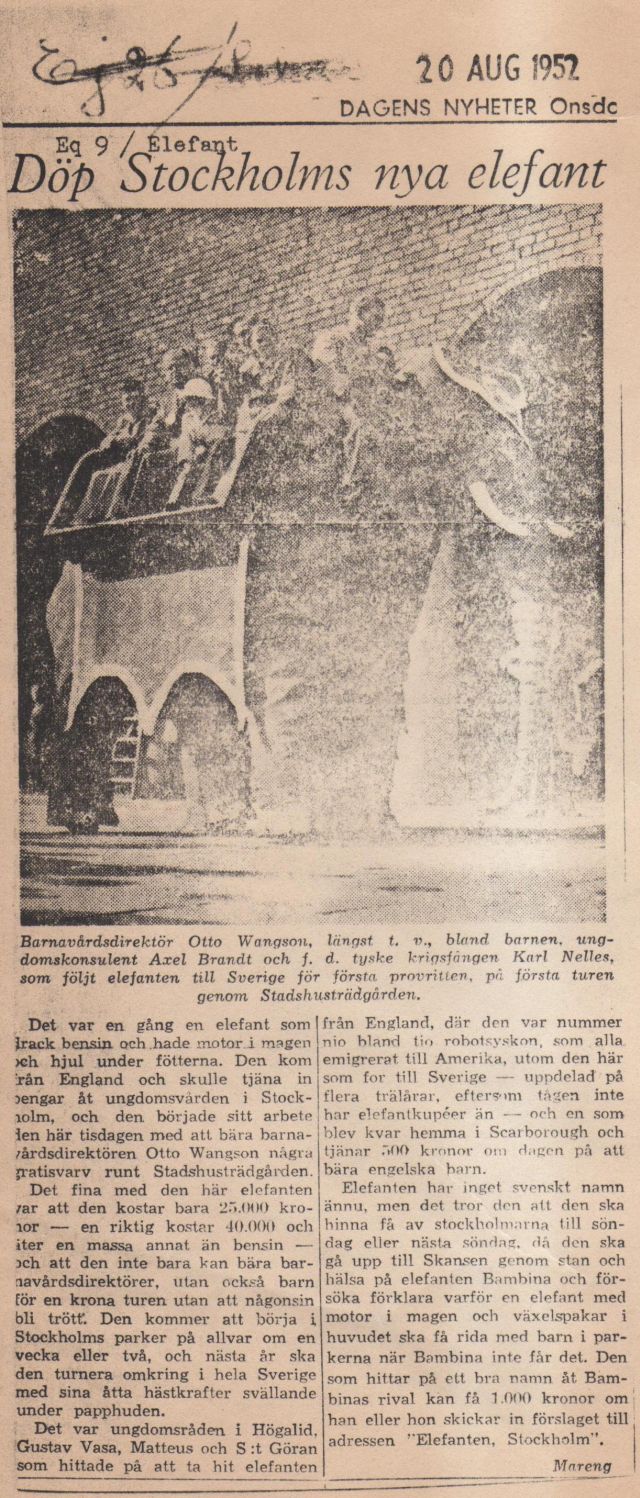 DAGENS NYHETER Onsdo
Eq 9 / Elefant
"Döp Stockholms nya elefant
Barnavårdsdirektör Otto Wangson, längst t. v., bland barnen. ungdomskonsulent Axel Brandt och f. d. tyske krigsfången Karl Nelles, som följt elefanten till Sverige för första provritten, pil första turen genom Stadshusträdgården.
Det var en gång en elefant som frack bensin och hade motor i magen ich hjul under fötterna. Den kom från England och skulle tjäna in pengar åt ungdomsvården i Stockholm, och den började sitt arbete len här tisdagen med att bära barnavårdsdirektören Otto Wangson några gratisvarv runt Stadshusträdgården. Det fina med den här elefanten rar att den kostar bara 25.000 kronor — en riktig kostar 40.000 och åter en massa annat än bensin —och att den inte bara kan bära barnavårdsdirektörer, utan också barn för en krona turen utan att någonsin bli trött Den kommer att börja i Stockholms parker på allvar om en vecka eller två, och nästa år ska den turnera omkring i hela Sverige med sina åtta hästkrafter svällande under papphuden.
Det var ungdomsråden i Högalid, Gustav Vasa, Matteus och S :t Göran som hittade på att ta hit elefanten från England, där den var nummer nio bland tio robotsyskon, som alla emigrerat till Amerika, utom den här som for till Sverige — uppdelad på flera trälårar, eftersom tågen inte har elefantkupéer än — och en som blev kvar hemma i Scarborough och tjänar 500 kronor om dagen på att bära engelska barn.
Elefanten har inget svenskt namn ännu, men det tror den att den ska hinna fil av stockholmarna till söndag eller nästa söndag. då den ska gå upp till Skansen genom stan och hälsa på elefanten Bambina och försöka förklara varför en elefant med motor i magen och växelspakar i huvudet ska få rida med barn i parkerna när Bambina inte får det. Den som hittar på ett bra namn åt Barnbinas rival kan få 1.000 kronor om han eller hon skickar in förslaget till adressen "Elefanten, Stockholm".
Mareng
google translation
TODAY'S NEWS Onsdo
Eq 9 / Elephant
"Name the Stockholm's new elephant
Childcare Director Otto Wangson, at the television, including children. Youth consultant Axel Brandt and former German prisoner of war Charles Nell, who followed the elephant to Sweden for the first test ride, arrow first trip through the City Hall Garden.
There was once an elephant tails gasoline engine and had the stomach ich wheels under their feet. It came from England and would earn money for youth services in Stockholm, and it began its work here on Tuesday with soft carrying childcare director Otto Wangson some free laps around the City Hall Garden. The beauty of this elephant rar it only costs 25 000 SEK – a real cost 40,000 and returned a lot more than gasoline and that it can not only bear childcare directors, but also the children for a dime tour without ever getting tired It will starting in Stockholm's parks in earnest about a week or two, and next year the touring around all over Sweden with his eight horsepower swelling in cardboard skin.
It was the youth councils in Högalid, Gustav Vasa, Matthew and St. George who came up to hit the elephant from England, where it was number nine out of ten robotic siblings, who all emigrated to America, except this one went to Sweden – divided on several wooden crates, because the trains have not yet elefantkupéer — and one who remained at home in Scarborough and earn 500 dollars a day to carry English children.
The elephant does not have a Swedish name yet, but it feels that it is time to file by the locals for a Sunday or next Sunday. then it will go up to Skansen through town and visit the elephant Bambina and try to explain why an elephant with the engine in the stomach and gear levers in the head will be riding with children in the parks when the Bambina not get it. If anyone finds a good name to the Children's rival bees may have SEK 1,000 if he or she submits the proposal to address "the elephant, Stockholm".
Mareng
Note: RH Interesting comment that this elephant, yet to be named in Sweden at the time of the report, said it was the nineth built out of a batch of 10. Further it says one remained behing to operate at Scarborough. The elephant physically looks like the 1952 model elephant as used at Margate only weeks earlier.
---
This blog post, plus major contributions to other Mechanical Elephants is put together by material supplied by the Mechanical Elephant aficionado and historian Larry Gavette, from Michigan, USA. Larry once owned Jumbo, and from the late 1970's onwards spent considerable effort and time into researching these fine beasts. Its a lesson to all into researching not to procrastinate, particularly when it comes to interviewing aged people. Most of those people Larry contacted have now passed away. In the late 70's there was no World Wide Web as we now know it, no Google to search , no online patents to search, no archived newspapers to search. So it was a massive effort by Larry to do what he did (and continues to do) on this intriguing subject. We are all in debt to you, Larry.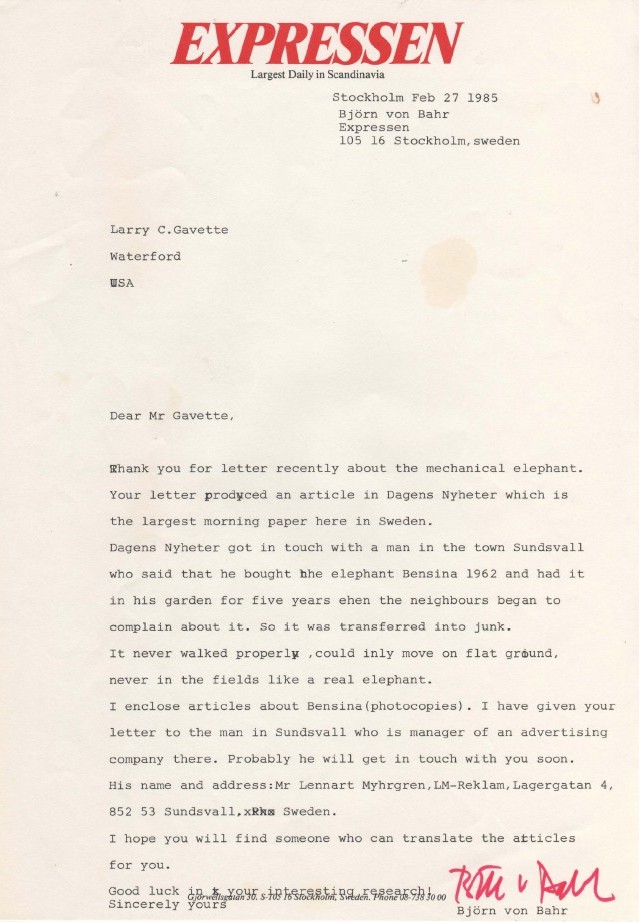 From the letter we can see that this elephant was scrapped in 1967.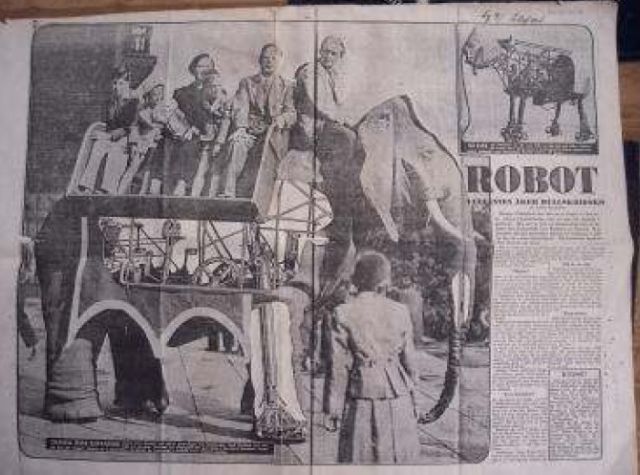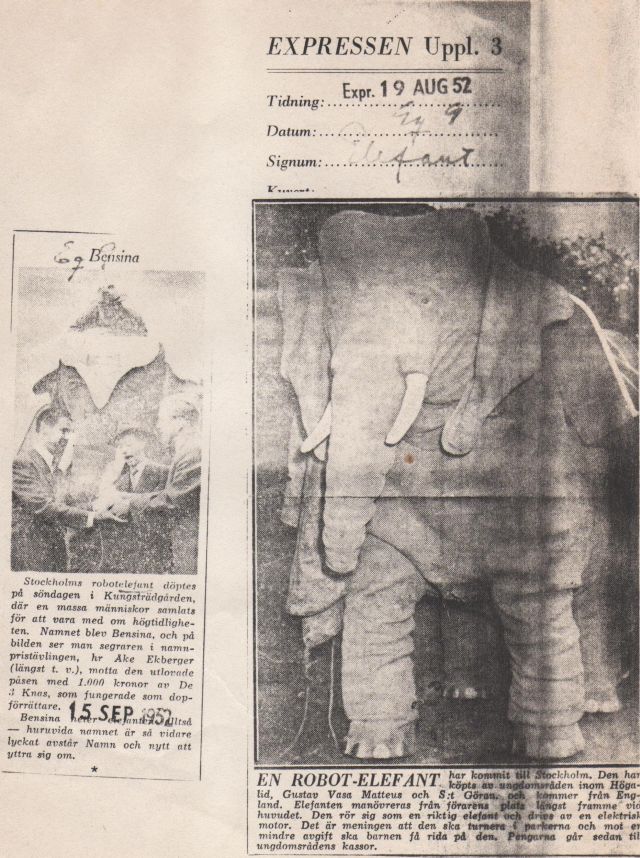 Stockholms robotelefant döptes på söndagen i Kungsträdgården, där en massa människor samlats för att vara med om högtidligheten. Namnet blev Bensina, och på bilden ser man segraren i namn-pristävlingen, hr Åke Ekberger (längst t. v.), motta den utlovade påsen med 1.000 kronor av De 3 Knas, som fungerade som dopförrättare.
Bensina heter elefanten alltså — huruvida namnet är så vidare lyckat avstår Namn och nytt att yttra sig om.
EN ROBOT-ELEFANT har kommit till Stockholm. Den har köpts av ungdomsråden inon Högalid, Gustav Vasa Matteus och S:t Göran, och kommer från England. Elefanten manövreras från förarens plats langst framme via huvudet. Den rör sig som en riktig elefant och drivs av en elektrisk motor. Det är meningen att den ska turnera i parkerna och mot mindre avgift ska barnen få rida på den. Pengarna går sedan till ungdomsrådens kassor.
Google translation
Stockholm robotic elephant was named on Sunday in King's Garden, where a lot of people gathered to be part of the ceremony. The name was gasoline, and the picture you can see the winner of the name-the Award, Mr. Ake Ekberg (far left), receiving the promised bag of 1000 crowns of the three Knas, who served as ministers of Baptism.
Gasoline is called the elephant that is – whether the name is so on successful refrain name and new to comment on.
A ROBOT-ELEPHANT have come to Stockholm. It has purchased by the youth councils Inon Högalid, Gustav Vasa, Matthew and St. George, and comes from England. The elephant is operated from the driver's seat at the front through the head. It moves like a real elephant and operated by an electric motor. It is supposed to tour the parks and the minor charge, the children will be riding on it. The money then goes to the youth councils' funds.

Note: Despite what the article says, Bensina was not an electric-powered elephant.
---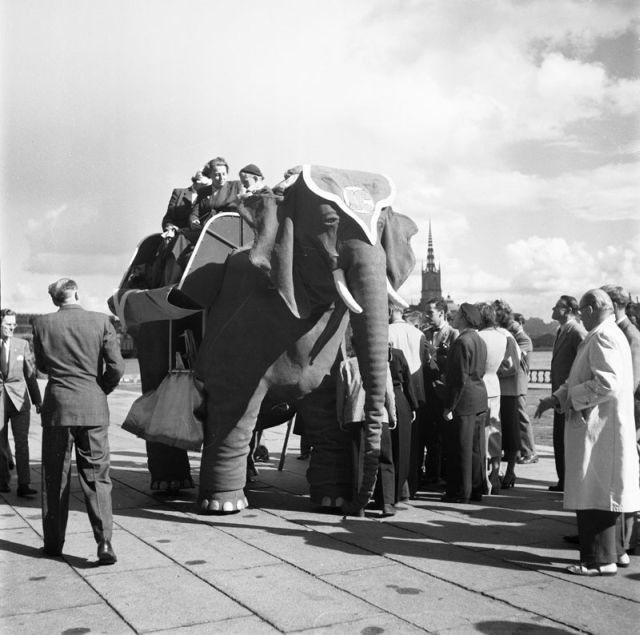 Stadshusparken (City Hall Park). A robot elephant, purchased from England by youth sråden in several parishes, who will tour with passengers from Stockholm's parks . (Google translation from Swedish)
Location: The block Eldkvarn . Hantverkargatan 1 . Kungsholmen.
Time: August 19, 1952
Copyright: Ericsson, Vimar.
Note: You can just see a fabricated lever, not a one-piece lever, which may indicate is was built from a different batch.
---
Tags: 1952, British, Frank Stuart, Larry Gavette, Mechanical Elephant, Scottish, Walking machine