1951 – Mechanical Elephants by Frank Stuart in America
It is difficult to trace the origins of the Frank Stuart's Mechanical Elephants in America. I'll present some published information that gives clues to their linearity.
The earliest date I have found so far is the delivery of Cunningham's [Department Stores in Michigan] "Jumbo"  is June 1951.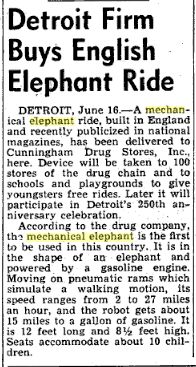 The Billboard 23 June 1951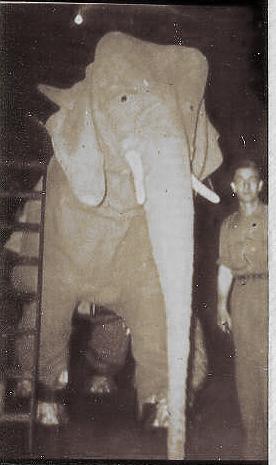 The large Cunningham elephant shortly after it arrived and the staff that would maintain it were getting familiar with it. This was taken by one of the men working for the drug chain at the time.
Above image and text kindly supplied by Larry Gavette.
---

The Billboard 7 July 1951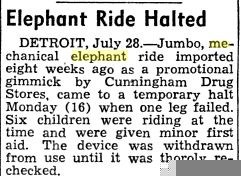 The Billboard 4 Aug 1951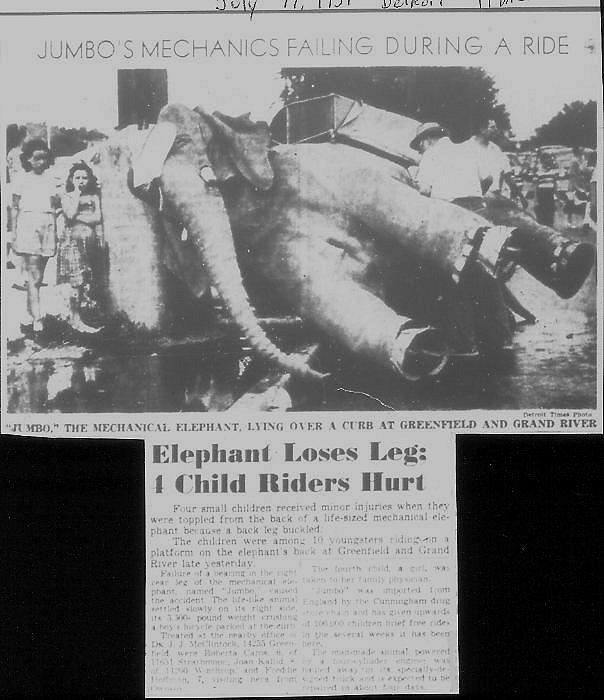 Above image kindly supplied by Larry Gavette.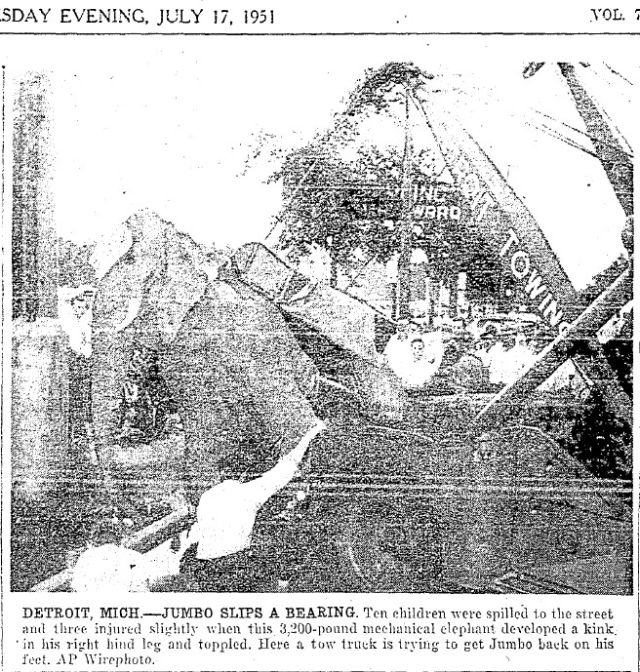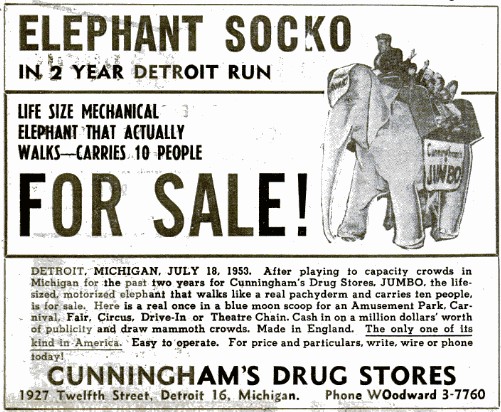 Source: Billboard magazine 18 Jul 1953.
Maybe Wendelken (article below) purchased this Elephant?

(from Michigan Jewish History June 1981)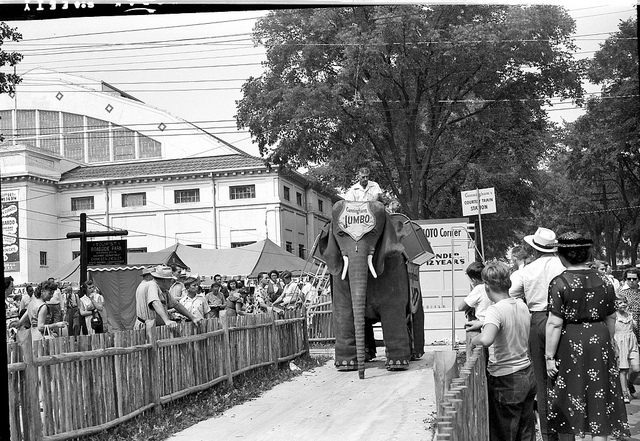 Cunningham's elephant at the Michigan State Fair, 1952. If you look carefully, you can see a legged-frame underneath the elephant's body. Is this precaution due to a leg failing?
---

1979 – "Jumbo" Restoration by Larry Gavette
---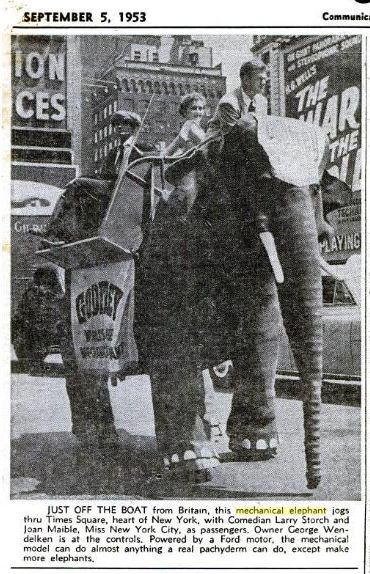 The Billboard 5 Sep 1953. Is this elephant "Just off the boat from Britain" or is it the ex-Cunningham elephant? The article date supports the latter, although later Wendelken claims to have two elephants.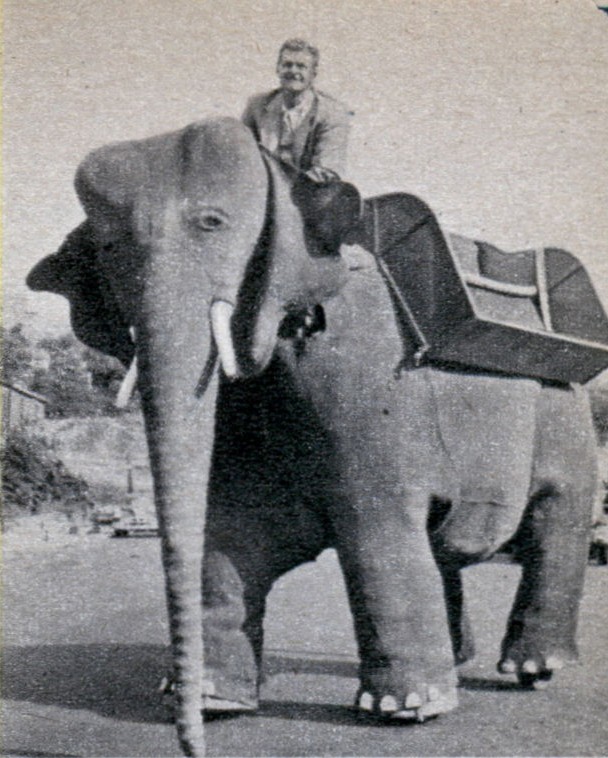 Wendelken on top of his Elephant.
Source: Mechanix Illustrated December 1953.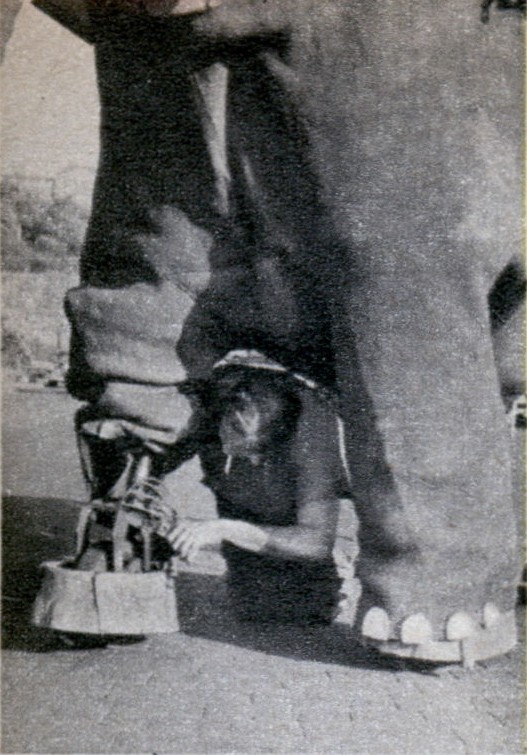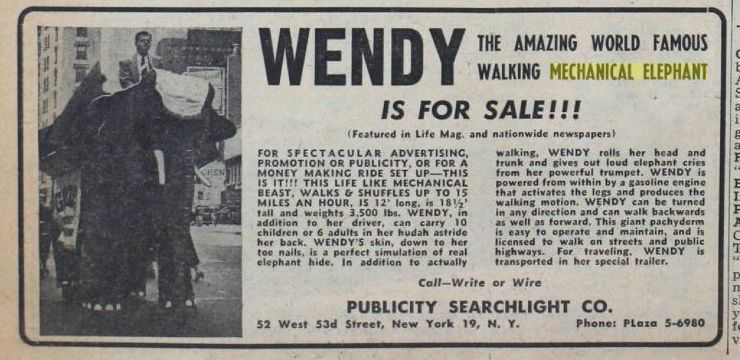 The Billboard 10 Jul 1954
---
The Billboard 21 Jan 1956
WORKLOAD STILL HEAVY FOR SEARCHLIGHT FIRM
NEW YORK. Jan 14.- The huge mechanical elephant owned by Publicity Searchlight Company will earn a raft of publicity for the firm during the next two months, and possibly a $10,000 plum as well, if the plan of Macy's department store works out as envisioned.
Macy's gimmick campaign is to advertise the gasoline-powered contraption as the world's largest and most expensive toy, with a $10,000 price tag. A six-week program is chartered, and any $10,000 bids received will go to owner George Wendelken, who has a second mechanical elephant if the first one is bought up.
The elephants are one of Wendelken's two publicity elements which he leases or sells as the occasion demands (the market for mechanical elephants has been pretty slow in recent years). The backbone of the company is its fleet of 70 searchlights of which 20 are truck-mounted and the rest trailer-mounted……
From Wiki
January 26, 1998
George Wendelken, 'Our Gang' Actor, 81
George T. Wendelken, who played Freckles in the original "Our Gang" film comedies of the 1920's, died on Jan. 3. He was 81 and lived in Toms River, N.J.
After his career as a child star, Mr. Wendelken gained prominence during World War II. He served in the Seabees, the United States Navy construction corps, and was wounded in the fighting on Guadalcanal.
When he returned home, he was appointed as the first Enlisted Man's Representative in Washington for the Navy, Marine Corps and Coast Guard. He did interviews on Armed Forces Radio, spoke at patriotic rallies around the country and was credited with having sold more than $200 million worth of war bonds.
Mr. Wendelken created the Publicity Searchlight Company, which supplied Army surplus searchlights for film premieres and other events.
He is survived by a daughter, Ellen M. Dinneen of Mantoloking, N.J.; two sons, Gene G., of Toms River and Donald B., of Deer Park, Tex.; seven grandchildren; a sister and four brothers.
---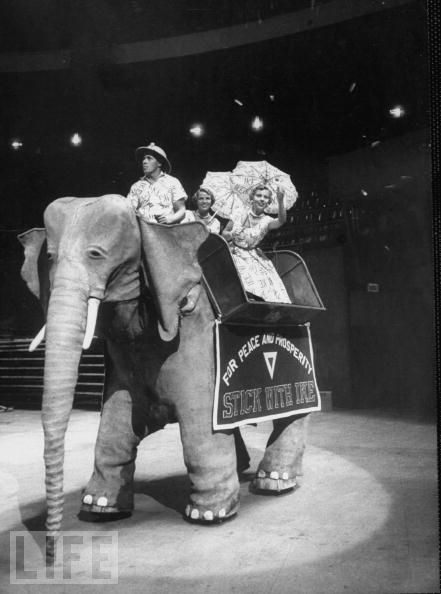 "Wendy" the Mechanical Elephant. I suspect this is one of Wendelken's machines. "Wendy' being a derivative of "Wendelken" is a possible connection as well.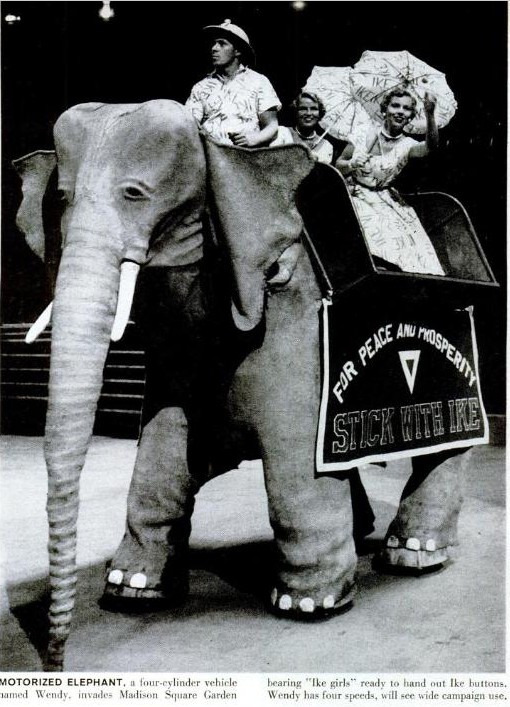 One auction house claimed that Ike Eisenhower actualy rode in Wendy. Wendy was certainly used in the campaigns, but I've seen no evidence to support the claim. The only person of note where I've seen evidence is
Harold Riegelman, the unsuccessful Republican candidate for mayor of New York City in 1953  where he was addressing a "group of about 100 persons from the mechanical elephant that is being used " – Source: New York Times – Oct 23, 1953.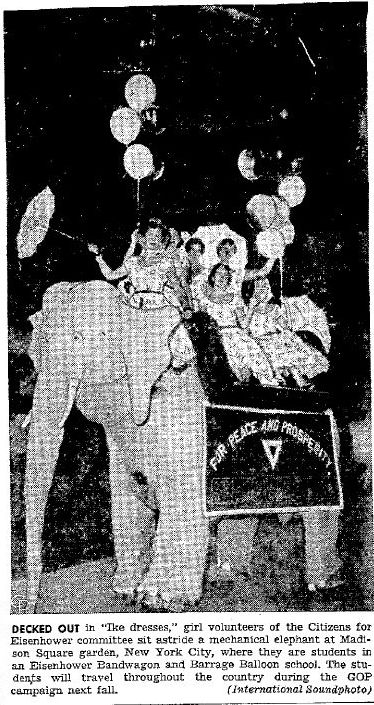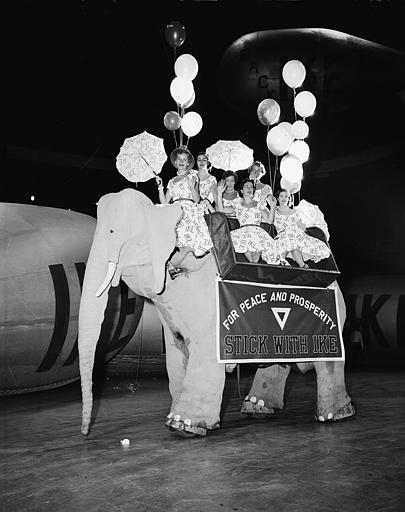 Young women wearing Ike dresses ride a mechanical elephant in New York's Madison Square Garden, July 11, 1956. They are part of a preview demonstration of the Eisnehower bandwagon traveling display to sell voters on the Republican candidates this fall. (AP Photo)
---
There are news reports of the mechanical elephant, now called "Big Jim", operated by James McGlory, a Ford dealer in Oswego, New York, during September and October of 1956.

Source: Oswego Palladium 1Oct 1956.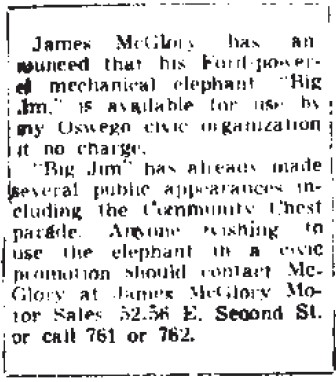 Source: Oswego Palladium 2 Oct 1956.
---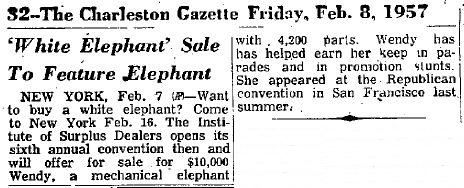 "Wendy" being offered for sale in 1957.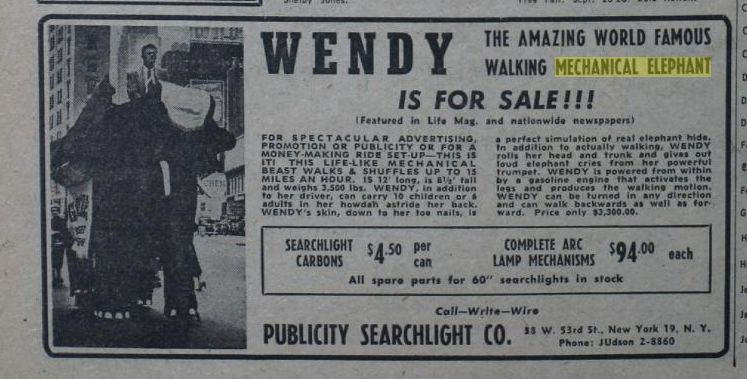 "Wendy" still being offered in 1959. The Billboard Dec 1959.
---
In September 1954, a new Stuart elephant is shipped to Winkler Drive-in, Houston (US). Is this eventually the second Wendelken elephant? Wendelken claimed to have 2 in the The Billboard 21 Jan 1956 article above.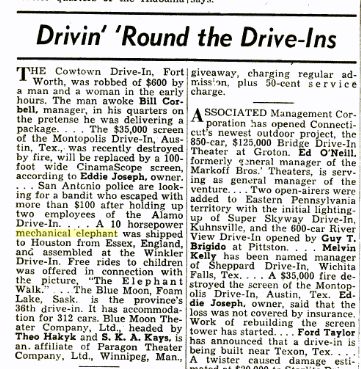 The Billboard 4 Sep 1954.
---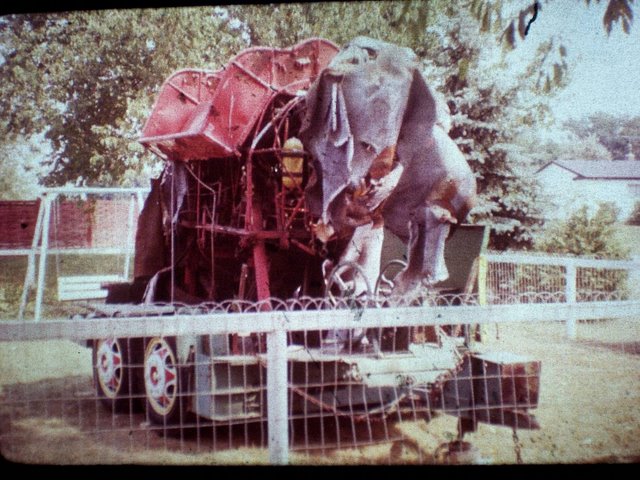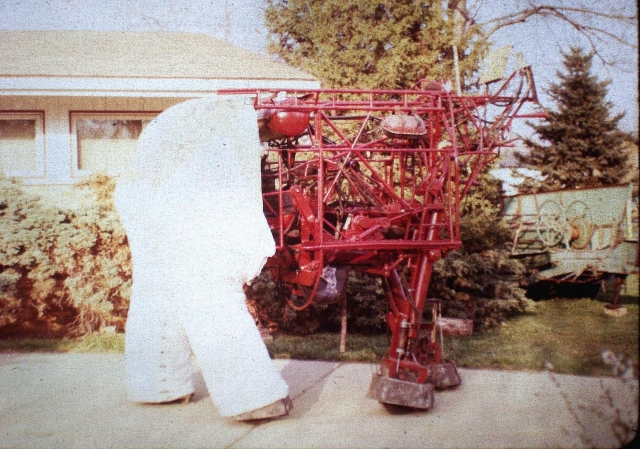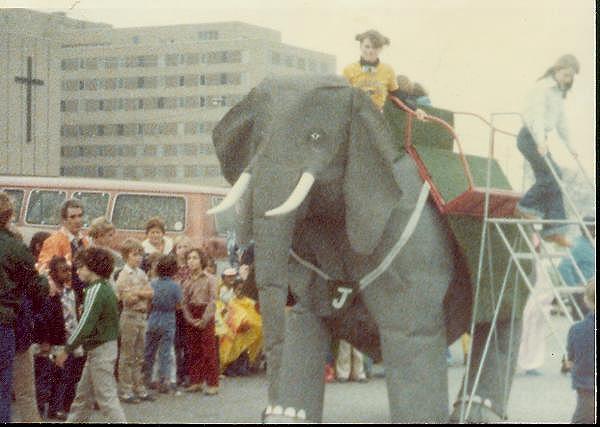 See an informative article quoting Larry and the history of Wendy in Gas Engine Magazine here.  Images courtesy Larry Gavette.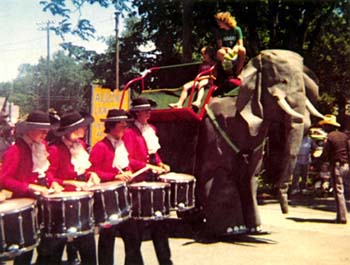 Wendy still in Michigan, driven by Anne Weber at the time.  Larry Gavette in Waterford, Michigan owned him [Jumbo] from 1978 until the late 80's when he sold him to mechanical collector Tim Trager of Oak Brook, Illinois.
---
Update: August 2014 – Another restoration of Jumbo, by Ken.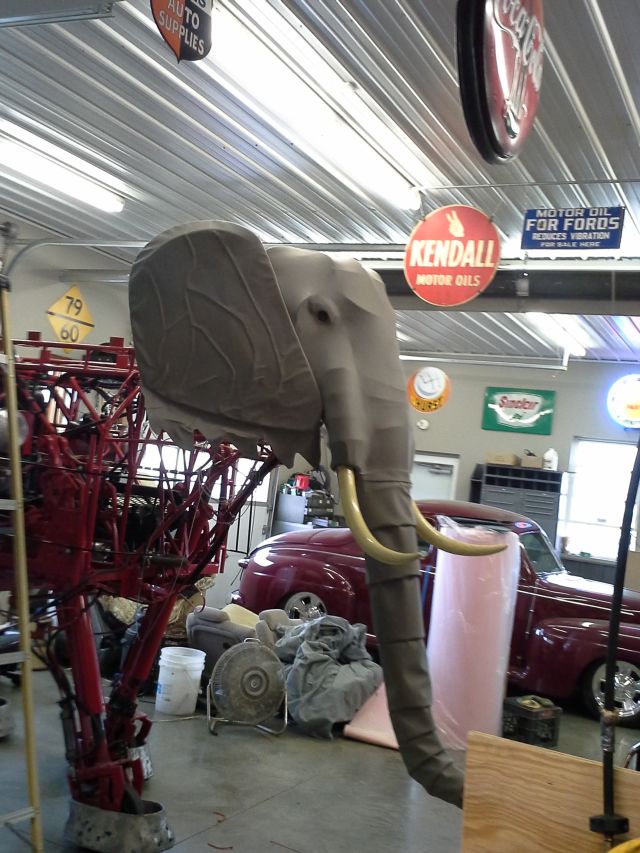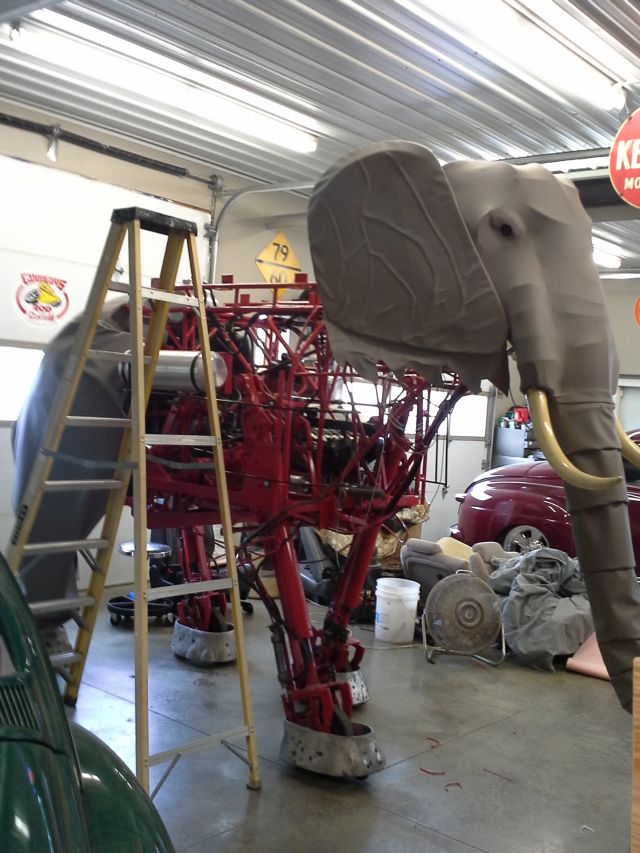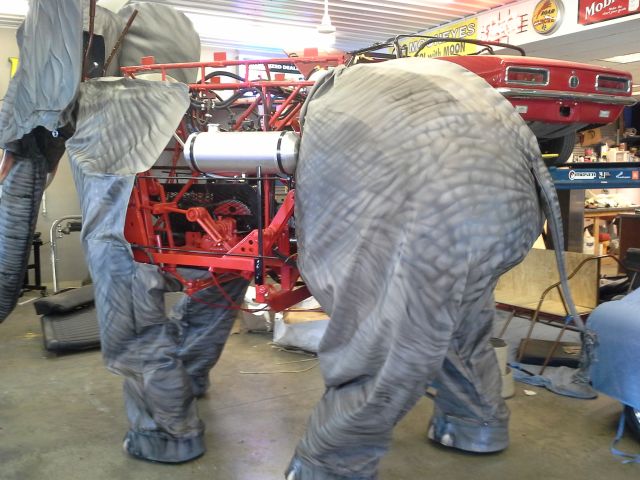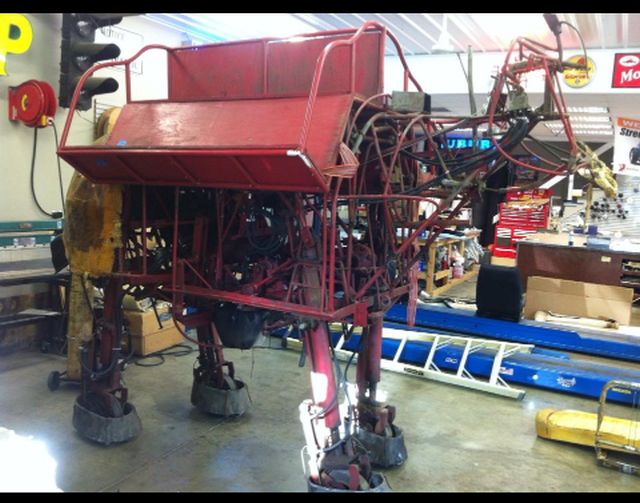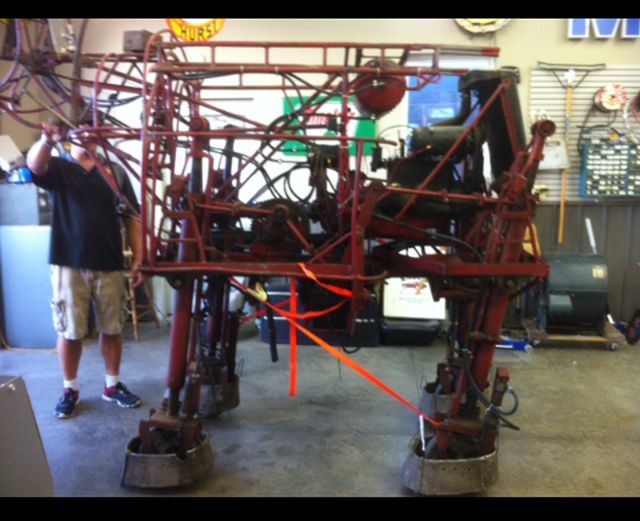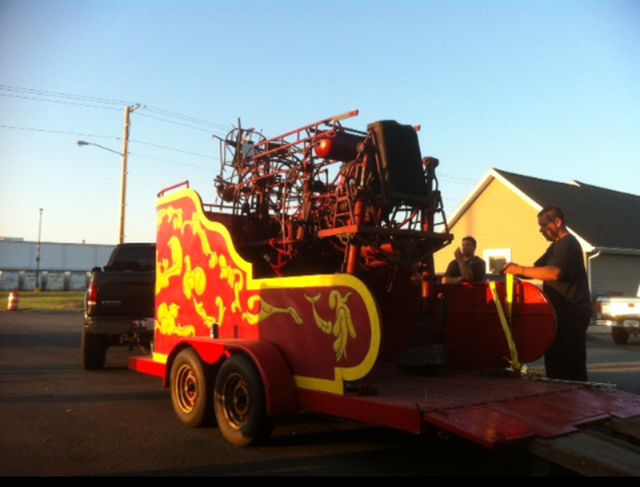 ---
The elephant below found it way to the U.S. from England some time after 1998 when it was sold at the Olympia Antiques Auction by Emma Hawkins, and purchased by Wil Markey.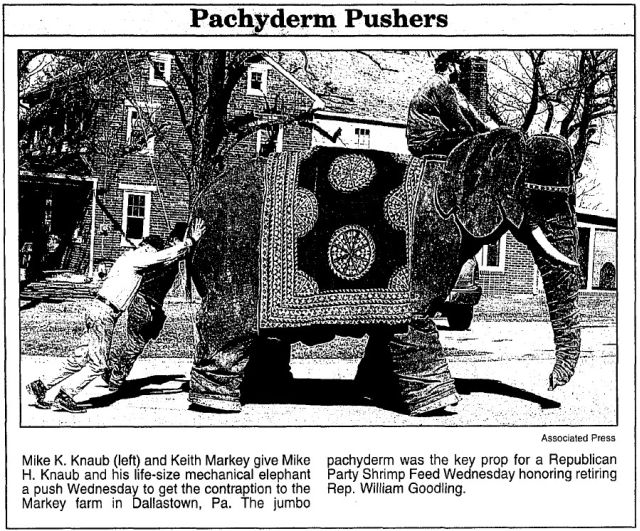 It was temporarily owned by Bob Perani (below) after purchasing it at the Atlanta Red Baron Auction. Since been re-sold and now lovingly restored and living happily in Florida.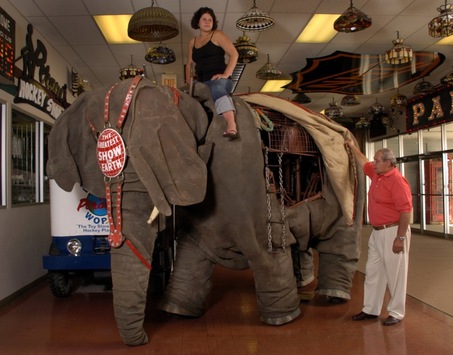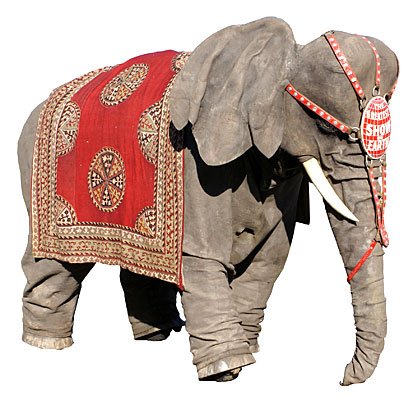 Image above from Red Baron, Atlanta Auction in 2007.
In both images the howdah is missing.
This is the same elephant that was sold in England in 1998 (see in this post here).

---
Some recent material found when researching "Nellie" in Australia further muddies the water as it gives projections of intended manufacture, or of potential or actual orders during 1950 and 1951.
Larry Gavette has since supplied further material. Watch this space for updates.
---
Tags: 1951, American, Frank Stuart, Mechanical Elephant, Scottish, Walking machine