1950 – "Nellie" the Mechanical Elephant – in Australia built by Frank Stuart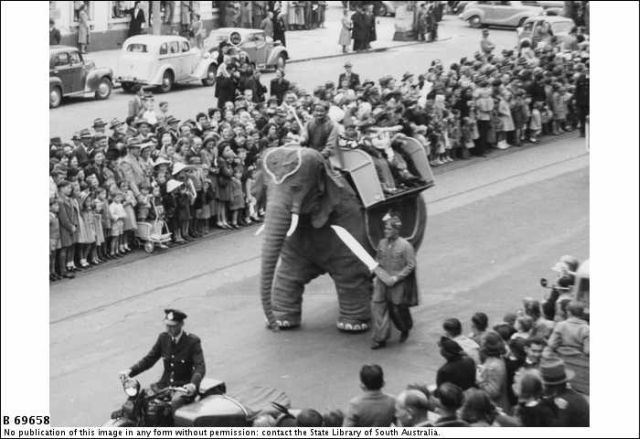 Nellie the mechanical elephant was purchased for 1,500 pounds by Edward Hayward during a trip to England, and brought home to feature in the John Martin's Christmas pageant. At the time, Nellie was claimed to be the only full-sized mechanical elephant in the world.
There is some video on this 1950 parade with the elephant.
Register (free) and/or log in
Under Search, use fourth option 'SEARCH STORY' and type in
54612
then click on 'Play clip'.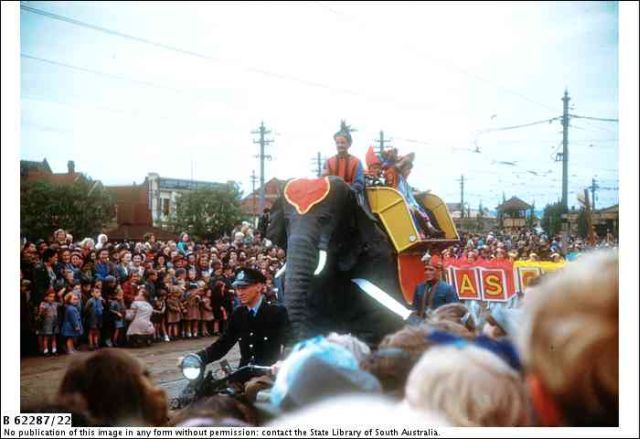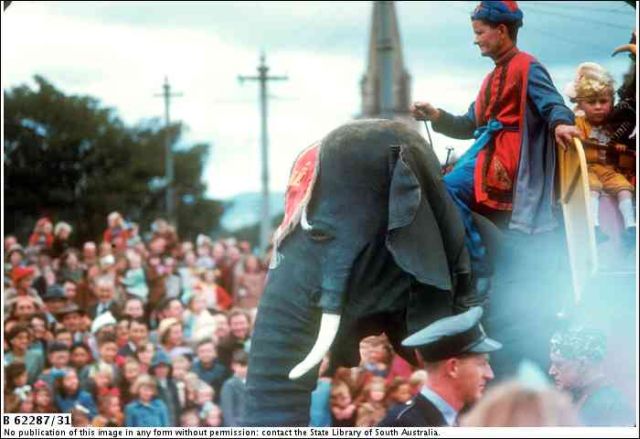 A favourite since her introduction in 1950, Nellie is pictured here in her third pageant in 1952.
Indeed she is so beloved, that when mechanical problems began dogging her and preventing her from appearing annually local father and son mechanics Alby and Ross Hill offered to take her home and repair her; and she continues to appear in pageants to this day.
"Nellie's" current owners have looked after her for quite a while now. Here they tell their story as part of the 2011 Christmas Pageant in Adelaide, Sth Australia.
Thank you Larry Gavette for capturing this video clip.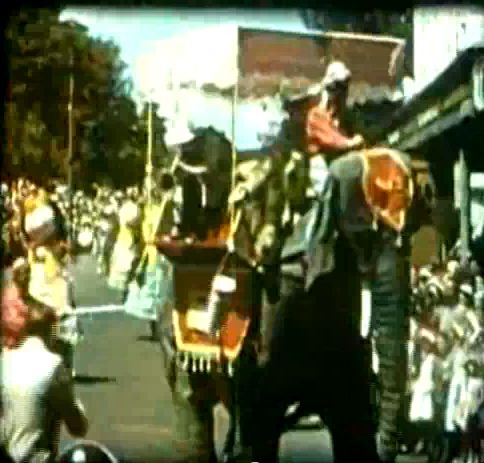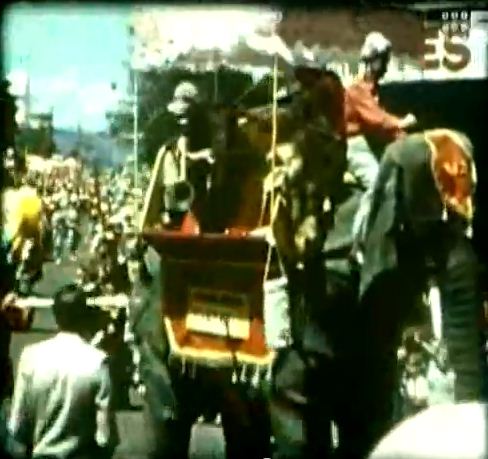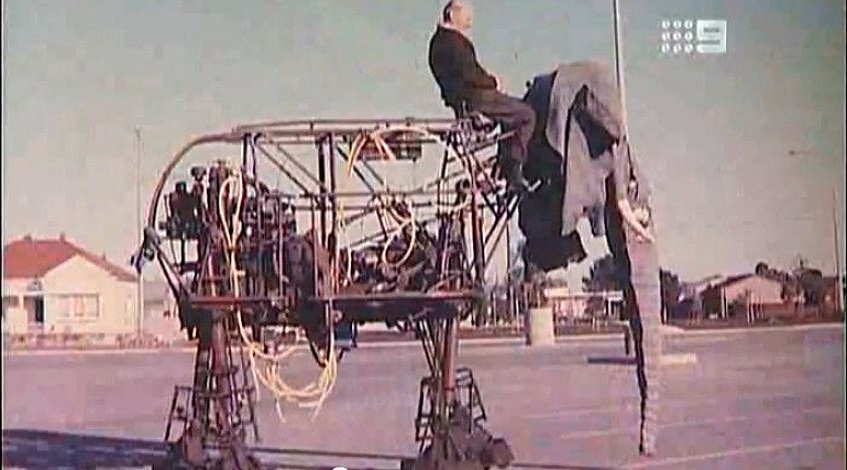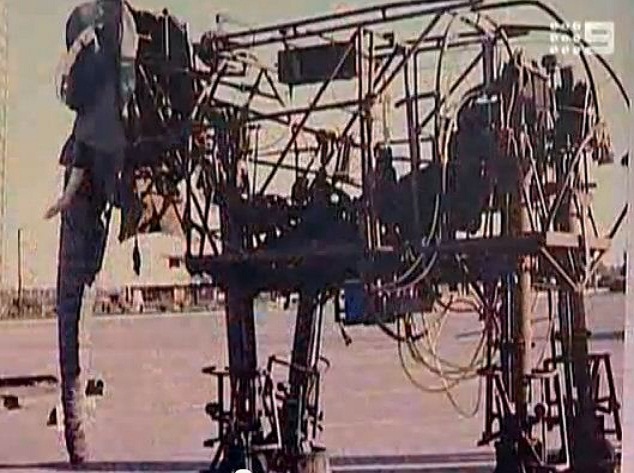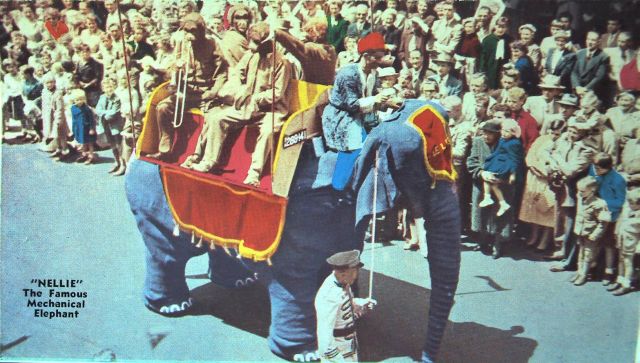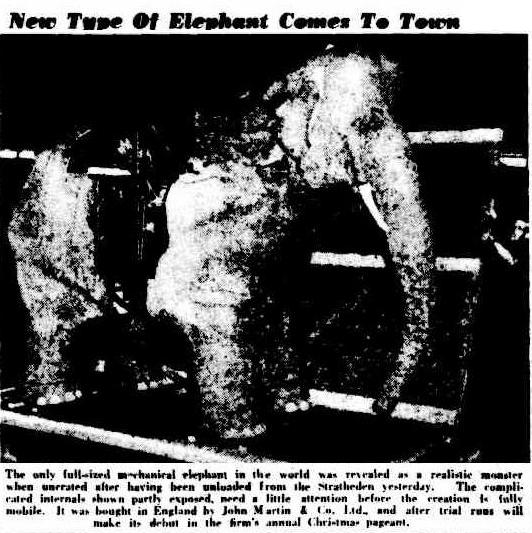 Image and text:: The Advertiser 14 Oct 1950 (Adelaide, South Australia)
New Type Of Elephant Comes To Town
The only full-sized mechanical elephant in the world was revealed as a realistic monster when uncrated after having been unloaded from the Stratheden yesterday. The complicated internals shown partly exposed, need a little attention before the creation is fully mobile. It was bought in England by John Martin & Co. Ltd., and after trial runs will make its debut in the firm's annual Christmas pageant.
Nellie, The Elephant, Arrives
The only full-size mechanical elephant in the world took her first Australian bow at a private gathering at John Martin's yesterday. Her name is Nellie.
That was not her first name. In England, where hundreds of Children rode on her back in her more or less experimental days, she was called Mary. But with a new home would go the new name, said a spokesman for John Martin & Co. yesterday.
Nellie came out in big cases in the holds of the Stratheden which reached Outer Harbor late on Thursday night. Yesterday she was unloaded, carted to Adelaide and unveiled. Workmen and store executives-were amazed at the ingenuity embodied in her. She is the perfect robot and wonderfully lifelike. Her eyes have a cunning gleam, her trunk swings almost to the ground, she has the intriguing shuffling gait of the real article and her hide has that concertina carpet bag character peculiar to elephants.
Live elephants occasionally become obstinate. Nellie is tractability itself. Press one lever and she does one thing; another control, and she does another, all under perfect command. Externally, Nellie is a work of art. Internally, she is a mechanical marvel.
Beneath her hide is an engine and an array of rods, wheels, cams and shafts through which she can be made to simulate all the actions of the live variety. She is the first of a strictly limited number of mechanical elephants to be made in England.
Next week she will have a few trial runs to get the stiffness out of her limbs after her long confinement in the packing case and to run in her mechanical heart. Her first big public appear ance will be at the head of John Martin's annual Christmas pageant on November 4.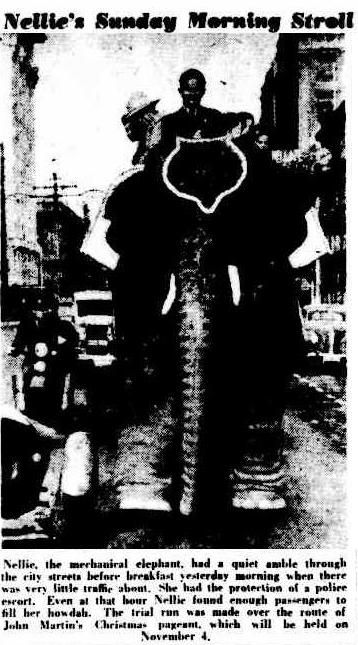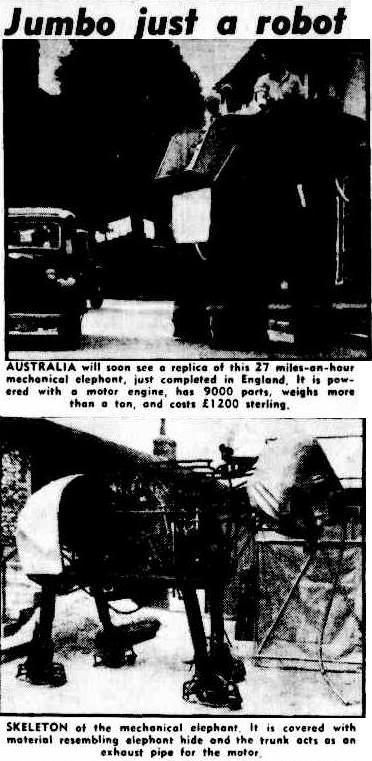 Although most likely the first mechanical elephant built by Stuart, there are inconsistancies around the articles published on the Australian Nellie. One article says she was called Mary before being shipped to Australia. Another article has Stuart's first machine being called Jeannie after his wife. There are also references to Nellie being the prototype, and subsequent beasts being improved upon.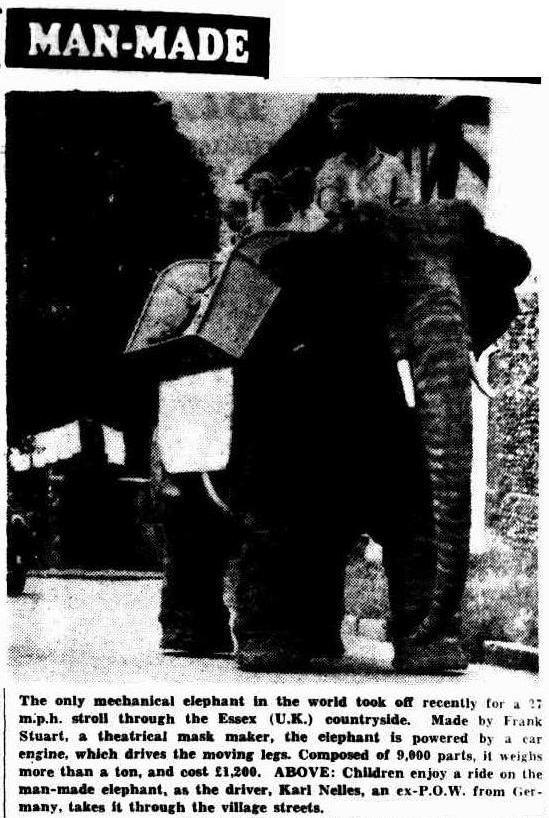 Source: The Mercury (Tasmania, Australia) 5 Aug 1950.
Note mention of Karl Nelles , an ex P.O.W. from Germany, as the driver.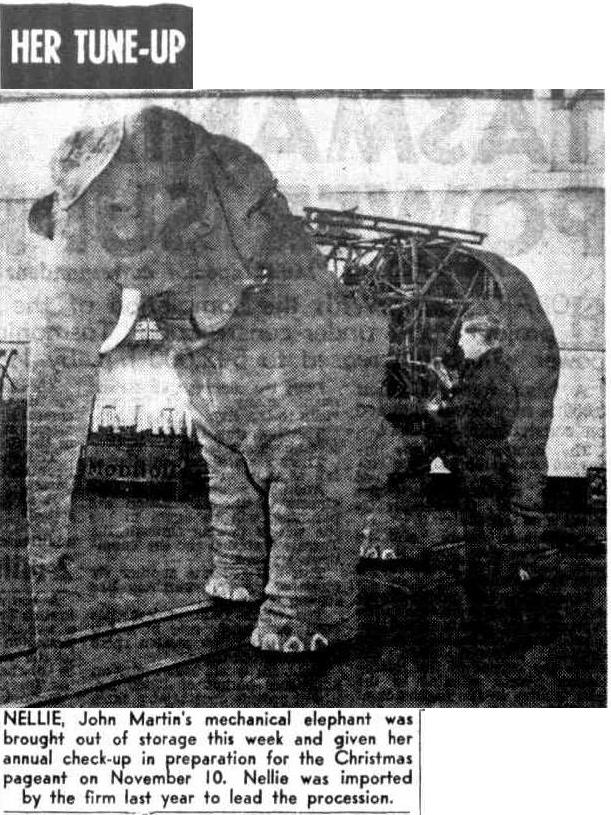 Source: The Mail 8 Aug 1951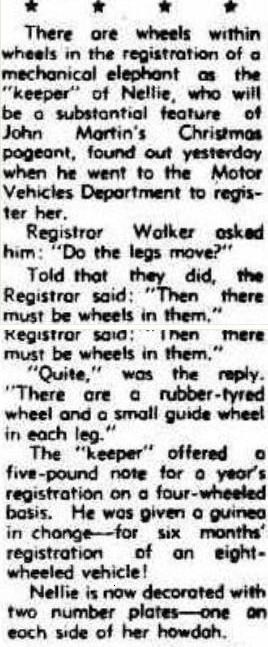 Source: The Advertiser 20 Oct 1950

Source: The Mail 25 Nov 1950
---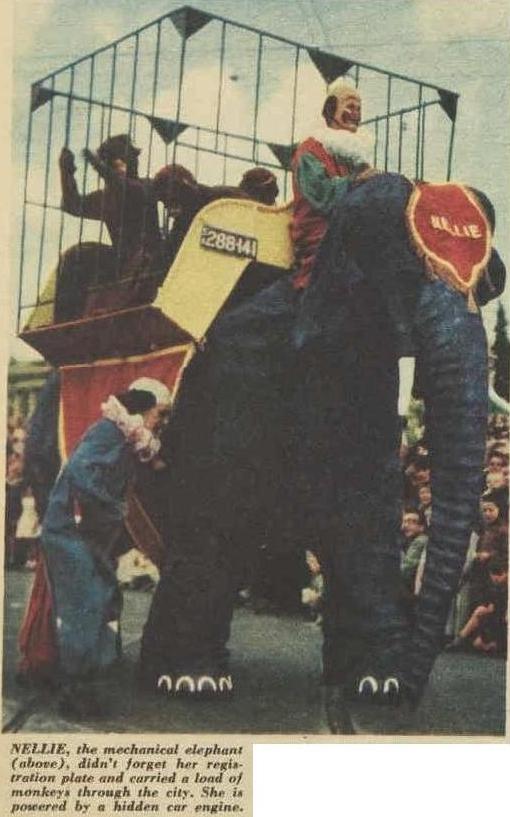 Source: Woman's Weekly 4 Dec 1957.
---
As Nellie was in 2005.
60 seconds in for 11 seconds of 1:37 video.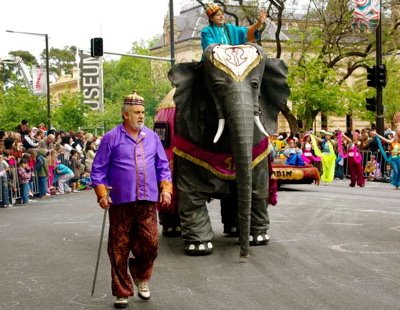 From another blog site……
My father owns one of these elephants and I drive it every year in a Xmas pageant in Adelaide, South Australia. I attach a photo of our elephant called Nellie at the pageant last Saturday (8/11/08).

Thank you, Julianne Hein
---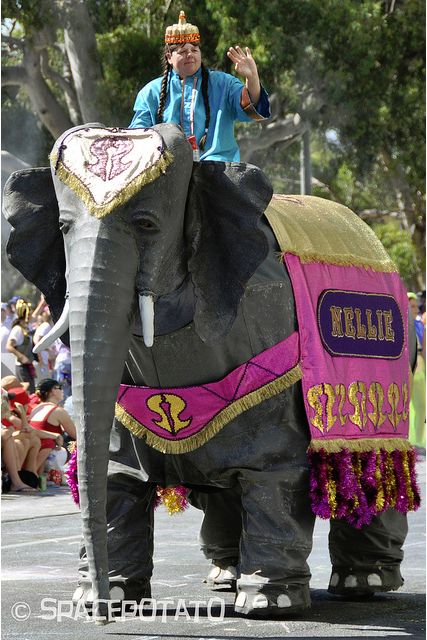 ---
Aussie press disclosed interesting info about Mr. Stuart
Cairns Post 17 Aug 1950
ROBOT ELEPHANT FOR AUSTRALIA
(From Our Special REpresentative.)
CANBERRA. Aug. 11.-A mechanical walking elephant will soon make its appearance in Australia. It consists of 9000 parts and costs £1200.
This news came to-day from the United Kingdom Information Service in Canberra, and behind it lies an astonishing story. For weeks past a strage nocturnal apparition-an elephant 13 feet long and 9 feet high-has been seen walking through the dark streets of the small village of Thaxted, in Essex, emitting a faint whirling noise. The monster is the world's first mechanical walking elephant and its nightly strolls were final tests. In preparation for its first public showing.
Not the least interesting thing about it is that it emodies a new system of propulsion which may be used for agricultural machinery.
The elephant weighs ever a ton and is driven by an 8 horse-power engine, and it is stated to be the first mechanical machine actually to walk over land. Its four legs are mounted on independent oil-controlled points which enable it to pick its feet right off the ground and-to quote the statement issued from the High Commissioner's office- "add a terrifying realism to an already amazingly lifelike model."
Here is the rest of the story, which, might very well form a new chapter to "Alice in Wonderland".
"The inventor, Mr. Frank Stuart, does not intend to restrict himself to robot elephants for this new system, of propulsion. He is now working on a prototype of a great amphibious tractor which will be capable of towing unusually heavy loads. Experiments are also being carried out for using the system for agricultural machinery, "The elephant gave eight excited children and its driver a comfortable, steady ride when on July 28 it was demonstrated for the first time. The driver sits over the elephant's neck where there is a steering tiller and normal ear controls. There are four gears and a reverse, and in perfect conditions a speed of more than 20 miles an hour may be reached, The elephant is said to have a greater tipping angle than a London bus.
"Orders for five of these elephants have already been received from the U.S.A., to be completed by the end of September, two for Canada, one for Australia and one for Africa.
"Mr. Stuart and his 40 factory employees at Thaxted are now turning to the job of completing their 1951 elephant which will be able to swim as well as walk."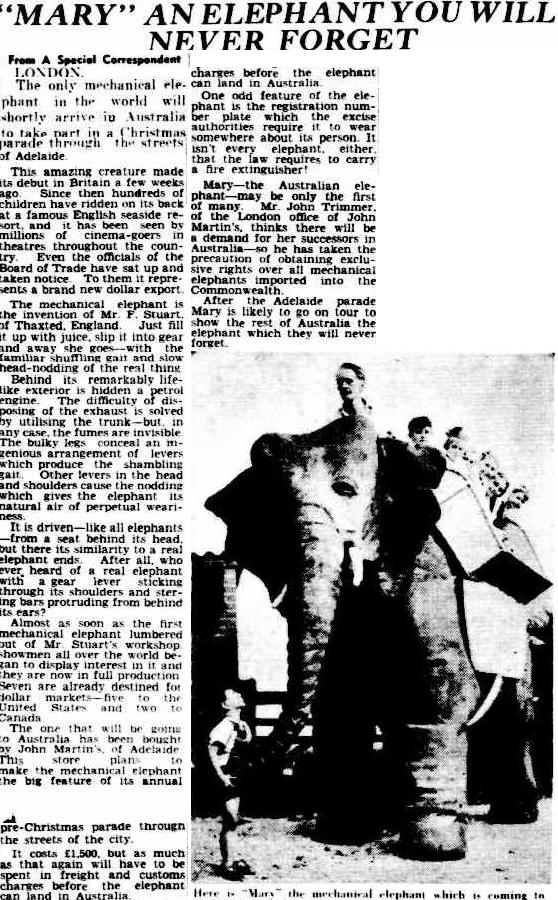 ---
An Older Mechanical Elephant , also called "Nellie", had an articulated head, but didn't walk, was used by the same John Martin's Department Stores in the 1930's.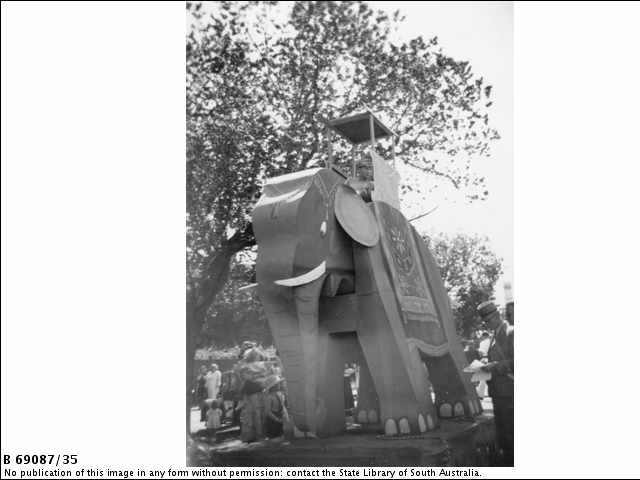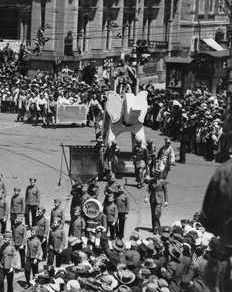 TheAdvertiser20Nov1933
STREET PAGEANT DELIGHTS CROWD
Opening Of Christmas Shopping Season HUMOROUS SCENES
With a cast ranging from Father Christmas to the old woman who lived in a shoe, the Christmas shopping pageant arranged by John Martin & Co. gave Adelaide a merry hour on Saturday morning as it passed through the principal streets. Although it had its sober and spectacular aspects, particularly the latter, its main purpose was to provide fun, and it discharged it better than any procession has for years. Grotesque figures, clowns, two-legged steeds, which frisked and pranced, baboons, and an articulated elephant Kept spectators in a continuous simmer of laughter, while children, of whom there were thousands, shrieked with delight at seeing figures from their nursery books come to life and parade the streets for their entertainment.

The Advertiser (Adelaide, South Australia) 17 Sep 1929.
"THE ADVERTISER" REST ROOM
After a strenuous time spent in sight-seeing many show visitors on Monday took advantage of the facilities afforded by "The Advertiser" lounge in the Agricultural Hall to have a quiet rest. The comfortable chairs were eagerly sought by tired mothers, and the room was availed of by others as a happy meeting place. Every facility is provided for people desiring to communicate with their friends, and two telephones. U. 1233 and Central 148, are at their disposal. The elders can entertain themselves with selections on the wireless set installed in the lounge, and the children are made happy with a great variety of beautiful toys, which will be presented to the Children's Hospital at the end of the Show. A large elephant, loaned by Messrs. John Martin & Company, was very popular with the young folk.
---
Historical Bent
No 30. November 18, 1933. First John Martin's Christmas Pageant, by Lance Campbell.
In 1933, with the dip in sales brought about by the Great Depression, John Martin's department store was at a loss about what to do with a large shipment of Father Christmas suits from Japan. SA Police, aware of the stockpile, were afraid of a break-in at Johnnies Bulk Store that would lead to a wave of copycat "Father Christmas bandits," so popular that season in America. Fortunately, two things worked in favour of the constabulary. Bonny and Clyde came along, which meant any self-respecting local thief had to become a fashion plat, and raid high-end ladies' and menswear stores instead. Plus Christmas time isn't a good time to be robbing a bank in Iron Knob in a Father Christmas suit. If the heat didn't get him, Father Christmases tend to stand out in the Outback – far too easy for a blacktracker in 1933. One bright spark at Johnnies even suggested selling the suits to the police force itself. Indeed, the Police Commissioner gave the idea serious consideration for deep undercover work. No-one in an after-hours drinking establishment or a brothel would ever suspect that Father Christmas was actually a vice squad detective until it was far too late. Even then the culprit would demand the right to pull his beard to prove that the cop wasn't really Father Christmas. In the end, price was the sticking point. The deal fell through. To this day, the vice squad is believed to rue the big brasses' parsimony. Cases cracked by Father Christmas definitely would go down in SA police folklore. Johnnies had to think again. A couple of employees had recently returned from Harvard Business School, where they had learnt the dark science of mass marketing. Their plan was to carpet bomb Adelaide with Father Christmases, parachuting them from airplanes into the sleeping suburbs in the still, quiet hour before dawn. While this wouldn't actually solve Johnnies' problem of selling all those Father Christmas suits, having Father Christmases on every doorstep at first light would steal a long march on the likes of Myer's, Charles Birks, Foy's and Moore's. Traditionally, Father Christmases in the home make offers that are too good to resist.
Alas this plan went astray also when it was revealed that there were far more Father Christmas suits in this State than there were airplanes. And to pull it off even if there were enough planes, half the population of SA would have to learn to jump out of them. With one overworked parachute instructor at Parafield and another becalmed on a P&O liner in the Arabian Sea, there simply wasn't enough time.
Matters were becoming desperate at Johnnies bulk store, until a packer remembered a mechanical elephant sent to the Adelaide Zoo by our British masters, who said it was all we colonials deserved. Then a storeman recalled two large rocking horses built for the Siege of Troy's Menswear stall at the Jubilee Exhibition of 1887. Everyone knew about the pretty salesgirl in the hosiery department. Then there were all those clowns just down the road in State Parliament – enough said.
Johnnies' boss, Edward "Mr Bill" Hayward, had seen Christmas parades in North America. He ran his eye over this lot and came up with the John Martin's Christmas Pageant. The mechanical elephant was Nellie. The wooden horses were Nipper and Nimble.
Miss Longstockings was the first Pageant Queen and those clowns were – well, enough said again.
At a Father Christmas suit a year, it would take a while to work through the stock, but it was a start. In those days, with Japan already gearing for a war effort, Father Christmas suits came in 1000-unit bundles. There were two bundles.
So girls and boys need not fear. There are enough Father Christmases in Adelaide for another 1922 Christmas Pageants.
---
Tags: 1950, Australian, Frank Stuart, Mechanical Elephant, Walking machine