1949 – Macades / Luneside Engineering Mechanical Elephant – (Frank Smith design) (British)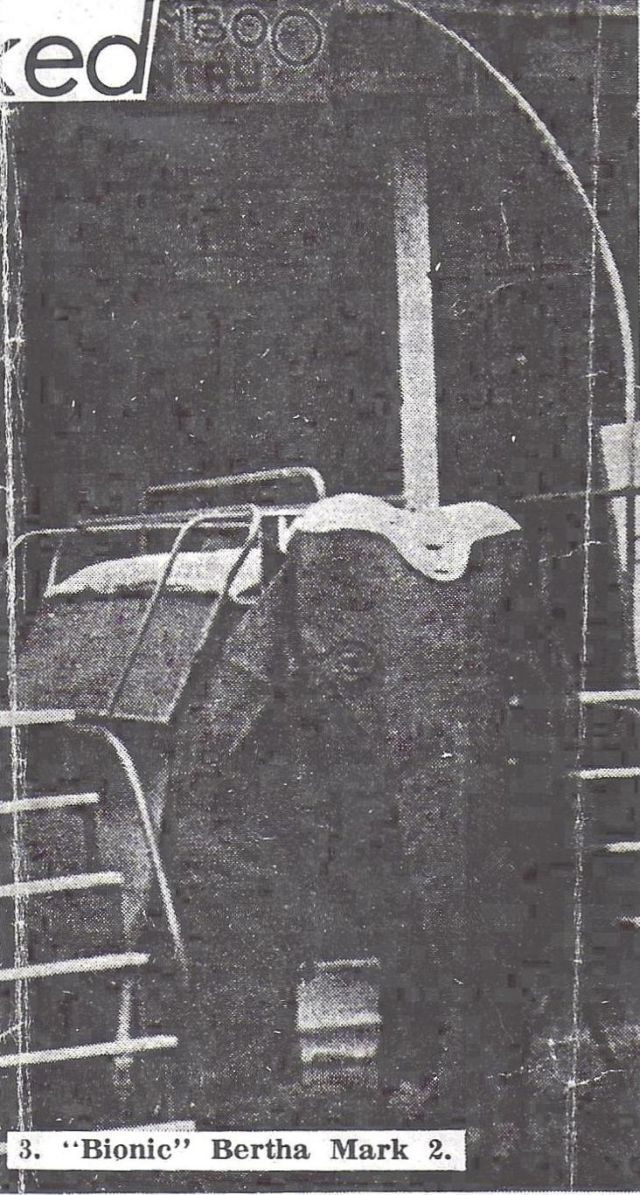 Although the caption is not correct, this is the only acknowledged Macades Mechanical Elephant photo found to date. (Image courtesy Larry Gavette). Update Apr 2011: Eric Smith managed to contact David Taylor, ex retired employee of Luneside Engineering, who has confirmed that this image was taken in the loading bay of one of the many Luneside workshops.
"I worked for Luneside Engineering at Halton from the mid 1970′s until engineering work ceased on the site in 2008. By this time the company had earned an enviable reputation for manufacturing complex parts for the aircraft and nuclear industries. Mechanical elephants were by then part of the company's early history.
The picture showing a new elephant with a mesh framework was taken somewhere other than Luneside. The Luneside workshops were all smaller than the one pictured.
On a positive note on the page dedicated to the Macades elephants there is an article dated 9 January 1977 from The Visitor by Ken Andrew. Photo 3 in this article shows a Mk.2 elephant. This picture is at Luneside, the loading bay was at the east end of the original stone building. A picture very similar to this and another showing an elephant complete with loading steps loaded on the back of a small truck used to be on display in the Luneside Engineering factory at Halton." David Taylor 29 Apr 2011. – see more on Luneside Engineering below.
We know from the Eric Smith letter (see below) that Macades [Entertainment] Ltd was set up by local businessmen to engage in the manufacture and sale of Mechanical Elephants. It was set up by Mr. WADE, Mr. MACKINTOSH, Mr. James WILSON and Mr. R.W. TOOLE. Macades had elephants made by FRANK STUART and also LUNESIDE ENGINEERING of HALTON (which is about 7 miles from MORECAMBE. MR. BENIRSKI was the proprieter of LUNESIDE ENGINEERING.
(Note: RH-2011 1. Colonel Teodor Benirski, a Polish officer who settled in the Halton area after the war, established Luneside Engineering in 1946. Other than this, I know nothing about Luneside Engineering. 2. The name Luneside is derived from the fact that the factory was built at the side of the River Lune. 3. Macades was also a name derived from Mackintosh and Wade.
Update: May 2011 – David Taylor, ex employee of Luneside Engineering, has provided a brief history of the business. see further down this post for details.)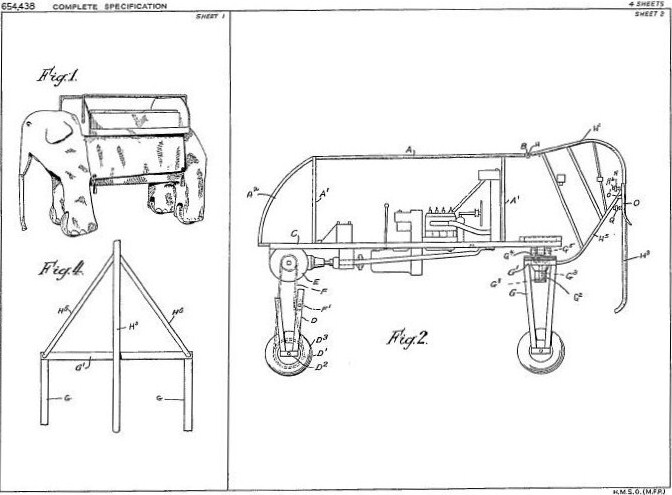 See full British Patent
here
.
Patent Number 654,438
App Date: Apr 28, 1948.
Published: June 20, 1951.
Note that the Patent document has Frank Smith as the inventor, but the specification is by Albert Heritage Wade and George Herbert MacIntosh, both of Morecambe, Lancaster.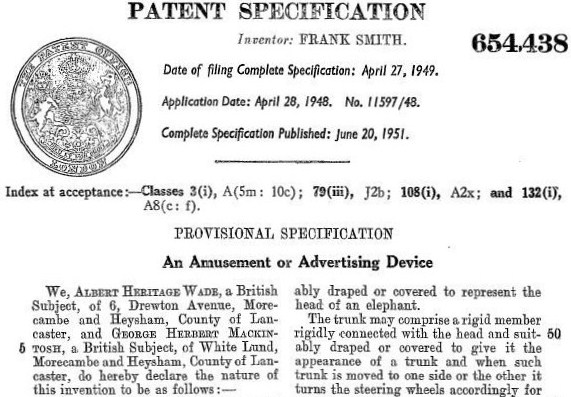 ---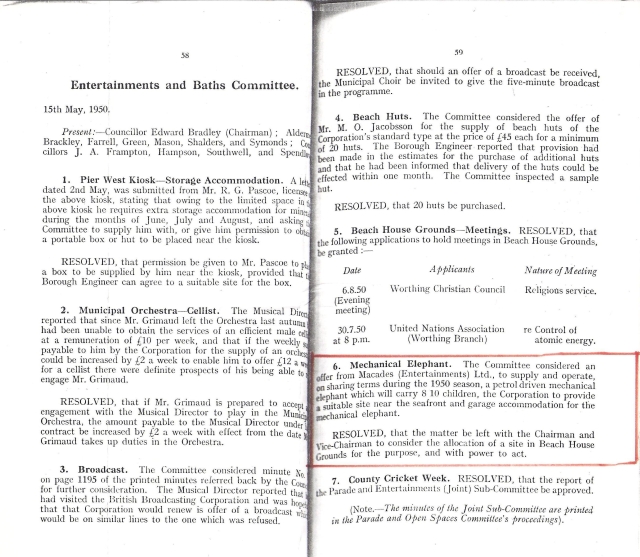 from Worthing Council
(Source: Larry Gavette collection)
---
From a letter by Eric Smith (1983), Frank Smith's son, it was the teenager Eric that actually produced the drawings for the Patent.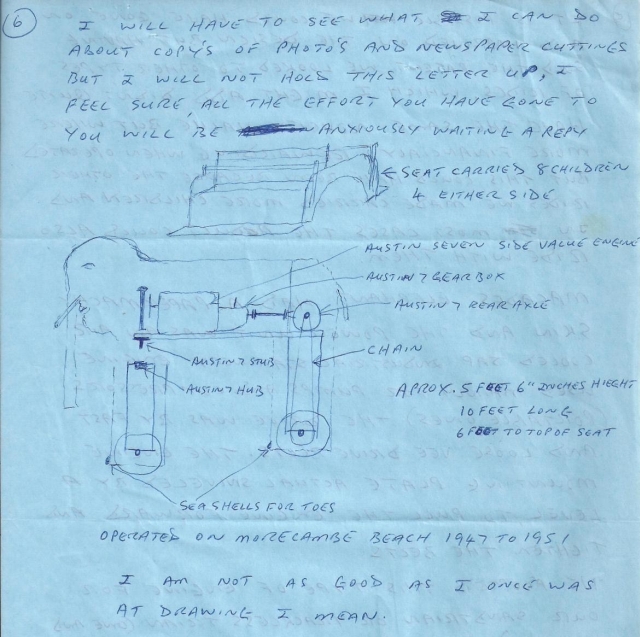 Larry Gavette was very active in the 1970's and 1980's looking at the history of the Smith and mainly Stuart elephants. Thank's to Larry in providing a copy of the original correspondence.
See the full letter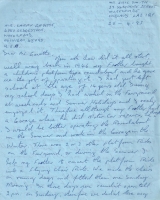 Extract from Letter:
1. MECHANICAL ELEPHANT

INVENTED AND BUILT BY MR. FRANK SMITH

KING STREET GARAGE

MORECAMBE

YEAR 1947

PATENTED BY MR. FRANK SMITH. AN OFFER OF

£

5000

WAS MADE TO HIM BY A GROUP OF LOCAL BUSINESSMEN

FOR THE PATENT ON CONDITION THAT

MR. SMITH WOULD MANAGE THE COMPANY WHICH

WOULD MANUFACTURE AND OPERATE THE MECHANICAL

ELEPHANTS. MR. SMITH REFUSED THE OFFER, BUT

ACCEPTED THE OFFER OF

£

1000 FOR THE PATENT

WITH NO PERSONAL INVOLVEMENT.

MACADES WAS THE NAME OF THE COMPANY FORMED

BY THE PURCHASES OF THE PATENT A MR. WADE,

MR MAC????[rh- KINTOSH] MR. JAMES WILSON AND A MR. R.W. TOOLE

WERE INVOLVED. MACADES HAD ELEPHANTS MADE BY

FRANK STUART AND ALSO LUNESIDE ENGINEERING

OF HALTON WHICH IS ABOUT 7 MILES FROM MORECAMBE.

A MR. BENIRSKI IS THE PROPIETOR OF LUNESIDE

ENGINEERING AND I BELIEVE HE REMEMBERS THIS

VENTURE.

FRANK STUART WAS THE MAKER OF THE BIGGER

WALKING VERSION, BUT I BELIEVE IT WAS AN

INFRINGEMENT OF THE PATENT. THIS COULD BE

WHY HE SOLD THEM ABROAD.
---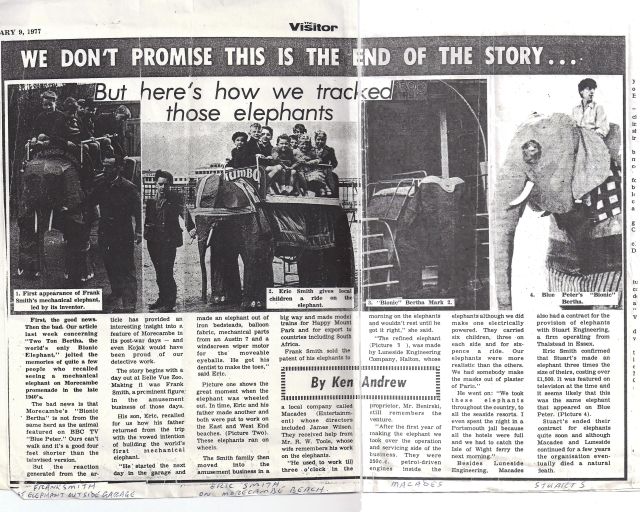 Source: "The Visitor" January 1977 (Morcambe area) – (Article courtesy Larry Gavette).
This article gives the most definitive story between the different smaller stiff-legged mechanical elephants, and suggest Frank Stuat's involvement was short lived, probably for him for focus on the larger walking elephants. It most likely would have been Macades that took legal action over the patent infringement with Stuart, assuming that the infringement did actually happen.
The Visitor (Morecambe) January 9, 1977 by Ken Andrew
WE DON'T PROMISE THIS IS THE END OF THE STORY
But here's how we tracked those elephants

Captions to Photographs:

1. First appearance of Frank Smith's mechanical elephant, led by its inventor. (Frank Smith's 1st Elephant outside garage)
2. Eric Smith gives local children a ride on the elephant. (Eric Smith on Morecambe beach)
3. "Bionic" Bertha Mark 2. (Macades)
4. Blue Peter's "Bionic" Bertha. (Stuart's)

First, the good news. Then the bad. Our article last week concerning "Two Ton Bertha, the world's only Bionic Elephant," jolted the memories of quite a few people who recalled seeing a mechanical elephant on Morecambe promenade in the late 1940's.
The bad news is that Morecambe's "Bionic Bertha" is not from the same herd as the animal featured on BBC TV "Blue Peter." Our's can't walk and it's a good four feet shorter than the televised version.
But the reaction generated from the article has provided an insight into a feature of Morecambe in its post-war days – and even Kojak would have been proud of our detective work.
The story begins with a day out at Belle Vue Zoo. Making it was Frank Smith, a prominant figure in the amusement business of those days.
His son, Eric, recalled for us how his father returned from the trip with the vowed intention of building the world's first mechanical elephant.
"He started the next day in the garage and made an elephant out of iron bedsteads, balloon fabric, mechanical parts from an Austin 7 and a windscreen wiper motor for the moveable eyeballs. He got his dentist to make the toes," said Eric.
Picture one shows the great moment when the elephant was wheeled out. In time, Eric and his father made another and both were put to work on the East and West End beaches. (Picture Two). These elephants ran on wheels.
The Smith family then moved into the amusement business in a big way and made model trains for Happy Mount Park and for export countries including South Africa.
Frank Smith sold the patent of his elephants to a local company called Macades (Entertainment) whose directors include James Wilson. They received help from Mr. R. W. Toole, whose wife remembers his work on the elephants.
"He used to work till three o'clock in the morning on the elephants and wouldn't rest until he got it right," she said.
"The refined elephant (Picture 3 ), was made by Luneside Engineering Company, Halton, whose proprietor, Mr. Benirski, still remembers the venture.
"After the first year of making the elephant we took over the operation and servicing side of the business. They were 250c.c. petrol-driven engines inside the elephants although we did make one electrically powered. They carried six children, three on each side and for six-pence a ride. Our elephants were more realistic than the others. We had somebody make the masks out of plaster of Paris."
He went on: "We took these elephants throughout the country, to all the seaside resorts. I even spent the night in a Portsmouth jail because all the hotels were full and we had to catch the Isle of Wight ferry the next morning."
Besides Luneside Engineering, Macades also had a contract for the provision of elephants with Stuart Engineering, a firm operating from Thalstead (sic. "Thaxted"] in Essex.
Eric Smith confirmed that Stuart's made an elephant three times the size of theirs, costing over pound1,500. It was featured on television at the time and it seems likely that this was the same elephant the appeared on Blue Peter. (Picture 4).
Stuart's ended their contract for elephants quite soon and although Macades and Luneside continued for a few years the organisation eventually died a natural death.
---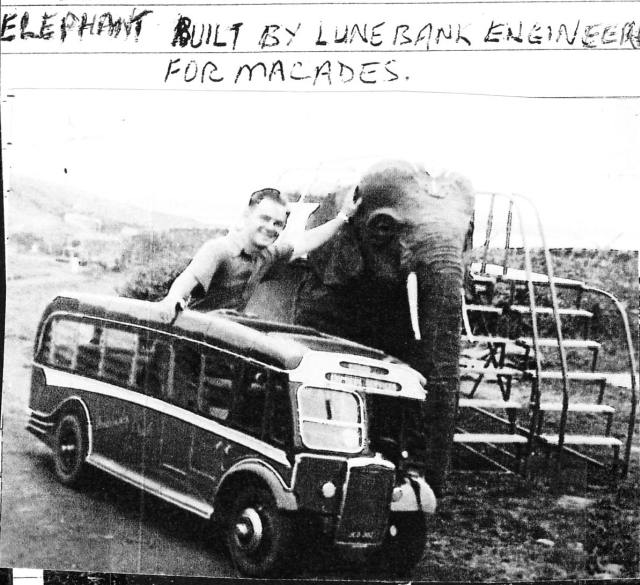 Eric Smith with an elephant purported to be made by Luneside Engineering. It has tusks as per the Redcards elephant below, probably the same elephant.
---
Saturday 31 August 2013 – Rajah the Elephant returns to Halton Mill for its official opening
One of Halton Mill's famous mechanical elephants was the guest of honour at the official opening of Halton Mill. The "walking", almost life-sized, elephants, made as tourist attractions by Luneside Engineering, the last occupant of Halton Mill, can carry up to six children and are powered by a diesel engine. Rajah is owned by Crosby Lions, and was visiting along with her handler, Ivan Swainbank. Eric Smith was another guest of honour.
Video from ITV News, Lancashire.
---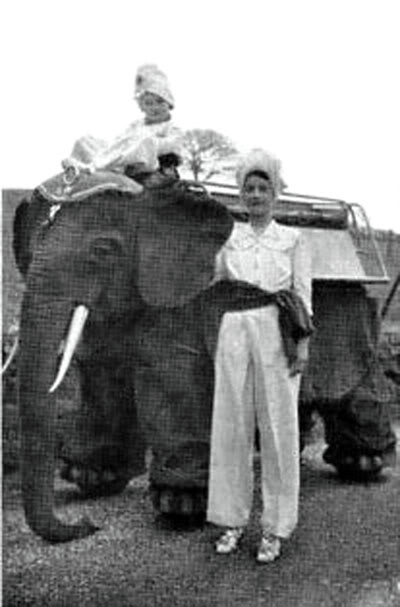 ---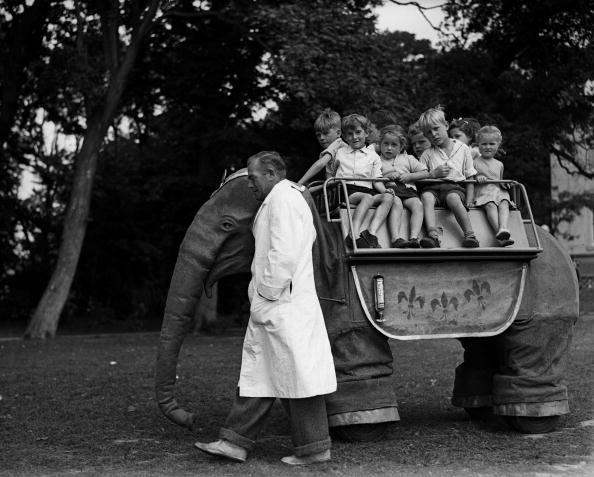 Title: Jumbo On Wheels
Caption: 29th July 1950: A mechanical elephant giving a ride to a group of children and being led by its 'keeper' Arthur W. Preece. The keeper has a driving licence, the 'elephant' has number plates, a fire extinguisher and road tax is paid! (Photo by Harold Clements/Express/Getty Images).
The vehicle licence plate "LTJ227" indicates it is of Luneside Engineering manufacture.
---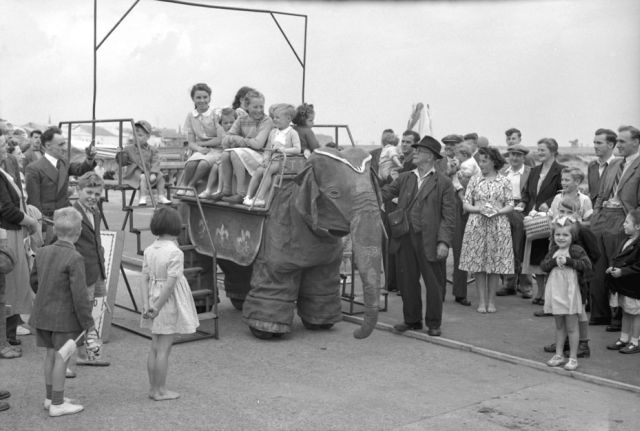 Children riding on a mechanical elephant, South Shields, August 1950. Source: 'Tyne & Wear Archives & Museums'.
---
VIDEO: MECHANICAL ELEPHANT

Pickering Park, Hull, Humberside. Dated 15 August 1949.
Click image to see video clip.
L/Ss and M/Ss of numerous children sitting on the back of a mechanical elephant. A man pulls cord to start motor. Several shots of mechanical device giving children a ride. L/S and M./S of men taking the machine apart so that we can get a glimpse of the engine. The commentator says it is a simple two stroke engine with four wheels.
The clip mentions that two more of these elephants were on trial at Hull.
---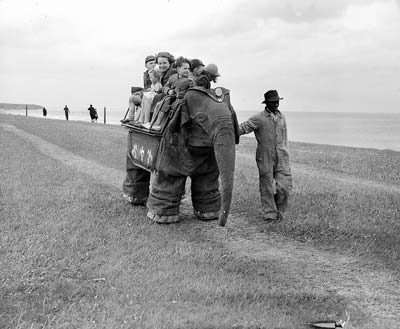 A mechanical elephant ride at Seaburn in 1949, with operator Jimmy Sawyer.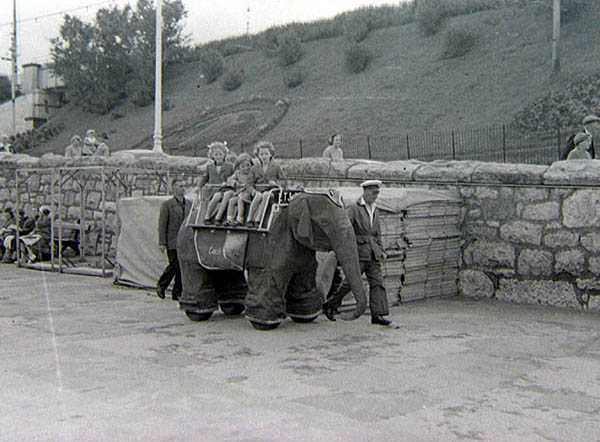 This Mechanical Elephant does not have a mahoot (driver or keeper) actually riding it, but walks beside it operating the controls and steering via turning its head. The legs also do not have a walking action, and it is propelled via the rear wheels.
The video clip suggests at least four of this type were built.
---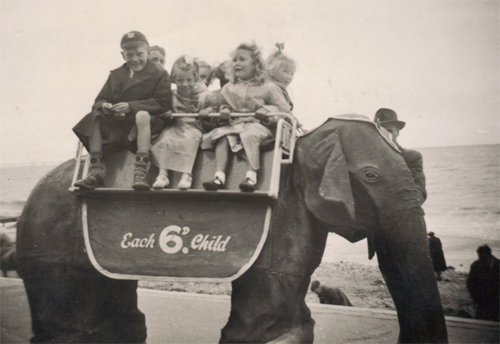 Colwyn Bay 1951. Only sixpence a ride!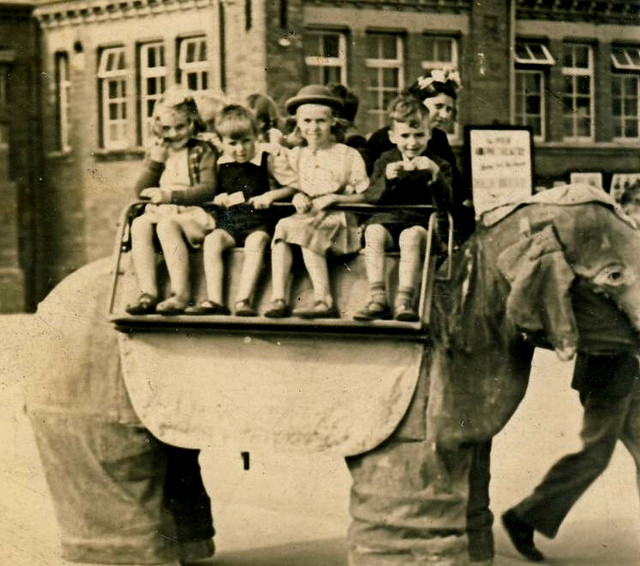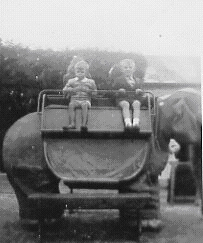 Puckpool Park, Seaview, west of Ryde, Isle of Wight – 1950's – a genuine Macades elephant manufactured by Luneside Engineering.
From the Ryde Social Heritage Group site: Chris Hayles who kindly contributed the photo and these memories: "I can remember the mechanical elephant well. I used to look forward to my holidays in School Road and going to the Redan Pub in Union Street for a ploughmans lunch in the childrens room! But my biggest treat was on the walk along the front to Seaview we used to stop off at Puckpool and have a ride on the elephant. It used to sit about four or six kids, two or three on each side with a long running board to put your feet on and I think there was a handrail, this was all painted green and it used to plod along giving us all a ride. How it actually worked I do not know as being a kid I was more interested in the ride itself!"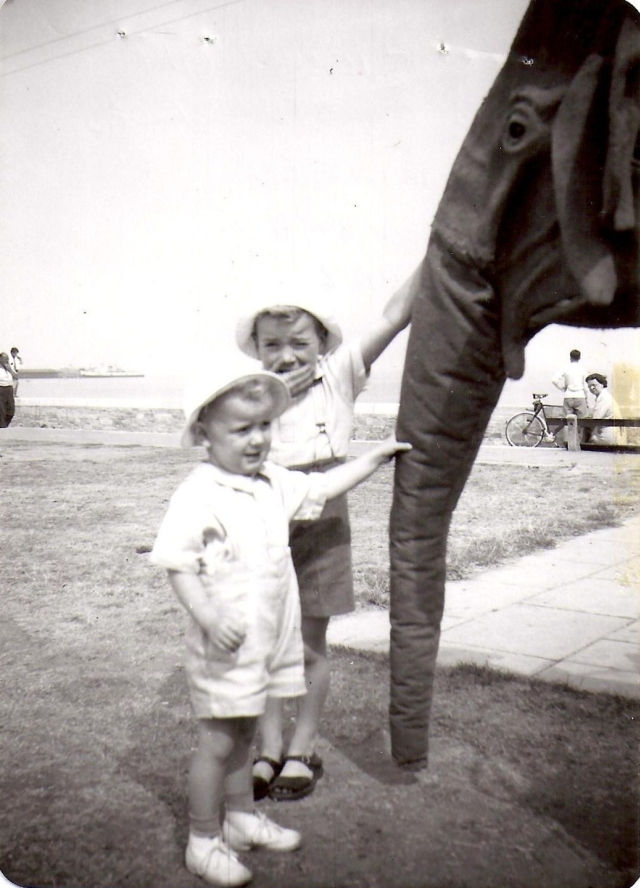 Isle of Wight – Image courtesy Mrs. Alex Wright of Bournemouth, UK (via Larry Gavette).
---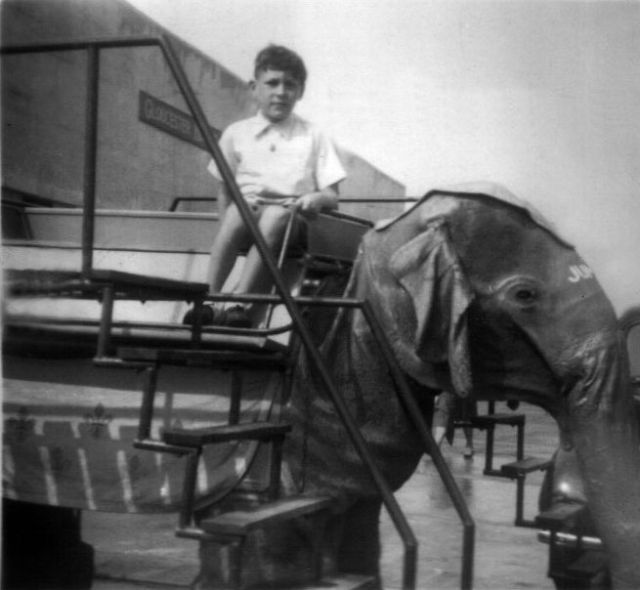 "Mike" on "Jumbo" at a Butlins children's camp. Sourced from flickr here.
---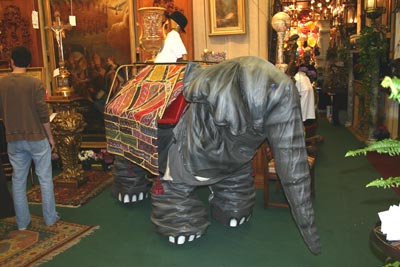 Red Baron Auction House (U.S. based) had a similar Mechanical Elephant for auction at some time.
Mechanical Walking Elephant
During a recent auction (c2004), Red Baron sold a mechanical elephant used by the Dayton Hudson Department Store in Chicago in the 1940s. Children would take rides on the elephant while their parents shopped. Here is the Red Baron's description:

What you see here is a life size motorized BABY elephant. This pleasing pachyderm simply makes you smile when you see it run… If you want to promote your business, participate in parades, spread goodwill or, on the remote chance you collect life size motorized mechanical elephants remember: Only at Red Baron will you find such a thing.
See a more recent article on this elephant further below.
---
All the images above show elephants with minor variations, mainly around the feet. It is quite possible that one of these elephants is actually one built independently by Frank Stuart in 1948 according to this press article. If it had an electric motor, it would most likely be it.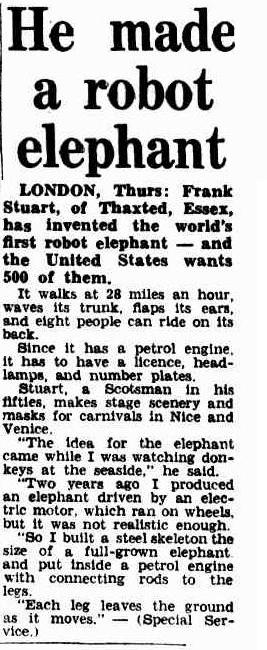 Source: The Argus (Australia) 13 Jan 1950.
---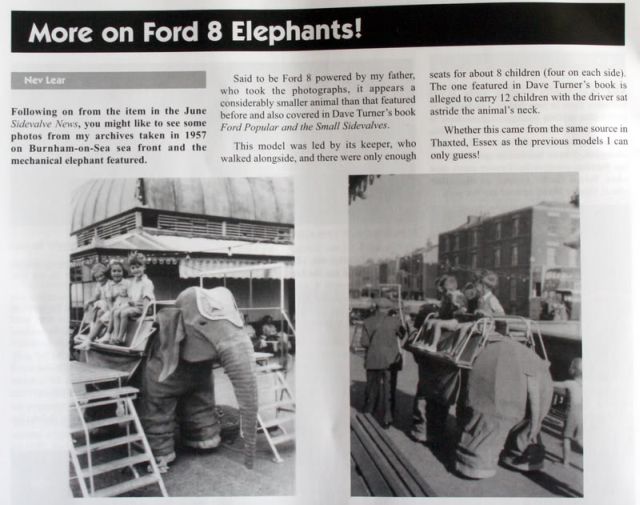 1957 – Burnhan-on-Sea sea front.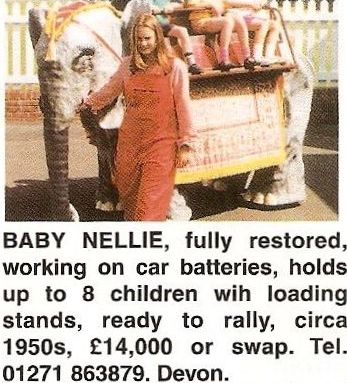 If original, then most likely the only Macades electric elephant, probably the one built by Frank Stuart under contract.
I've since found out that this elephant was converted from petrol engine to battery power.
---
Here is an extract from Eric Smith's letter (see above) that describes the engine layout for the Macades elephants:
MACADES ELEPHANT HAD A PAPERMACHE
SKIN AND THE POWER UNIT WAS AN AIR COOLED
JAP INDUSTRIAL STATIONARY ENGINE
USED MAINLY FOR PUMPS AND COMPRESSORS
(PORTABLE ONES) THE DRIVE WAS BY FAST
AND LOOSE VEE DRIVE BELTS. THE ENGINE
MOUNTING PLATE ACTUAL SNIVELED BY A
LEVEL, TO PULL THE ENGINE FORWARD AND
TIGHTEN THE BELTS.
WE ADOPTED THIS TYPE OF ENGINE FOR
OUR SANDTRAIN OR TRACKLESS TRAIN (ONE AND
THE SAME) BUT WE USED A CENTRIFUGAL CLUTCH.
MACADES DID HAVE AN ELECTRIC ELEPHANT
BUILT BUT I CANNOT REMEMBER ANYTHING
ABOUT IT, I ONLY SAW IT ONCE FOR A FEW MINUTES.
[RH-2011 is the battery-driven elephant (see pic above) this same elephant that Eric is referring to?]
---
Luneside Engineering Co. (Halton) Ltd.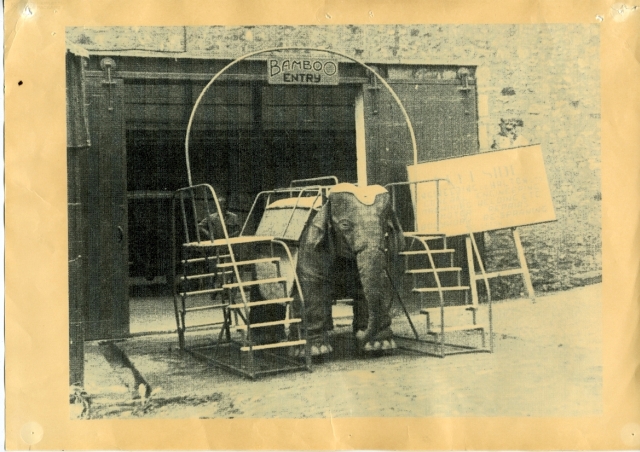 "Bamboo" the Mechanical Elephant, from a copy that was on the wall at the Luneside Engineering works at Halton.
The noticeboard says:
LUNESIDE
ENGINEERING Co. Halton LTD.
GENERAL ENGINEERING
MACHINING WELDING ETC
MOTOR REPAIRS
BODYWORK RE-SPRAYING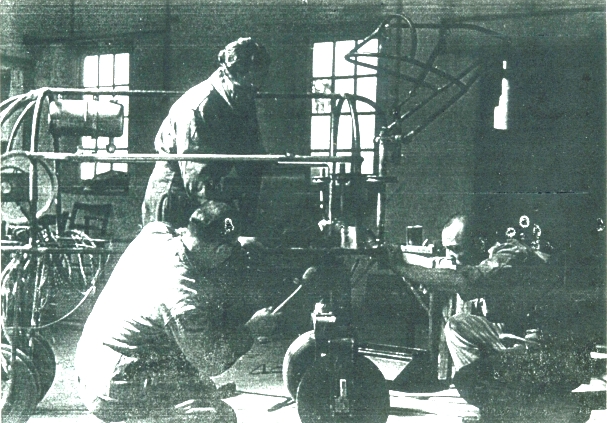 Construction of a mechanical elephant inside a Luneside Engineering workshop.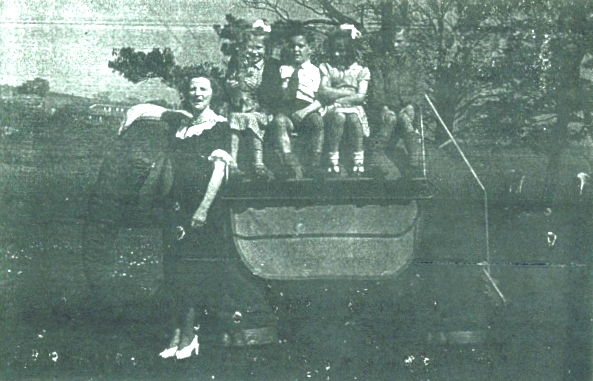 "All aboard!" Time for a ride.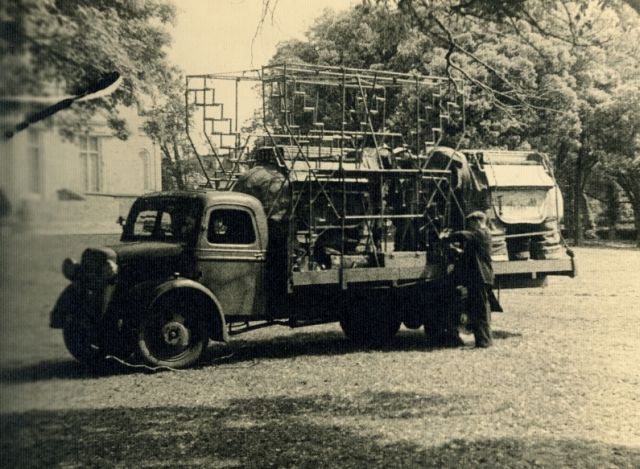 The lorry used to transport the elephants to and from their locations around alll the seaside resorts. The identifiable "LTJ…" registration plates are indicative of being registered in Lancaster County. The picture may have been taken in Ryelands Park, Lancaster. This park is alongside Owen Road which is also the A6, Lancaster's main north-south road at the time.
Pictures courtesy David Taylor and the Former Employees of Luneside Engineering.
See the Luneside Engineering story here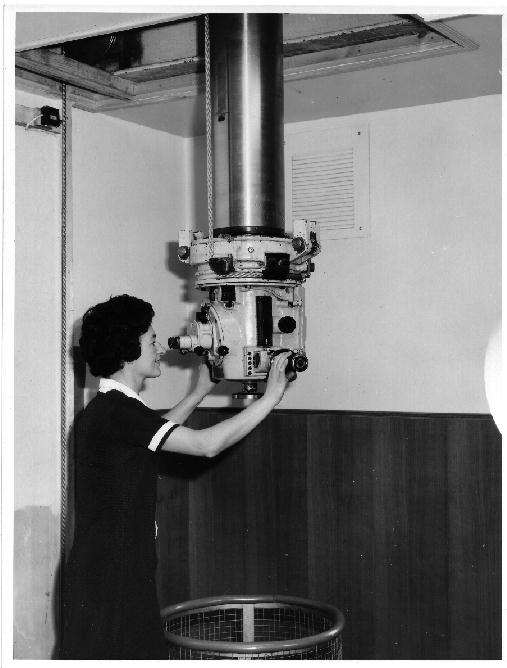 The periscope inside the workshops canteen!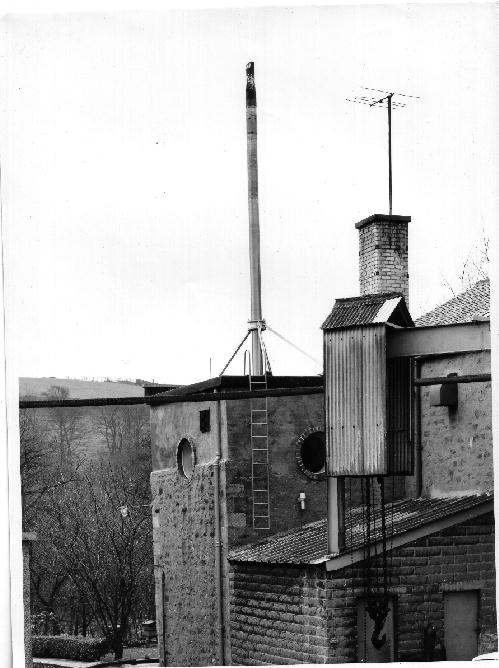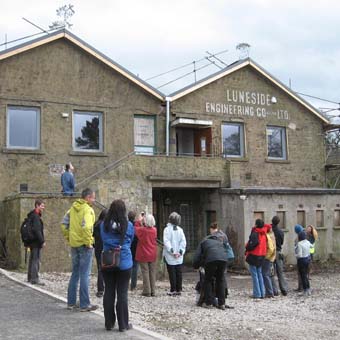 The old Luneside Engineering Co buildings have now been converted into a green-housing estate.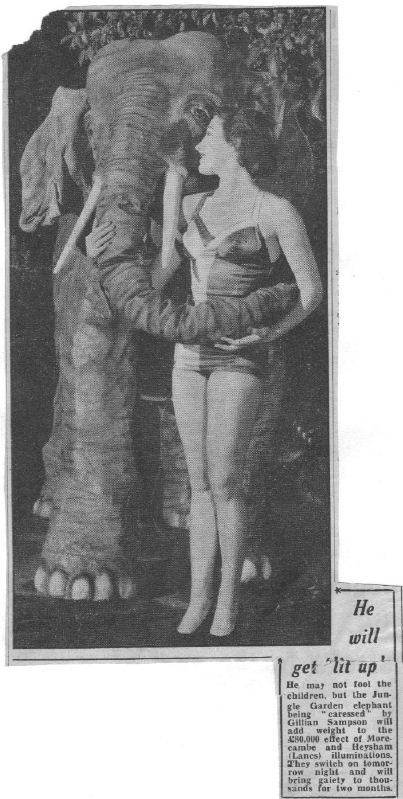 Photo courtesy Leo Hermacinski (Col. Benirski's grandson) from the family archives.
---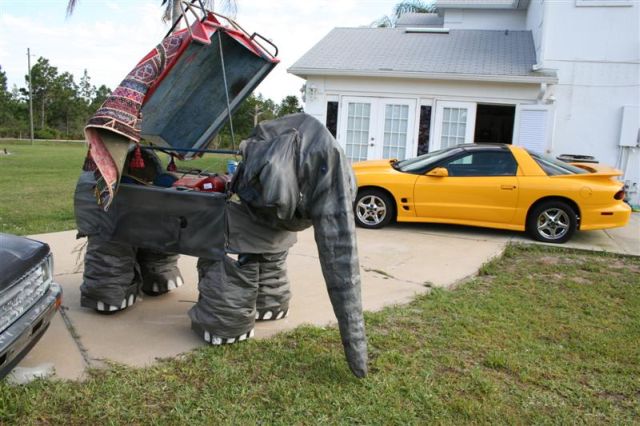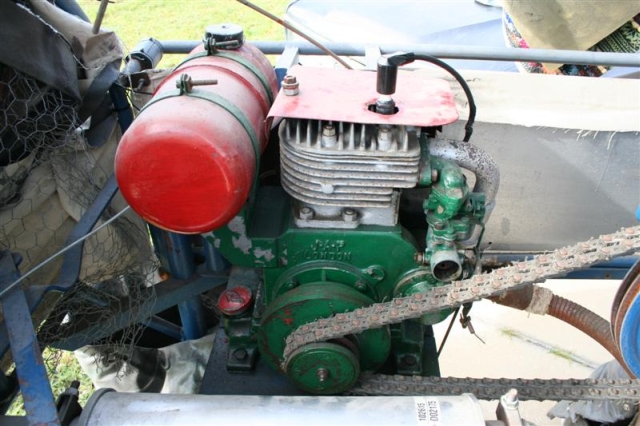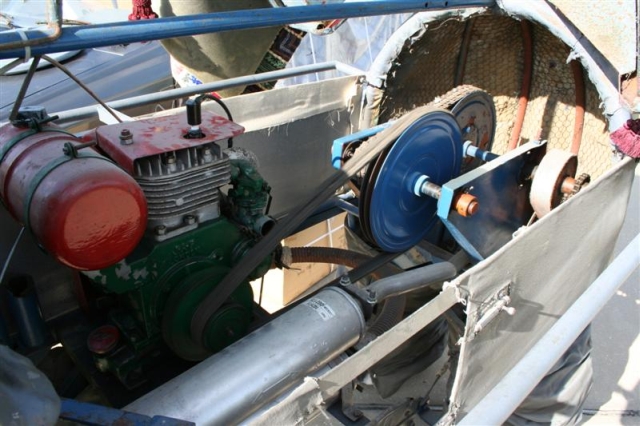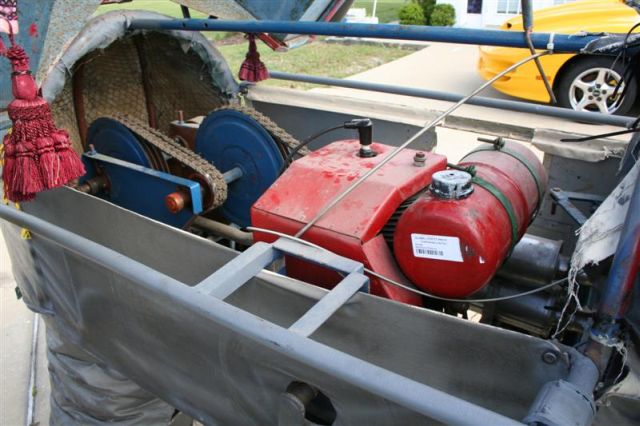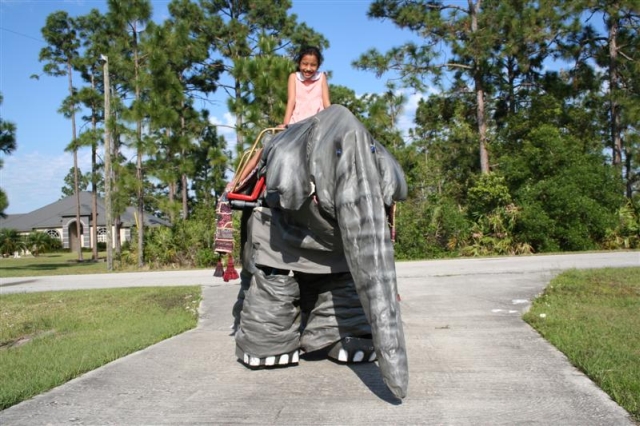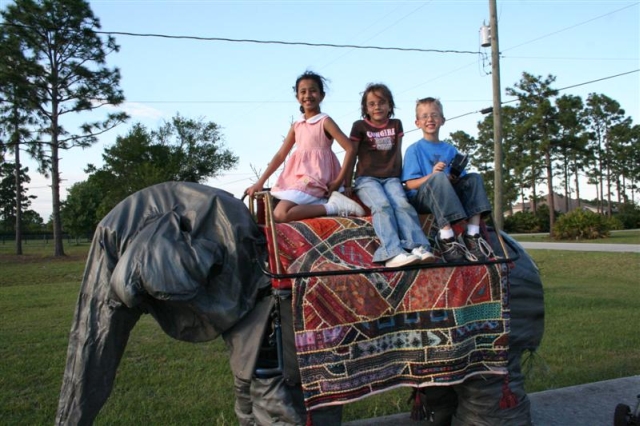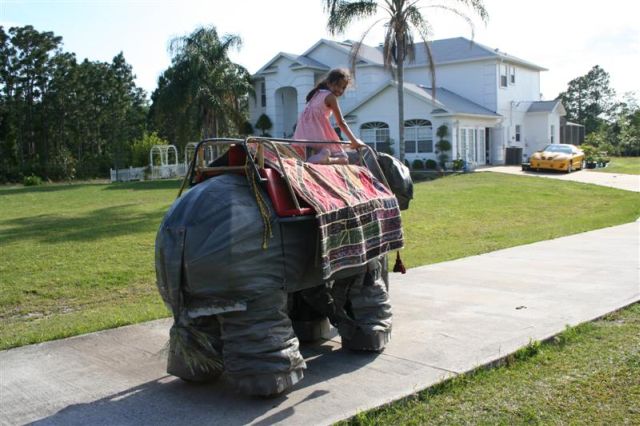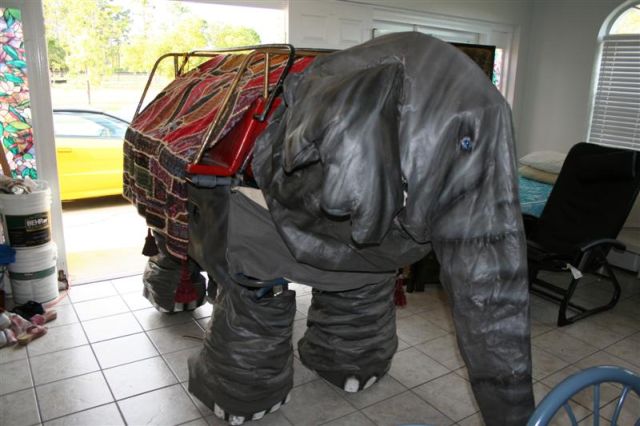 Pictures and text from a blog post (2007) on J.A.P. motors here. This elephant was the one sold at an earlier Red Baron's auction (see pic earlier in this post)
Ric – Location: Florida
How bout this thing my mom picked up at an auction recently?
The motor is crank start with a centrifugal clutch that spins a pair of belt driven gear reduction jackshafts that are chained to a pair of wheels under each rear foot…

Throttle, choke and killswitch is located behind the left ear and the head is connected to the front legs with a mechanical steering linkage, so the one who actually controls the engine, steers and leads the elephant as he walks beside…

There's also a handbrake hidden within a trap door on the left side, but I leave the door open cause it can be quite a pita to access in an emergency situation

Top speed is gear limited to about 5-7mph, which is more than fast enough when you've got a bunch of kids on top of a tippy 500 lb monster
---
I'd seen references to "Rajah" the Mechanical Elephant without knowing anything about it. Larry Gavette, the man who knows all about Mechanical Elephants, pointed me to this image. Thanks Larry. This elephant also referred to as "Bimbo".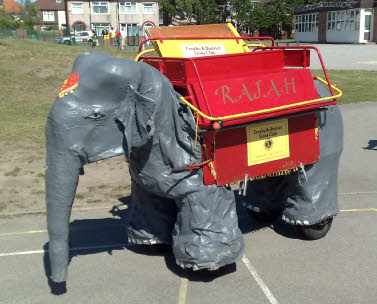 Crosby Lion's Club Mechanical Elephant, U.K. c2010
---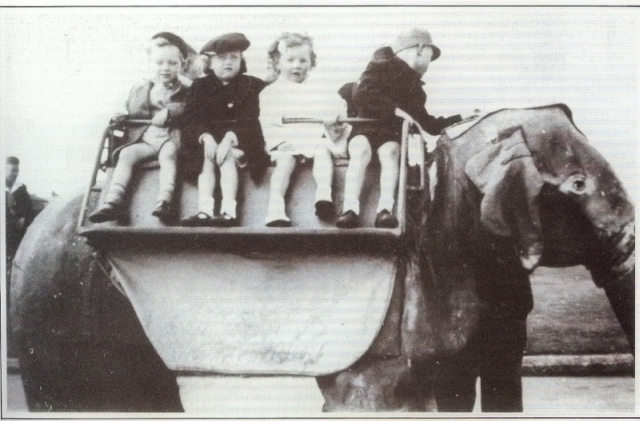 At Rhyll.
---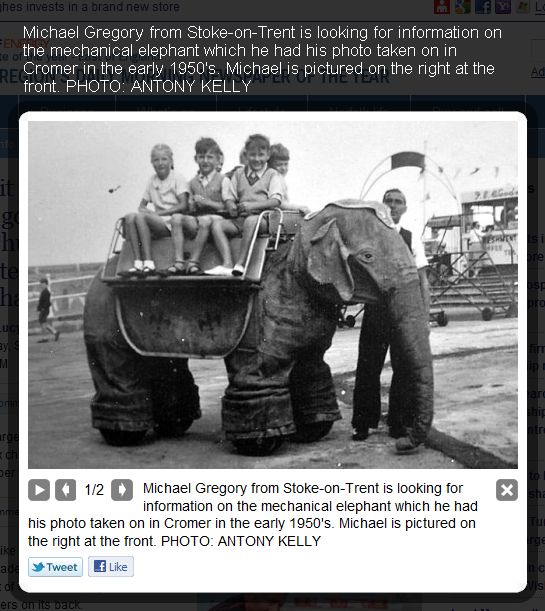 ---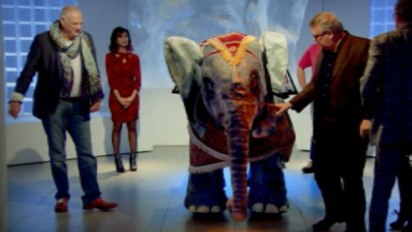 "Ellie" as seen on BBC 4 Rooms, a collectables auction program.
---
See all the Mechanical Elephants here.
---
Tags: 1949, David Taylor, Eric Smith, Frank Smith, Frank Stuart, Halton, Lancashire, Luneside Engineering, Macades, Mechanical Elephant, Morecombe, Teodor Benirski, Walking machine