1949-50 – Mechanical Elephant – Frank Stuart (British)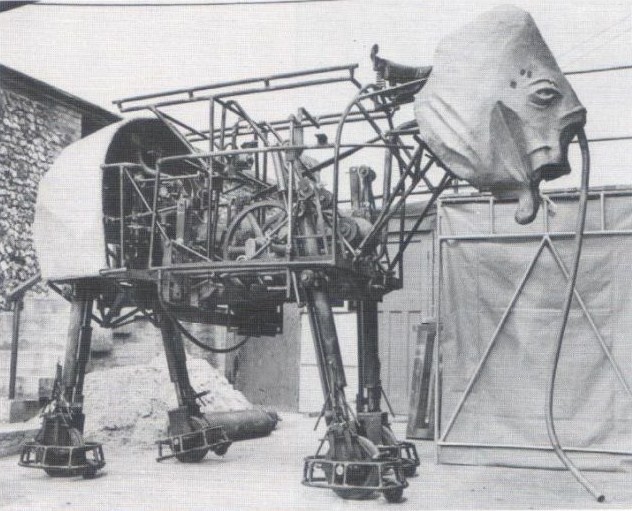 On July 28, 1950, Frank Stuart gave his first public outing of his man-made walking elephant, walking the roads of Essex with a load of children in its howdah. This robot "Jumbo" is the remarkable invention by Mr. Frank Stuart, a theatrical mask maker and scenic artist. About two years earlier, when watching donkeys on the sands at the seaside, the idea came to him, and it has materialised triumphantly. He began by building a steel skeleton, the size of a full grown elephant, and mounted a 10 h.p. petrol engine within. This operates the feet by means of elaborate mechanism and the animal can attain a speed of 27 m.p.h. and has a special licence to use on roads. Over 9000 parts were used in its construction, and the cost exceeded £1200. The entire mechanism is covered with a "hide" of 1/2 inch thick specially toughened paper [using a gas technique] , and the admirable modelling of the head and trunk (used as the exhaust pipe) and the convincing tusks can be seen in the accompanying photographs. (Text – Illustrated London News).
I've split this post up as it got too large. See these:

1948-9 Maurice Radburn's "Bimbo" Prototype
                     

1950 – Frank Stuart's Australian "Nellie"
                     

1950 – British "Nellie"
                     

1951 – Frank Stuart's Elephants in America
                                                 

1979 – "Jumbo" Restoration by Larry Gavette
                     

1952-67 – "Bensina" of Sweden
                   

1965 – Electrophants – Frank Stuart
THAXTED part of WORLD NEWS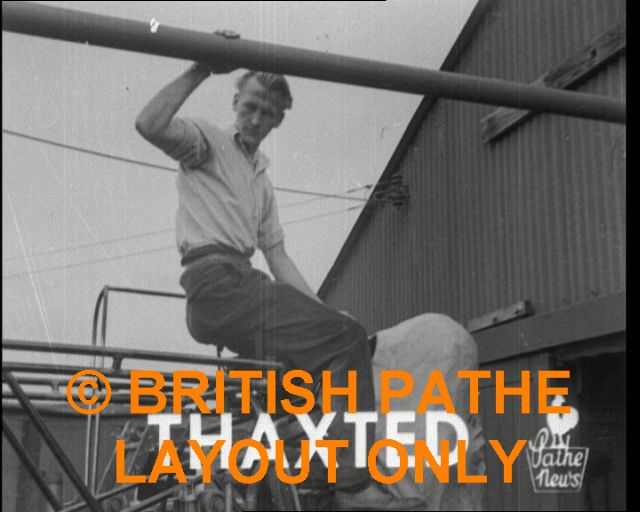 Stills from the above clip.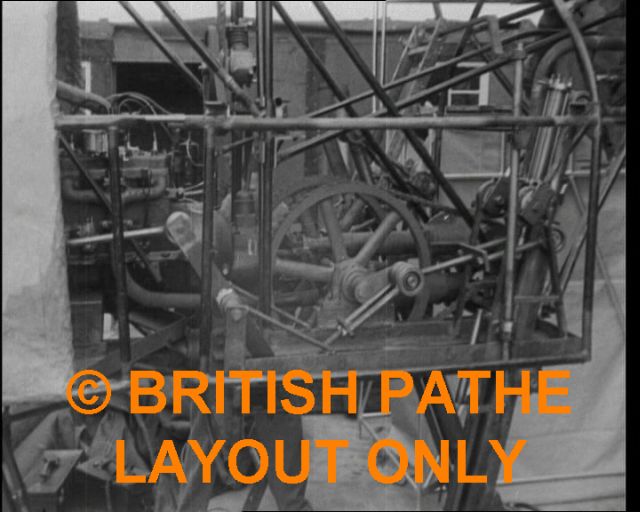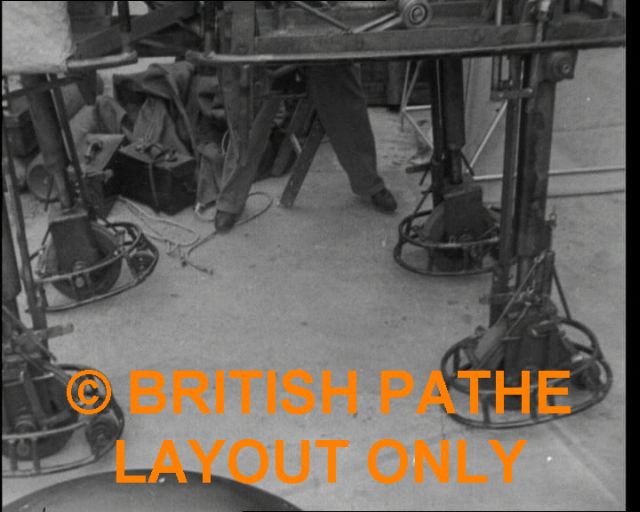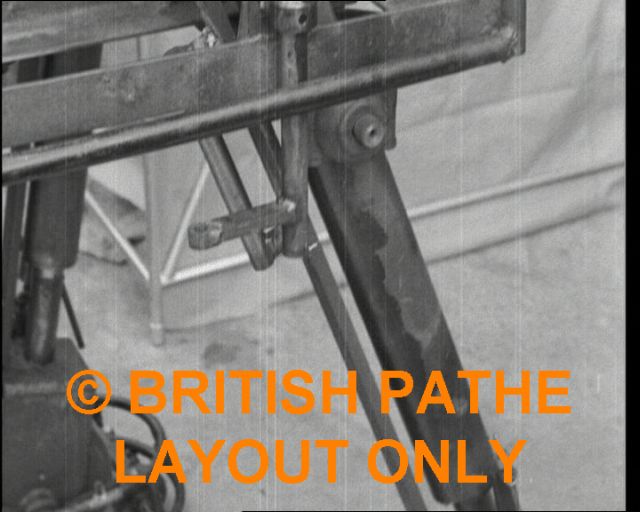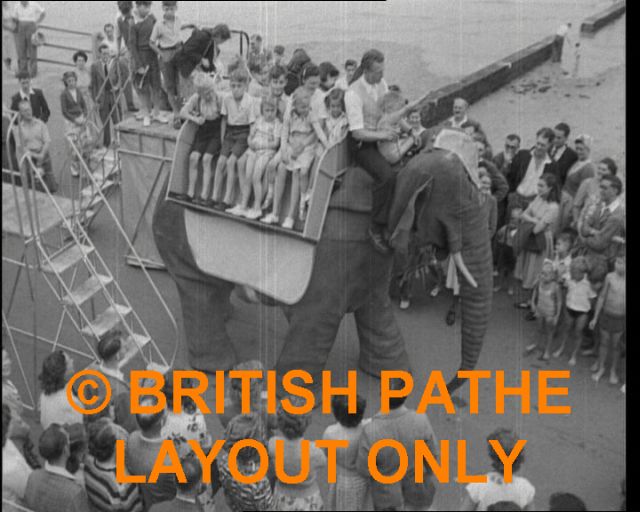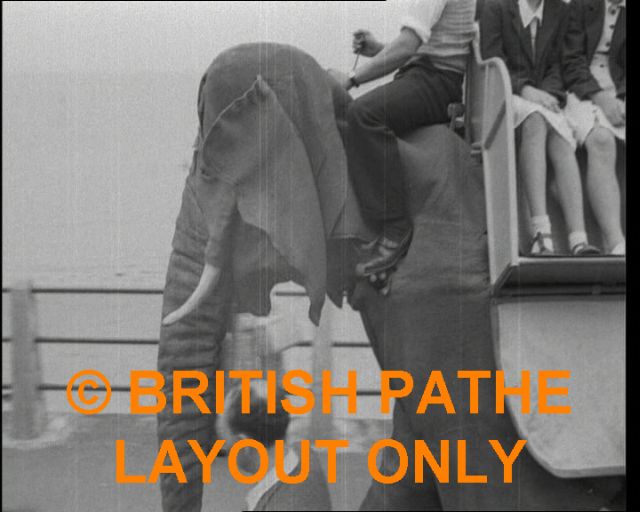 There is another video clip showing Harry Secombe riding on a mechanical elephant arriving at Olympia to open Hultons Boys & Girls Exhibition, 15 Aug 1958. Click on image below.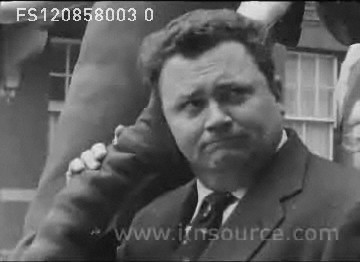 Harry Secombe is one of the original cast members of "The Goon Show", along with Peter Sellers. As it turns out, Secombe wasn't even aware he was to be involved with an elephant on the opening of the exhibition (see still image down below).
Also this one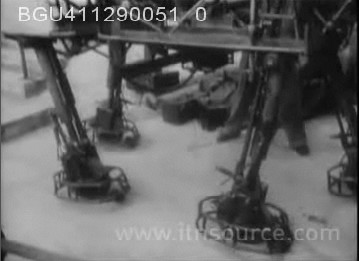 There are also some MovieTone video clips, but you have to log in. Follow these steps:
Register (free) and/or log in.
Under Search, use fourth option 'SEARCH STORY' and type in
54122   then click on 'Play clip'.
85221 has a few seconds as well.
---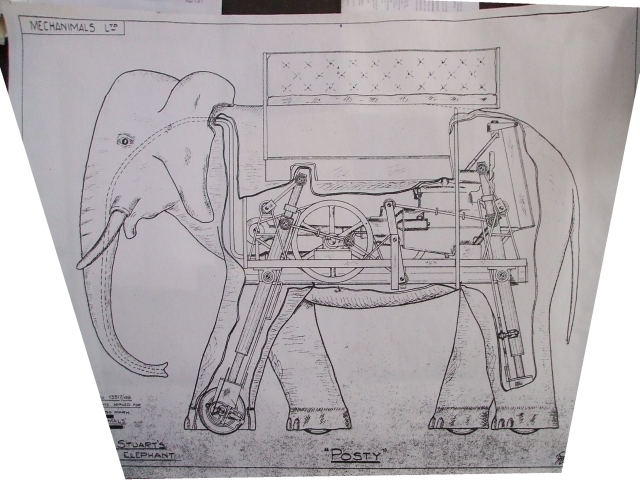 A photo of a drawing for the original Robot Elephant called "Potsy". Frank Stuart, in 1949, applied for a British patent of the Robot Elephant. Its application number was 13317/49. (Image courtesy of Derek Tucker)
Frank Stuart Patent Applications

From a walking mechanical elephant perspective, Frank Stuart applied for 5 patents over a 1 year period.
The Official Journal (Patents) records the status of Patent applications. In the Frank Stuart drawing of "Potsy", written is Patent # 13317/49.  When a patent is granted, a different numbering system is used. To my knowledge Patent Applications of this era are not electronically searchable. The Official Journal (Patents) is a weekly publication. You guessed it, the only way to locate a patent application is to look for 'Stuart, F' in the 'List of Applications for Patents' section in the journal.
The first Journal issue we are interested in is:
Wednesday, June 1, 1949, page 710.
Stuart, F Mechanical devices. 13317
Followed by:
Wednesday, August 24, 1949, page 1076.
Stuart, F. Vehicle Steering &c. devices  20609
Note: Patent numbering changed in this time, and Patent applications were now Provisional or Completed. Provisional were prefixed with a capital 'P'.
Wednesday, Feb. 15, 1950, p172.
Stuart, F.. Constructions for animal figures.  P2890
Wednesday, June 28, 1950, page 720.
Stuart, F. Self-propelled vehicles  P15172
——-    Amphibious vehicles propulsion P15122
see pdf here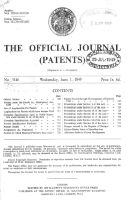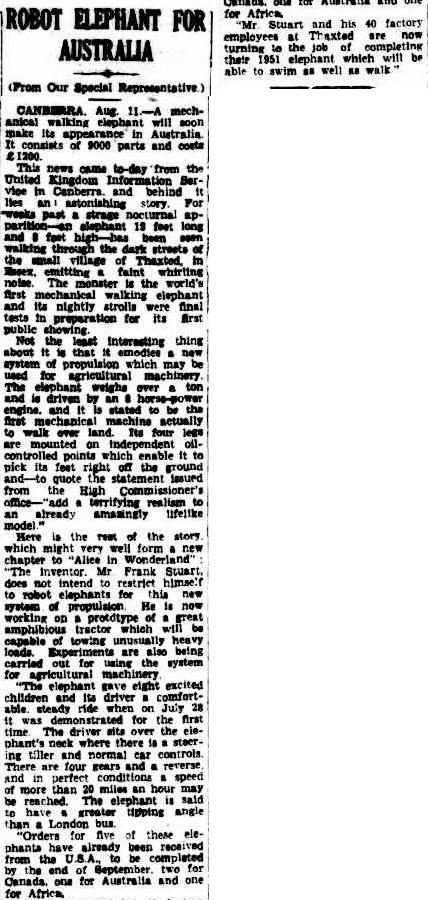 The above article mentions Stuart's on-going development into amphibious tractors and swimming elephants.
Full text from article here:
Cairns Post 17 Aug 1950
ROBOT ELEPHANT FOR AUSTRALIA
(From Our Special Representative.)
CANBERRA. Aug. 11.-A mechanical walking elephant will soon make its appearance in Australia. It consists of 9000 parts and costs £1200.
This news came to-day from the United Kingdom Information Service in Canberra, and behind it lies an astonishing story. For weeks past a strange nocturnal apparition-an elephant 13 feet long and 8 feet high-has been seen walking through the dark streets of the small village of Thaxted, in Essex, emitting a faint whirling noise. The monster is the world's first mechanical walking elephant and its nightly strolls were final tests. In preparation for its first public showing.
Not the least interesting thing about it is that it embodies a new system of propulsion which may be used for agricultural machinery.
The elephant weighs ever a ton and is driven by an 8 horse-power engine, and it is stated to be the first mechanical machine actually to walk over land. Its four legs are mounted on independent oil-controlled points which enable it to pick its feet right off the ground and-to quote the statement issued from the High Commissioner's office- "add a terrifying realism to an already amazingly lifelike model."
Here is the rest of the story, which, might very well form a new chapter to "Alice in Wonderland".
"The inventor, Mr. Frank Stuart, does not intend to restrict himself to robot elephants for this new system, of propulsion. He is now working on a prototype of a great amphibious tractor which will be capable of towing unusually heavy loads. Experiments are also being carried out for using the system for agricultural machinery,
"The elephant gave eight excited children and its driver a comfortable, steady ride when on July 28 it was demonstrated for the first time. The driver sits over the elephant's neck where there is a steering tiller and normal ear controls.
There are four gears and a reverse, and in perfect conditions a speed of more than 20 miles an hour may be reached, The elephant is said to have a greater tipping angle than a London bus.
"Orders for five of these elephants have already been received from the U.S.A., to be completed by the end of September, two for Canada, one for Australia and one for Africa.
"Mr. Stuart and his 40 factory employees at Thaxted are now turning to the job of completing their 1951 elephant which will be able to swim as well as walk."
---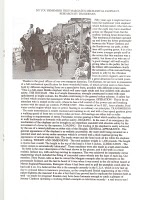 Source: Margate Historical Society.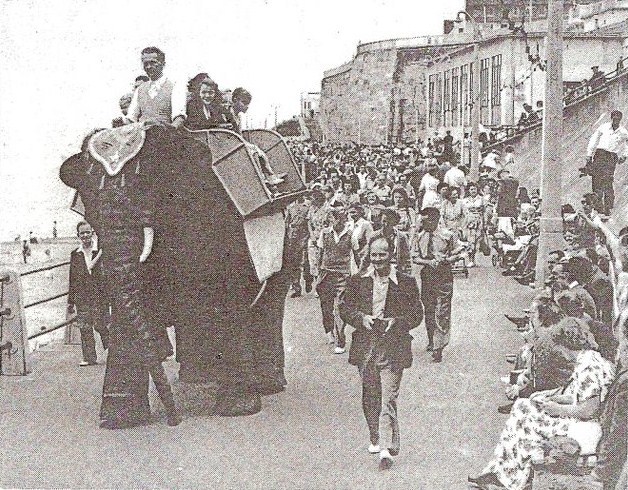 ---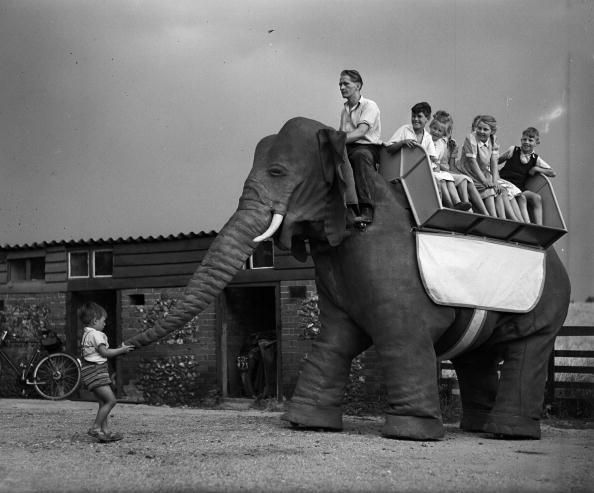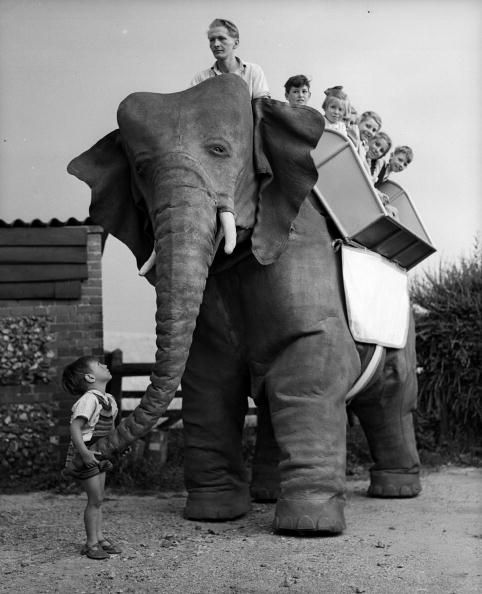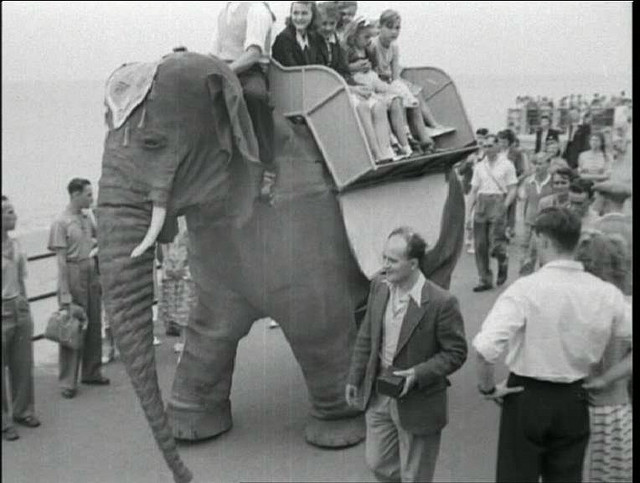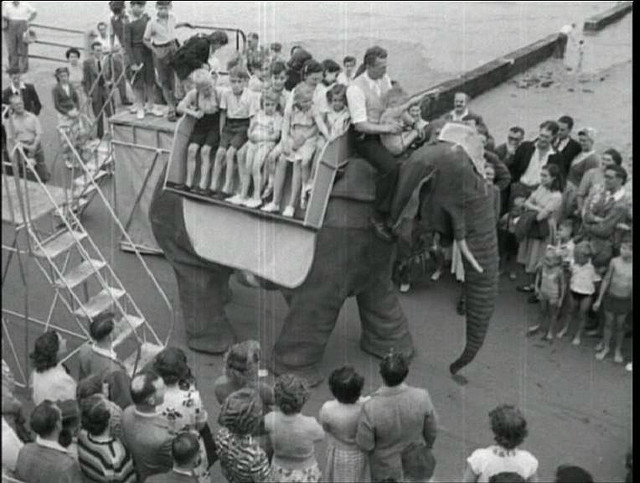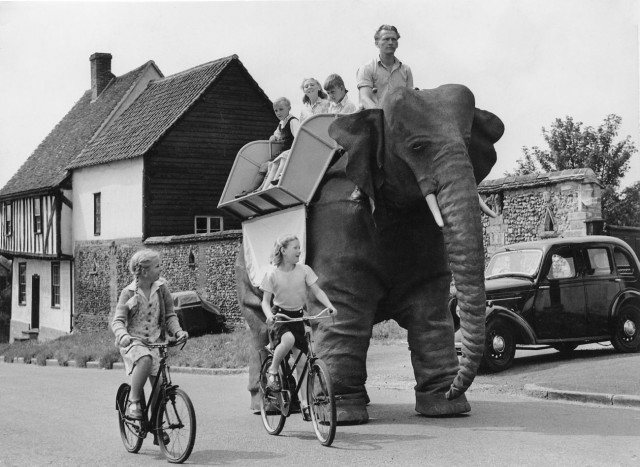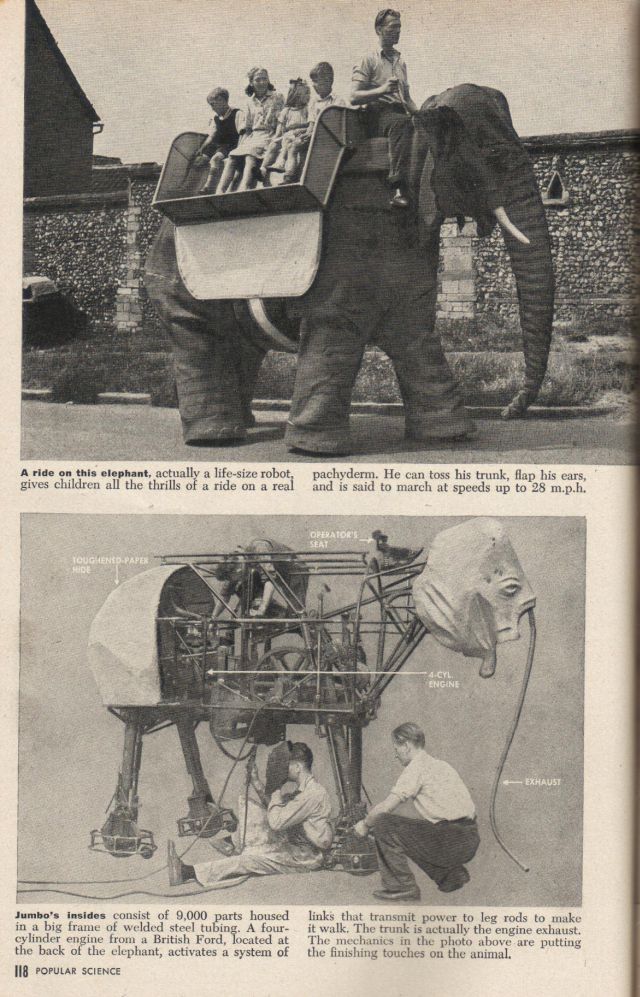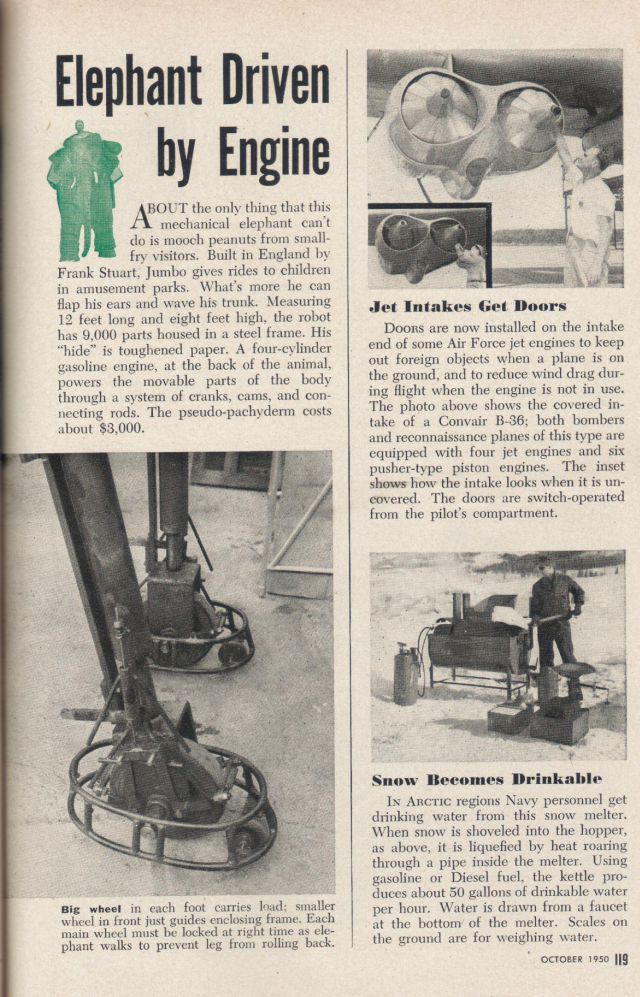 Source: Popular Science October 1950.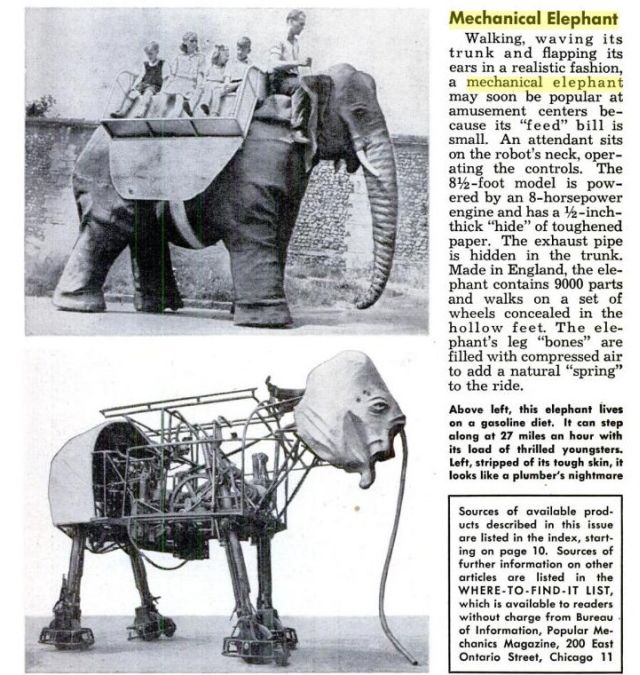 Source: Popular Mechanics October 1950.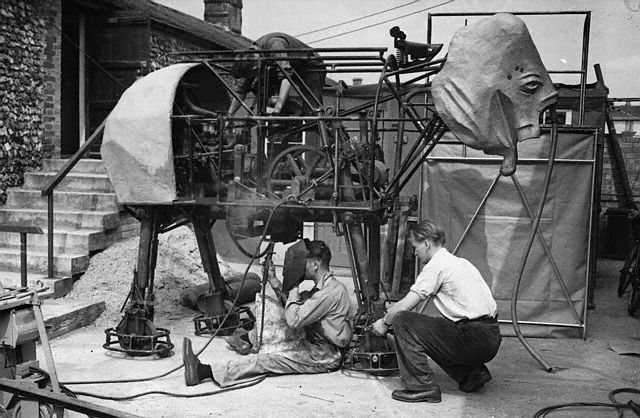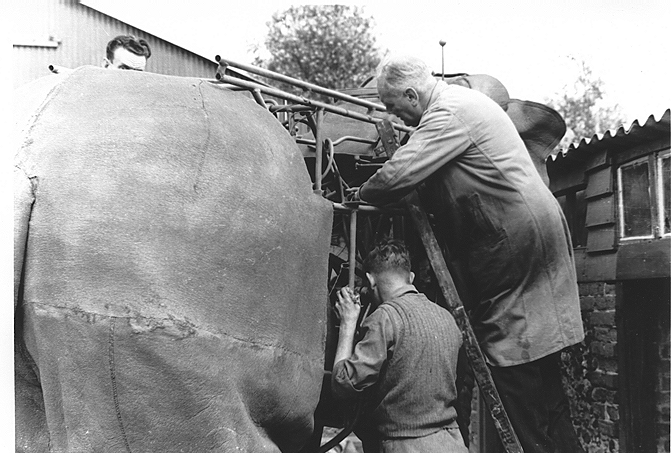 Frank Stuart looking inside on of his elephants.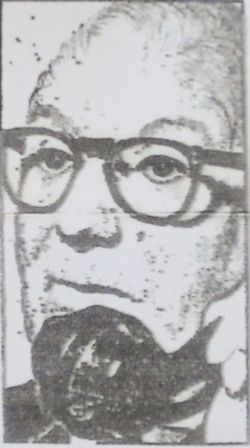 Frank Stuart
---
Pictures and a pdf of Stuart's Mechanimals brochure – courtesy of Larry Gavette.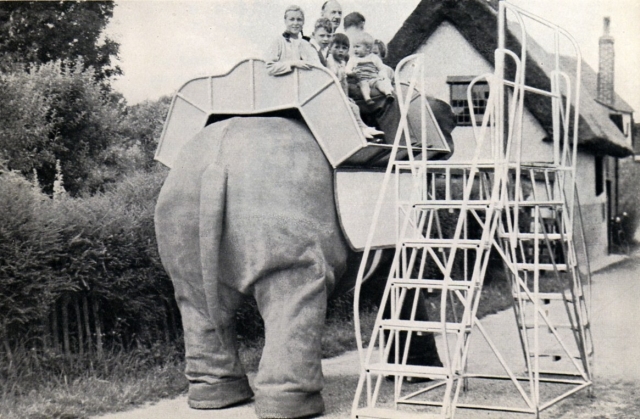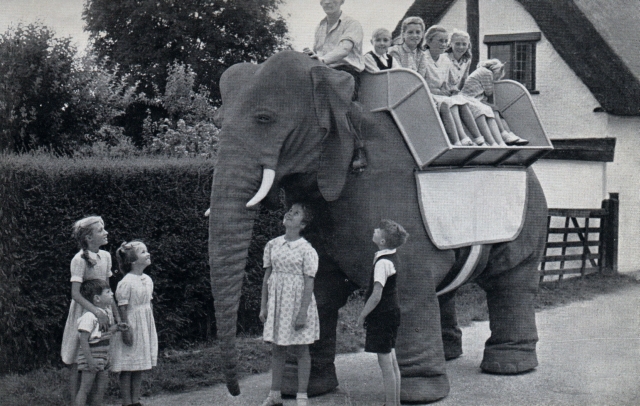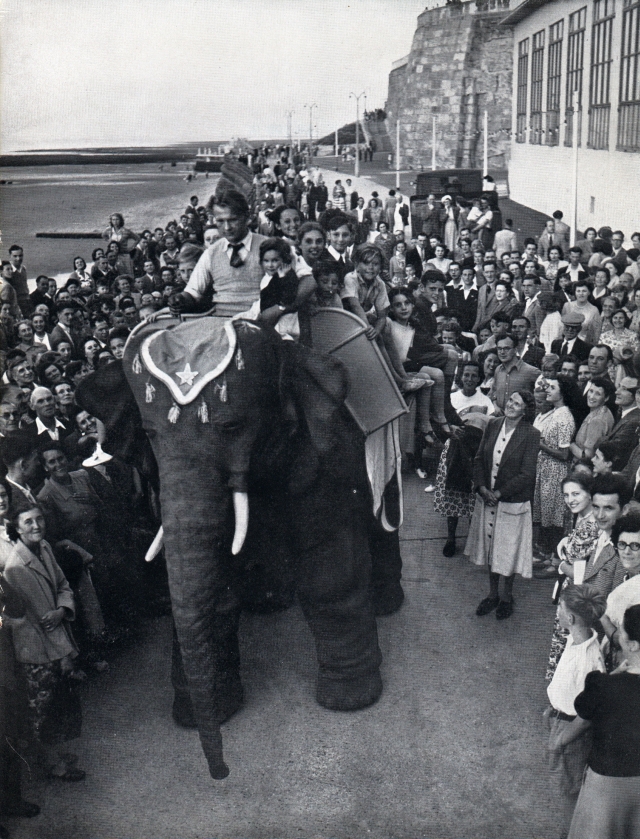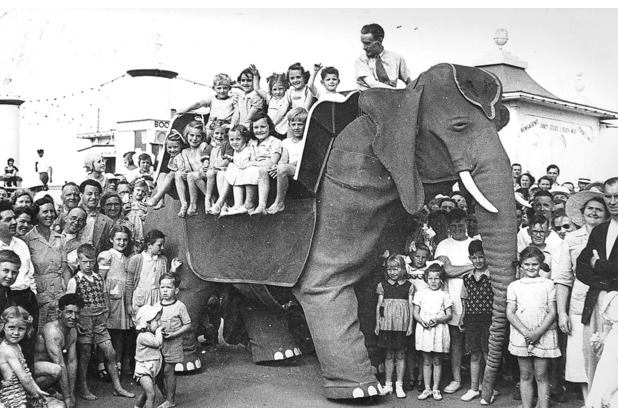 Jenny at Paignton.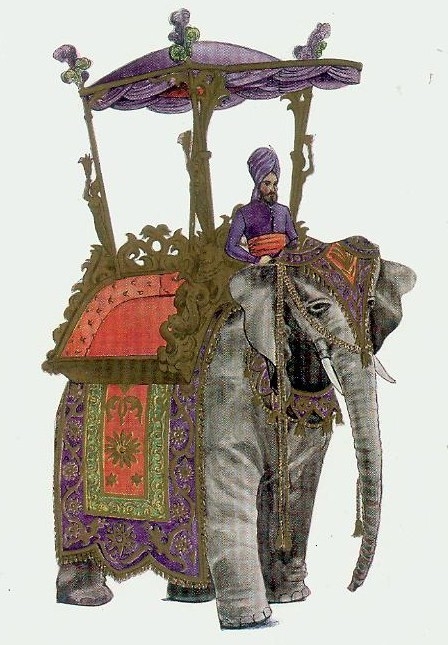 For full brochure pdf, click on image below.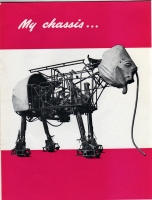 ---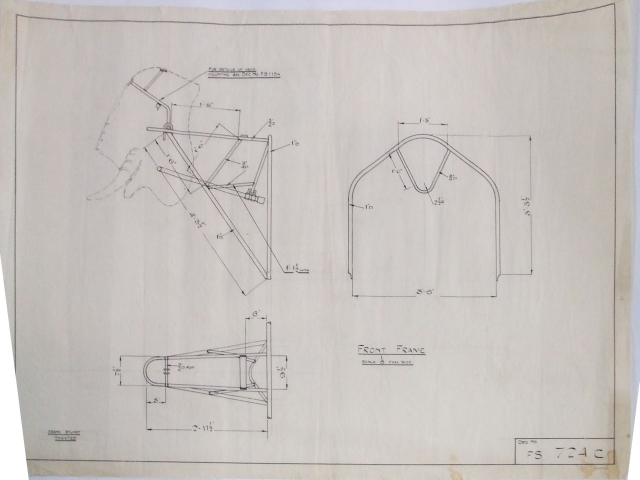 Frank Stuart employed a draftsman to produce these drawings. Initially a lot of the components were made externally. When the large numbers of orders started to come in, Frank decided to bring the engineering inhouse (information sourced from Maurice Radburn letters to Larry Gavette c1980). There are many drawings and they cover the years 1949 to well into 1951 (thanks Derek Tucker).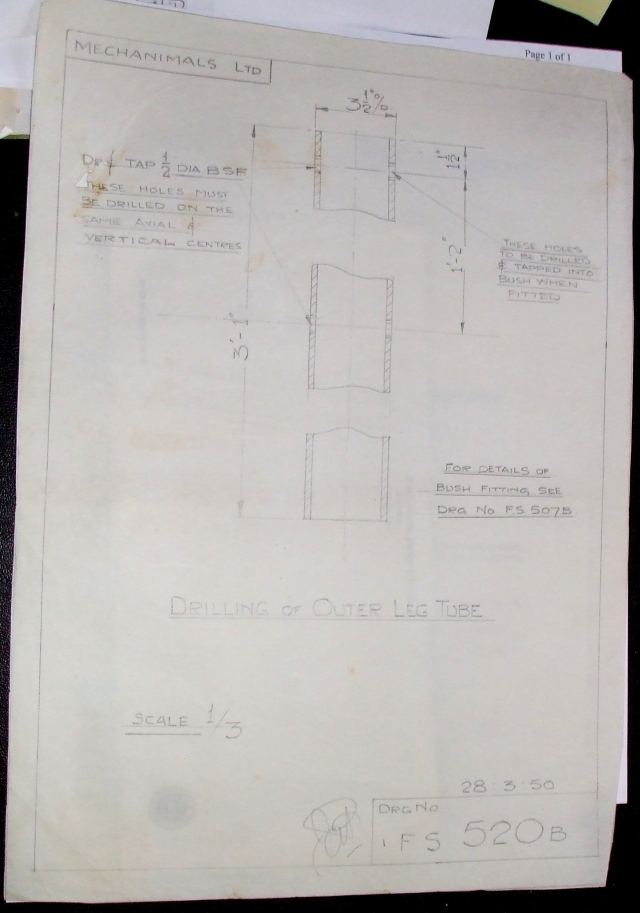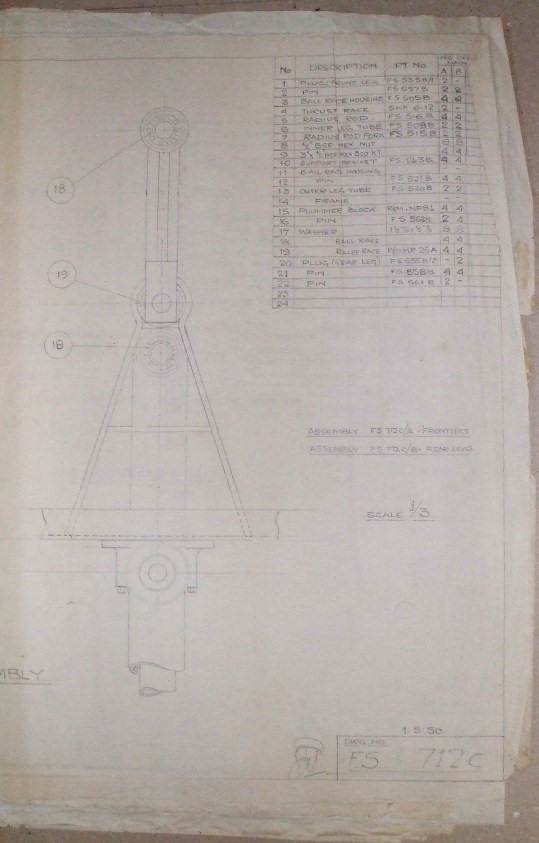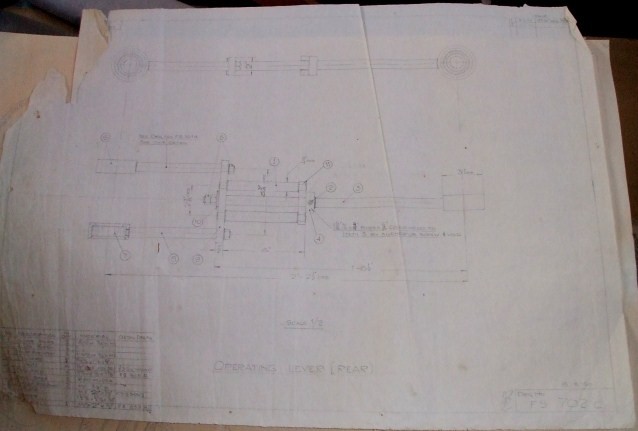 (Images of Frank Stuart's engineering drawings courtesy of Derek Tucker)
---
Source: Life Magazine 18 Dec 1950.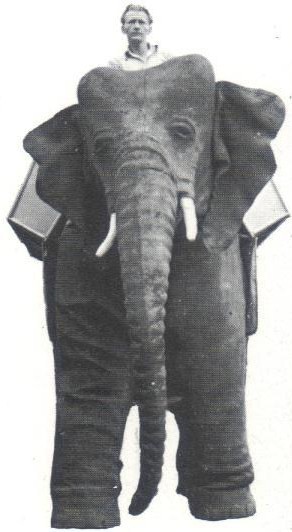 Karl Nelles (German ex P.O.W.) driving a Stuart elephant.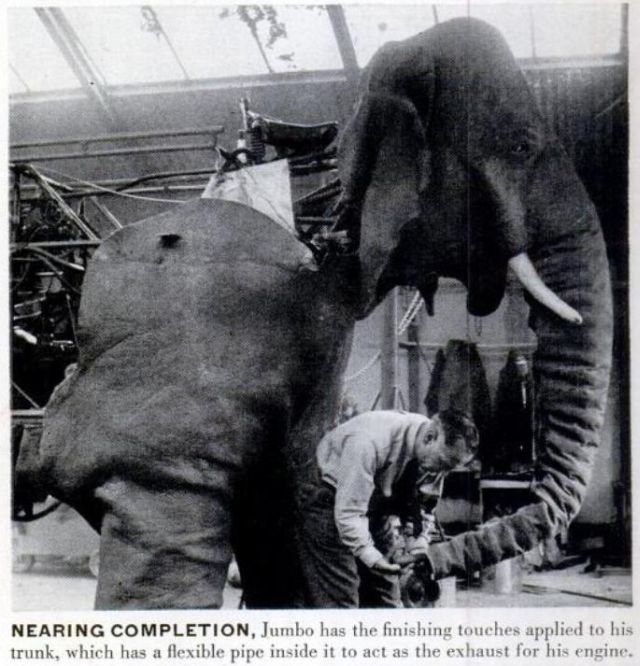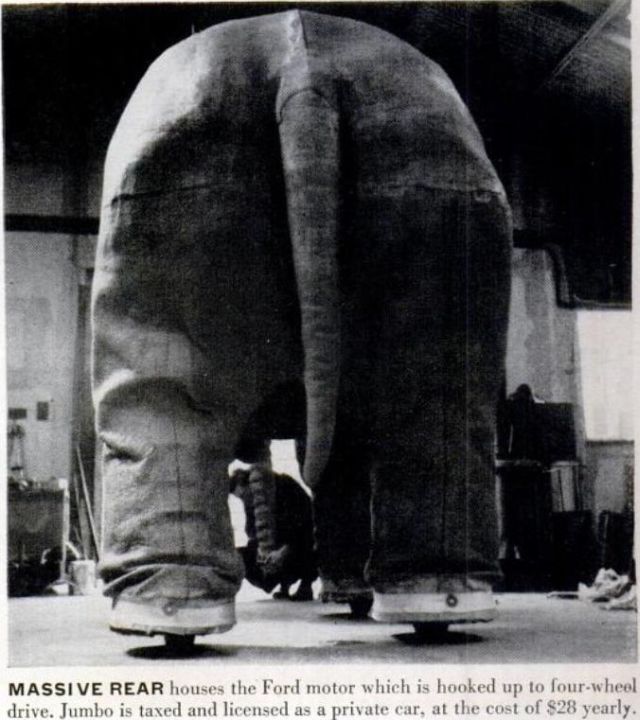 ---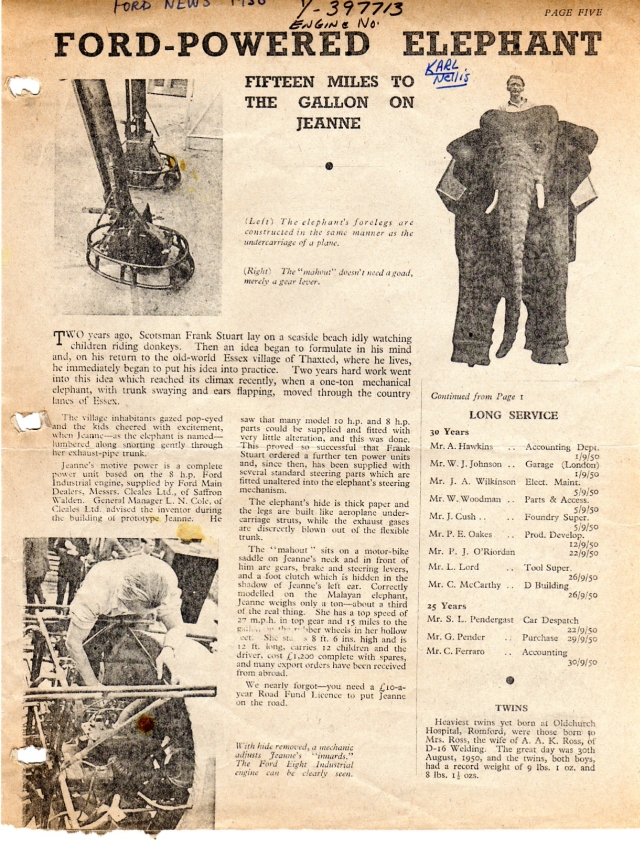 A bit of detail on the Ford engine used. Click on image for a larger copy.
---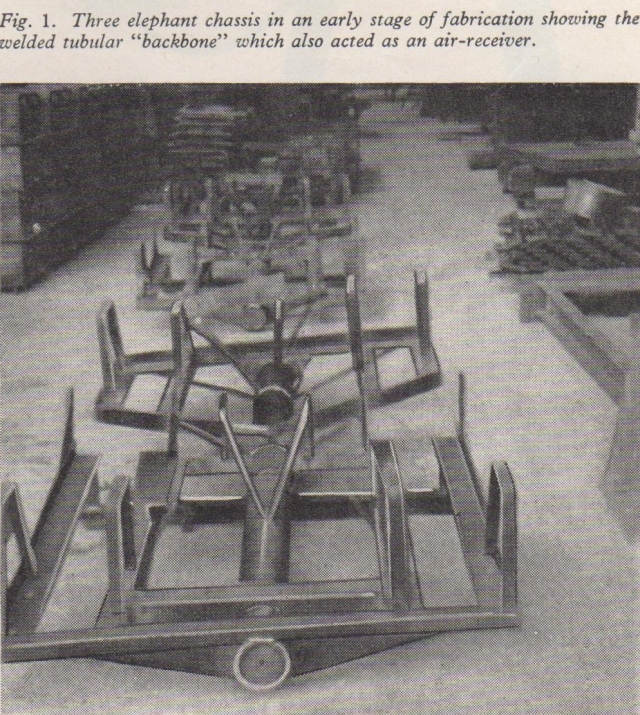 The firm W.A. Hunwicks and Co., Ltd., Harrison Works, Halstead, Essex  was engaged by Frank Stuart to build the elephant chassis for them. They possibly built other fabricated components as well, although final assembly was at The Worthings, Thaxted.
Note: Photo caption mentions three chassis, but I can see only two. Each chassis is made up of two halves, giving the illusion of more.
see pdf here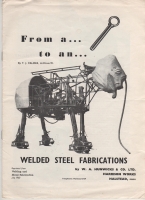 ---

Frank Stuart called his Mechanical Elephant business "Mechanimals".
---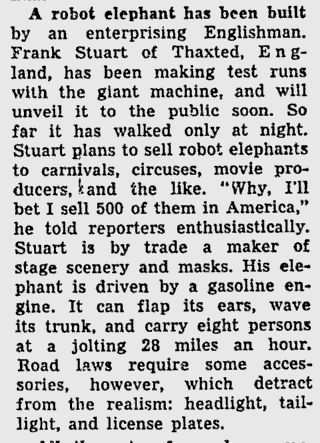 Source: Southeast Missourian 13 Jan 1950.  This publish date indicates to me that Stuart's first mechanical elephant was largely constructed in 1949, and ready for the public early 1950. The prototype was called "Potsy" and there were several attempts at getting the chassis engineered correctly for strength. The first publicity images of a Stuart elephant are of "Jeannie", which is possibly the working version of "Potsy". "Jeannie" was named after Stuart's then wife, Jean.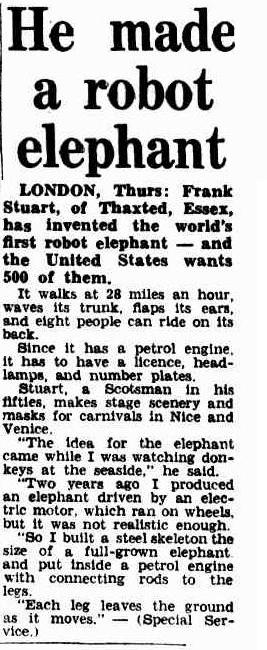 Source: The Argus (Melbourne, Australia) 31 Jan 1950.
---
Frank Stuart shipped an elephant to Scarborough for sea-side rides. As the caption says, it was available for hire at the time. Source: Scarborough Evening News 11 August 1951.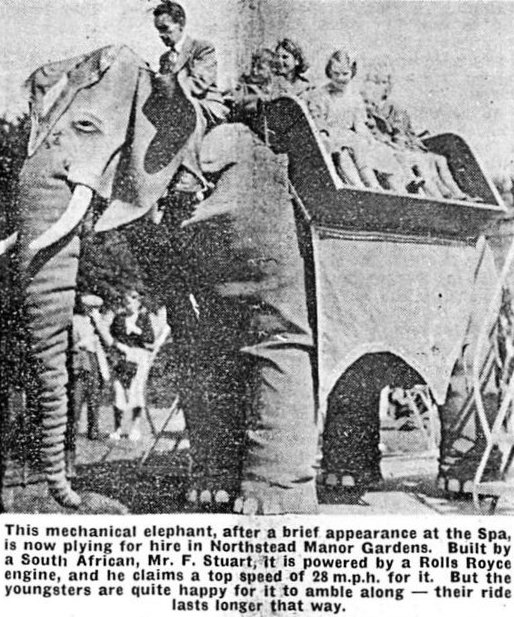 [Not a Rolls Royce engine, but an 8 h.p. Ford Sidevalve as used in Ford Anglia cars. Frank Stuart did live in South Africa for a while, but probably under his birth name of Cecil Cannon.] Image courtesy Derek Tucker.
Note that this elephant looks very much like Bensina that went to Sweden in 1952.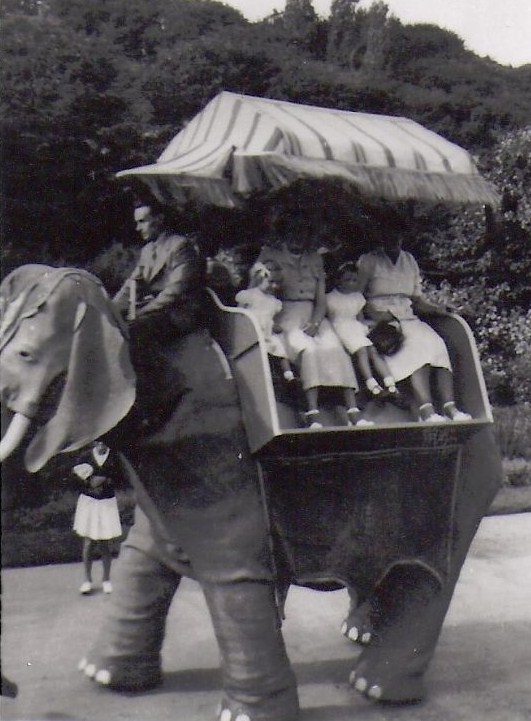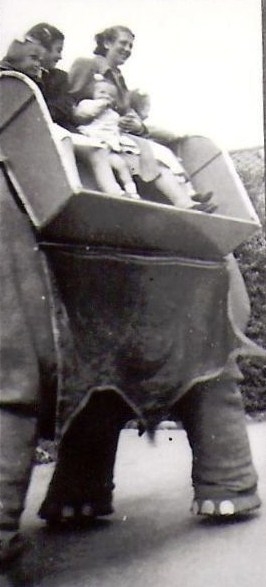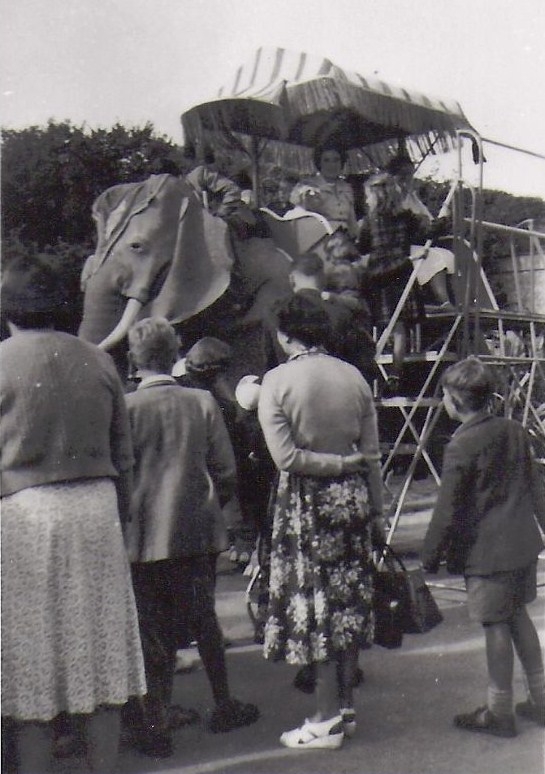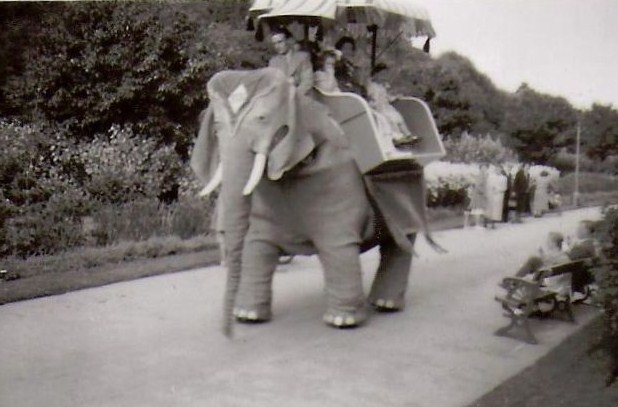 The above series of photos were taken by Mr. H. J. Hurst of Scarborough c1951 and 1952. Images courtesy Larry Gavette.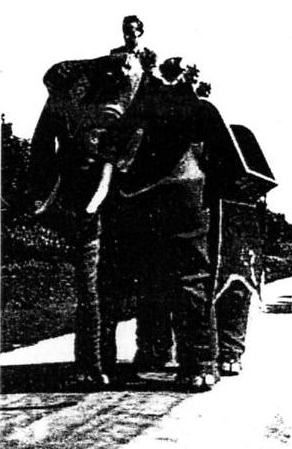 Photo showing Brian Hewitt in the howdah, Northstead Manor Gardens, Scarborough – from Transport Digest, Summer 2009.
---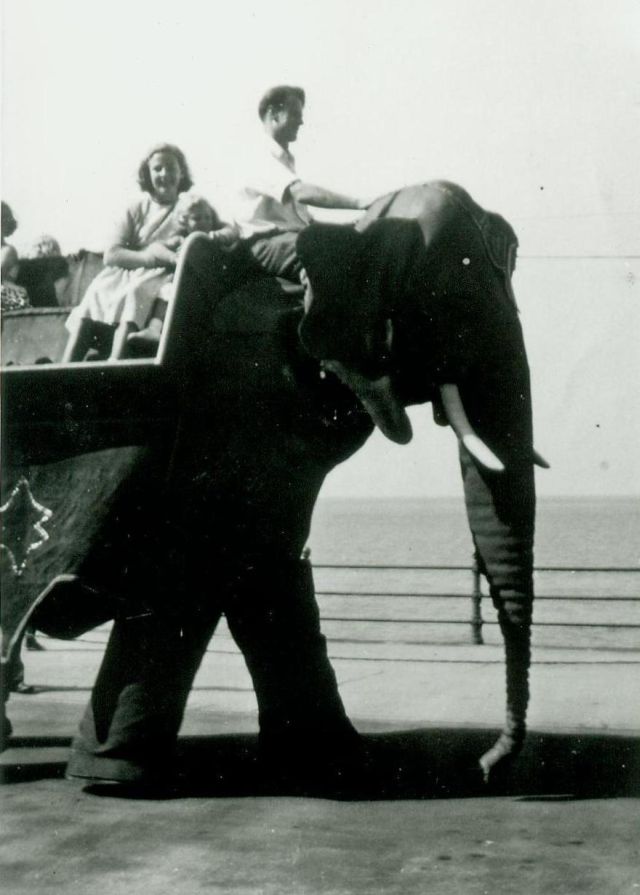 George Lovatt letters – pdf

Interesting first-hand description of running an elephant at Margate, 1951.
Photo and Letters courtesy George Lovatt and Larry Gavette.
---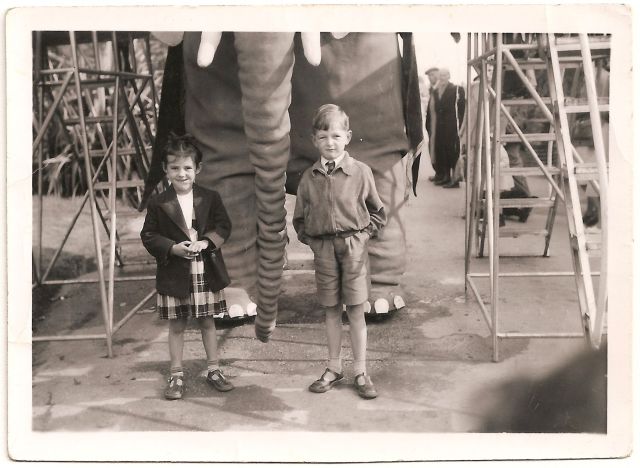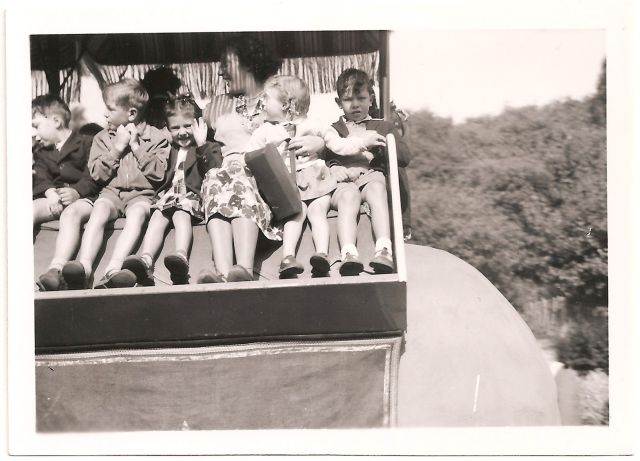 Janet Speak and Roger Bullock with the Scarborough Mechanical Elephant c. 1951.
Photos copyright Jan Eaton 2012 and used with kind permission.
Source : Jan's blog, Archive, is at http://wibbo-archive.blogspot.co.uk/
---
The "Peter Sellers" Mechanical Elephant.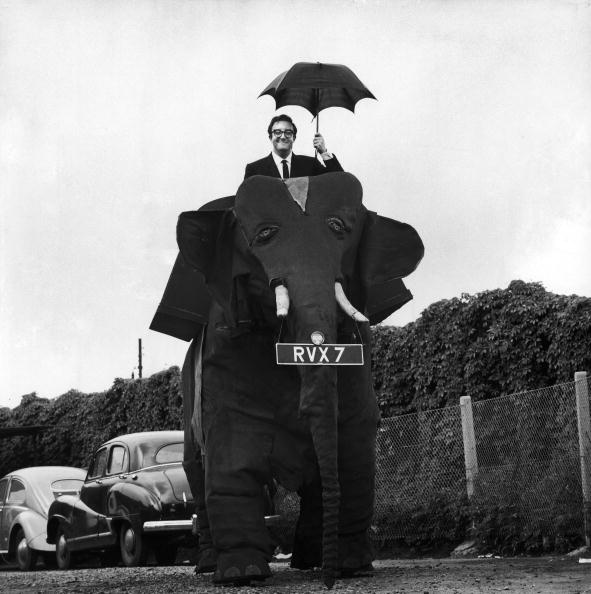 British actor and comedian Peter Sellers (1925 – 1980) smiles and holds an umbrella as he drives his nearly full-size mechanical elephant, Chipperfield, England, 1960. The elephant sports a license plate, which seems to indicate that the device is street legal. (Photo by John Sadovy/Time & Life Pictures/Getty Images)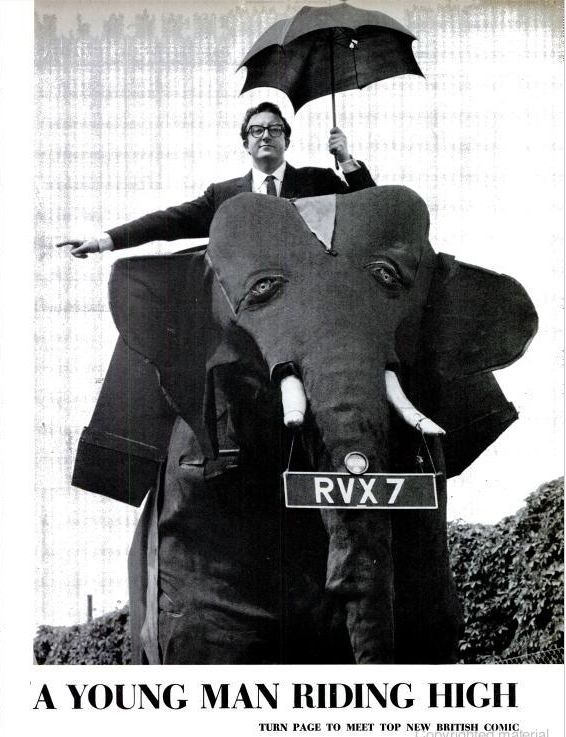 From Life Magazine 20 June 1960-
…And then there is the mechanical elephant. This singular beast, which a 77-year-old inventor was fitfully building, came to life in 1958 when Sellers commissioned him to finish the job. Sellers saw the animal as a sound business investment, thinking it would be irresistible to advertisers. The elephant is driven by a mahout who operates a lever which works a Ford engine inside. This in turn propels the elephant in a walk that looks very much like the real thing. Unluckily, the elephant is not partial to inclines. One day recently on a sloping road its legs suddenly flailed out in all directions, and it fell to an inglorious halt, clanking horribly within. It is now in a London garage awaiting repairs.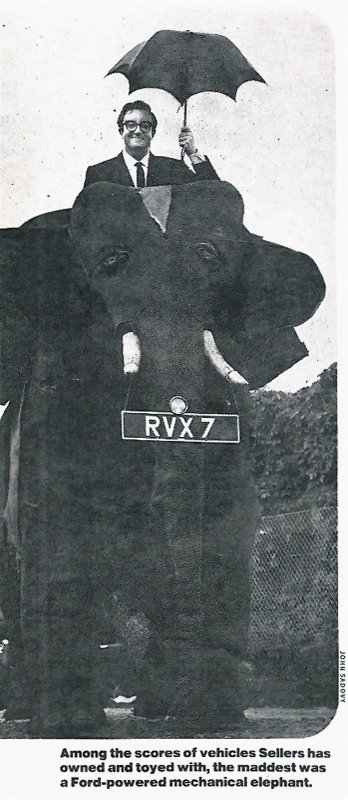 Above image from here, a blog trying to sort the muddle out. Hopefully my work contributes (to the muddle?).
There is another video clip showing Harry Secombe riding on a mechanical elephant arriving at Olympia to open Hultons Boys & Girls Exhibition, 15 Aug 1958. Click on image below.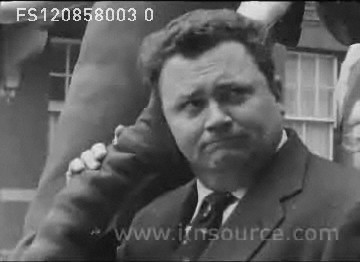 Harry Secombe is one of the original cast members of "The Goon Show", along with Peter Sellers. Given the date of the film clip and the number plate "RVX7" on the elephant, I'd say that Sellers has loaned his elephant for the event. The Elephant's name at this time is "Dumpy". As it turns out, Secombe wasn't even aware he was to be involved with an elephant on the opening of the exhibition.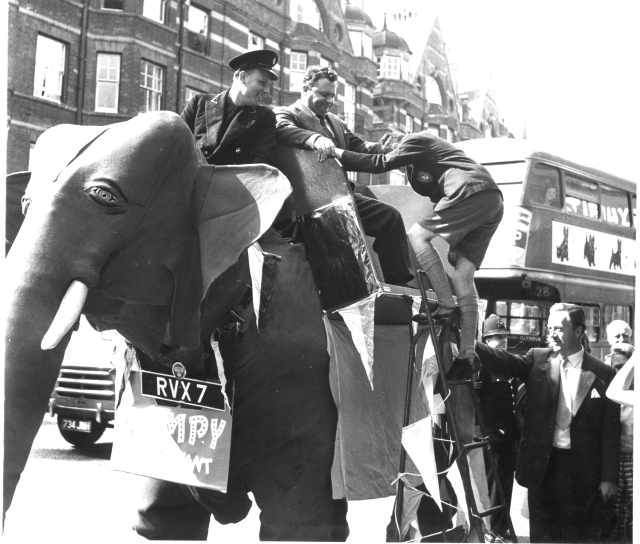 (Above image courtesy Derek Tucker)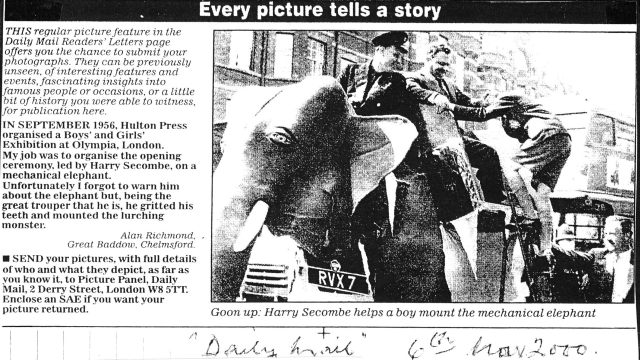 Andy from WorkshopShed is also trying to put the "Peter Sellers" pieces together.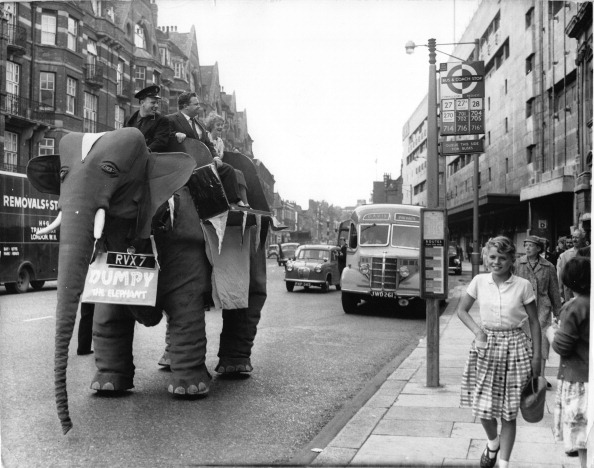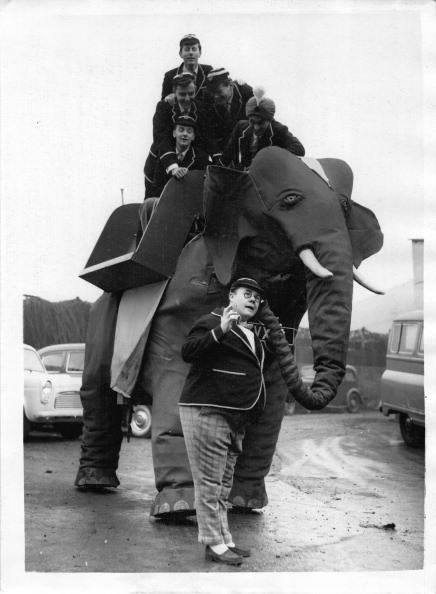 Billy Bunter (Gerald Campion) and the 'Famous Five'. Source: Getty images
---
British Army Transport show, Oct 1, 1962. Chertsey, England.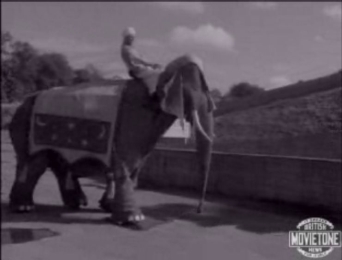 There is a MovieTone video clip that have a few seconds of this elephant, but you have to log in. Follow these steps:
Register (free) and/or log in.
Under Search, use fourth option 'SEARCH STORY' and type in
85221  then click on 'Play clip'.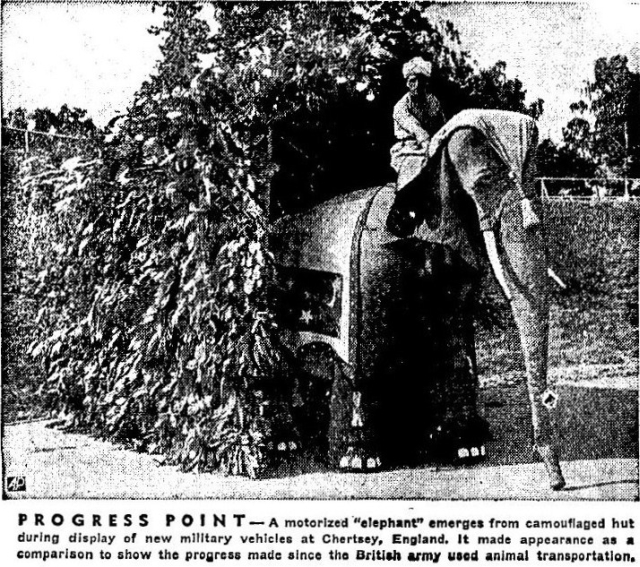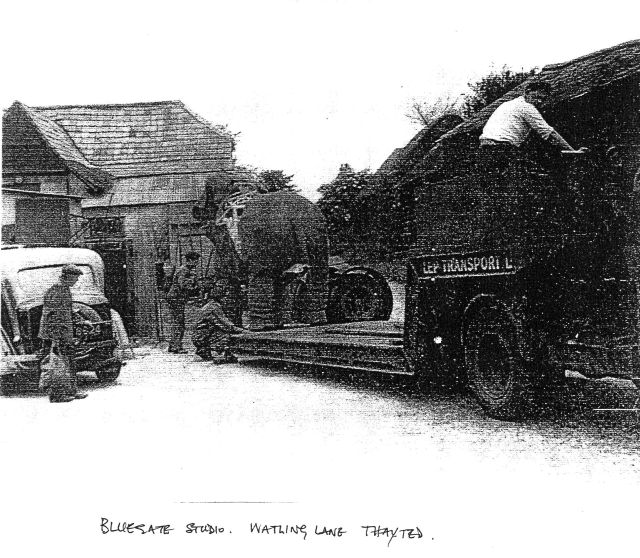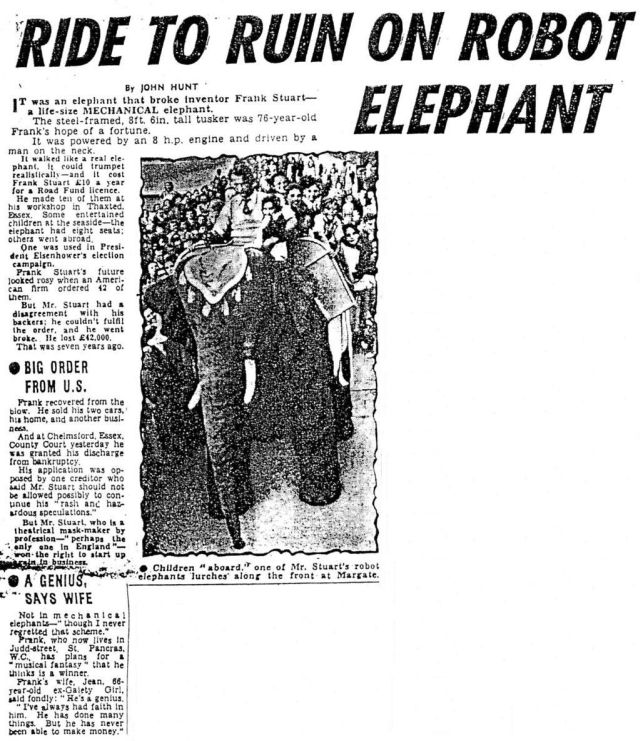 Source: The Daily Sketch, 28th April 1959.
---
How Many Frank Stuart Elephants Were Built and Where Did They Go?
Several stories mention only ever seeing 3 walking elephants in Stuart's Thaxted workshop. I believe the production line could only handle 3 at any one time, so there was a perception of only 3 having ever been built, although we know that more than 3 were built. Frank Stuart wasn't in business making walking elephants very long before being made bankrupt.  Its been suggested Luneside Engineering bought the spares, but there is no evidence of that. Luneside Engineering did build the smaller elephants for Macades initially, as did Frank Stuart.
Maurice Radburn claims 20-25 "Jumbo" were built. Does he mean walkers only? Again, there is no evidence for this number being made.
In July 1950, it was reported [see article text below] that Stuart had 10 orders in the books, the Australian one, 5 for America, 2 for Canada and 1 for South Africa.
In March 1951, one press article stated that 24 are going to the United States, 3 to Canada, and 10 to South America; building 2 a week!.
I wonder how many orders were actually fulfilled before Stuart's bankruptcy was filed??
The Billboard reported in 7 July 1951 that only 3 had been built to date.
I subscribe to the above article (1959) that only 10 were ever built, excluding the Electrophant(s). The lineage is difficult to account for in most cases, so do n
ot treat my list as definitive.
1.   Potsy (
1949-50
prototype) – rigid chassis didn't work.
Newspaper article says still testing in January 1950.
2.  Jeannie (June 1950) maybe the improved Potsy prototype?)>Mary?(Margate 1950?)>Johnny?>Nellie (ordered Aug 1950, arrived Oct 1950 in Australia)> still in Australia

3.  Jenny (1950 Paignton)>unknown
4. Nellie (Sandy Bay)>Nellie (Ilfracombe)>Hew Kennedy (UK)>Hawkins (UK)>Red Baron (USA)>Wil Markey (USA)>Red Baron>Perani (USA)>Axel (USA) still exists

5.  Jumbo (Cunningham's/June1951) (USA)>Wendy>more>>Jumbo(Larry)>Jumbo(Tim) still exists in USA. Now called "Wendell".

6.  Another Jenny (Margate,UK,July1951)>
7.  Scarborough (name?)>Bensina (Sweden)>scrapped in Sweden

8. 
One apparently in Germany or in an Austrian Museum. Status unknown.

9.  ? scrapped by Parradine (not according to son who is re-telling an old but confused story by his dad) – was this the 1951 Jenny or another?
10. Dumpy (1958 Peter Sellers UK)>rusted away?
Mentions of Sth Africa (Sth America?), but none known
of
Mentions of Canada. It is thought Jumbo (Cunningham's from Michigan) had theirs shipped via Canada.
1.   Prototype Battery-op. probably rebuilt as Jessica due to freighting damage.

2.  Jessica (maybe built on parts from prototype. Stuart seem to have spares secreted away before declaring bankruptcy). Still exists but current whereabouts unknown.
Note:  There is confusion on the internet over the different elephants. Frank Smith (not Frank Stuart) made earlier, but smaller stiff-legged elephants (and made 3 in total). Frank Smith sold his patent to Macades, who made many more on a modified plan.
"THE full-size, life-like mechanical elephant was the brainchild of Frank Stuart, fellow of the Zoological Society, theatrical costumier and engineer extraordinary, who didn't like donkeys being ill-treated for rides at seaside resorts. I was his office manager at Thaxted in 1950. Frank knew nothing of paperwork and I often saw him on hands and knees drawing the intricate details of his project with a piece of chalk on the floor for his engineers. He designed three elephants at £1,200 each. They had big tubular frames supporting a Ford 10 petrol engine providing the power through a series of cranks, levers, gears and bearings to simulate the distinctive elephant gait. The frame was covered with a specially-treated papier-mache skin, made by girls who normally made the outfits for Tom Arnold The trunk swung  to-and-fro but the trumpeting was never quite right. The beast was driven by a tiller and levers from a howdah. Paraded around the village it looked very lifelike. These elephants went to Scarborough, Southend and a newspaper. I later heard that purchase tax demands and financial pressures forced the closure of the enterprise. Derek J. Manley, Bournemouth." -Derek Manley was office manager for Frank Stuart for 3 months. .
Problem with the names. Just how many Nellie's, Potsy's and Jumbo's are there? Not to mention Jeannie, Mary, and Wendy as well.
I'll update this list as more information comes to light.
---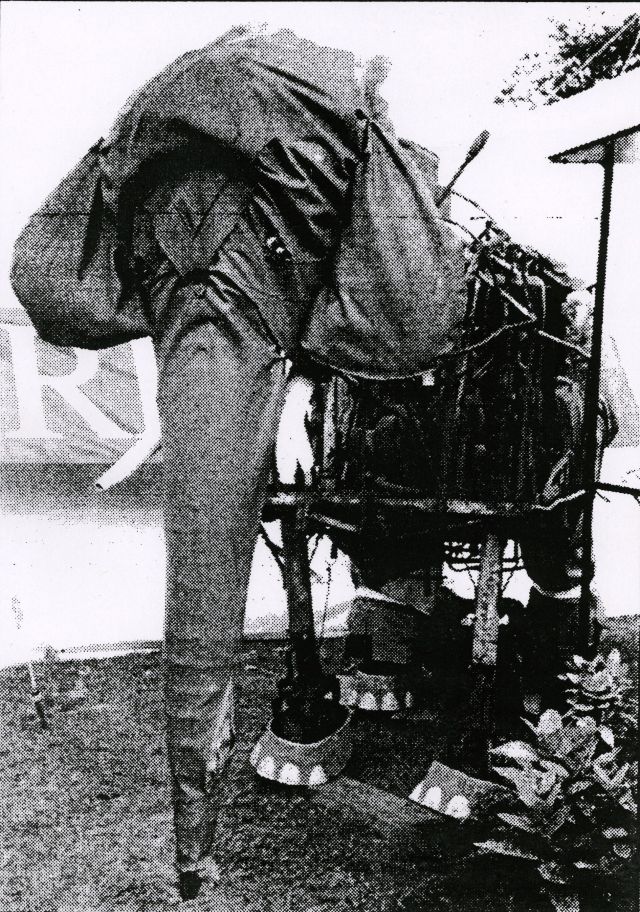 Elephant from Christies auction in 1995.
Blurb from the Auction Site:
c1949 MECHANICAL ELEPHANT "NELLIE"
Price Realized (Set Currency) £8,050
($12,463)
Price includes buyer's premium
Estimate£3,000 – £6,000
($4,645 – $9,289)
Sale 5454
9 September 1995
London, King Street
Lot Description: c1949 MECHANICAL ELEPHANT "NELLIE"
Registration No. 4554F (not currently registered and thought not road legal)
Chassis No. Unknown
Engine No. 60158
Grey in parts. Driven from behind the ears!
"This remarkable machine was the brainchild of the engineer Frank Stuart of Thaxted in Essex who was quite an expert in a number of theatrical requirements. Thought to have been built in around 1949 Mr Stuart, who specialised in hydraulic developments, decided to demonstrate the use of hydraulics in traction movement by building the elephants. It is thought that three were built, Nellie, Potsy and Jumbo. The power unit is a 10hp Ford side valve unit driving its own gearbox and back axle assembly. Essentially the legs are driven to pivot in a small arc which simulates the four legged walk of a real elephant. At the base of each leg there is wheel with a thick solid rubber tyre and motion is created by an ingenious system of hydraulics which brakes the wheel, enabling Nellie to walk forwards. Included in the sale are some quite comprehensive instructions of operation and a useful working drawing of Potsy by Frank Stuart, amongst other interesting articles of history and information.

The early history of Nellie is unknown although by the late 1950s she was in Essex before becoming owned by The London Tyre company who were taken over by Goodyear. They fully recommissioned the elephant and used it for some demonstrations before selling her to the Ilfracombe Council for part of their holiday amusements. From there she went to the Sandy Bay Holiday Camp in Exmouth. Nellie was last used, we believe, in 1984 when demonstrated on the BBC Pebble Mill At One programme. Sadly, she has been somewhat neglected since then and will require careful restoration and a new skin before returning to the urban jungle!"
---
SundayHerald-Sydney-30July1950
Real Ones Too Dear. So… HE BUILT AN ELEPHANT
From Our Staff Correspondent
LONDON, July 29.-Six years ago Mr. Frank Stuart decided that circus elephants were too expensive. "I could build one better and cheaper," he said. Yesterday in the village of Thaxted, Essex, where he lives, his prototype eight horse-power elephant went for its first stroll.
The original, Jeannie- named after Mr. Stuart's wife -has an engine in her hindquarters, exhaust in her trunk, and gears in her ears.
BEHIND THE EARS
Hidden in the shadow of her ears, too, are brake, steering levers, and a foot clutch. Stretched over a framework of steel, her half-inch thick skin of compressed paper is grey and wrinkled, and springily inflated with compressed air.
Jeannie looks just like the real thing. In top gear she walks on wheels in her feet at 27 miles an hour.
She carries a full load of 12 children and a mahout on her broad back. As she walks she flaps her ears and waves her trunk. One of her few incongruities is that Mr. Stuart had to get a road licence to run her.
"CHEAPER"
But why build an elephant when you can get a real one?
Mr. Stuart says: "Mine costs £1,200 with a complete set of spares-a lot cheaper than a real elephant. And it doesn't eat £4 worth of hay a day."
And people do want mechanical elephants. Reports say somebody in Australia has ordered one. Five are going to the U.S., two to Canada, and one to South Africa.
This is what he says in 4 Mar 1951 Sydney Herald:
Mr. Stuart's Elephants Will Soon Hit Sydney
LONDON.-A herd of 12 "elephants" will be turned loose in Sydney in about two months-but fodder will be no problem, because they exist on petrol and oil.
THEY are mechanical elephants, each weighing one and a half tons and standing nine feet high. These synthetic pachyderms are being built by Mr. Frank Stuart, of Thaxted, Essex, for a Sydney retail firm.
Twenty-four are going to the United States, three to Canada, and ten to South America.
Stuart says: "I'm sure they will be a great success in Australia. The elephants are as realistic as we can make
them and the kids will just love to ride on them. "They fill a gap for people who never go to amusement parks, as they can walk along the promenade or anywhere there is a hard, smooth surface."
He says he turns out two mechanical elephants a week and the cost of each one is about £1,500.
One has previously been seen in Australia, but Stuart says there have been improvements since then.
---
Tags: 1949, 1950, British, Frank Stuart, Great Britain, Margate, Mechanical Elephant, Scarborough, Scottish, Thaxted, Walking machine