1947-51 – Mechanical Elephant – Frank Smith & Eric Smith (British)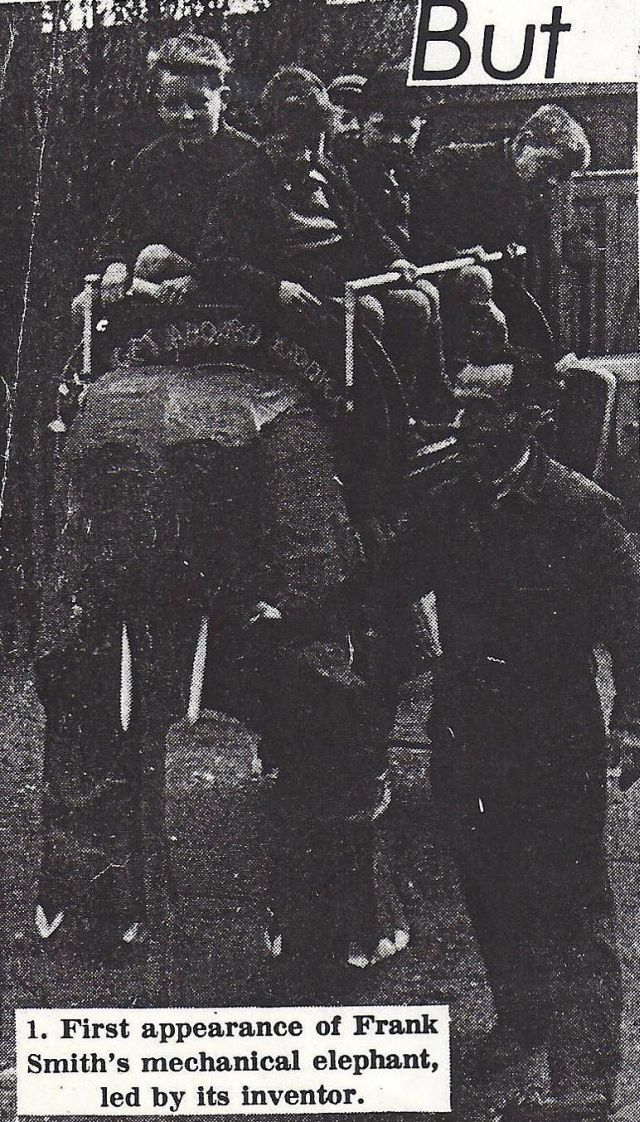 Frank Smith with his very first Mechanical Elephant outside his garage. (Image courtesy Larry Gavette)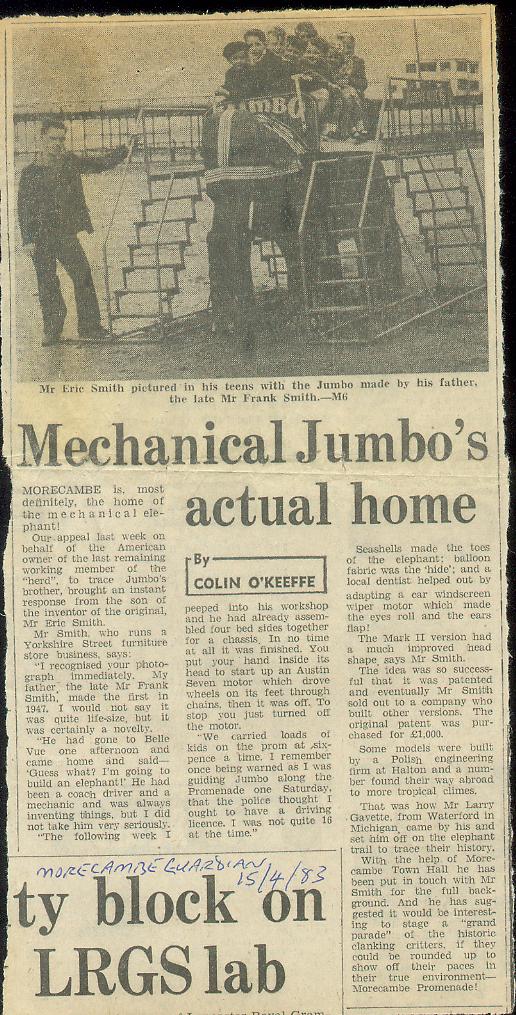 Eric Smith, Frank Smith's son with their Elephant. Note the distinguishing tusks. (Image supplied by Larry Gavette)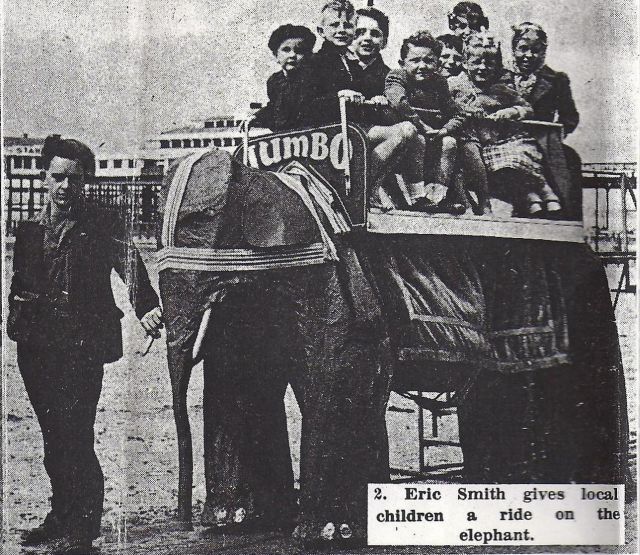 (Image courtesy Larry Gavette)
Letter by Eric Smith in response to Larry Gavette enquiry 24 Apr 1983. Full of information pertaining to Mechanical Elephants. As at 2011, Eric is still with us and living in Morecambe, UK.
See pdf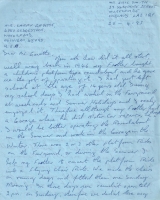 For an update on Eric Smith's life story see pdf here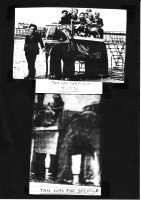 ---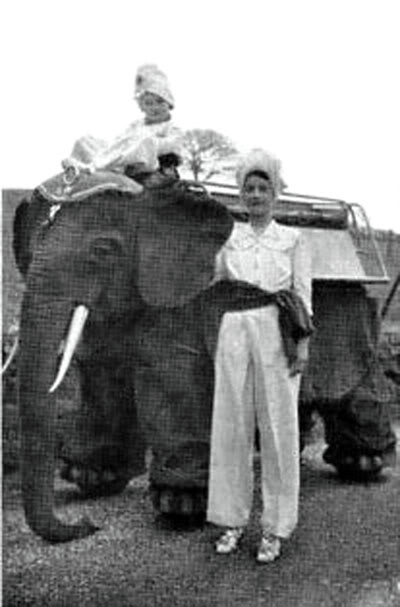 Redcar's Amusements – 1950. Note that this elephant has tusks whereas all the other non-Frank Smith baby Mechanical Elephants don't. The trunk is also longer (dragging on ground) and the toe-nails are different to the others.
Although this elephant seems the fit the characteristics of a Smith elephant, one aspect doesn't and that the lack of an axle between the legs. As Smith made three elephants in total (outside of those made under the patent he sold to Macades), it may be that particular one. otherwise it was made by someone else yet to be identified.
(see possible baby Frank Stuart elephant's
here
).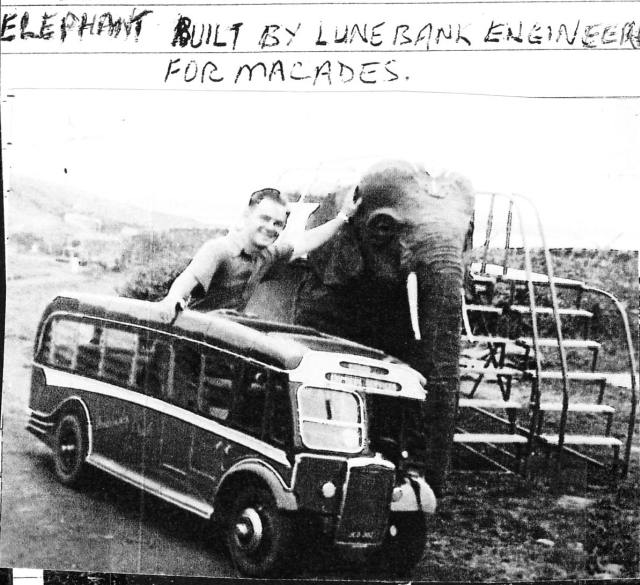 Eric Smith inside an amusement bus he operated.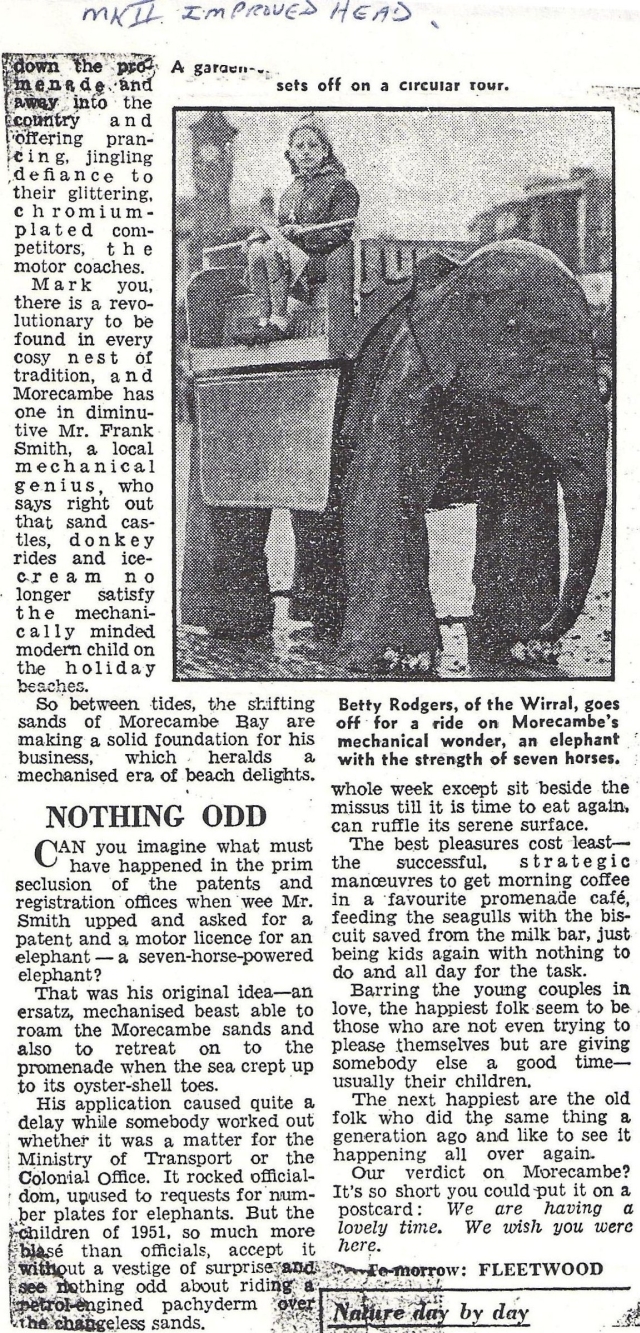 (Image supplied by Larry Gavette)
As the article states, the second, improved Frank Smith elephant. Referred to as the Mark II, one of the improvements was to the shape of the head. You can also clearly see the axle running between the wheels, which is another characteristic of the Smith elephants.
---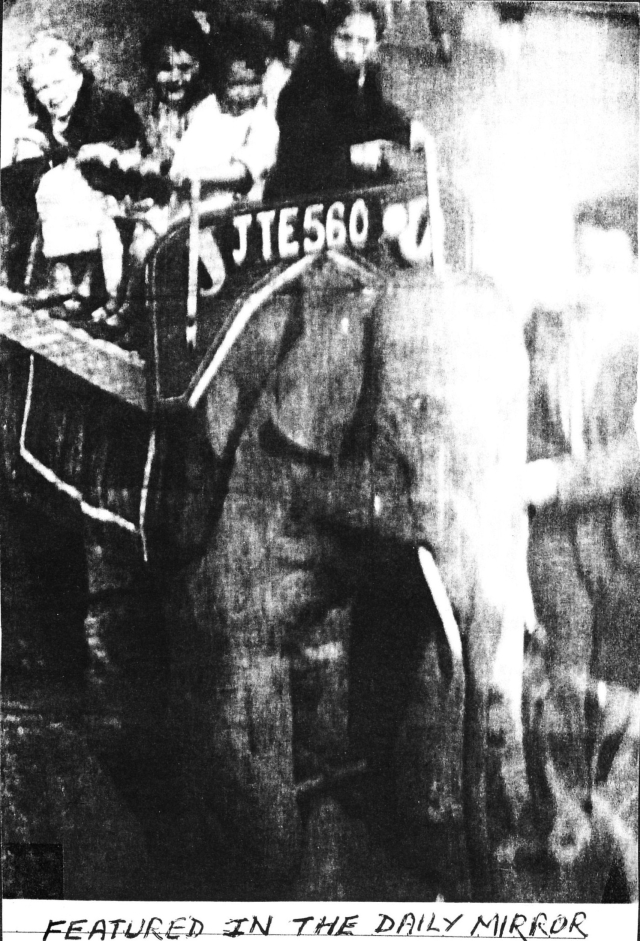 Image supplied by Eric Smith.
---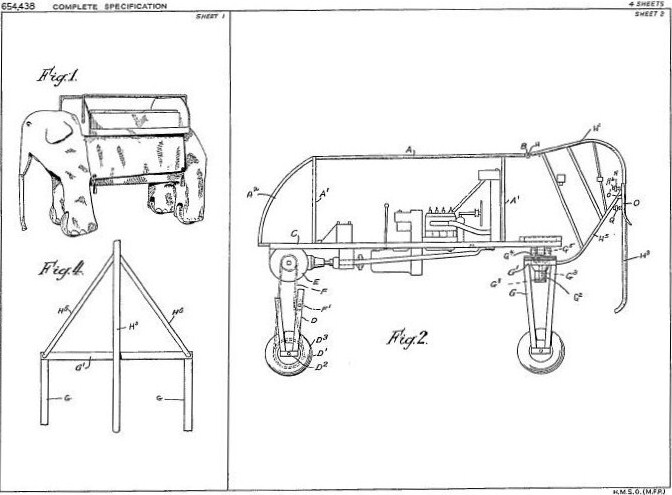 See full British Patent here.
Patent Number 654,438
App Date: Apr 28, 1948.
Published: June 20, 1951.
Note that the Patent document has Frank Smith as the inventor, but the specification is by Albert Heritage Wade and George Herbert MacIntosh, both of Morecambe, Lancaster, who were the founders of Macades [Entertainment] Ltd. The Patent was sold to Marcades Amusements.
The Patent mentions that this elephant had tusks, and that one tusk , when twisted, turned on or off a windscreen-wiper motor to make the eyes look to the left and right.
---
See the Macades Mechanical Elephants in a separate post here.
---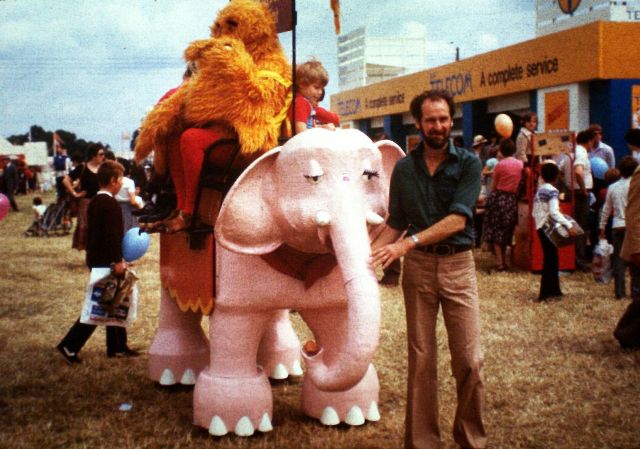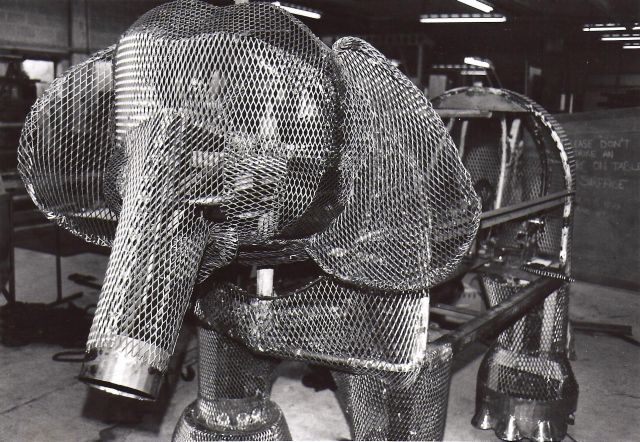 Mr Eric Smith was contacted by the Postal Code officer to build an elephant for them, but he recommended Luneside Engineering to build one. Possibly the image above is the next generation elephant being built at Luneside Engineering in Halton, Lancaster. [Update May 2011 – David Taylor – ex Luneside employee, says that this workshop is not at Luneside.]
---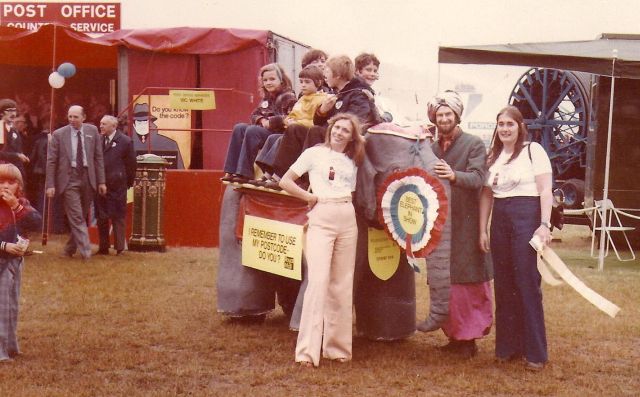 The original PoCo (Postal Code) mechanical elephant.
This elephant was rented out by a school. It has the plate saying "MADE BY F. SMITH & SON, KING STREET, MORECAMBE".
All above photo's courtesy Larry Gavette.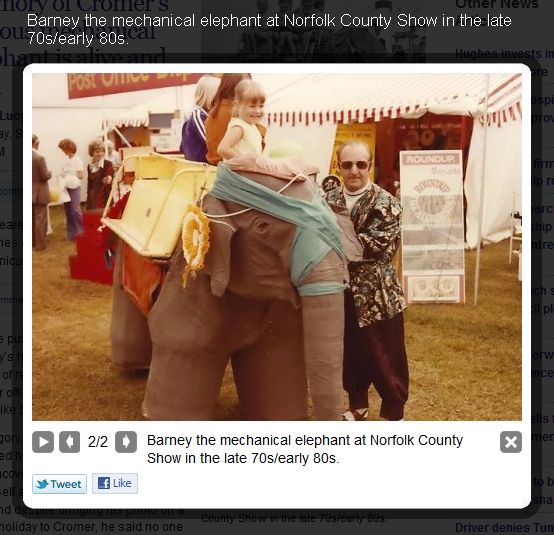 ---
Tags: 1948, British, Eric Smith, Frank Smith, Larry Gavette, Mechanical Elephant, Walking machine