1947 – Walking Amphibious Barge – John T. Tucker (American)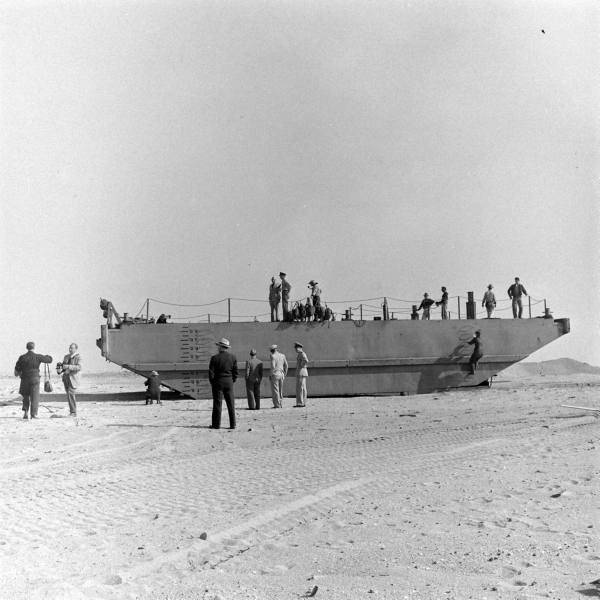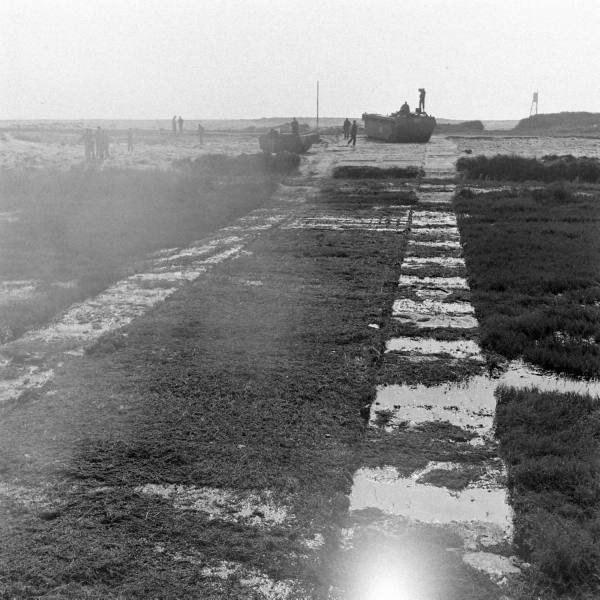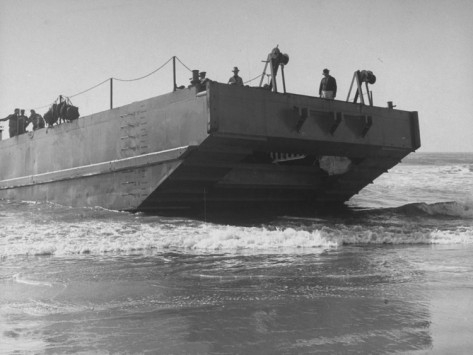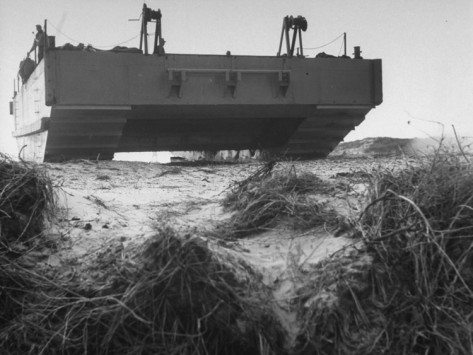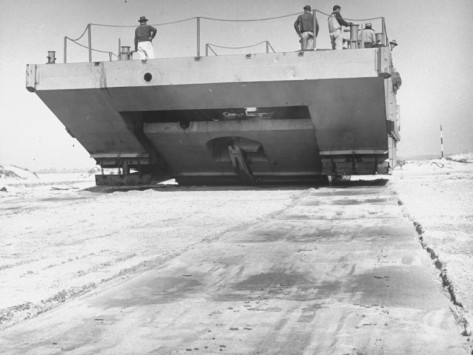 Rear view.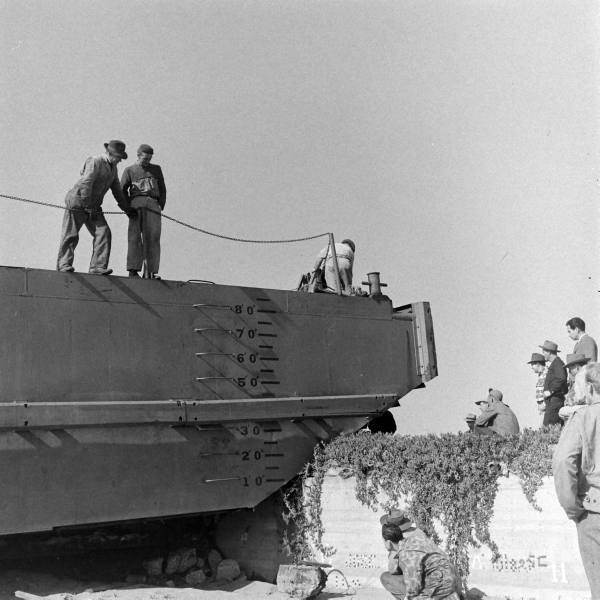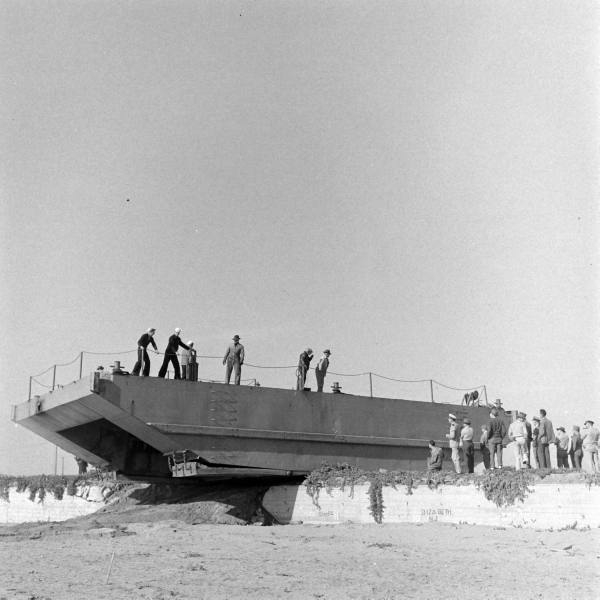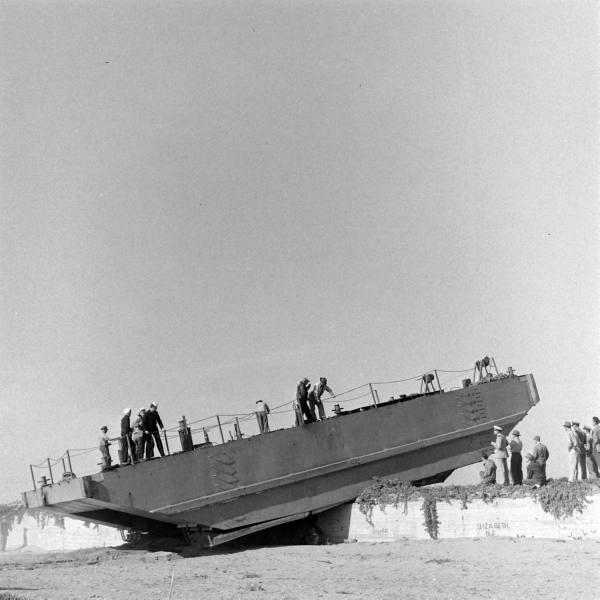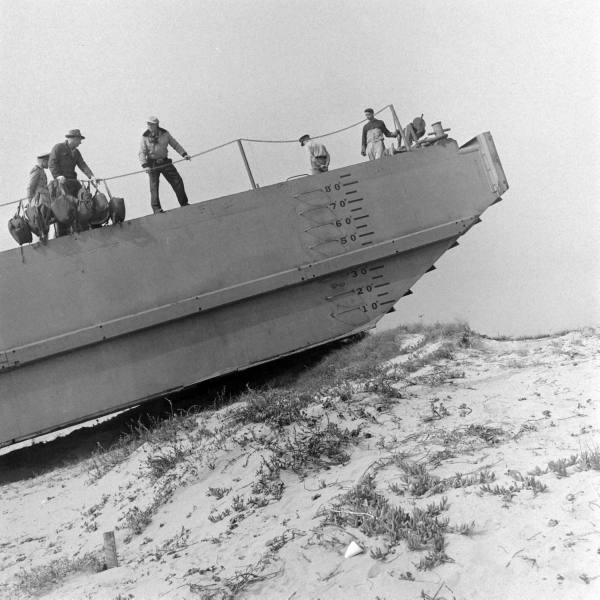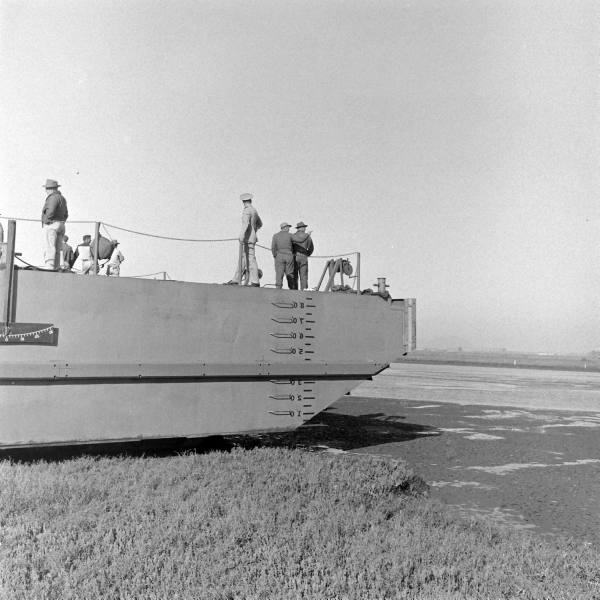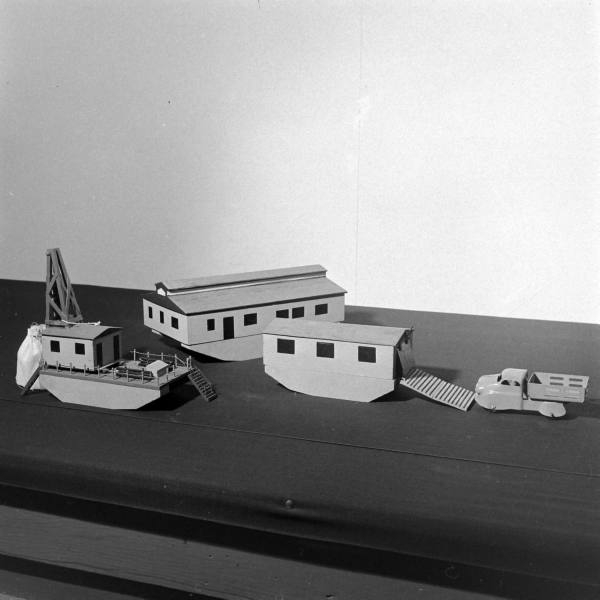 Concept models.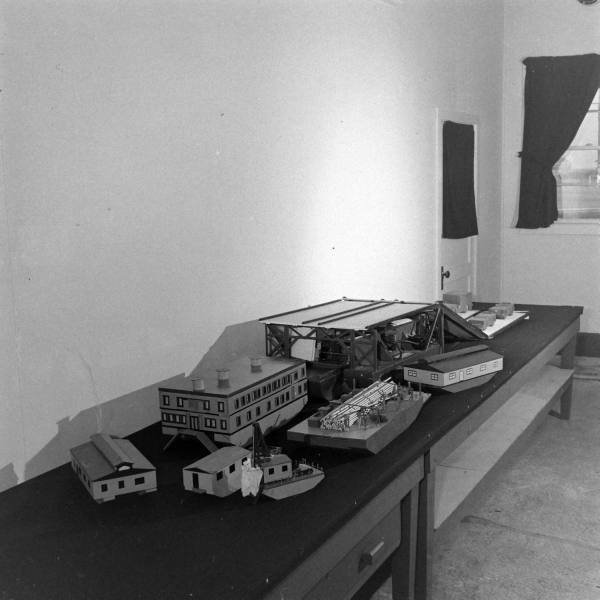 Concept models.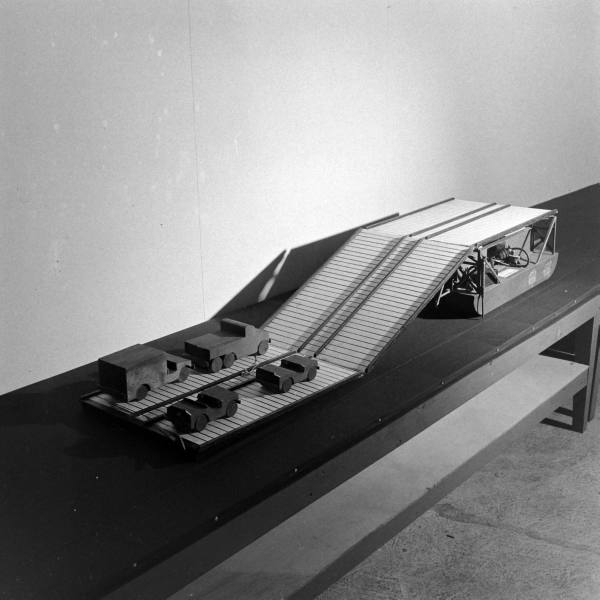 Concept models.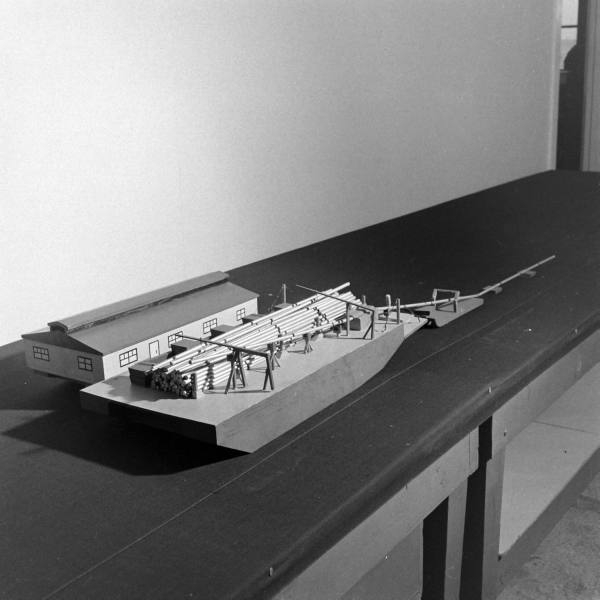 Concept models.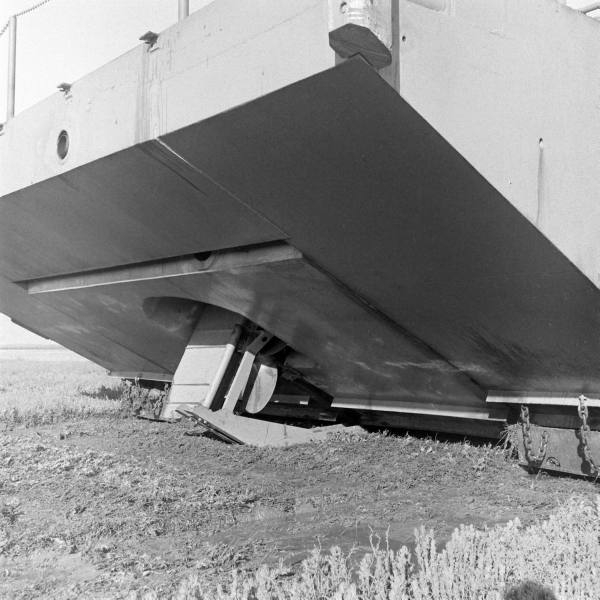 Propellor protection. Prop actually swivels up and down to give ground clearance or motive power.
[Source: All the above images – Life 1948]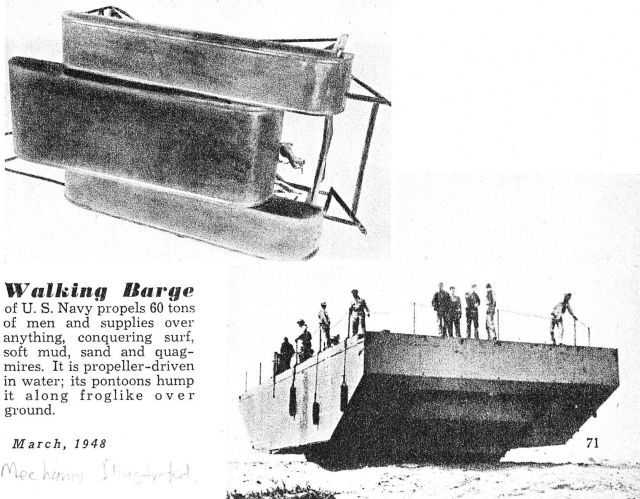 [Source: Mechanix Illustrated – March 1948]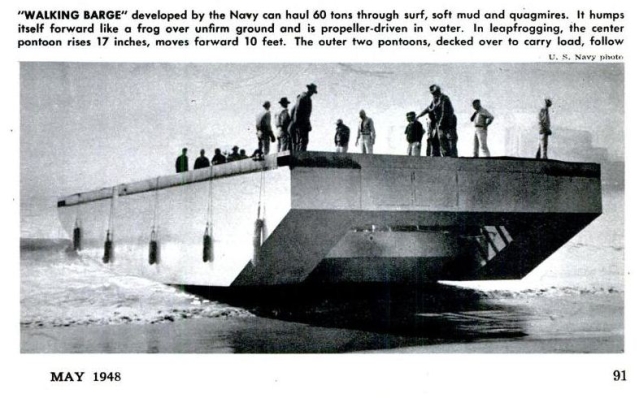 [Source: Popular Mechanics – May 1948]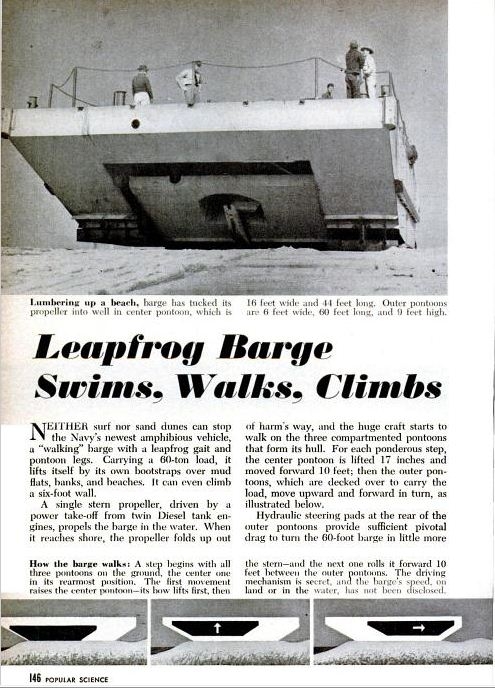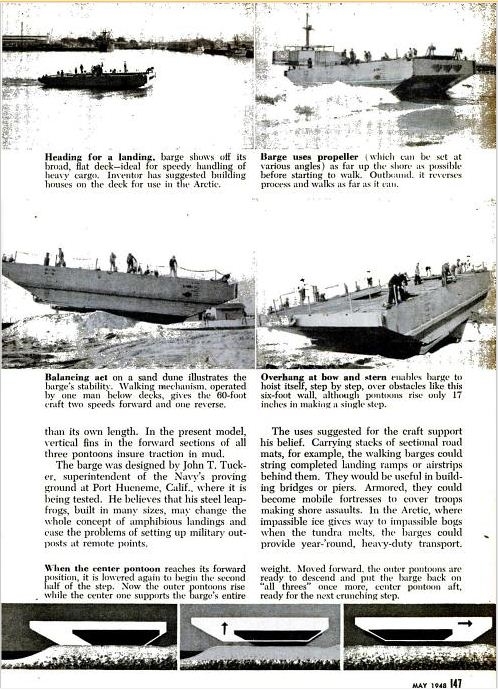 [Source: Popular Science – May 1948]
Leapfrog Barge
Swims, Walks, Climbs
NEITHER surf nor sand dunes can stop the Navy's newest amphibious vehicle, a "walking" barge with a leapfrog gait and pontoon legs. Carrying a 60-ton load, it lifts itself by its own bootstraps over mud flats, banks, and beaches. It van even climb a six-foot
A single stern propeller, driven by a power take-off from twin Diesel tank engines, propels the barge is the water. When it reaches shore, the propeller folds up and of harm's way, and the huge craft starts to walk on the three compartmented pontoons that form its hull. For each ponderous stop, the center pontoon is lifted 17 inches and moved forward 10 feet; them the outer pontoons, which are decked over to carry the load, move upward and forward in turn, as illustrated below.
Hydraulic steering pads at the rear of the outer pontoons provide sufficient pivotal dry; to turn the 60-foot barge in little more than its own length. In the present model, vertical fins in the forward sections of all three pontoons insure traction in mud.
The barge was designed by John T. Tucker, superintendent of the Navy's proving pound at Port Hueneme, Calif.. where it is being tested. He believes that his steel leapfrogs, built in many sizes, may change the whole concept of amphibious landings and ease the problems of setting up military outposts at remote points.
The uses suggested for the craft support his belief. Carrying stacks of sectional road mats, for example, the walking barges could string completed landing ramps or airstrips behind them. They would be useful in building bridges or piers. Armored, they could beome mobile fortresses la cover troops making shore assaults. In the Arctic, where impassible ice gives way to impassible bogs when the tundra melts. the barges could provide year-'round, heavy-duty transport.
---
This article is based on a response to the Popular Science article above.
Giving Credit Where Due
Sir:
In reading your article in the May issue of PS ["Leapfrog Barge Swims, Walks, Climbs," p. 146] about the "Navy's newest amphibious vehicle," well it just isn't anything new.
I was a member of the Sea Bee outfit known as A.B.C.D. on the island of Oahu T. H., and we, too, made a leapfrog barge. We didn't get the drawings etc. to build it until too late to help in the war. . . .
I must admit the barge in PS is just a little fancier in design, but you have to consider that the gear raceways were bent by hand in our blacksmith shop under Chief Walter Plaskett, and the gears themselves were cast in a foundry we also built.
Plenty of nights a crew worked voluntarily under a Hawaiian moon and welding arcs to finish the "monster" in time to be of use to the war effort.
I think Lt. Sterling Thompson and all the rest of the officers and men who worked on it should have at least got a mention in small print.
Was our barge ever recognized? Did it play any part in inspiring the one in PS? I guess we'll never know!
CHARLES HARDING, JR.
Saugus, Mass.
Mr. Harding and his mates were not working in vain. They were performing valuable spadework on the original "walking barge." For security reasons, however, their efforts had to go unsung until now.
[RH-2012- This earlier machine is most likely based on the earlier patent by Tucker – see below]
---
Patents:
There were two patents by John Tucker. The second one, US2667937 is the one the above Walking Barge was based upon.
PROPULSION APPARATUS J. T. TUCKER et al


See full patent details here.
Patent number: 2381235
Filing date: Mar 6, 1944
Issue date: Aug 7, 1945
WALKING VEHICLE J. T. TUCKER et al


See full patent details here.

Patent number: 2667937
Filing date: May 24, 1948
Issue date: Feb 2, 1954
---
Walking Boat Trivia:
In 1918 there was a cartoon of a passenger ship lifting itself out of the water to avoid a torpedo.
The Walking barge above used the same 'big foot' principle as the British invented Walking Dragline (Ransomes-Rapier) of 1939.
Frank Stuart filed a patent for Britain's first (I believe) amphibious walker, albeit in the form of a mechanical elephant, in 1950.
---
Tags: 1947, John Thomas Tucker, Walking Amphibious Barge, walking barge, Walking Boat, Walking machine, Walking Vehicle