1947-55 – Baby Mechanical Elephants – Frank Stuart (British)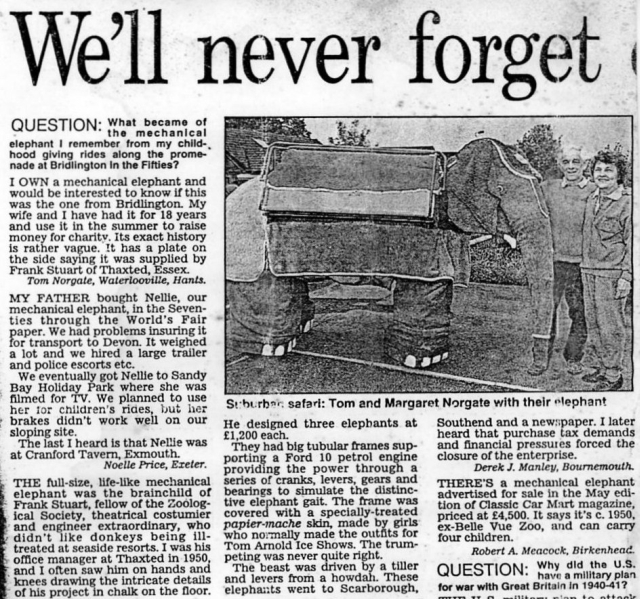 Ex-Tom Norgate's Mechanical Elephant supplied by Frank Stuart.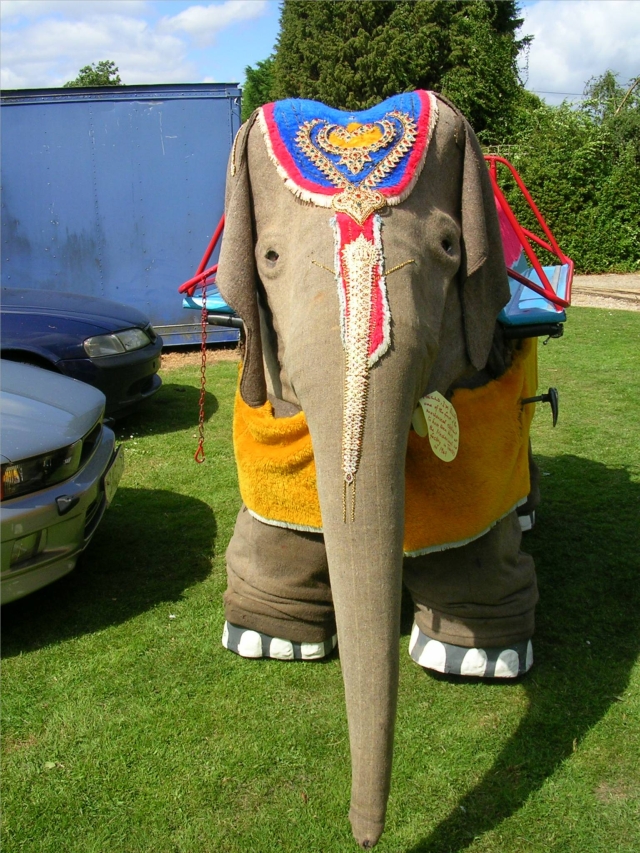 The ex-Norgate elephant ("Ellie") is the only known baby elephant to have a plate on it saying "Supplied by Frank Stuart".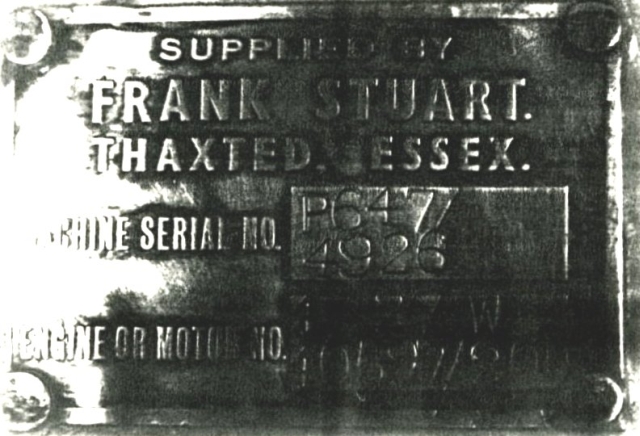 Above 3 images courtesy Derek Tucker.
---
The full history of Frank Stuart and his baby mechanical elephants (stiff legged, not the later walking elephants) remains unclear.  In the mid to late 1940's, Frank Stuart's business was primarily into theatrical mask making and scenic prop making. Around 1947 he finally makes an electric powered mechanical elephant, most likely for indoor theatrical purposes. He reasons that he was holidaying on the sea side at Clacton watching donkeys take children for a ride. Having an affinity with animals, his father was a vetinarian, and he was a fellow of the Zoological Society, as well as making animal props for the theatre, Stuart thought he could make an artificial substitute, saving the animal on the one hand, and believing it to be cheaper to run on the other.
Later on, Stuart makes baby elephants under contract to Macades (Entertainment) who bought the Frank Smith patent.
It appears the idea of theatric prop to making money from amusement rides starts to take shape. Maurice  Radburn, an employee of Frank Stuart's, believes he can make a walking version of this elephant. In his spare time, he produces a working model, called "Bimbo". Stuart develops this idea further, and produces drawings and a full size prototype called "Potsy". At about this time, if not before, Stuart ceases to supply Macades with baby elephants, and focuses his business and staff on building the larger walking elephants. The walking elephant was announced to the world early in January of 1950, but took another 6 months before a reliable version was perfected enough to fully publicise, around July 1950.
Soon after, it is believed that Stuart is charged with infringing the patent now owned by Macades (Entertainment), who are in business to make money in the amusement game. Clearly Stuart was about to muscle in on Macades turf big time, which is why it was most likely Macades that sought the patent infringement.
Stuart therefore targets his elephants for export only, given that the Macades patent was for Great Britain only. Initial orders were fulfilled, but Stuart geared up for larger orders coming in. Unfortunately for Stuart, his creditors get nervous or see that the production rate is too slow, for whatever reason the receivers are called in and Stuart eventually declares bankruptcy mid 1952.
Most likely Stuart had spirited away some walkers and a baby at the time the receivers were called in, and was now using these at Paignton and Scarborough during the summer season, at least in 1952, and possibly up until 1955, at Paignton.
The era for such amusements was, however, in decline, and Macades themselves also disappeared off the scene.
---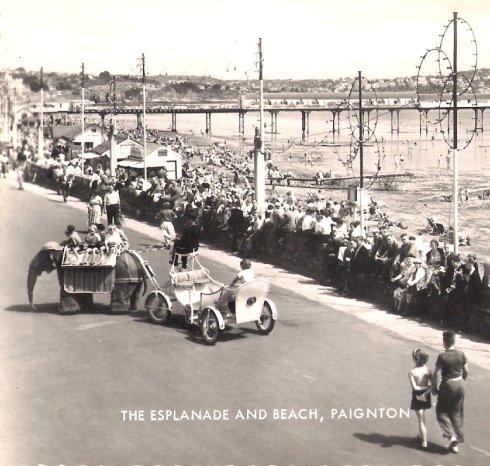 Jenny II with coach at Paignton, 1955.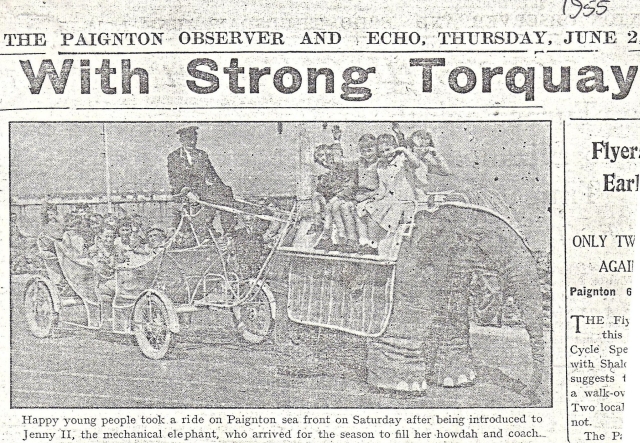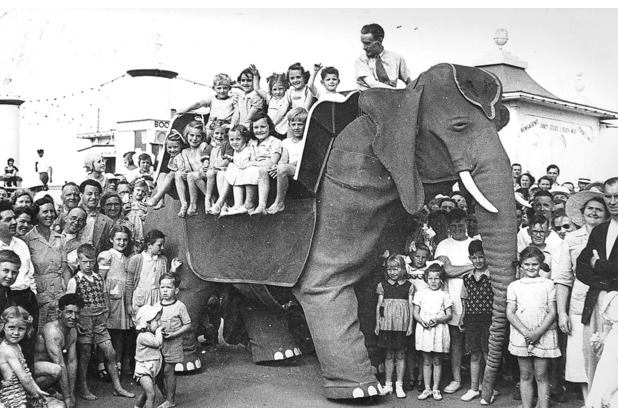 The original and larger Jenny.
---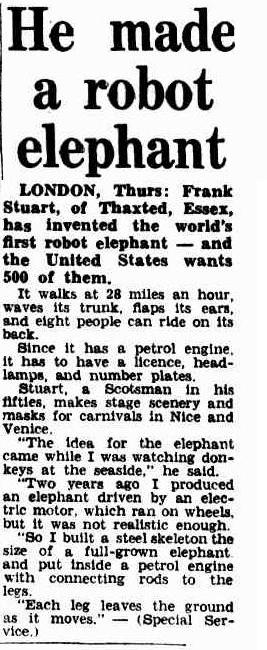 Source: The Argus (Australia) 13 Jan 1950.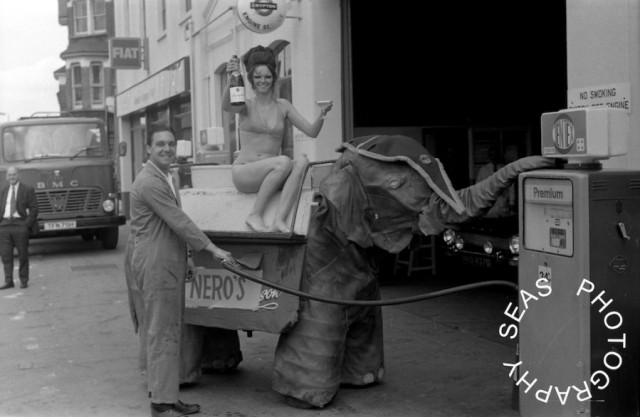 Filling up at Ramsgate, 1972.
---
"Wilhelmina"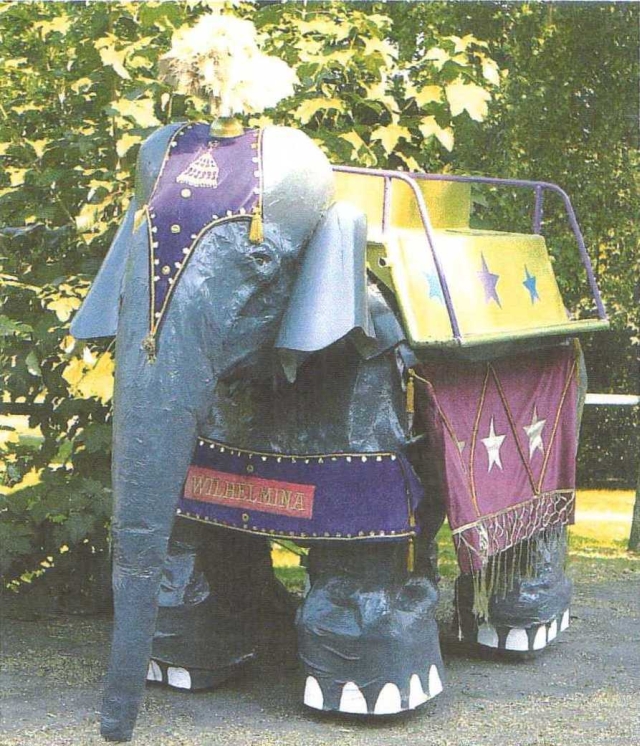 Lot 382 Brooks Auction – Toys and Models 28th Sept. 2000. Sold for Pound 450. (Image courtesy Stuart Cyrus). Notice the Engine display window has not been cut into the side of the howdah in this image.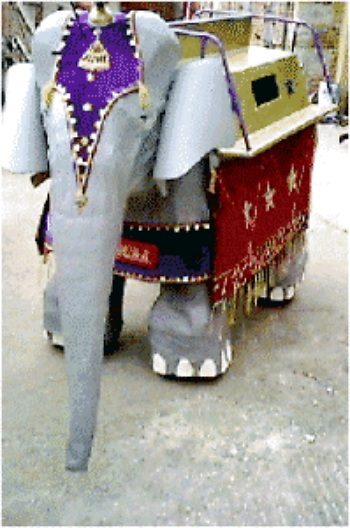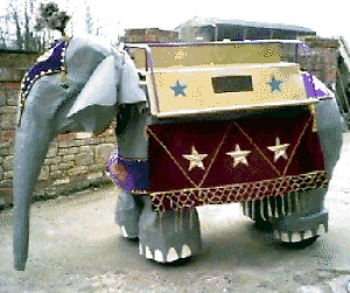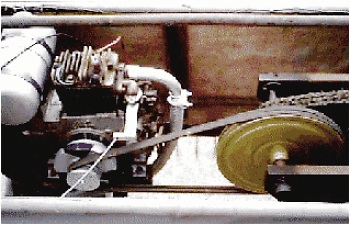 Amazing Wilhelmina the Mechanical Elephant

Wilhelmina is for sale by John Hornby-Smith, England [or was in 2000].

He provides the following details:
Wilhelmina the mechanical elephant is nearly 50 years old and getting ready to celebrate the millennium. Built by Frank Stuart in the early 50's, she served her time giving children rides on the promenades of famous north country seaside towns and later in the Belle Vue Zoo Manchester (England). Recently restored, now sparkling with gold decoration, she is ready for more and FOR SALE.

Extract of details:
4 children can ride on the howdah. Wilhelmina is propelled by a J.A.P. 4 cycle petrol engine (shown below) with centrifugal clutch. She is steered by an adult walking along beside her. Her head nods as she moves. She is constructed of papier mache and canvas over tubular steel frame.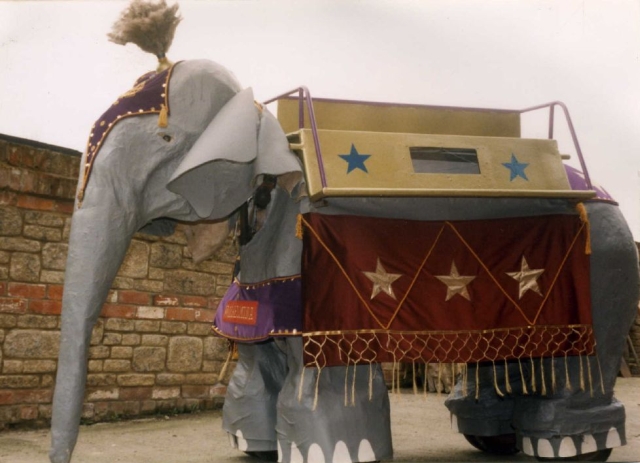 See full page article here.
**Stop Press** as at 29 Jan 2011, ebay has one for sale!  As Larry Gavette pointed out in the comment posted, this is Wilhelmina being sold again – see Wilhelmina above.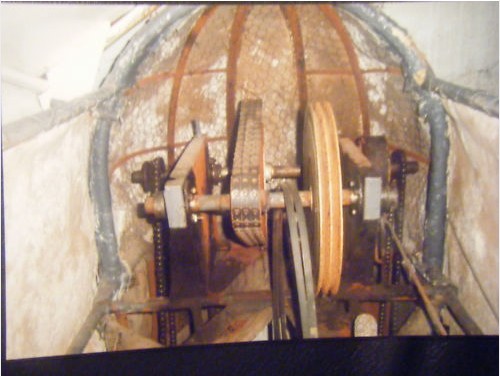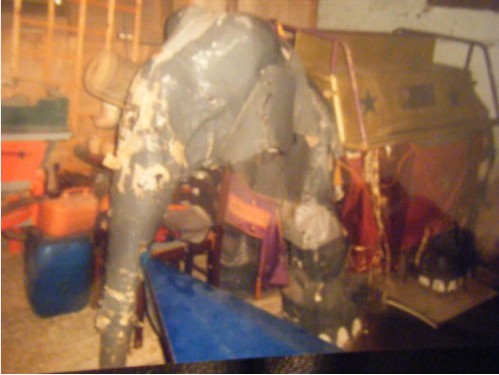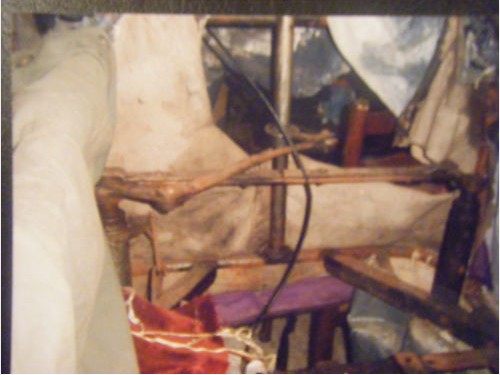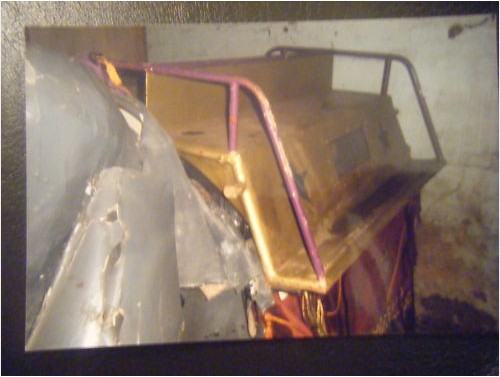 Ebay Item number: 280621953395
1950S FAIRGROUND ELEPHANT IN NEED OF RESTORATION, BODY COSMETICS, HAS  A JAP ENGINE, CAPABLE OF CARRYING SIX KIDS, STEERING IN HEAD OF ELEPHANT, HEAD SPRUNG LOADED, CHAIN DRIVEN LEGS TO  WHEELS, FOUR WHEEL DRIVE, MADE IN THETFORD(sic) IN NORFOLK IN THE 1950S. VERY RARE PIECE OF MEMORABILIA. LIMITLESS OPPORTUNITIES, GLASS EYES CAN BE SEEN IN NORFOLK, NEAR KINGSLYNN, BUYER TO COLLECT, THIS ELEPHANT IS 8FT LONG, 64INCHES HIGH,WIDTH 36 INCHES. NO RESERVE, BUYER TO COLLECT CASH ON COLLECTION, ANY QUERIES TEL TREV ON 07743408970.
Sold for GBP 1,600.
The Orrows now own Wilhelmina and are lovingly restoring her.
**Update** Jan 2012 – During the restoration, Derek Tucker noticed that Wilhelmina, too, is the same construction as it his "Ellie" above. The manufacturing plate is missing, but the mounting holes line up.
---
NOTE: RH 2011 – My research suggests that the Macades elephants, who bought the Frank SMITH patent, all had the J.A.P. motors and were manufactured by both Frank STUART and Luneside Engineering. Macades may have made some themselves.
---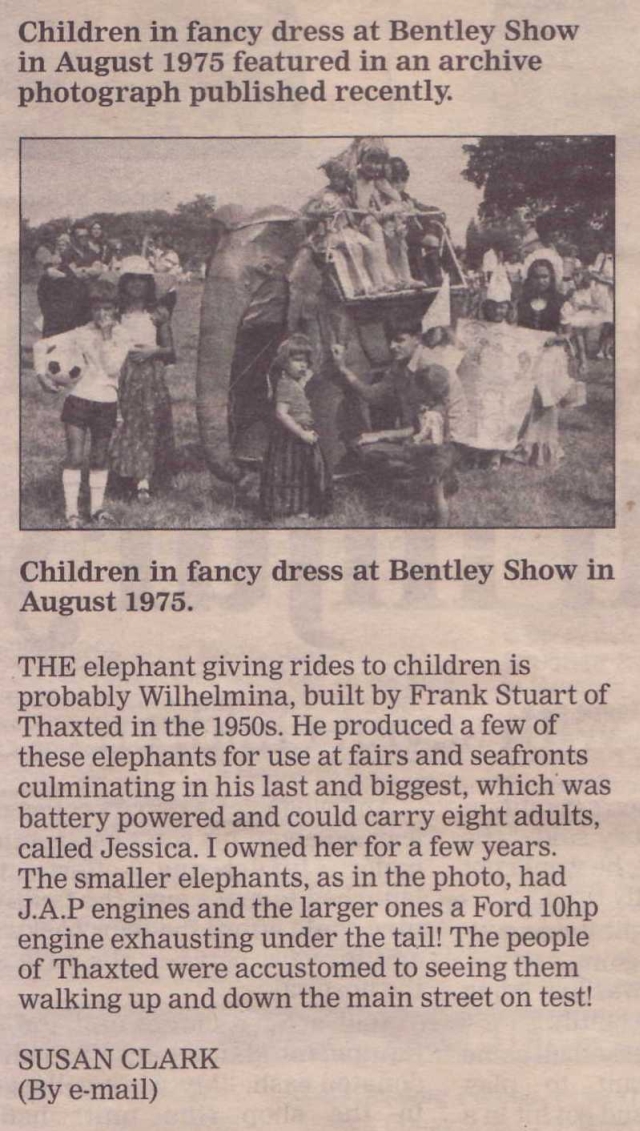 ---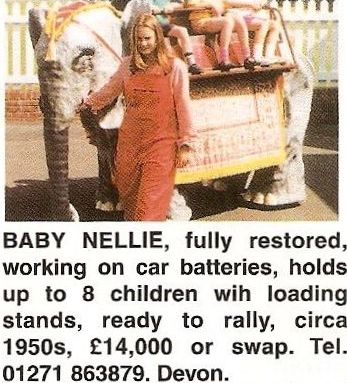 Is this the electric version built by Frank Stuart?
Update: No, it was converted from Petrol-fueled engine.
---
Tags: 1947, 1948, British, Frank Stuart, Mechanical Elephant, Walking Machines