1937 – The Mechanical Elephants of J.G. and George W. Shrum (American)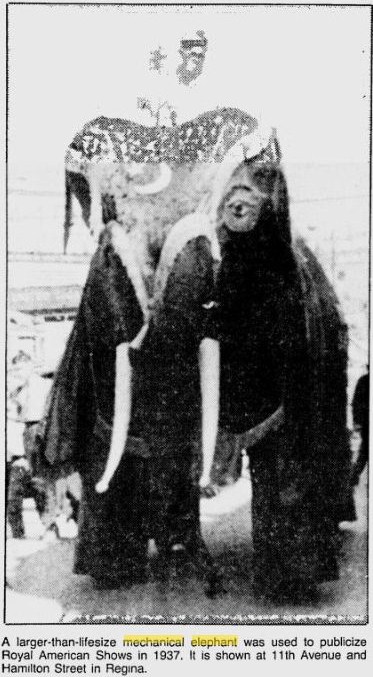 Source: Leader Post, 24 July 1984. Most likely a Shrum elephant.
---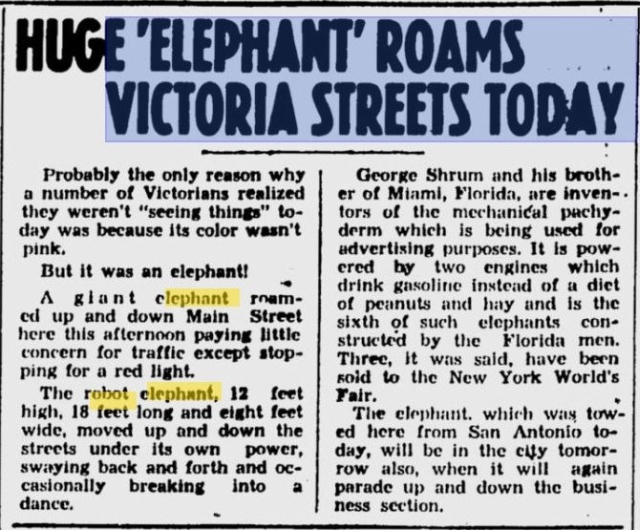 Source: Victoria Advocate, 12 May 1938. Supposedly six were built and three were sold to the New York World's Fair (1939).
---
Source: Modern Mechanix May 1937
Mechanical Elephants walk 500 miles

USED for advertising purposes, two mechanical elephants constructed by J. G. and George Shrum, brothers, of Miami, Fla., have walked over 500 miles through the principal cities of the state. Both elephants are operated by eccentric gears and travel on rubber tired wheels in a walking motion.
Powered by a single cylinder motorcycle engine, the completed smaller elephant stands 7 feet, 3 inches high, 11 feet long, and 4 1/2 feet wide. Costing $800 to build, it is controlled by a steering apparatus at the base of the head and has a walking speed of 6 m.p.h.
The larger elephant stands 10 feet, 9 inches high, 14 feet long, and 8 feet wide. Powered by a four-cylinder motorcycle engine, it has a walking speed of 7 m.p.h., and cost $8,000 to build.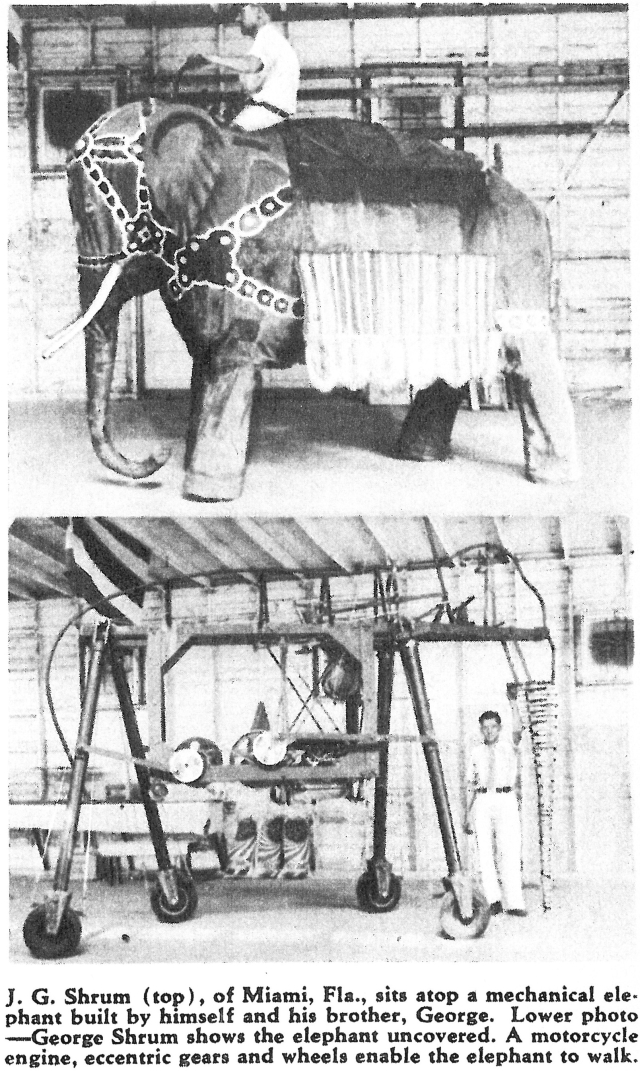 Caption: J. G. Shrum (top), of Miami, Fla., sits atop a mechanical elephant built by himself and his brother, George. Lower photo —George Shrum shows the elephant uncovered. A motorcycle engine, eccentric gears and wheels enable the elephant to walk.
---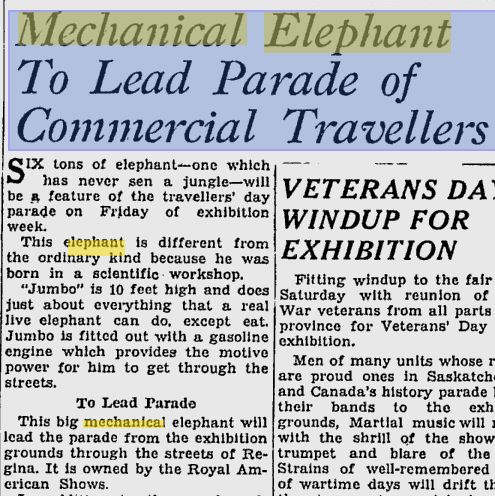 Source: The Leader Post, 22 July 1937.
---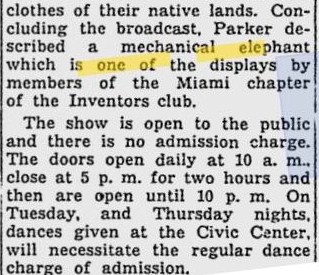 Source: Miami News Aug 29, 1938.
---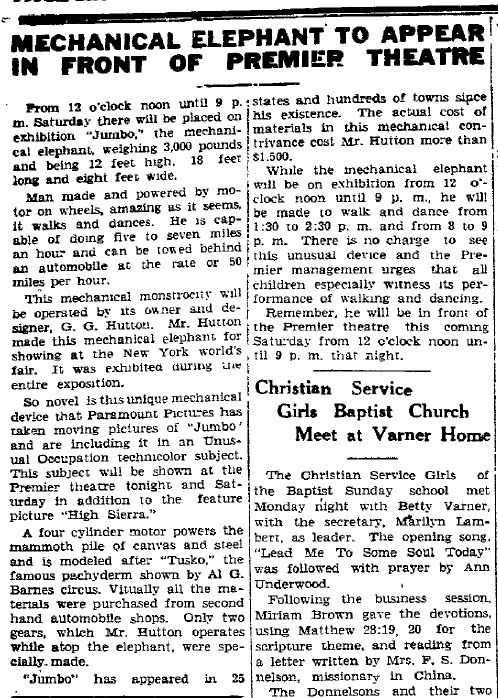 ---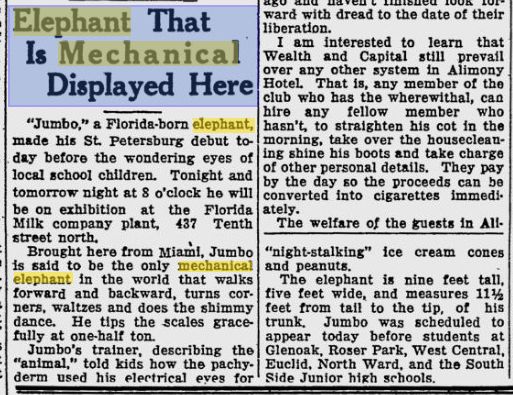 Source: The Evening Independent, 5 Nov 1936. This article describes what's most likely to be the smaller Shrum Mechanical Elephant.
---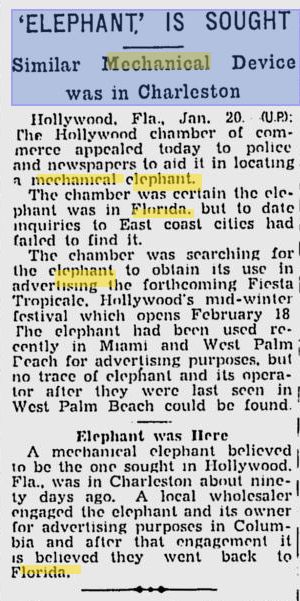 Source: Newsand Courier, 21 Jan, 1938.
---
"Rosie" the Mechanical Elephant

Shrum does a deal with Hutton, "Rosie' is the ex-Hutton ("Jumbo") mechanical elephant.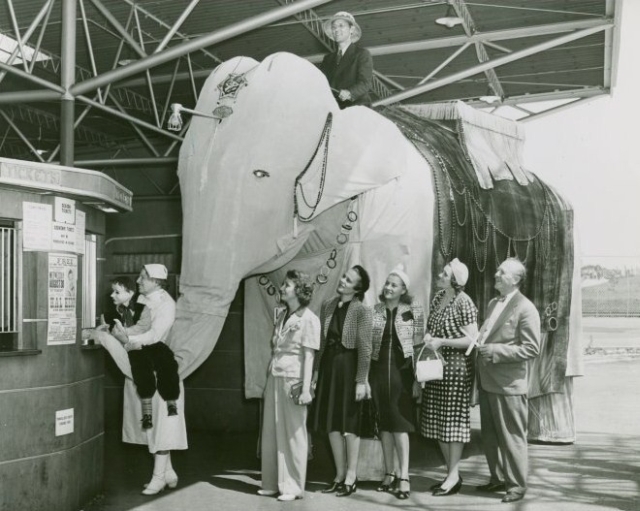 From: Leo Casey – Director of Public Relations, N.Y. World's Fair 1939-40
"Three thousand pounds of mechanical elephant (with a roguish twinkle in her eye) arrives at the New York World's Fair under her own "steam". Rosie, for such is her name, is buying her ticket under the supervision of George Washington Shrum (astride), one of five brothers of Columbus, Ohio, who invented and built her. Two automobile motors actuate Rosie who can wink her eyes, walk and even shag. Note the headlight forward of her forehead. She will demonstrate her abilities in Carnivaland in the Amusement Area of the Fair. At the left is Mrs. Bertha Shrum, ventriloquist, wife of one of the inventors, and Johhny Boomerang, who is of the same impudent persuasion as Charlie McCarthy. The others in the photograph are visitors to the Fair who happened to be at the ticket window."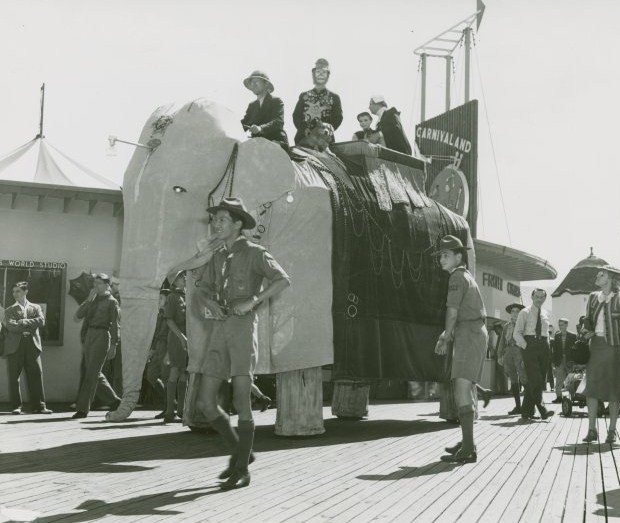 Rosie, the Mechanical Elephant in the Children's Parade and Carnivaland.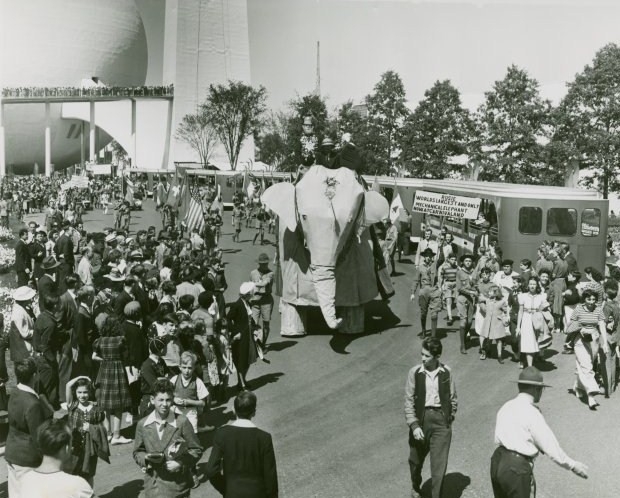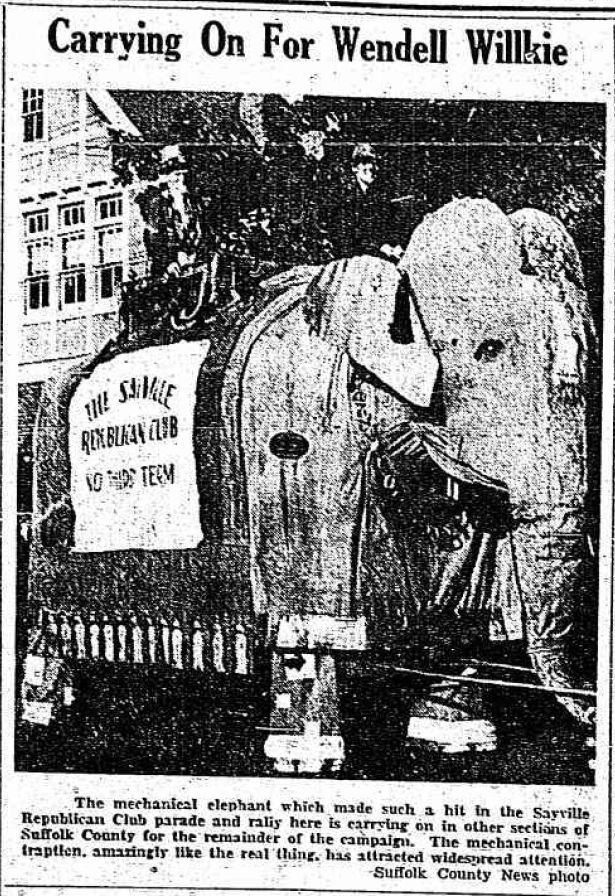 Source: Ruston Daily Leader, 21 March 1944 (sorry for poor picture quality).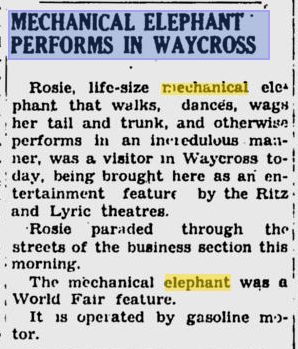 Source: Waycross Journal, 7 Jan, 1941. "Rosie" the mechanical elephant.
---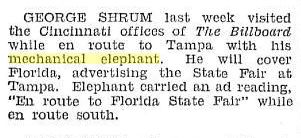 Source: The Billboard Jan 31, 1942.
---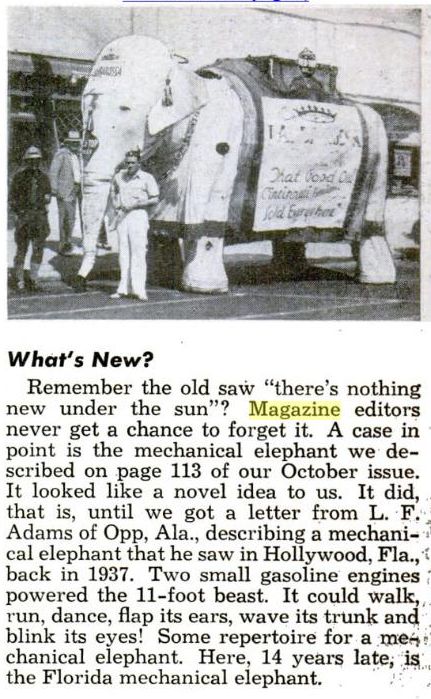 Again, the ex Hutton elephant now owned and operated by Shrum.
---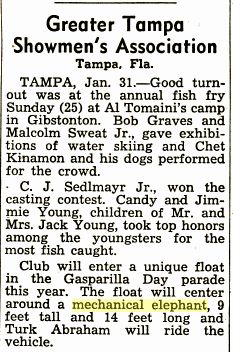 Source: The Billboard Feb 7, 1953.
---
As reported in The Evening Independent, 3 Jul 1967, "a single-engine plane with a 70-year old man at the controls crashed into a radio tower deep in the florida Everglades yesterday. The crackup killed George Washington Shrum of Miami, the pilot, ……"
---
Tags: "rosie" the Elephant, 1937, Amusement Ride, George Shrum, George Washington Shrum, J. G. Shrum, Mechanical Elephant, Walking machine