1934 – Legged Unicycle (American)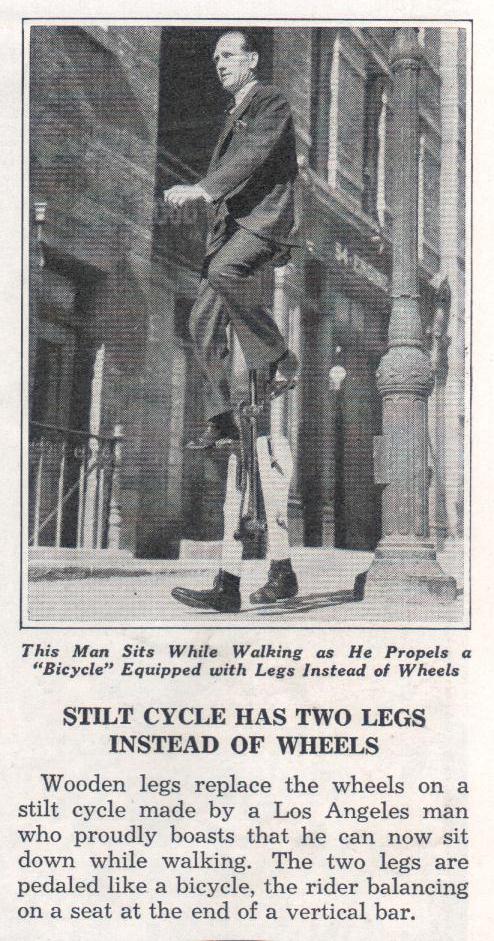 from Popular Mechanics , June 1934
STILT CYCLE HAS TWO LEGS INSTEAD OF WHEELS
Wooden legs replace the wheels on a stilt cycle made by a Los Angeles man who proudly boasts that he can now sit down while walking. The two legs are pedaled like a bicycle, the rider balancing on a seat at the end of a vertical bar.

---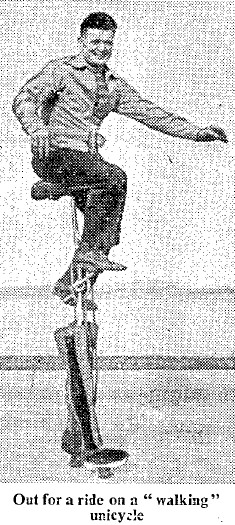 1952
Charles Steinlauf, the owner of a car-repair service in Chicago, has had a passion for bicycles since the age of seven.
One of the most curious of all the Steinlauf bikes is the walking one. Instead of a wheel a robot is used in the form of two human legs. As this curious contraption is pedalled, the dummy legs move with jerky steps. It is rather difficult to balance the walking bike, but to Charles difficulties only mean an additional "kick" out of his creations.
---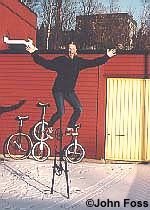 Modern versions of the Walking Unicycle.
Tags: 1934, American, HPV, Human Powered Vehicle, Legged Unicycle, Walking machine, Walking Unicycle