1931 – Shoe-Wheeled "Walking" Bicycle – Marie Glory (French)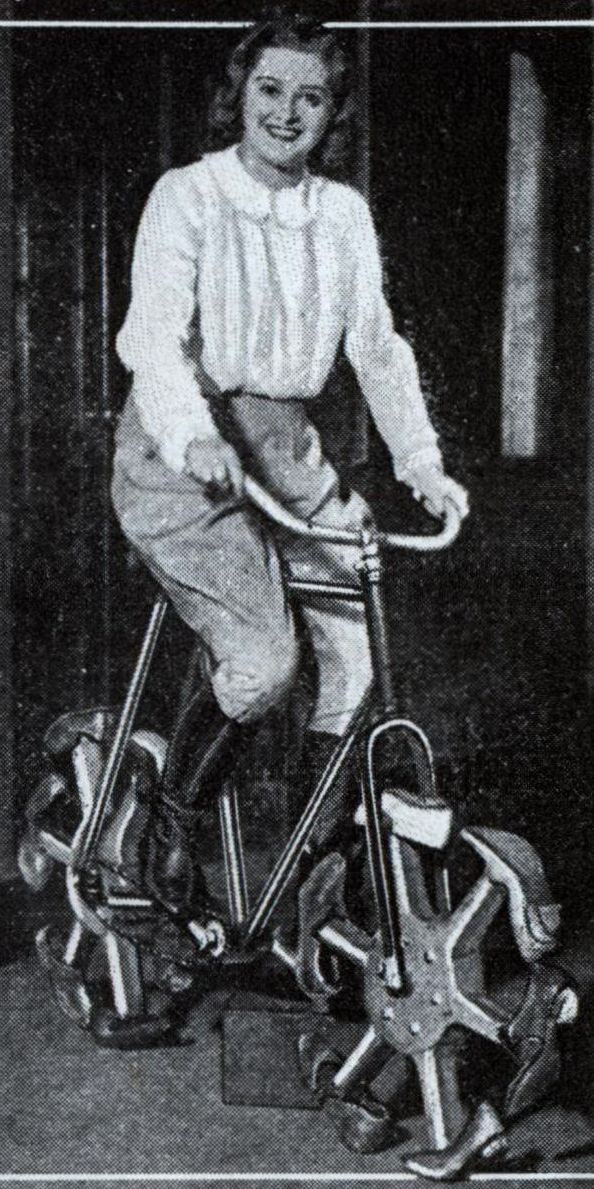 Modern Mechanix, Sept 1931.
Cast-off Shoes Make Tires for "Rough Rider" Bicycle
IF YOU don't know what to do with your old shoes, here's a suggestion—make bike wheels out of them. No less a unique stunt has been performed by Marie Glory, a well-known Parisian bicycling enthusiast, as the photo at left shows. The regular wheel has been dispensed with altogether, and the "shoe wheel" substituted.
Each shoe is fitted over a form, which is in turn attached to the ends of a spoke, of which there are six on each wheel. Although these bike wheels are the last word in novelty, it cannot be said that they are the last word in comfortable riding. The inventor, however, enjoys the sport.
Discarded shoes fitted on wooden spokes form wheel rims of this bike, made by Marie Glory.
---
See Gyro Gearloose's version of the Walking bike here.
---
see also

1934 – Unicycle and

1981- "Joggercycle" Hybrid Walking Bike

---
Tags: 1931, French, Human Powered Vehicle, Human Powered Walking Machine, Marie Glory, Shoe-Wheel, Shoe-Wheeled "Walking" Bicycle, Walking Bicycle, Walking machine