1923 – Mávag-Fiat "Mocher Wagen" – (Hungarian)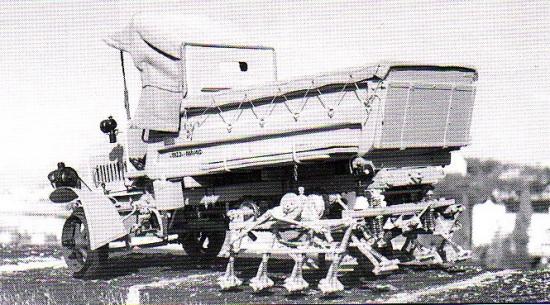 Scale model of Mávag-Fiat "Mocher Wagen", 1923 with feet propulsion replacing conventional rear wheels. Picture from the review 'Wheels and Tracks' N° 61 about 1998.
[ Source: Unusual Off-Road Vehicle Locomotion ]
MÁVAG, or Magyar Allami Vas-, Acel-, es Gepgyarak (Hungarian State Iron, Steel and Machine Works), was based in Budapest and began building steam locomotives as early as 1873. In the 1920s MAVAG also began to assemble tractors, starting with the prairie-style "Astra" model. The company later built the Model PT "Austro Fiat", which featured a four-cylinder Fiat petrol engine, with chassis, wheels and other parts sourced from Austro Fiat, the Austrian subsidiary of the Fiat company. Around 1930 the BN-40 and B-30 were introduced, which bore a strong resemblance to the IHC 15-30 and 10-20 of the same period. After World War II MAVAG was nationalized, and in 1959 it merged with the Ganz company to become Ganz-MAVAG.
[Source: Steel Wheels ]
---
Tags: 1923, Hungarian, Mavag, Mavag-Fiat, Mocher Wagen, Walking machine, Walking Tractor