1912 – Madamoiselle Claire – Herdner (French)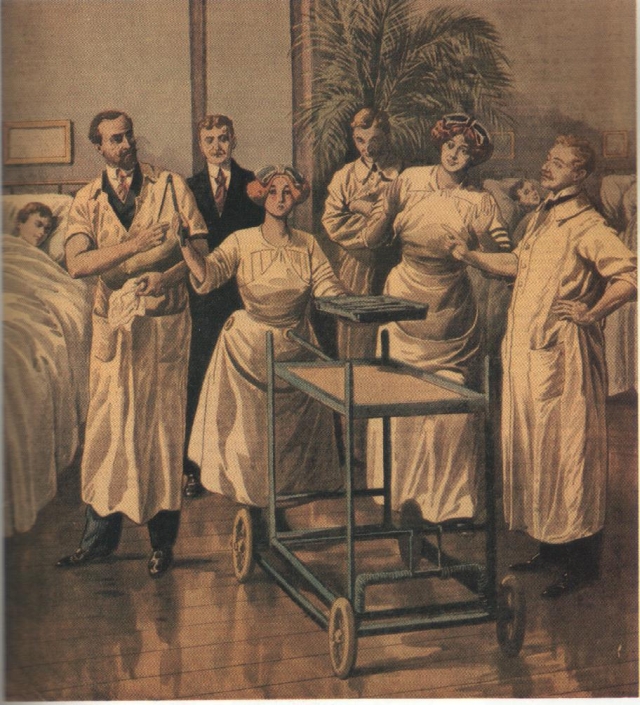 La Petit Journal
N°1135 DU 18 AOUT 1912. "MLLE CLAIRE", L'INFIRMIERE AUTOMATE DE L'HOPITAL BRETONNEAU.,8 PAGES, FORMAT 31CM X 45CM.
p2
The original French followed by a not very good machine translation.

A propos de a Mlle Claire ». Histoire des automates. Vaucanson. Son canard. Le mystère d'une digestion. Le mannequin joueur d'échecs.

C'est une bien jolie et plaisante idée que celle que vient d'avoir un interne de l'hôpital Bretonneau, M. Robert Herdner. Pourvu d'un vrai talent de mécanicien, ce praticien mit à profit sa connaissance parfaite de l'anatomie pour construire un automate et même un automate androïde, c'est à dire un ,automate représentant une figure humaine.

Il n'alla même pas loin pour chercher son modèle. A l'hôpital même, se trouve une brave infirmière connue de toute la maison, sous le prénom de Mademoiselle Claire, Notre émule de Vaucanson copia purement et simplement la figure de Mlle Claire, et donna à son .automate jusqu'au nom de son modèle.

**

Un automate, chacun sait ça, n'est autre chose qu'une machine dans laquelle un mécanisme caché a pour objet d'imiter les mouvements volontaires des créatures vivantes.

Ce mécanisme est naturellement composé d'un ensemble de rouages, de leviers, dé cordons et de chainettes de renvoi.

Quant à son pouvoir moteur, il consiste généralement en un ressort pareil à celui des montres et des pendules.

C'est là ce qui explique que la, construction des automates date de l'époque où l'on commença également à construire des horloges et pendules à ressort d'acier.

La plupart des horloges fameuses des XVI°et XVIl° siècles sont agrémentées d'automates.

» Quant à l'automate, il reprit sa, course à travers l'Europe et continuait d'étonner le monde, lorsqu'un jour on s'aperçut qu'il était truqué : à l'intérieur d'une sorte de tambour qui lui servait de table et sur lequel était placé l'échiquier, on trouva un homme caché. Grâce à un système de miroirs ingénieusement disposés, il pouvait voir tout ce qui se passait .sur la table, et, à, l'aide d'un jeu de leviers placé sous sa main et correspondant aux membres du personnage articulé, il répondait coup pour coup et .selon les règles du jeu. »

On ne fait plus guère d'automates aujourd'hui ; et, d'ailleurs, la science a fait de tels progrès qu'ils n'étonneraient plus Ie monde.

Mlle Claire, l'automate de l'hôpital Bretonneau, se contente de distraire les rial ides. Et c'est assurément pour le médecin qui l'a construite une satisfaction profond,() d'avoir pu faire servir sa science d'anatomiste et son habileté de mécanicien à ales fins si humaines.

This is a very nice and pleasant idea than just having an internal hospital Bretonneau, Robert Herdner. Provided a true talent mechanic, practitioners began to use his knowledge of anatomy to build a robot and even a robot android, ie one representative automate a human figure.

It n'alla not far to seek his model. At the same hospital, is a brave nurse known throughout the house, under the name Miss Claire, Notre emulates copia de Vaucanson purely and simply the figure of Mile Glaire, and gave her. PLC until his name pattern.

**

A robot, everyone knows it is something other than a machine in which a hidden mechanism is designed to imitate the movements volunteers living creatures.

This mechanism is naturally composed of a set of wheels, levers, re cords and chains of reference.

As for its power engine, it is generally a spring like that of watches and clocks.

This is what explains that the construction machines dates back to when we began to build clocks and clocks spring steel.

The most famous clocks of XVI ° XVIl centuries and are decorated robots.

"As for the controller, he resumed his race across Europe and continued to surprise the world, when we realized that day was rigged: inside a kind of drum he served as table and which was placed on the chessboard, a man was found hidden. Through a system of mirrors ingeniously arranged, he could see what was happening. On the table, and in, using a set of levers placed under his hand and corresponding members of the articulated character, he answered coup and for blow. accordance with the rules of the game "

It does little more robots today, and by the way, science has made such progress that they n'étonneraient more Ie world.

Miss Claire, the controller of the hospital Bretonneau, merely distract rial ideas. And it is certainly for the doctor who has built a deep satisfaction, () have been able to serve its science anatomist and his ability to engineer human purposes if ales.

Ernest LAUT.

Tags: 1912, French, Madamoiselle Claire, Robert Herdner, Walking Machines