1909c – Walking Machines (Fictional) – Harry Grant Dart (American)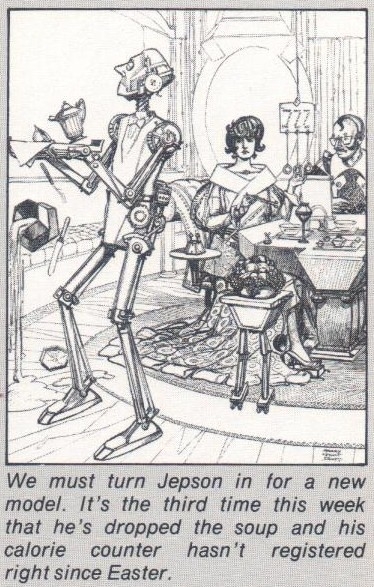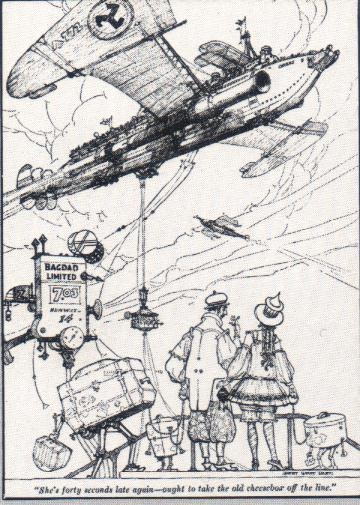 "Orient Express" is one of my favourites, showing Luggage with arms and legs!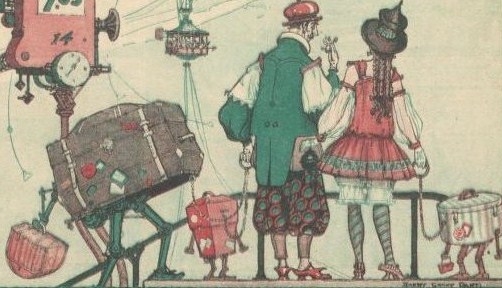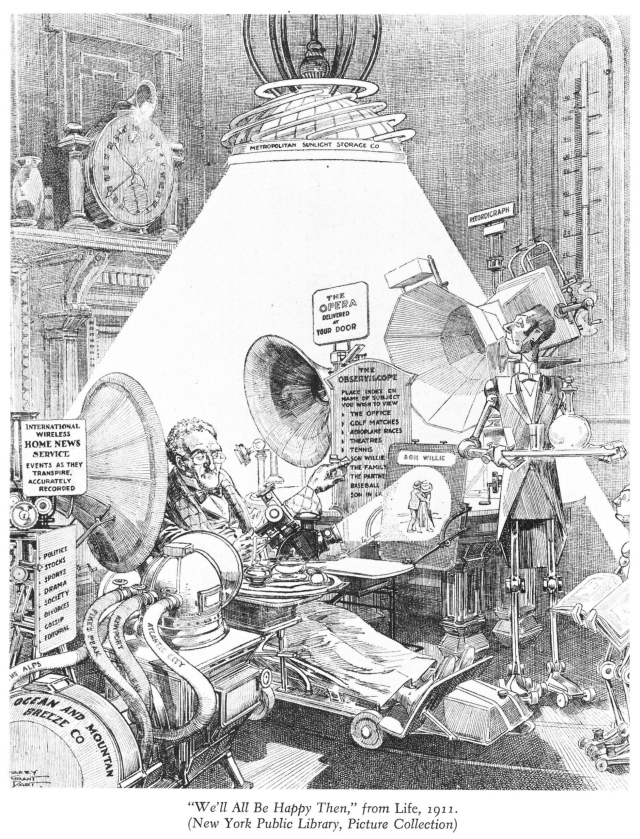 Robot with attitude!
---
Harry Grant Dart (1869 – 1938)
Unlike many illustrators who graduated from newspaper art departments to the more lucrative magazine markets, Harry Dart continued to work in both fields. Beginning with the Boston Herald, he was sent to Cuba in 1898 by the New York World to cover the Spanish-American War as an artist- correspondent. Later, he became art editor of the World with a staff of artists under him.
He also carried on a simultaneous free-lance career as an illustrator for Harper's Weekly and Life.
---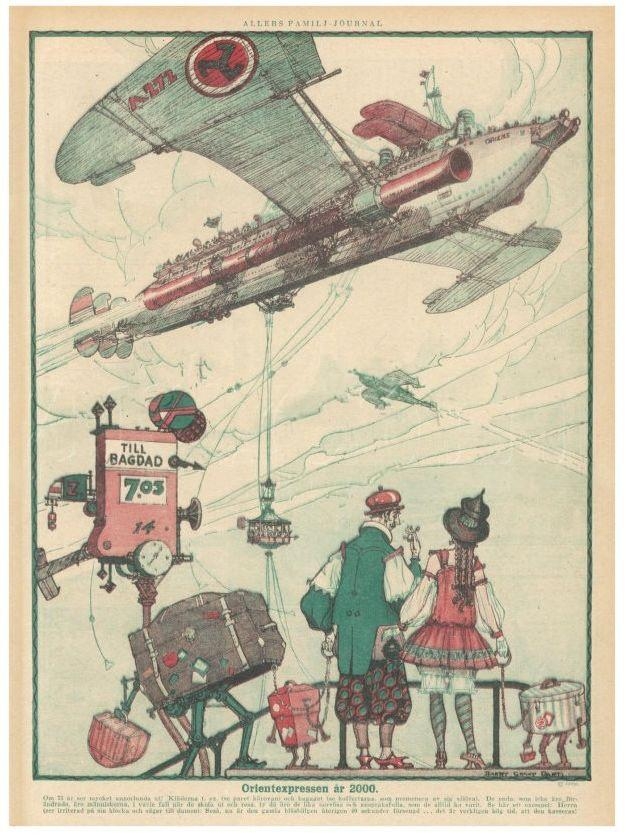 As an aside, note the method of propulsion of the aircraft, effectively what is known today as the 'jet engine'. The first patent for using a gas turbine to power an aircraft was filed in 1921 by Frenchman Maxime Guillaume.
In 1928, RAF College Cranwell cadet Frank Whittle formally submitted his ideas for a turbo-jet to his superiors. In October 1929 he developed his ideas further. On 16 January 1930 in England, Whittle submitted his first patent (granted in 1932).
After World War I Albert Fonó returned to the subject of jet propulsion, in May 1928 describing an "air-jet engine" (now called a ramjet) which he described as being suitable for high-altitude supersonic aircraft, in a German patent application. In an additional patent application he adapted the engine for subsonic speed. The patent was finally granted in 1932 after four years of examination (German Patent No. 554,906, 1932-11-02).
From 1954 he was a corresponding member of the Hungarian Academy of Sciences and received the Hungarian Kossuth Prize in 1956 (awarded for outstanding merit in the cultural and artistic fields). In 1968 he became a corresponding member of the International Academy of Astronautics. Finally, in 1960, the American Rocket Society reviewed his patents and acknowledged him as the inventor of the jet engine.
---
Some more Harry Grant Dart futuristic illustrations that are difficult to find.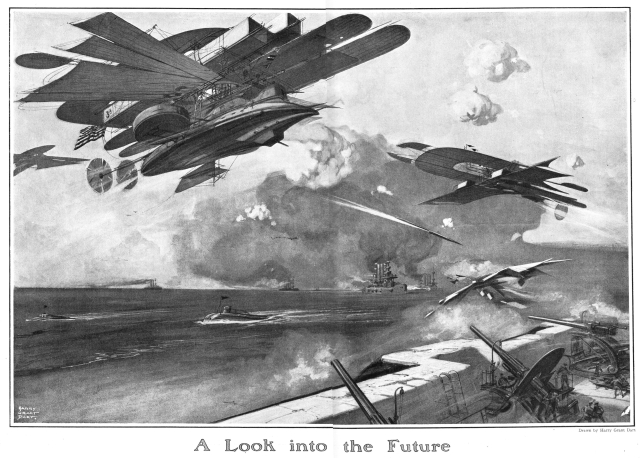 "A Look Into The Future" Harper's Weekly 15 Aug 1908. (My own copy in black and white.)
---
"What's to Hinder?" 1910.
---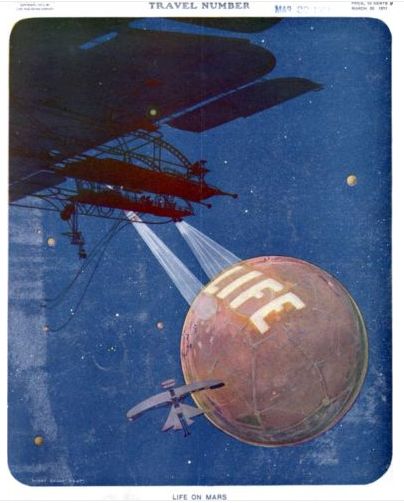 "Life on Mars" Life Mar,1911
---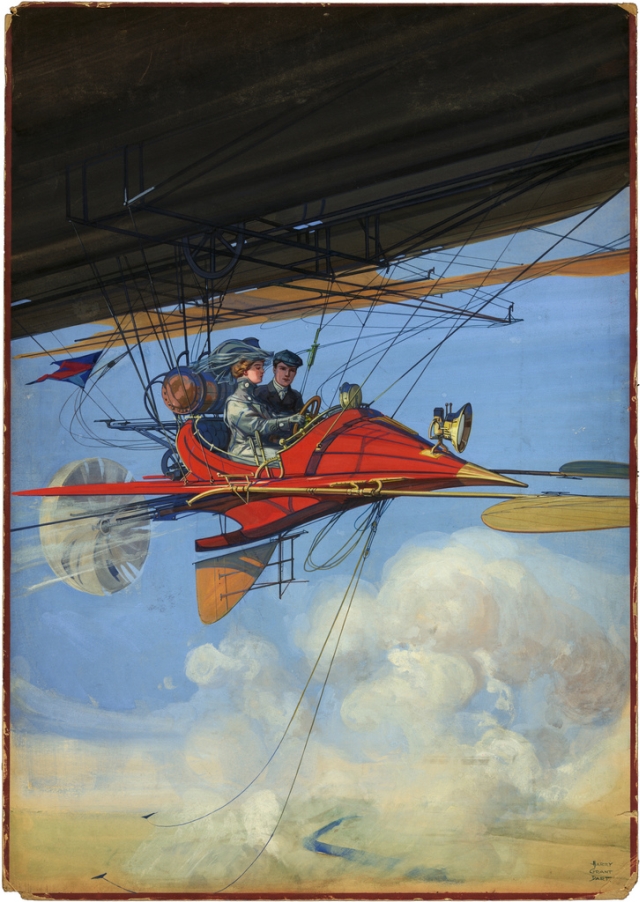 The magnificant cover for "The All-Story".
(Although already on the net, I couldn't resist putting it up yet again.)
---
Tags: 1909, American, Harry Grant Dart, Steam Punk, Steampunk, Walking Machines