1663 – Cart with Legs – Francis Potter / Robert Hooke (British)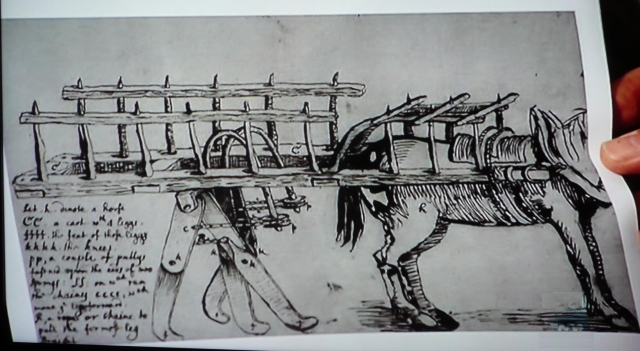 Although sometimes attributed to Robert Hooke, the invention was Francis Potter's, and when presented to the Royal Society (see transcript of minutes below), they asked Hooke to present drawings and comment on it.
Hooke; Robert (1635 – 1703); Natural Philosopher
Potter; Francis (1594 -1678)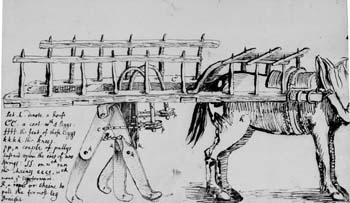 Above image found on Royal Society's web site.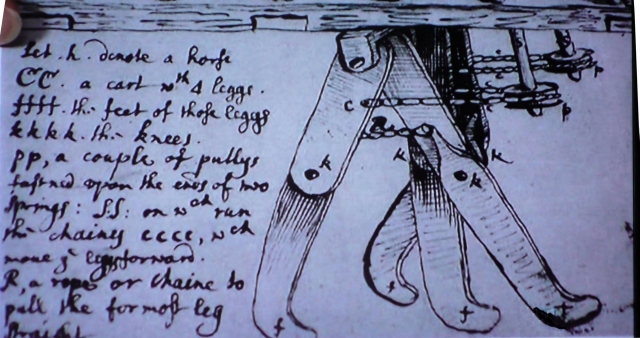 Let h. denote a horse
CC. a cart wth 4 leggs.
ffff. the feet of those leggs.
kkkk. the knees.
pp, a couple of pulleys fastened upon the ends of two springs: SS. on wch run
the chaines cccc, wch
move j legs forward.
R, a rope or chaine to pull the for most leg
straight
---
Article from here. Includes a link to actual documents.

I [Anna Winterbottom] first heard about the Hooke folio in early 2006 while volunteering in Tanzania. Following the UK news online, I read about the discovery of a bound volume in the handwriting of the seventeenth-century microscopist, engineer and surveyor Robert Hooke, found in the cupboard of a country house. The volume turned out to be the minutes of the Royal Society, mostly from the time Hooke was Secretary (1677–1682). The rediscovered collection chronicled the beginnings of the Society through Hooke's eyes.
[transcribed text from original minutes of the Royal Society]
5

[In margin]Feb: 11.1662.3
mr Aubery presented the company wth the Scheme of a Cart wth Leggs insteed of wheels
Devised by mr Frances Potter it was Referred to mr Hooke to consider of it
and to bring in a Report against next meeting
[1663]
march: 11. …………………………
march 18. …………………………………………..
mr Hookes account of the Cart wth Leggs brought in by mr. Aubery from mr Potter was Read
and the same wth. some alterations was orderd to be sent to the author of this Inuention
together wth. the thanks of the society. mr Hooke was also orderd to draw vp a full
Description of this Cart together wth. the scheme thereof to the end that it may be
entred. wth the animaduersions vpon it
……………………
——————————————————-
658

Places where Hooke is named in
his extracts of R.S.
1661.Apr.10 Ho: …………………………
mar 4. …………….
18. cart wth Legs.
25.1663. ……………………………….
———————————————————-
---
"Have drawn the Cart with Legs tho' I doubt its practicability." Hooke's comment back to Royal Society.
The full response by Hooke is at the Royal Society, but at this time I haven't seen it to comment further.
Tags: 1663, British, Cart with leggs, Cart with Legs, Francis Potter, Robert Hooke, Walking machine, Walking Vehicle