1979 – OMAS SPIDER Atmospheric Diving Suit – Graham Hawkes (British)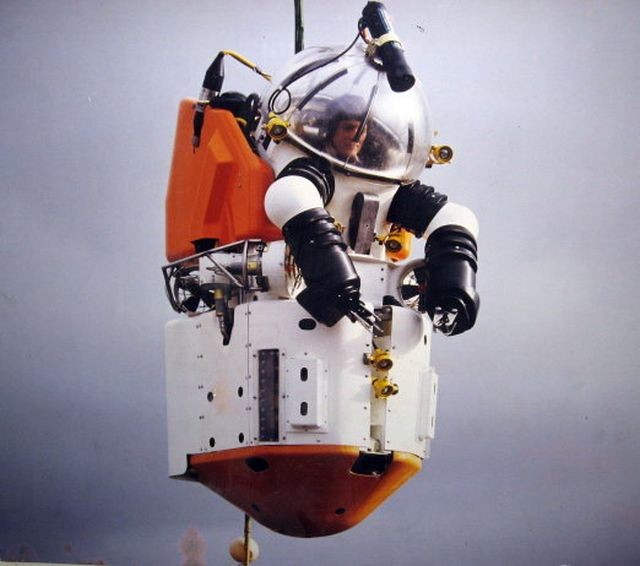 1979 – OMAS SPIDER Atmospheric Diving Suit.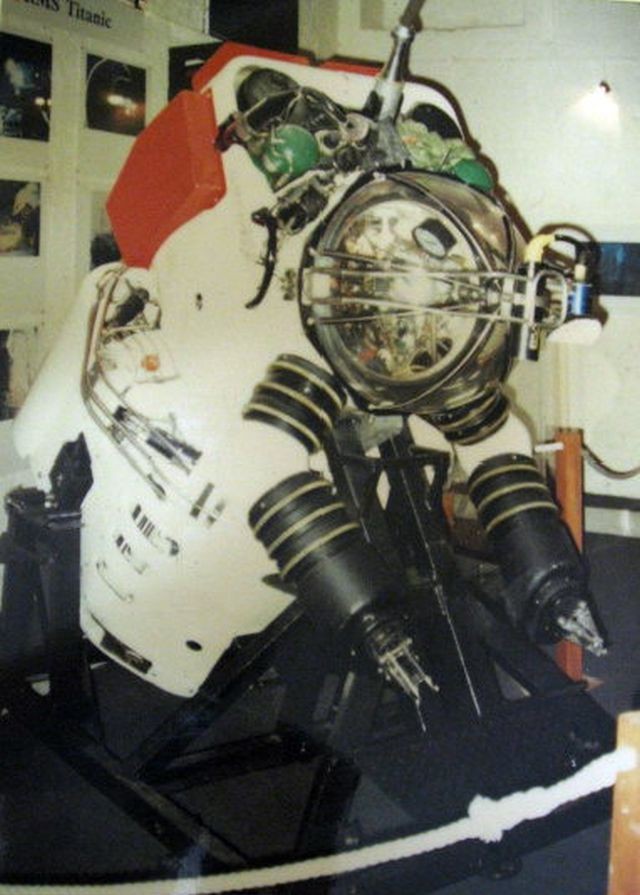 Underwater World – 1978, Volumes 1-2 – Page 43
A new atmospheric diving suit called OMAS has recently been developed by Vickers Slingsby, and two of these are already in use by the Aberdeen-based diving and underwater engineering company, Wharton-Williams. Nicknamed 'Spider' by Wharton-Williams, this is the fifth A.D.S. to have been developed, the others being Oceaneering's 'JIM' and 'Sam', and OSEL's 'Wasp' and 'Mantis'.
OMAS (alias 'Spider') is guilt of glass reinforced plastic (GRP) and operates to a depth of around 600m. Handling problems sink hopes of Lloyd's certification for Omas, the Vickers-Slingsby one-man diving submersible OMAS,
---
Plastics and Rubber International – 1979, Volumes 4-6 – Page 7
OMAS (One Man Atmosphere Submersible) is the latest underwater development from Vickers-Slingsby. Constructed from BP Chemicals Cellobond A2785 CV glass reinforced polyester resin (GRP), the 2.2 metre long OMAS is tethered during operations to a mother-ship via an umbilical cord through which power is supplied. OMAS is shaped like a rigid space suit.
---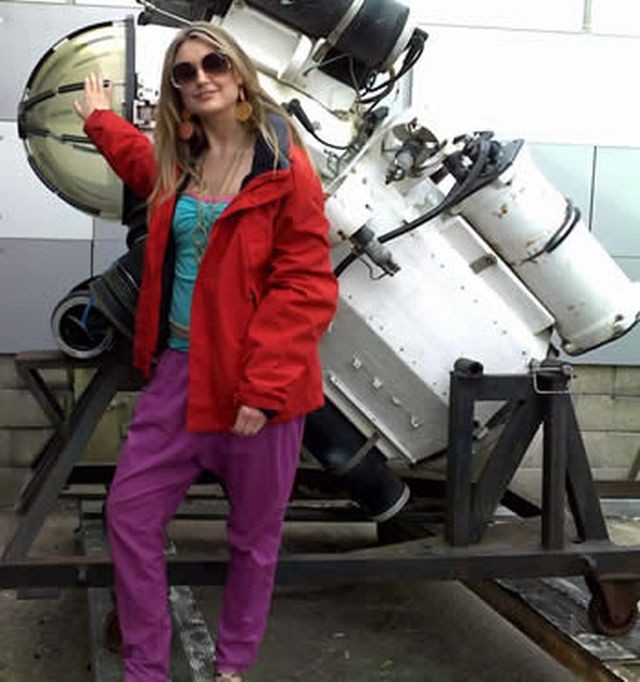 01/01/2001. Source: here.
The Spider, owned by Silvercrest Submarines, has emerged after many years of dormancy. The Spider, built in the 1970s, has unique features not in use on other suits, including hydraulically operated manipulators and vectored thrusters that allow some lateral movement. The Spider is rated to a water depth of 610 meters. Alan Whitfield of Silvercrest Submarines, current owner of the two working Spiders said "the units are presently in Hawaii, in support of a scientific research program. The water depth in the area is 1,500 ft. In November 2000, it is expected that both suits will move to a facility on the US mainland for a maintenance program. After that time, the two units will be available for charter." It remains to be seen if the Spider will effectively compete in the ADS industry.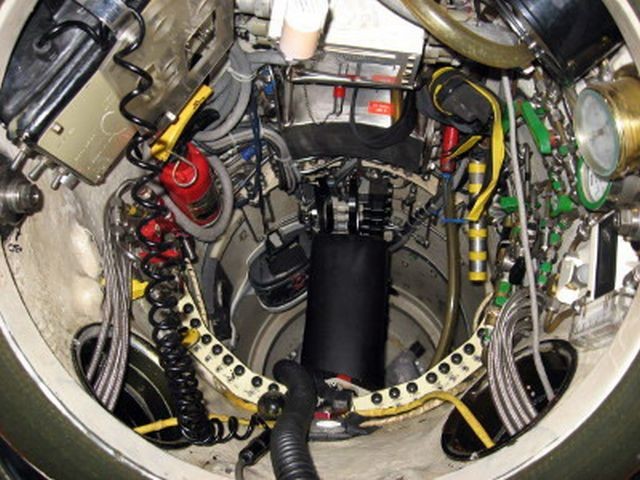 Interior view showing the divers seat and some of the controls. A view of the divers depth gauges etc. Scrubber units can be seen in the base of the vehicle and the auto pilot can be seen near the diver's head position.
The SPIDER had hydraulically operated manipulators. An adjustable pressure relief valve permitted varying the grip pressure.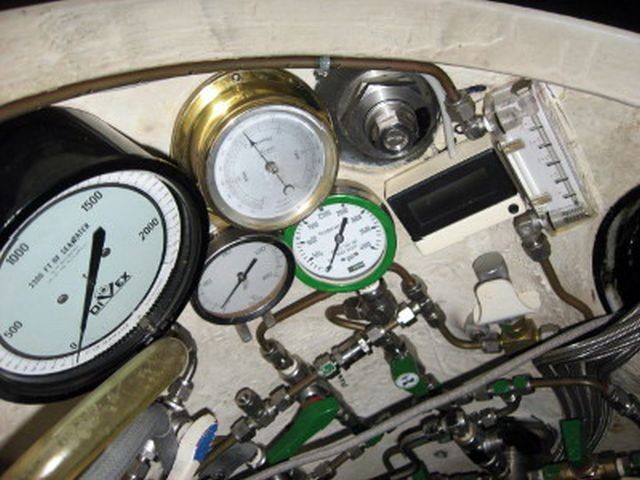 One Man 1 Atmosphere Submersible, also known as OMAS SPIDER.
Source: here.
The Spider 'Atmospheric' Diving Suit was produced in the 1970s for exploration and maintenance work in the North Sea. The Spider had a depth rating of 2000 feet and was used in many deep operations mainly from drilling rigs. It had an eclectically insulated GRP body and a Plexiglas hemispherical dome. The diver could operate articulated arms with powered claws capable of various tasks. Six variable direction motors and thrusters provide propulsion . For static operations there are suction pads for gripping smooth surfaces.
Atmospheric Diving Suits normally work in pairs for safety reasons to help release the trapped vehicle should this occur. This also enables round the clock operations.
The Spider was easily moveable and could be deployed very quickly. Apart from work in the Petrochemical industry it could be used for salvage and rescue work. The diver in the vehicle breathes normal air so could work for long periods sometimes eight hours a day without costly saturation diving systems. It was used until 1982 when it was replaced by the Draeger-Newt suit suit, designed by Dr Phil Nuytten from Canada.
Technical specification:
Height: 2,2 Metres
Width: 1.5 Metres
Displacement: 1200kgs
Depth rating: 610 Metres
Propulsion: 6 x 1 hp motors
Umbilical: 12 Tonne breaking strain
TV System: Low light/colour /real time recording
Emergency power: 24 V 8 Ah for emergency communications
The Spider was completely self contained with power packs and oxygen supply on board giving up to 72 hours of emergency life support systems.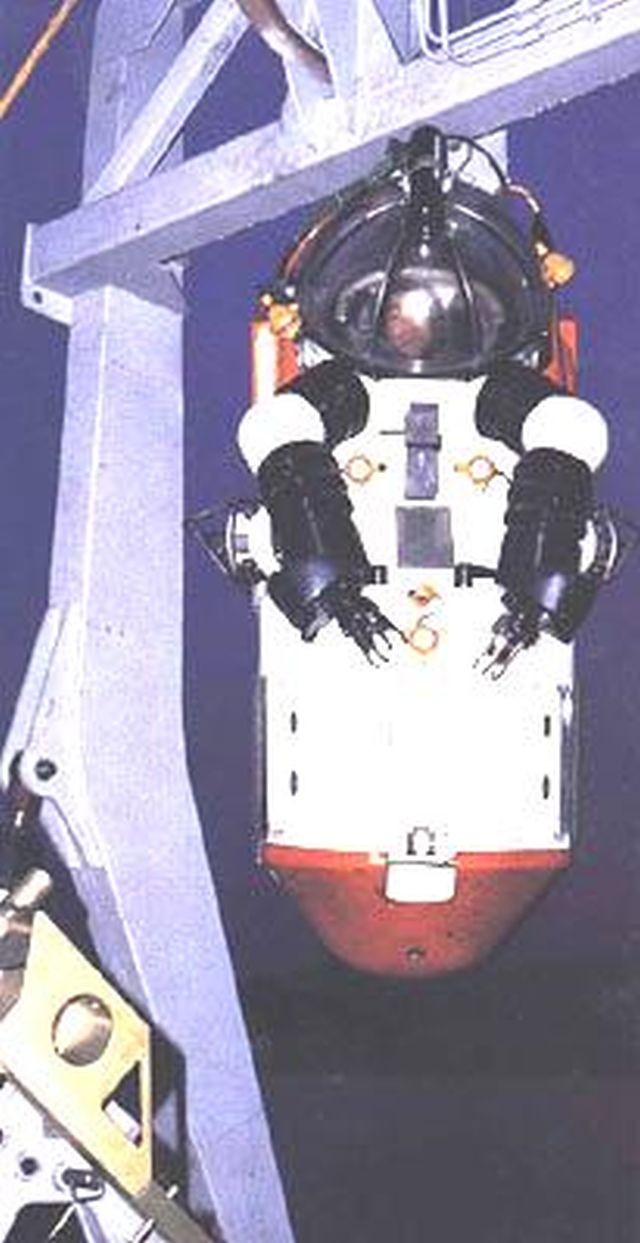 The SPIDER (Self-Propelled Inspection Submarines DivER) was developed in the 1970's, in answer to the WASP. The basic design was very similar to the WASP, in that it had segmented ball and socket arm joints, a hemispherical pressure vessel for the legs and a 360° viewing dome (Wharton, 1979). One of the SPIDER's unique features were the two hydraulically operated suction pads, 'sticky feet', located in the equipment package that were intended to allow the SPIDER to attach itself to any relatively smooth surface, that is if you can find one in the barnacle encrusted sea. Additionally, rather than the 'standard' mechanical advantage manipulators found on other atmospheric diving suits, the SPIDER had hydraulically operated manipulators. An adjustable pressure relief valve permitted varying the grip pressure. Like the WASP, the SPIDER also has variable ballast control. Two SPIDERs, owned by Silvercrest Submarines, are currently operating in Hawaii in support of a scientific research program.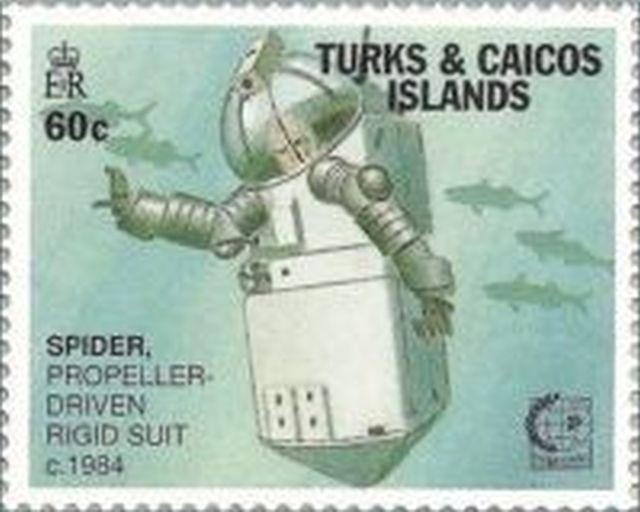 Stamp showing the SPIDER.
---
See other early Underwater Robots here.
---
Tags: 1979, Armored Diving Suit, Atmospheric Diving Suit, Atmospheric Diving System, British, Cuirassed Diving Suit, Deep Sea Diving Suit, Diving Armor, Diving Armor Suit, Diving Dress, Diving Suit, Graham Hawkes, Iron Man, Iron Suit, Mike Humphrey, OMAS SPIDER, Patent, Phil Nuyyten, Submarine Apparatus, Submarine Armor, Submarine Armor Suit, Submarine Exploring Armor, undersea robots, Underwater robotics, underwater robots