1930-5 – "Tritonia" Diving Armour – Joseph Salim Peress (Persian / British)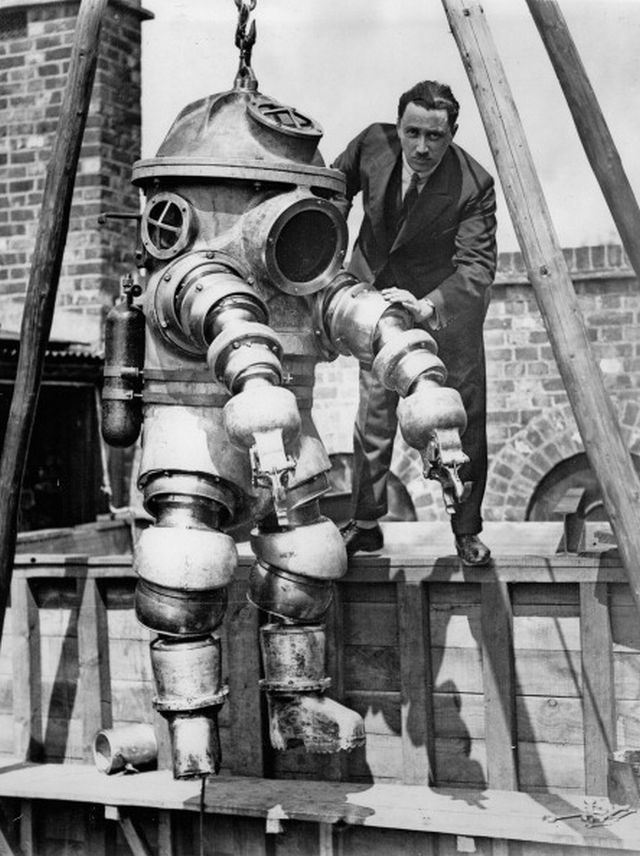 Joseph Salim Peress with his "Tritonia" Diving Armour.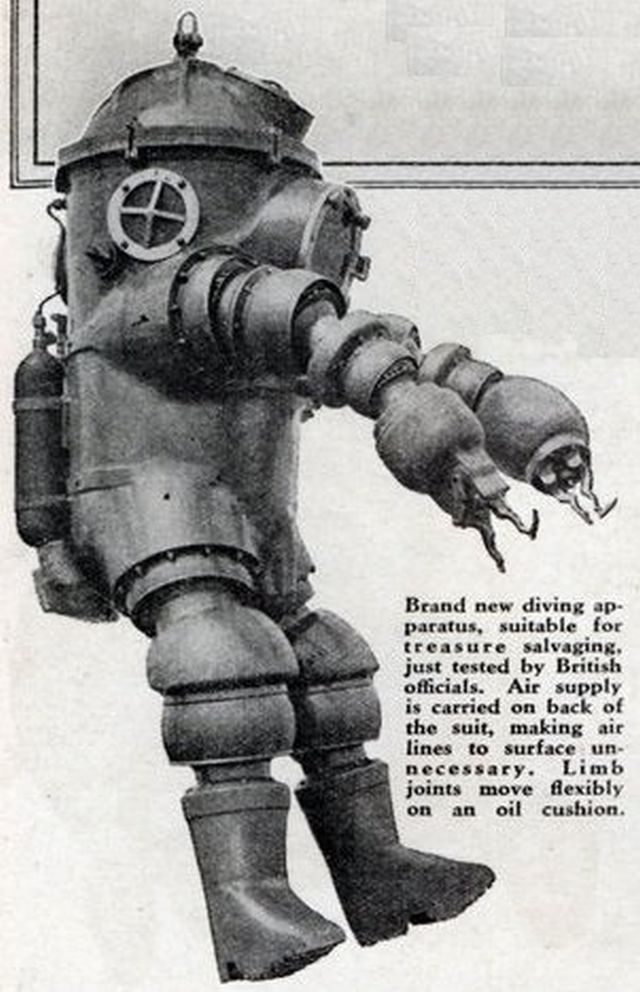 Extract from Wiki:
Joseph Salim Peress
From Wikipedia, the free encyclopedia
Joseph Salim Peress
Born 1896, Died June 4, 1978
In 1918 Peress began working for WG Tarrant at Byfleet, United Kingdom, where he was given the space and tools to develop his ideas about constructing an Armored Diving Suit. His first attempt was an immensely complex prototype machined from solid stainless steel.
In 1923 Peress was asked to design a suit for salvage work on the wreck of the P&O liner SS Egypt which had sunk in 122 m (400 ft) of water off Ushant. He declined, on the grounds that his prototype suit was too heavy for a diver to handle easily, but was encouraged by the request to begin work on a new suit using lighter materials. By 1929 he believed he had solved the weight problem, by using cast magnesium (also called 'electron' or 'elektron') instead of steel, and had also managed to improve the design of the suit's joints by using a trapped cushion of oil to keep the surfaces moving smoothly. The oil, which was virtually non-compressible and readily displaceable, allowed the limb joints to move freely at depths of 600 ft (180 m), where the pressure was 520 psi (35 atm). Peress claimed that the Tritonia suit's joints could function at 1,200 ft (370 m) although this was never proven.
In 1930 Peress revealed the Tritonia suit. By May it had completed trials and was publicly demonstrated in a tank at Byfleet. In September Peress' assistant Jim Jarrett dived in the suit to a depth of 123 m (404 ft) in Loch Ness. The suit performed perfectly, the joints proving resistant to pressure and moving freely even at depth.
The suit was offered to the Royal Navy which turned it down, stating that Navy divers never needed to descend below 90 m (300 ft).
Jim Jarrett made a deep dive to 305 m (1,001 ft) on the wreck of the RMS Lusitania off south Ireland, followed by a shallower dive to 60 metres (200 ft) in the English Channel in 1937 after which, due to lack of interest, the Tritonia suit was retired. Peress abandoned work on diving suits and instead turned to pioneering work in plastic moulding, later forming a company which became the world's largest manufacturer of gas turbine blades for the aircraft industry.
In 1965, Peress came back from retirement, starting his collaboration with two British engineers, Mike Humphrey and Mike Borrow, interested in designing a modern atmospheric diving suit. The first order of business was finding the original Tritonia suit, which turned up in a Glasgow warehouse. After all these years, the old suit was still in working condition, and the octogenarian Peress became the first person to test it in a factory test tank. In 1969 Peress became a consultant to UMEL (Underwater Marine Equipment Limited), the new company formed by Humphrey and Borrow, which eventually created the JIM suit, which was named after Peress' diver Jim Jarrett.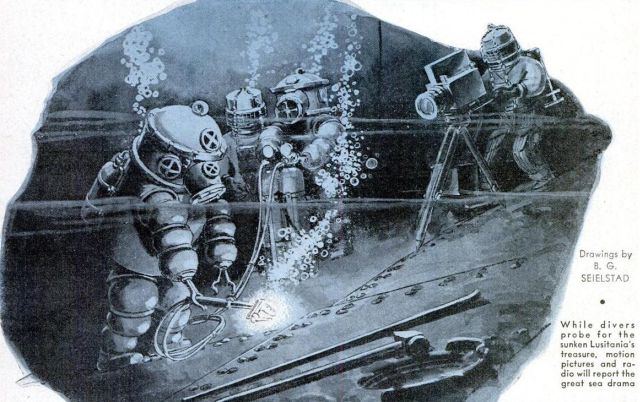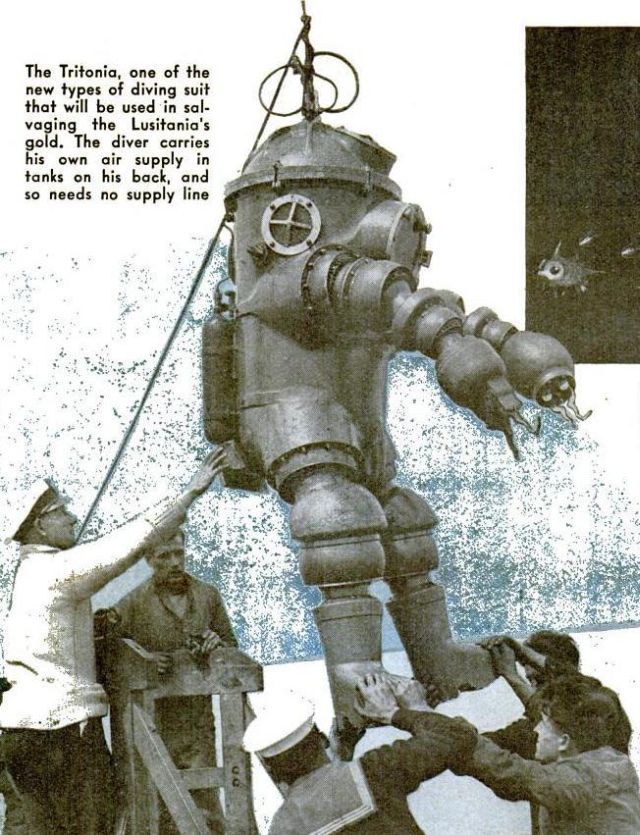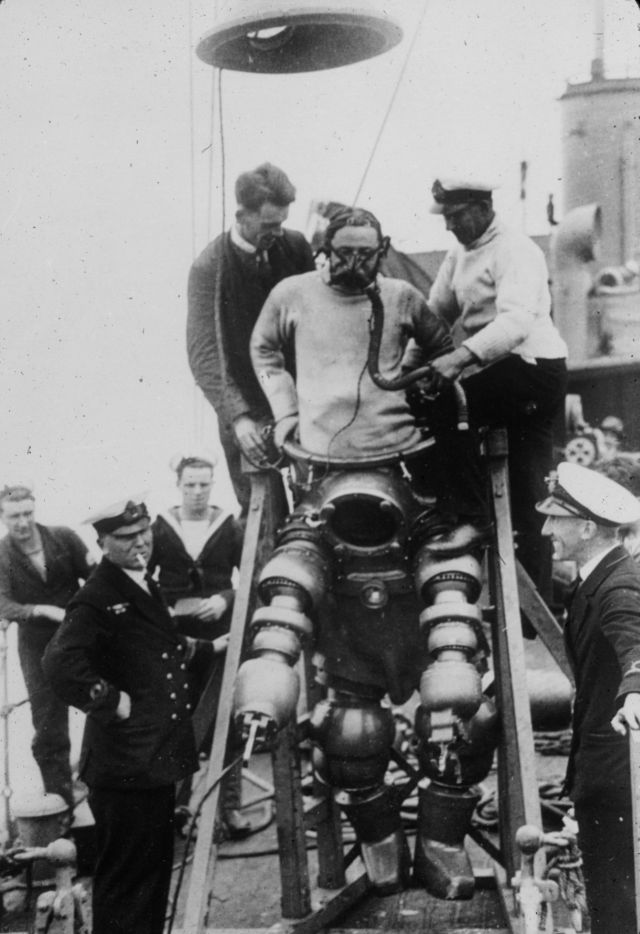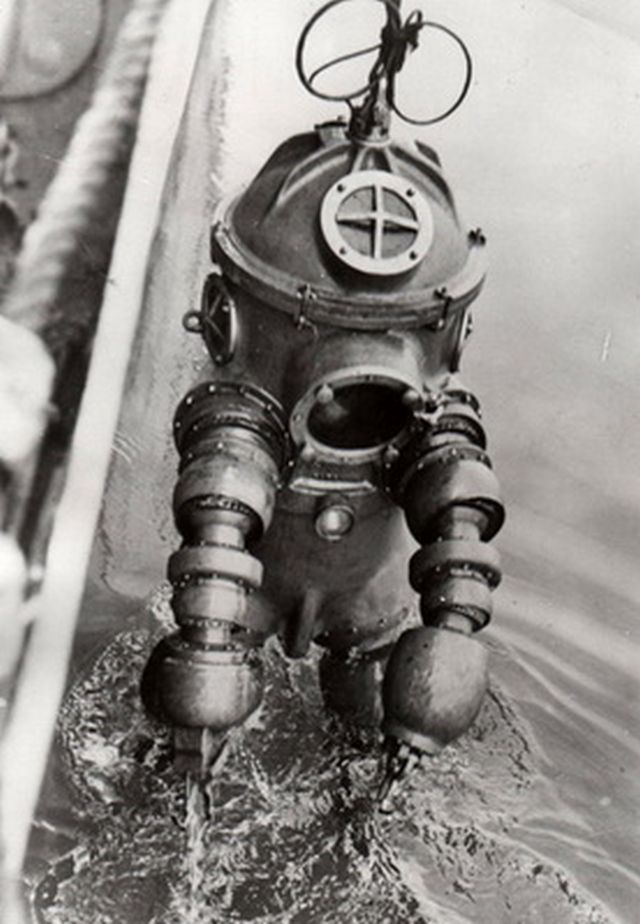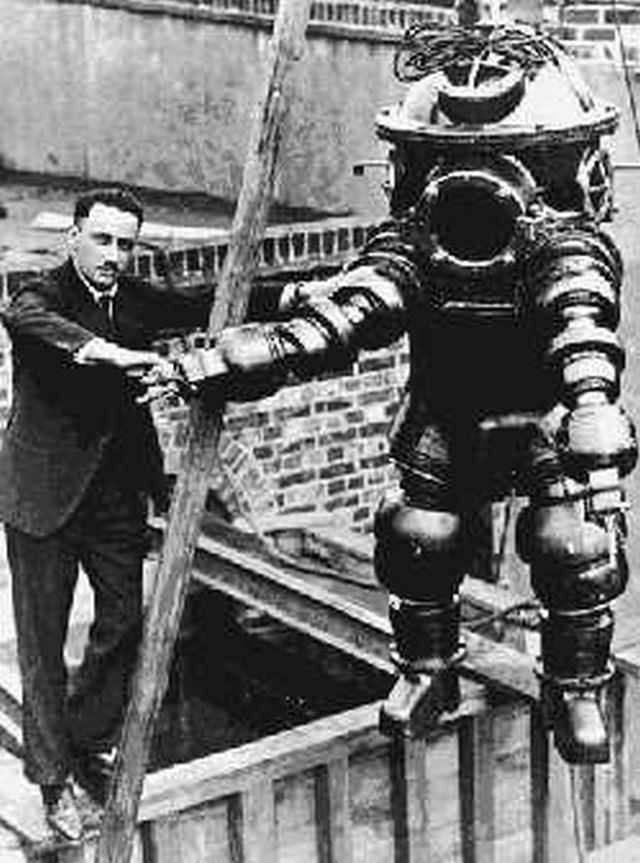 Peress with his new diving armour.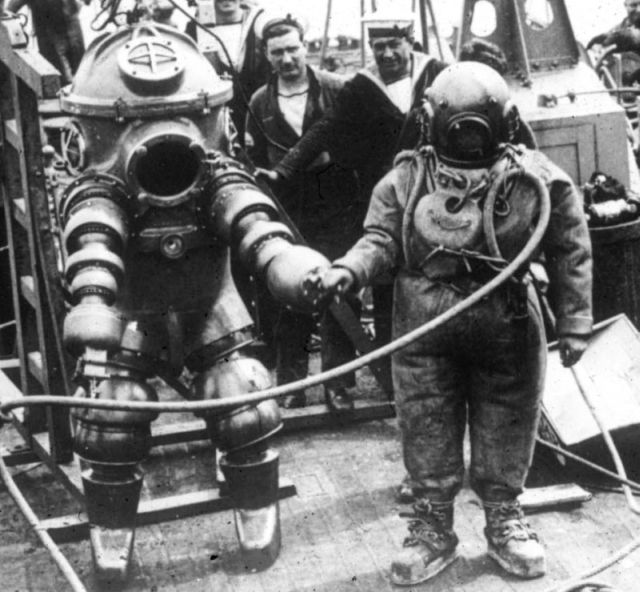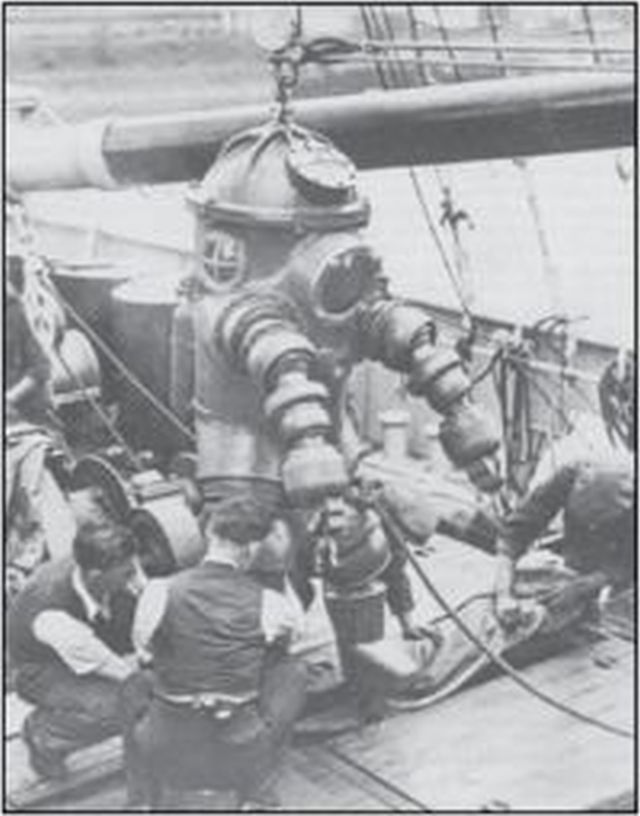 ---
Peress' earlier 1921 patent for "Flexible joint for diving dresses" was US1402645.
Peress improved upon his earlier joint design. He filed for a new patent:
Name: Hydraulic joint particularly suitable for diving dresses or apparatus
Publication number US1947657 A
Publication type Grant
Publication date Feb 20, 1934
Filing date Aug 7, 1933
Priority date Aug 16, 1932
Inventors Salim Peress Joseph
Original Assignee Argonant Corp Ltd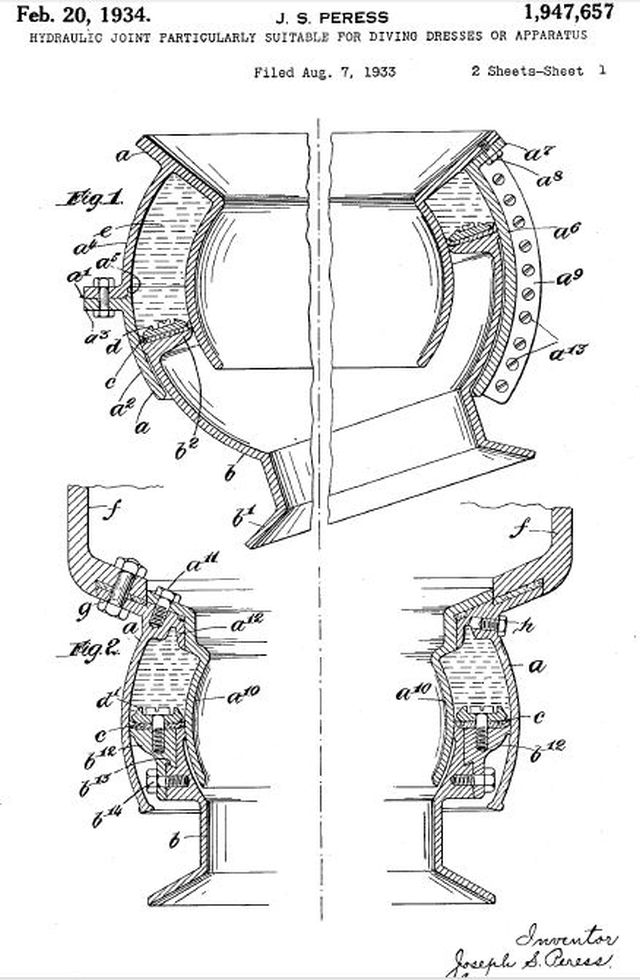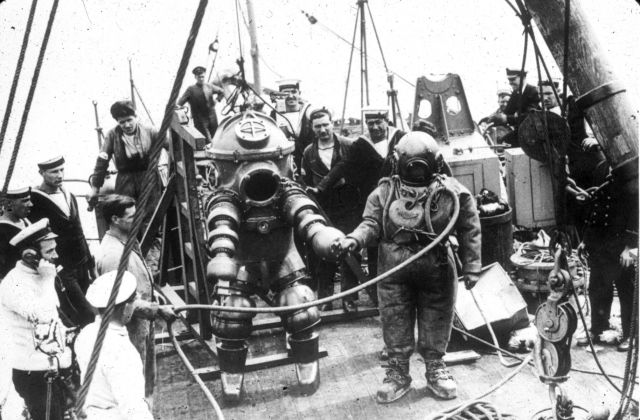 Preparing to explore the wreck of the Lusitania.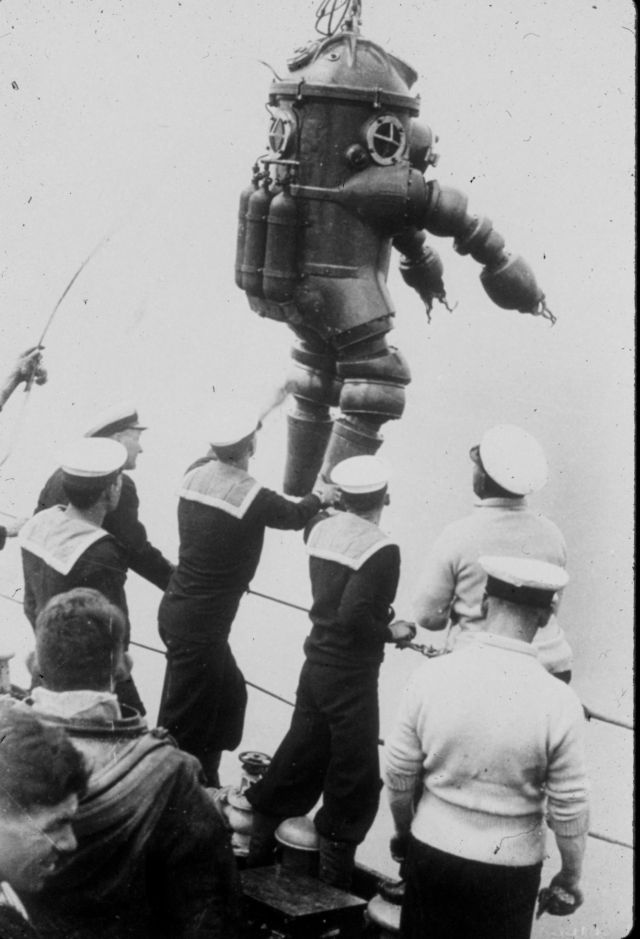 ---

REMARKABLE DIVING SUIT.
Attempt to Recover
£10,000,000.
An attempt to recover treasure estimated at £10,000,000, which has been at the bottom of Navarino Bay, Messina, Greece, for more than 100 years, will be made in a few months, says the London "Daily Express."
The treasure is contained in the ships of the Turkish-Egyptian fleet, which were sunk in 1827 by the combined Russian, English, and French fleets. The flagship alone contained £200,000 in money, and a far greater sum in precious objects.
TREASURE GALLEONS.
The treasure is 32 fathoms beneath the water, and hitherto all efforts to recover it have failed, because no diver could descend to such a depth and work on wrecks. Now there is in existence a diving suit in which, it is stated, a man can go down 250 fathoms and work for 10 hours without feeling any of the ordinary effects of diving, and this suit will be used in the venture off the coast of Greece.
This new diving apparatus is the invention of Mr. Joseph Salim Peress, of Byfleet, Surrey, England. Mr. Peress is of Persian origin, and when he began work on his invention 10 years ago he had in mind the possibility of using the diving suit for recovering pearls from the virgin beds in the deeper waters off the Persian Gulf.
He prepared with this end in view a suit which would descend to 100 fathoms, but by experiment he claims that he found that, with slight alterations, the apparatus could be used for diving to a depth of 250 fathoms, and with adjustments, even to 500 fathoms.
The possibilities of such a suit are many. Wrecks which up to now have been inaccessible to divers can be examined and their bullion recovered. The amount of this bullion may be guessed by a brief survey of a few of the wrecks which are believed to be sunk in 500 fathoms or less.
There are the Persia and Arabia, submarined in the Mediterranean during the war with more than £1,000,000 in gold in them.
There are the Spanish galleons, which, bullion laden, were sunk in Vigo Bay. The Lusitania was said to have sunk with gold and jewellery valued at £1,200,000. The Merlida carried to the bottom of the sea more than £250,000 in silver and £20,000 in jewellery.
The remarkable diving suit which Mr Peress has constructed in his workshop at Byfleet resembles nothing quite so much as a robot figure. It is made of a light alloy, containing a large percentage of magnesium, and has arms and legs three feet long.
The diver inside can eat, drink, smoke, write, and move with perfect freedom. He can kneel, lie on his back or face downwards, and rise without the slightest difficulty. The "hands" of the suit are like the larger antennae of a crab, and by their means the diver can pick up tin washers or coins and shackle an eye to a spring.
Source: The Sydney Morning Herald, 2 December 1930
---
---
DANGER TO DIVER'S LIFE
JARRETT PREPARES STEEL SUIT FOR ANOTHER SEARCH.
Pneumonia Feared More Than Anything Under Water-Strongest Lights Are Dim at Bottom of Ocean.
By GILBERT MCALLISTER.
ABOARD SALVAGE SHIP ORPHIR, Aug. 13.—Imminent adventure for the Orphir's divers was indicated today as we left Kinsale to renew our search for the huge hulk that Captain Russell is convinced is the Lusitania.
As soon as the salvage ship, its preparations completed, left port in the early dawn, Chief Diver Jim Jarrett busied himself with an inspection of his mighty steel robot. He was evidently preparing the weird looking machine for instant action as the Orphir again locates the buoy it has placed in the open sea and delves beneath them to grapple with the mysterious wreck,
Jarrett, who may soon be swung from the boom of the Orphir into the salty depths to identify the silent giant at the bottom, grinned as he worked, To all outward appearance, he was the happiest man on board.
SUIT WEIGHS 3,360 POUNDS,
From talking to Jarrett one would gain the impression a descent in the 3,360-pound electron suit is no more exciting than a walk downstairs. I asked him about the dangers he would face in his iron man when he was 270 feet below the surface.
He smiled and said, "If I worried about the danger I might as well give up diving."
He explained that the stout metal shell would spare him many perils which formerly confronted the diver in the rubber suit. There will certainly be no risk of "bends," the fatal cramps caused by being taken from one pressure to another without proper time elapsing for the blood stream to adapt itself to the low pressure. In his metal armor this very real jeopardy is overcome.
Neither need he fear the "squeeze," which in landsman's parlance means a breakdown of the air pressure against the hundreds of tons of water pressure which surround the diver. A leak in the suit would mean certain death. and rubber suits were sometimes torn. It is almost impossible to fracture this electron suit.
Jarrett laughed when I asked him if he had any fear of sharks, octopi, or other denizens of the deep.
HE'S NUMB WITH COLD.
He calmly explained that pneumonia was far more to be dreaded than the marine life below. The sea bitter cold sixty fathoms down, and is never more than 40 degrees Fahrenheit. As the diver is brought to the warm surface he runs the chance of taking a severe chill for he will be almost numb from the cold. While below he warms his hands on his respirator, which gains heat from its chemical action.
Darkness is a common danger.
Though powerful lamps will be lowered to aid the diver's restricted vision at great depths, the strongest light may cast but a dim beam. Often the lamps burst from the enormous pressure, or burn out their insulation because of the high voltage required to operate them.
Jarrett hopes that the bottom upon which the Lusitania lies will be rock or gravel rather than mud. A mud bottom would be easily stirred by currents or blasting. and he would be confronted with the same dazzle effect which faces a motorist who drives through a dense fog with the headlights on.
DIVER SLAMMED AGAINST STEEL.
Even under the best of conditions he suffers the risk of ugly bruises, possibly a broken nose. As he swings about, owing to the movement of the ship or to the current, his body will come constantly in contact with hard metal surfaces.
With hundreds of feet of cable attached to him he cannot crawl, climb, stoop or lie down. If by ill chance he should be dropped into a dangerous spot, only the best of luck will extricate him.
I questioned Jarrett about what might happen if we blasted the Lusitania, especially if it should turn out to carry munitions. The salvage ship Artiglio, engaged in removing the hulk of the munitions ship Florence, in the harbor of Saint Nazaire in 1930, was drawn to the bottom with all but seven hands aboard as it blasted the wreck.
Jarrett merely shrugged his shoulders and remarked that in such a case we all took an equal chance of being blown up.
The answers are typical of the man's temperament. Calm and stolid, he has the confidence of all aboard the Orphir, and we feel that if anyone can make the sea yield the mystery of the submerged Cunarder, Jarrett is that man.
Source: The Kansas City Star, Aug 13, 1935.
---
MAY DYNAMITE LUSITANIA HULL
New Attempt to Raise Torpedoed Liner Set for Next Month
London —(UP)— Salvage operations in the former Cunard liner Lusitania, which was torpedoed and sunk by a German submarine in 1915, with a loss of 1,198 lives, are expected to begin soon. It is planned to break the ship under water by explosives. Two obstacles hitherto have prevented the salvage of the Lusitania, which, in addition to its value as scrap metal, is believed to contain valuable jewelry. The first was ignorance of the position of the hull, and the second the lack of suitable diving equipment. The liner is believed to have been located by echo-sounder apparatus by Capt. Henry B. Russell, of Glasgow, in command of an expedition in the 459-ton Ophir in October, 1935, at a point 11.2 miles from Kingsale Head, Ireland. The sounder recorded an object 780 feet long and 84 feet in height. These were the dimensions of the Lusitania.
Subsequently, a diver, James Jarrett, descended to the vessel and stood on the deck, but was compelled by rough weather to return to the surface before he made extensive explorations.
At Depth of 300 Feet
The giant liner lies in more than 300 feet of water, while the ordinary diving-dress is limited to a maximum depth of 180 feet. This obstacle has been overcome by the invention by J. A. Peress of an all-metal diving suit capable, it is said, of working at a depth of over 1,300 feet. This suit has been tested in Loch Ness at depths of 400 feet, and in a pressure tank at a pressure of 600 pounds per square inch, which corresponds to a depth of 1,320 feet, according to Peress.
With it the Argonaut corporation, which is the salvage firm concerned, plans the salvage of six other vessels, and the undertaking of sponge, pearl and shell (mother-of-pearl) fishing. The world's shallow-water pearl and sponge beds are in many localities approaching exhaustion, and the new diving suit is said to have opened the possibility of exploiting deep-lying beds.
The new diving suit represents a different method in that employed by the Italian salvage ship Artiglio, which has recovered some $4,000,000 in bar gold from the liner Egypt. Peress has worked on the suit since 1913, and began about 1929 to achieve success.
Pressure Restricts Mobilty
The problem was to articulate the arms and legs of the suit while preserving water-tightness and freedom of movement. Ordinary jointing is made immobile from friction under the enormous pressure of water. American inventors constructed a ball-bearing joint, which still suffered from great stiffness.
Peress found some success with a joint embodying oil-filled rubber balls, but after an hour's use these balls would break up. Finally he based his design on the human joint, employing a "synovium" containing oil. It is said that the limb is so freely suspended that it is swayed by the tide, and that the claw operates so delicately that single coins can be picked up and ropes can be reeved with it. The suit contains its own supply of oxygen sufficient for 9 or 10 hours, and is in telephonic communication with the salvage ship. Thus, it is hoped, the diver will be able to penetrate any part of a sunken vessel, place charges, and remove portable objects. The method employed by the Artiglio is the lowering of divers in a shell containing windows—and, in one case, "arms" and "legs?' From this they direct, by telephone, the lowering of a grab, or a suction mechanism, and signal when the jaws are to be closed.
Source: The Terril Record, Apr 8, 1937.
---
See Peress' earlier suit here.
Peress was consultant for the later JIM suit, which included further joint development and patents.
See other early Underwater Robots here.
---
Tags: 1930, Armored Diving Suit, Atmospheric Diving Suit, British, Cuirassed Diving Suit, Diving Armor, Diving Armor Suit, Diving Dress, Diving Suit, Great Britain, Iron Man, Iron Suit, Jim Jarrett, Joseph Salim Peress, Patent, Persian, Submarine Apparatus, Submarine Armor, Submarine Armor Suit, Submarine Exploring Armor, undersea robots, Underwater robotics, underwater robots