1905 – Diving Dress – M. de Pluvy (French)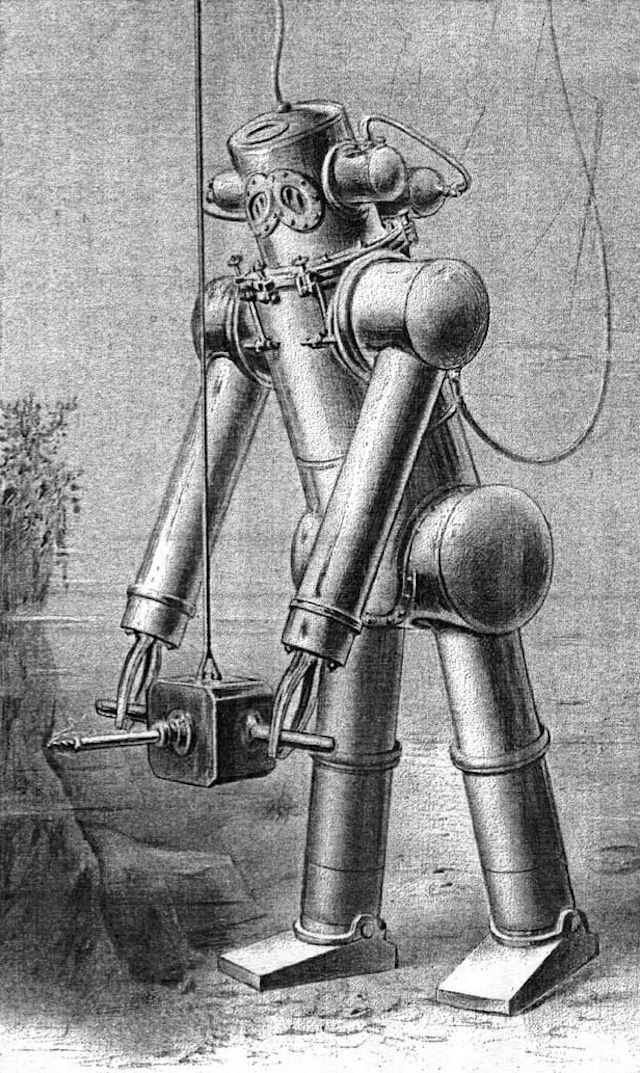 1905 – Diving Dress – M. de Pluvy. L'EXPRESS DU MIDI 14 April 1905, a French newspaper, mentions M. De Pluvy's diving dress, hence giving it an earlier date of 1905 rather than Scientific American's 1906 date.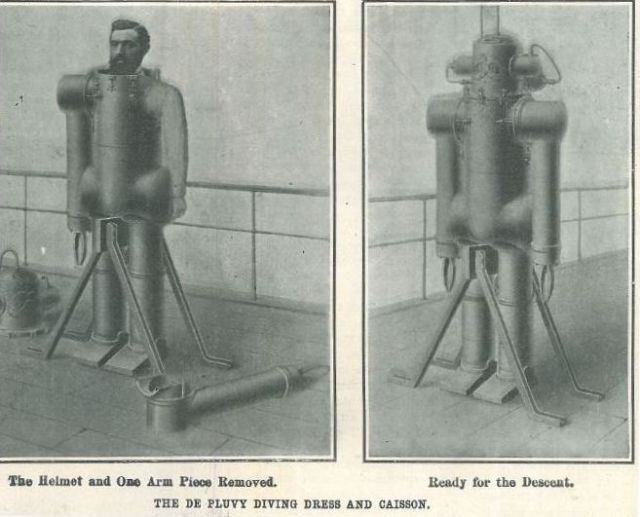 ---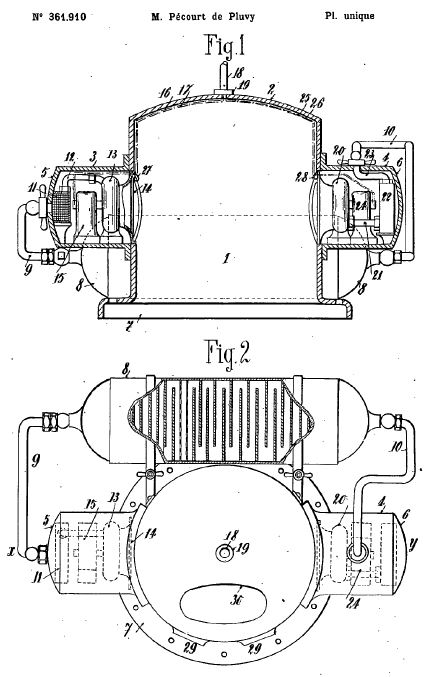 The Helmet was subject to a French patent, No. 361910 filed in 1905.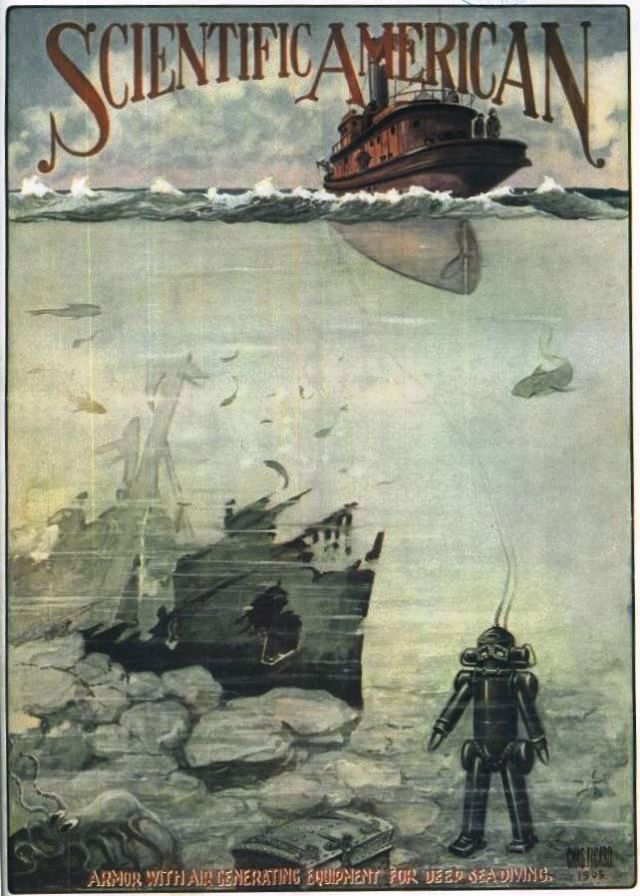 Source: Scientific American December 1906
THE DE PLUVY DIVING DRESS.
A novelty in the way of diving apparatus is the invention of M. de Pluvy, a prominent hydrographic engineer of Paris. This invention forms the subject of our cover illustration and is one which promises to be of great value in salvage operations. As De Pluvy has had many years' experience in diving operations, there is no doubt that the apparatus is of practical value. He uses a metallic diving suit which is made somewhat on the plan of the ancient coat-of-arms, being built of light and strong sheet metal having a thickness varying from 0.2 to 0.3 inch according to the position of the pieces. The joints and coupling points are made of pressed leather and rubber, and a special form of hydraulic joint is employed. On the top of the armor is fixed the helmet, which is the principal feature of the apparatus. The air is not brought to the diver from the outside, as usual, but the air he breathes is sent by a tube into a special regenerating chamber containing certain chemical products which renew the supply of oxygen and the air is then sent to the interior of the helmet by another tube. The air-renewing apparatus is contained in a pair of cylindrical chambers attached to each side of the helmet. Regulating valves keep the air pressure within the helmet at the right amount and always constant, no matter what the depth may be below the surface. Mounting and descending are effected by a drum and cable worked by an electric motor. At the same time the cable serves to carry the current which is needed for the respiratory apparatus. The diver communicates with the surface by a telephone, and a number of wires run from the armor up to a set of colored lamps, showing how the different parts are working. There are many advantages to be secured from the new apparatus, and we expect to give a more complete and illustrated description of this interesting device. M. de Pluvy has personally been able to go down to a great depth, and during the 115 descents which he has already made with the new diving suit he reached depths varying from 150 to 300 feet. This far exceeds the depth to which an ordinary diver can go.
Besides the new diving dress, M. De Pluvy is also the inventor of a collapsible caisson which may be used in connection with the diving suit.
---
See other early Underwater Robots here.
---
Tags: 1905, Atmospheric Diving Suit, Diving Dress, Diving Suit, French, Iron Suit, M. de Pluvy, Submarine Exploring Armor, undersea robots, Underwater robotics, underwater robots