1904-6 – Cuirassed Diving Suit – Guiseppe Restucci (Italian)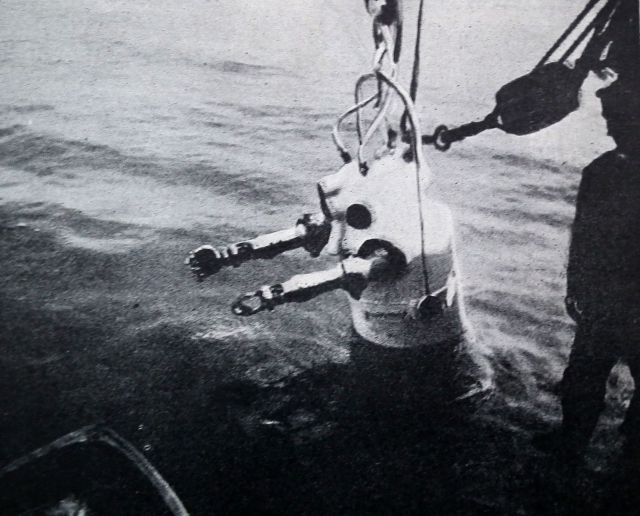 In 1906 the Swedish weekly Hvar 8 Dag published this photograph of an interesting diving apparatus, designed by the Italian inventor Giuseppe Restucci. This is how the weekly described the apparatus: "The arms are artificial, and are operated from the inside by the diver. There is an electric lantern on the helmet.Very heavy objects can be lifted by this new model, which has been officially approved by the Italian Navy." Source: here.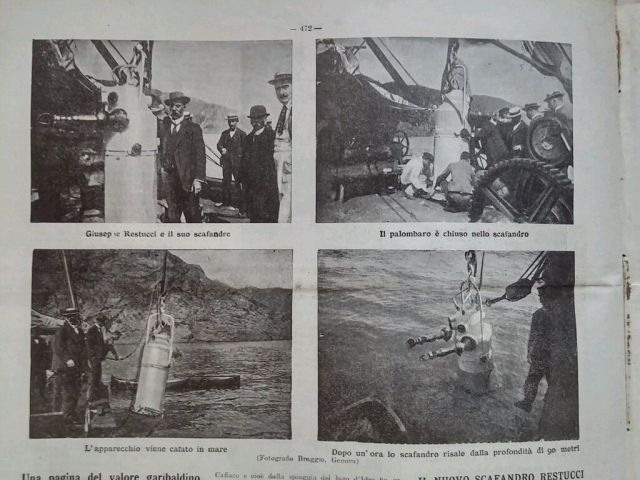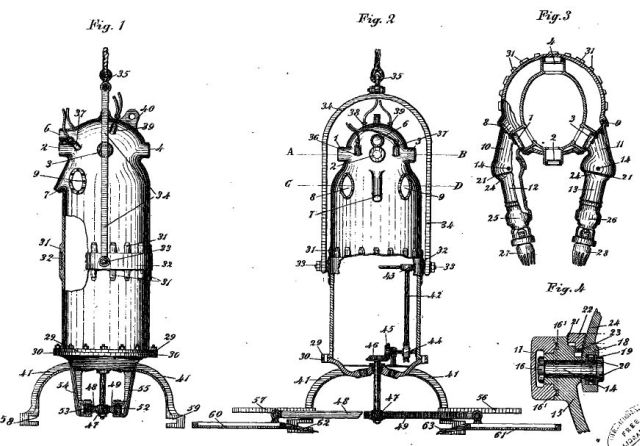 Restucci's 1906 Great Britain Patent: No. 19771 [GB190619771A]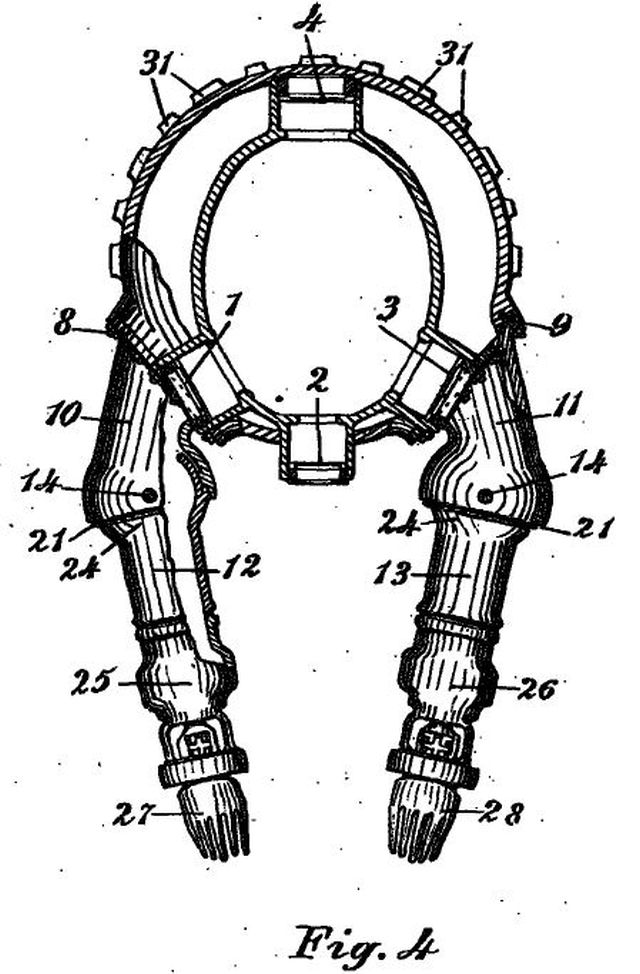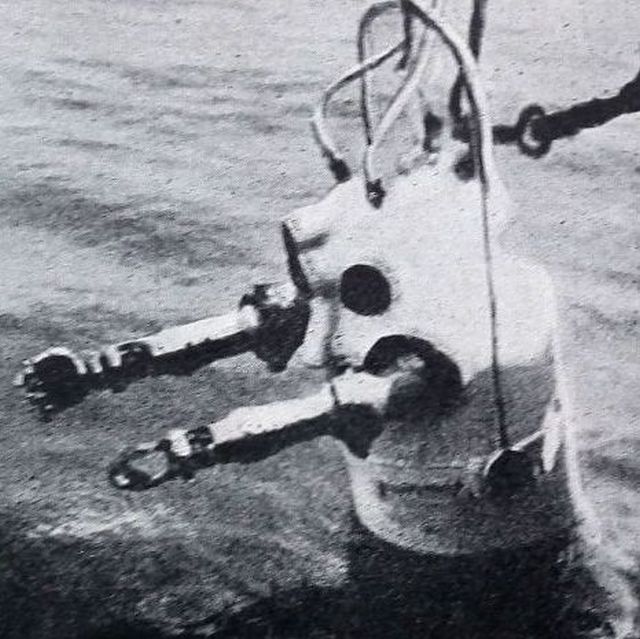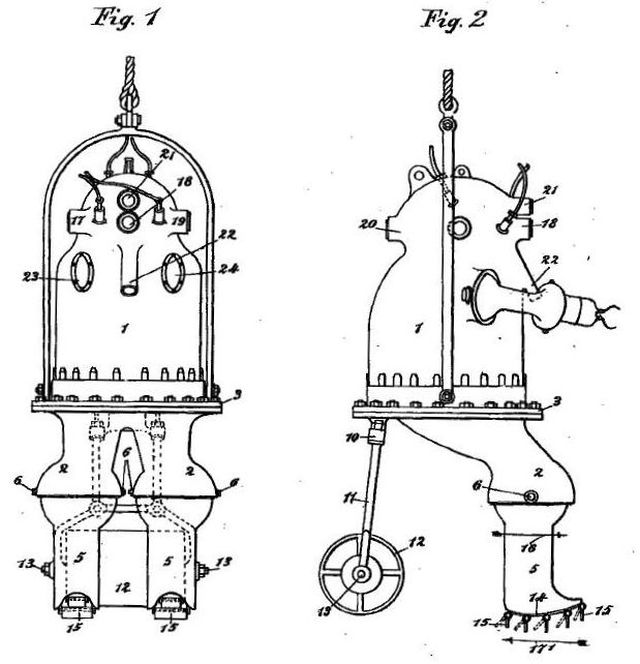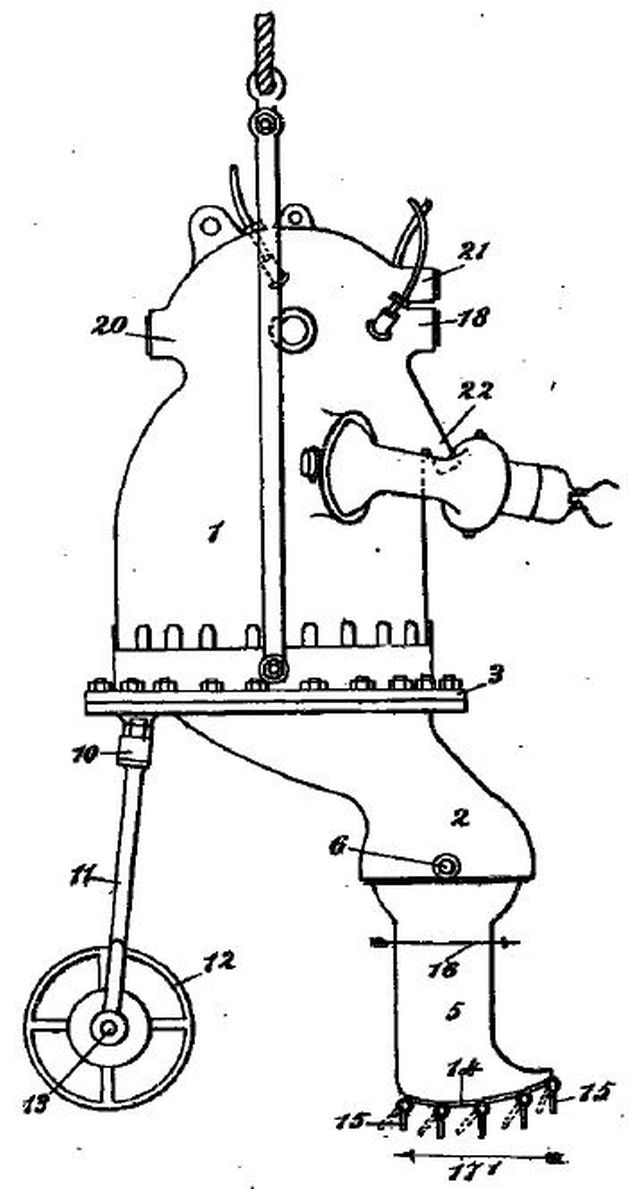 ---
THE LITERARY DIGEST, VOLUME XXXIV, JANUARY, 1907 — JUNE, 1907
An Ingenious Diving-apparatus.— A new diving-machine, devised by Joseph Restucci, a mechanical engineer of the
Italian Navy, is described in The American Inventor, quoting a report of United States Consul J. J. Brittain, who says that it has proved a success in experimental tests in deep-sea diving. Says the paper named above :
"The machine is constructed of iron one centimeter (three-eighths of an inch) in thickness, and is large enough to contain a man standing upright, leaving him a certain amount of liberty of movement. The form of the machine is cylindrical, with the upper part shaped like a spherical hood. The front of this hood is furnished with magnifying glasses to permit of exploring the bottom of the sea. Two especially ingenious arms in bronze are attached to the machine, the forepart of each being articulated, to enable them to take the place of human arms. The right arm is terminated by a hand possessing fingers, which work exactly like the fingers of a human being. The left arm is finished with a pair of scissors and nippers. The interior of the machine contains a small electric lamp, capable of illumintaing a certain space under the water. The diver communicates with the ship escorting him by means of a telephone. A special arrangement for furnishing air permits him to remain under water for a long time. The Restucci machine has already proven its value, for by means of it a Russian ship with a large amount of gold on board, sunk near
Balaklava during the Crimean war, has been discovered."
---
The earlier 1904 patent: No. 29114 [GB190429114A].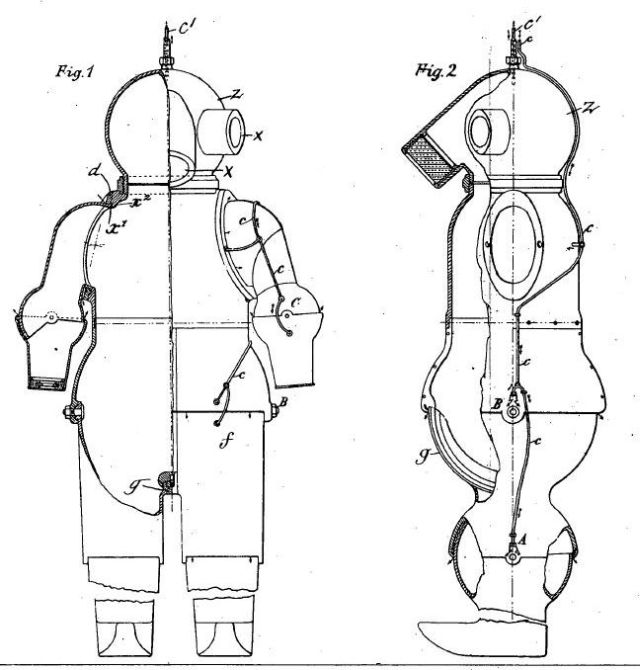 RESTUCCI GUISEPPE: [en] An Improved Cuirass Diving Suit for Deep Sea Diving. December 30, 1905: No. 29114 [GB190429114-A
Henry Harris Lake, of the firm Hazeltine, Lake and Co, Patent Agents, Middlesex. Communicated by Guiseppe Restucci of Naples, the Kingdom of Italy. The patent document is headed on each page with "Lake's Improved Cuirassed Diving Suit For Deep Sea Diving."
Note: A cuirass is a piece of armour, formed of a single or multiple pieces of metal or other rigid material which covers the front of the torso.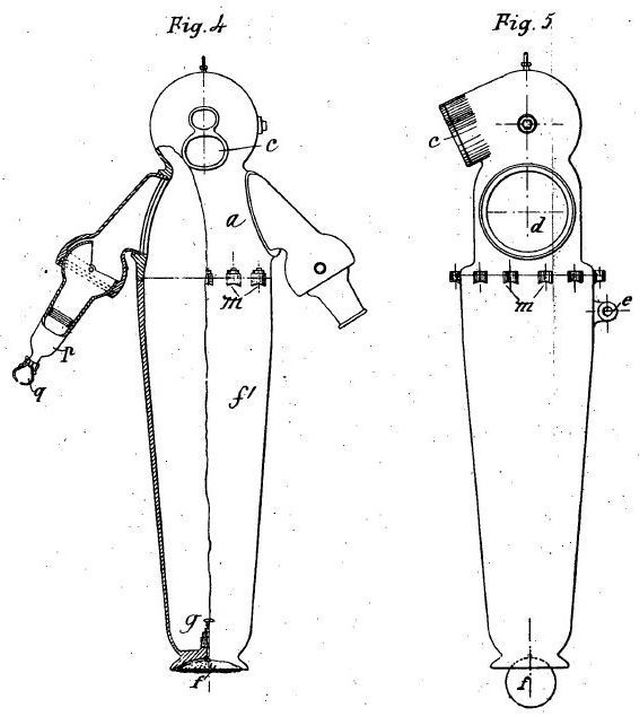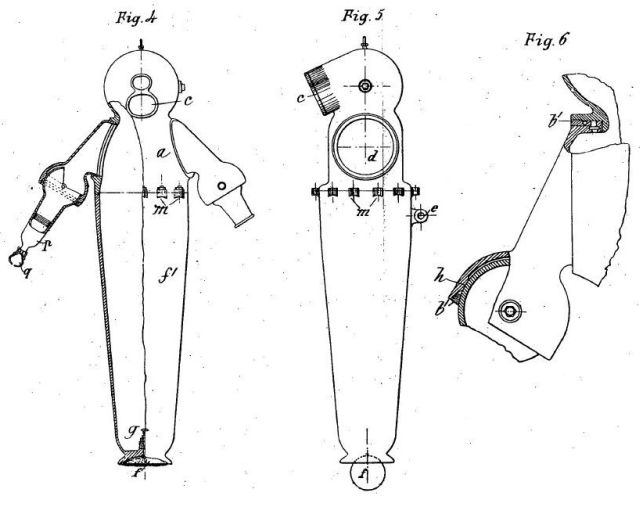 ---
See other early Underwater Robots here.
---
Tags: 1904, 1906, Atmospheric Diving Suit, Cuirassed Diving Suit, Diving Dress, Diving Suit, Guiseppe Restucci, Iron Suit, Italian, Patent, Submarine Exploring Armor, undersea robots, Underwater robotics, underwater robots