1984-7 – Orbital Maneuvering Vehicle (OMV) + Kits – NASA (American)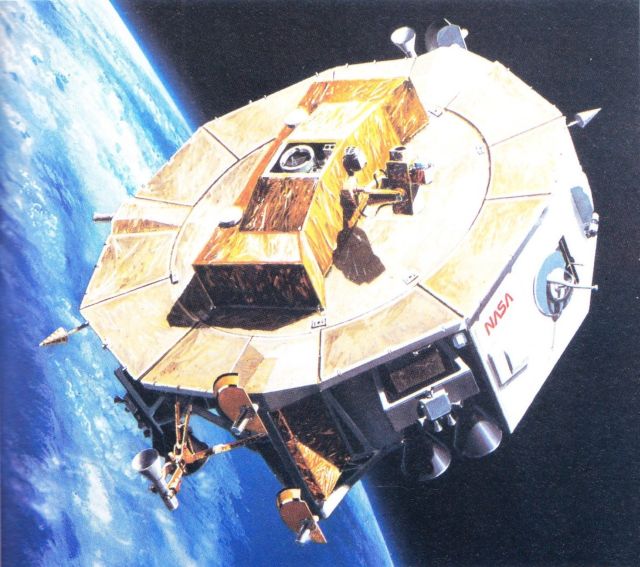 An OMV leaves the payload bay of a Shuttle to deliver or retrieve satellites in orbits beyond the reach of the Shuttle itself.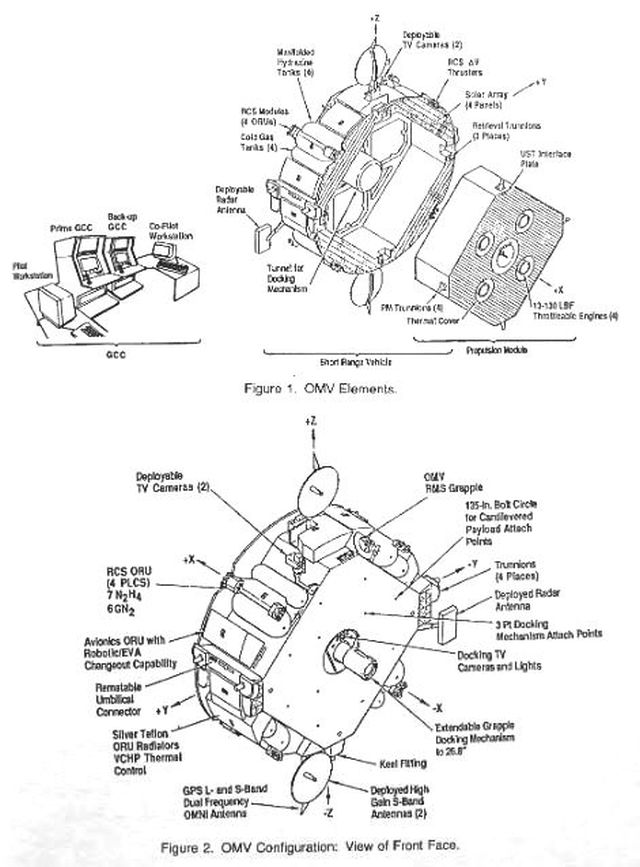 The basic OMV configuration. Any manipulator arm attachments are via appropriate kits, such as Integrated Operations Servicing System (IOSS) and Tumbling Satellite Recovery (TSR) both shown below. These are front-ended to the OMV.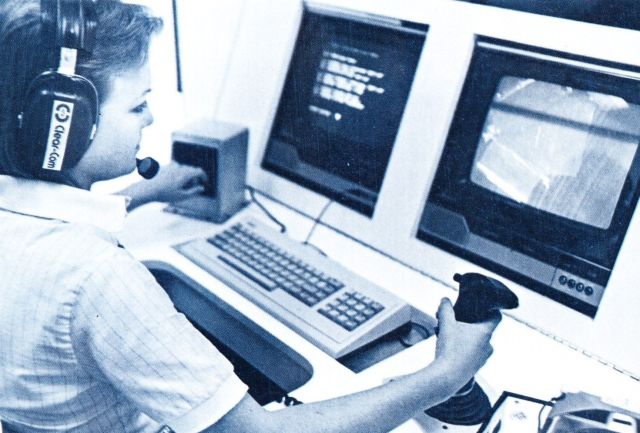 This is the OMV control console in the simulator assembled at Marshall Space Flight Center. The operator uses "telepresence" to guide the spacecraft through a docking manoeuvre.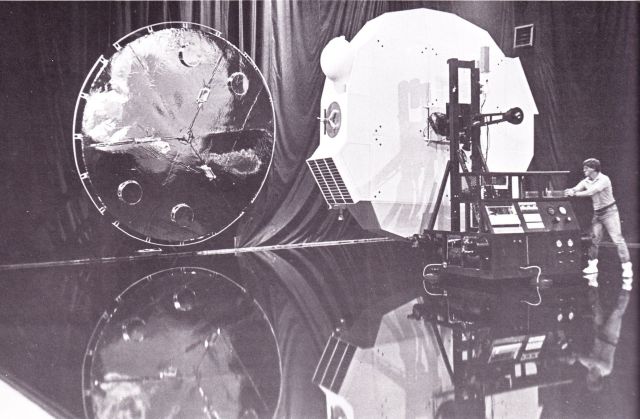 A model of an Orbital Maneuvering Vehicle float on air-bearing pads in the "flat floor" simulation facility at the Marshall Space Flight Center.
OMV with IOSS kit.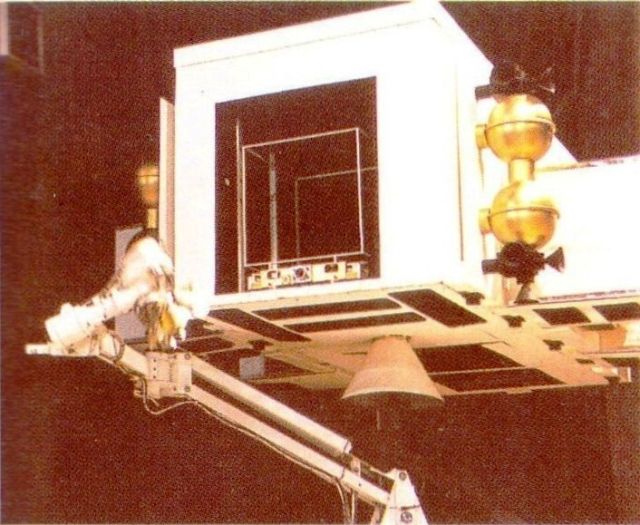 Simulation exercises have shown that the IOSS manipulator arm is capable of replacing faulty electronic modules in ailing spacecraft.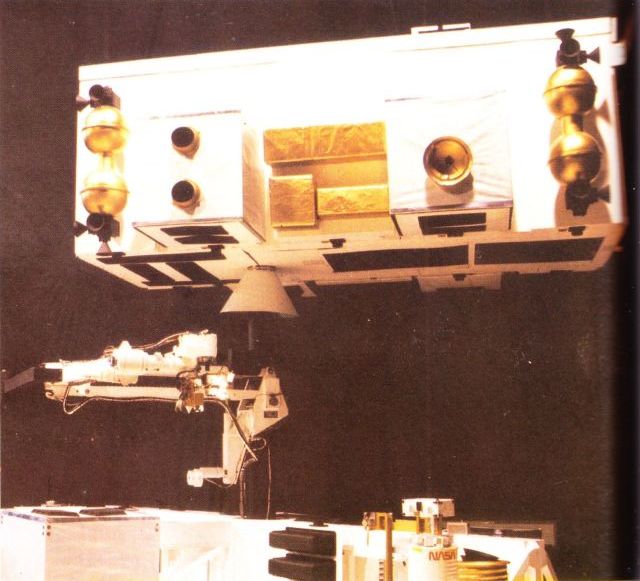 Shown here is the IOSS mock-up at Marshall SFC. At the top is the dummy satellite that needs repair, in the centre the IOSS robot arm, below which is the IOSS craft itself.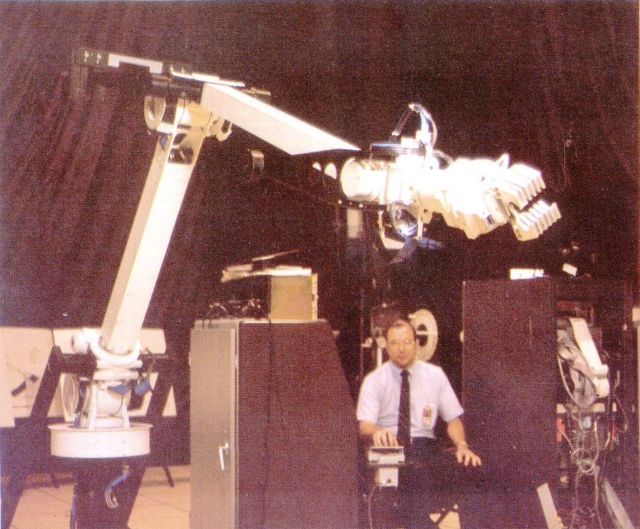 Martin Marietta has developed a Protoflight Manipulator Arm for space operations that can perform intricate jobs, such as reconnection of wires and opening of doors. The end-effector is shown in detail below.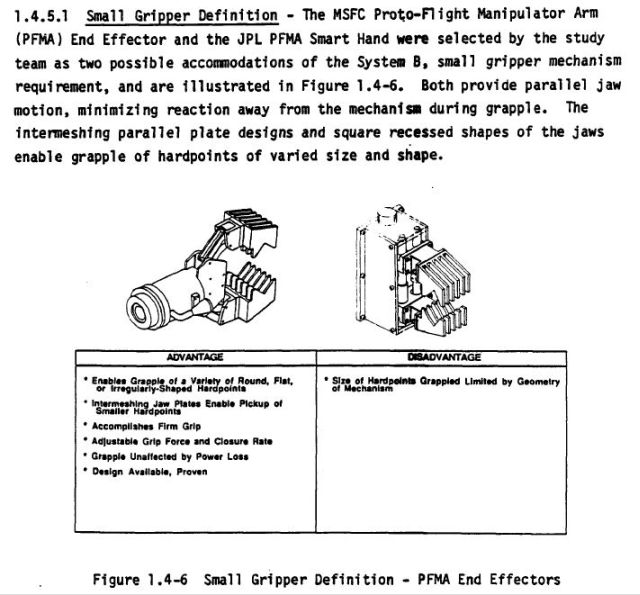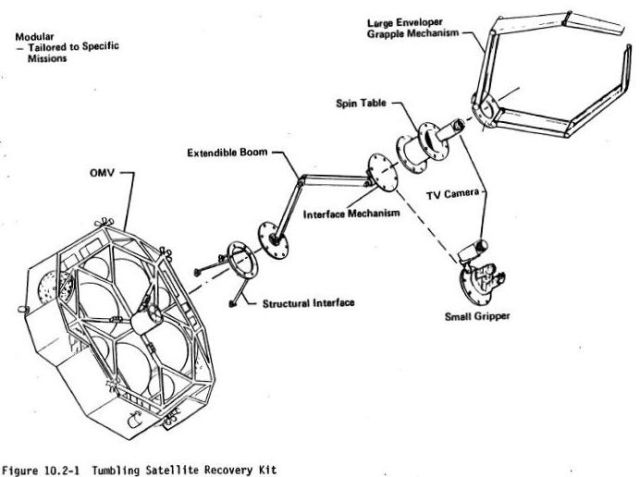 The OMV with a Tumbling Satellite Recovery Kit.
---
American space tug. Cancelled 1987. The Orbital Maneuvering Vehicle (OMV) was an important component in NASA's future Space Station plans in the 1980s.
As a separately funded part of the 1984 Space Station plan, the OMV was intended as a short range robotic 'space tug' that could move payloads about in the vicinity of the Shuttle and Space Station.
NASA awarded three $1-million study contracts to Vought, Martin Marietta and TRW in July 1984. The total estimated cost was then $400 million.
TRW won the $205-million OMV phase B contract in June 1986. The TRW Orbital Maneuvering Vehicle would use a separate propellant / propulsion module that would be returned to Earth for refueling by the Shuttle. The TRW Orbital Transfer Vehicle could also be equipped with enlarged propellant tanks for demanding missions.
The OMV was then combined with the Flight Telerobotic Service into the Robotic Satellite Servicer concept. However estimated costs had grown to $465 million by 1987, soon after which further work was cancelled.
Text by Marcus Lindroos
---
See other early Space Teleoperators here.
See other early Lunar and Space Robots here.
---
Tags: 1984, American, Free Flyer with Manipulator Arms, Manipulator, NASA, Orbital Maneuvering Vehicle, remote teleoperator, Space Manipulators