1979 – Manned Orbital Transfer Vehicle (MOTV) – Grumman (American)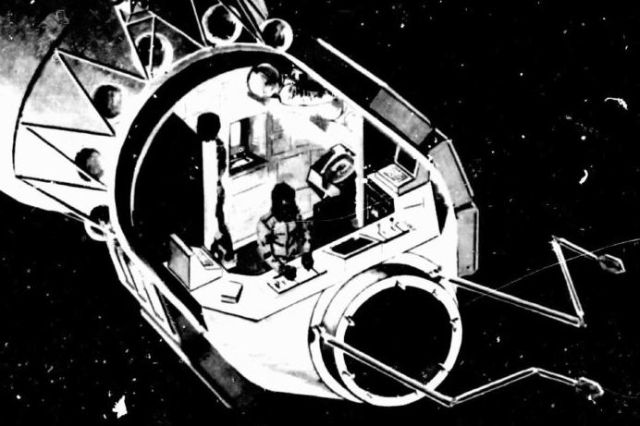 Manned Orbital Transfer Vehicle (MOTV) proposal by Grumman.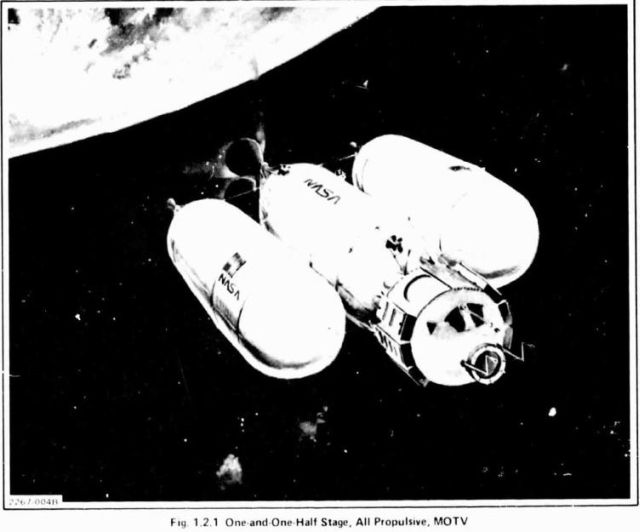 Rationale for MOTV use:
. Servicing satellites remotely using teleoperators operated from earch is more complex, less versatile, and less reliable than having man "on site" to perform this function.
. Servicing and checkout is more thorough with man on-site, and contingencies can be more readily handled.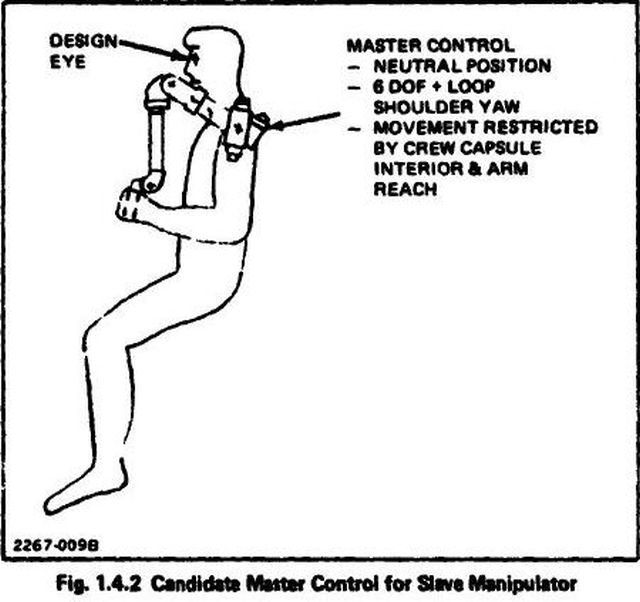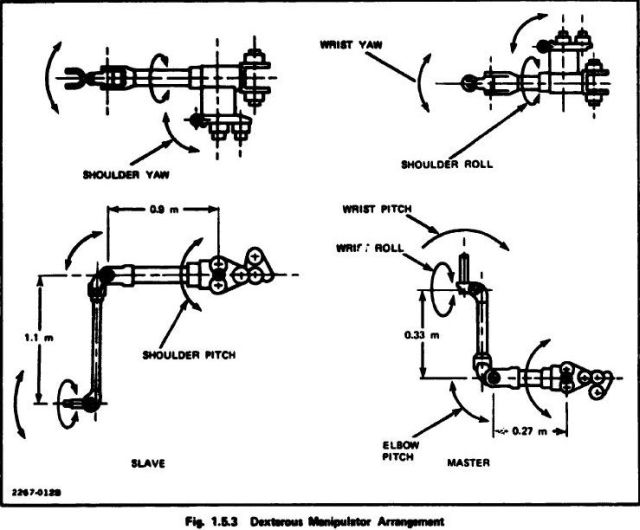 Equipments and facilities. The items available for IVA (Intra Vehicular Activity) are:
. Stabilizer
This is a device for berthing to the workpiece, for holding it in a proferred position to be worked on and for moving the workpiece relative to the MOTV. It is an articulated arm, mounted to the forward end of the crew capsule, between windows. Its length can be varied to suit a mission by adding or subtracting one of the articulating segments. At its tip is an end effector to grasp a fitting on the workplace, thus mating the MOTV to the workplace.
. Manipulator System
It is a master/slave manipulator system comprising two external slave arms, each operated from a master control within the cabin. The manipulators are bi-lateral fprce reflecting and they can be moved independently and concurrently. Each slave arm has seven degrees of freedom (DOF).
Figure 1.5.3 above shows a typical dexterous manipulator arrangement for both master and slave units. Overall length of the slave is provisionally set at 2.5M. The end effector design will be dependent upon the mission.
The two slave manipulators are mounted to the structure which supports berthing/docking ring.
. Viewing Window
It is intended that the work area shall be viewed directly by the manipulator operator and by the stabilizer operator whenever possible.
. TV Camera
If required, a TV camera may be mounted on the tip of one manipulator to examine something not seen by direct viewing.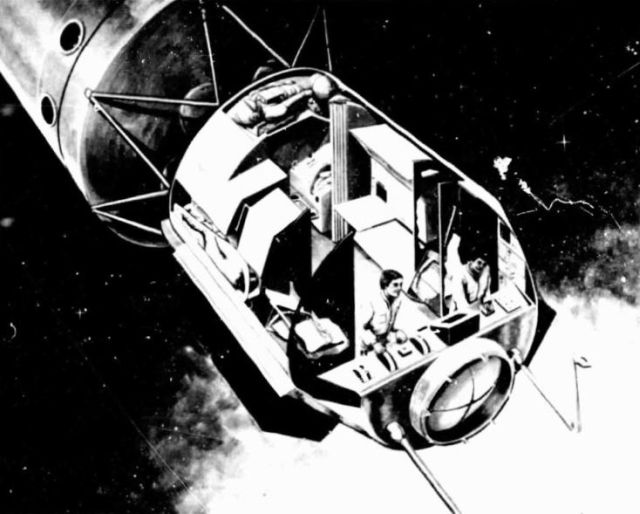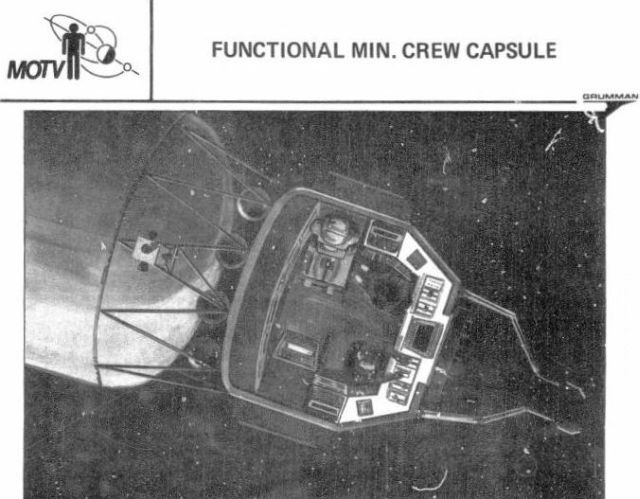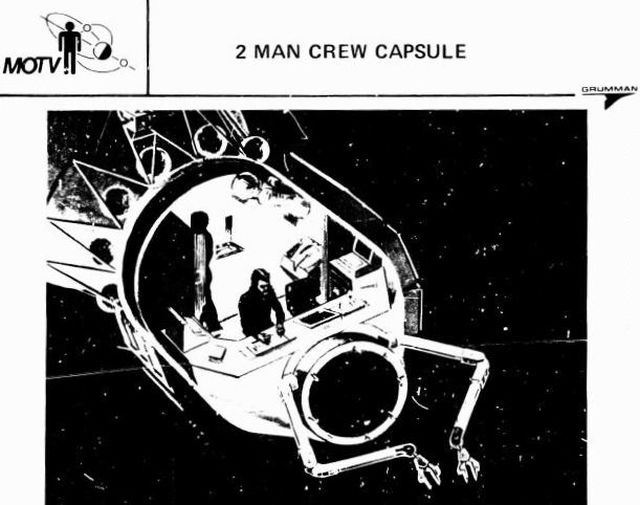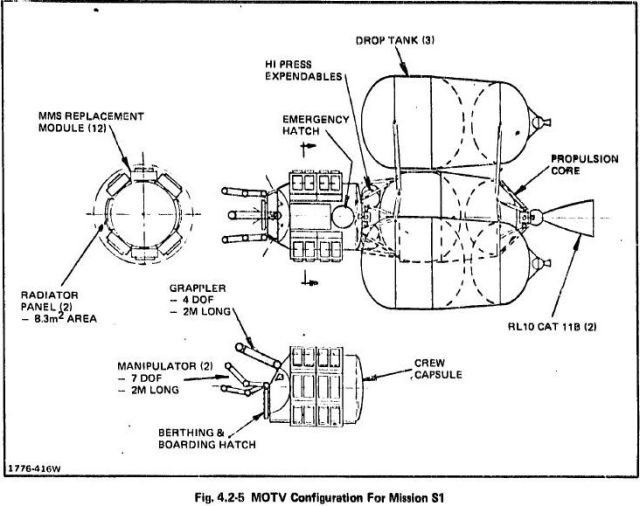 ---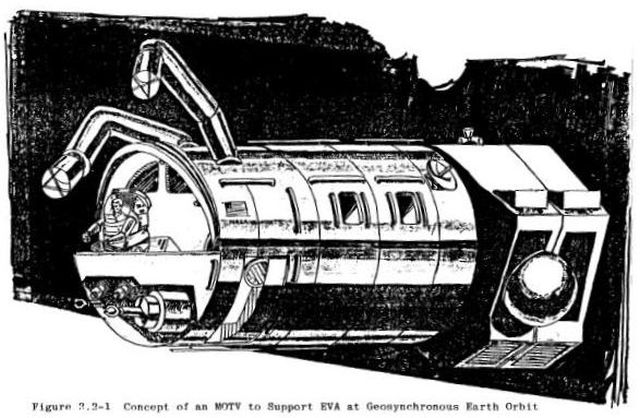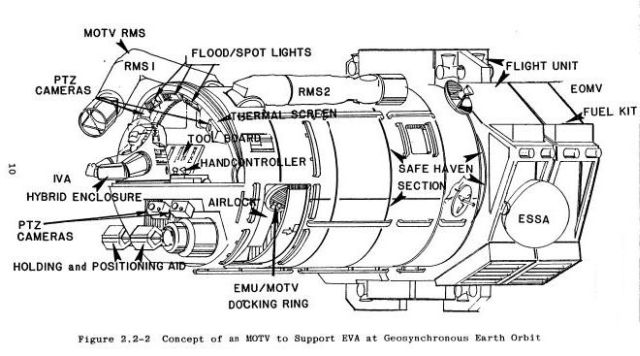 A later depiction of the MOTV from 1989.
---
See other early Space Teleoperators here.
See other early Lunar and Space Robots here.
---
Tags: 1979, American, Flight Telerobotic Servicer, FTS, Grumman, Manipulator, Manned Orbital Transfer Vehicle, manned space manipulator, MOTV, NASA, remote teleoperator, Space Manipulators