1975 – "Roboteer" Mobile Remote Manipulator – MBAssociates (American)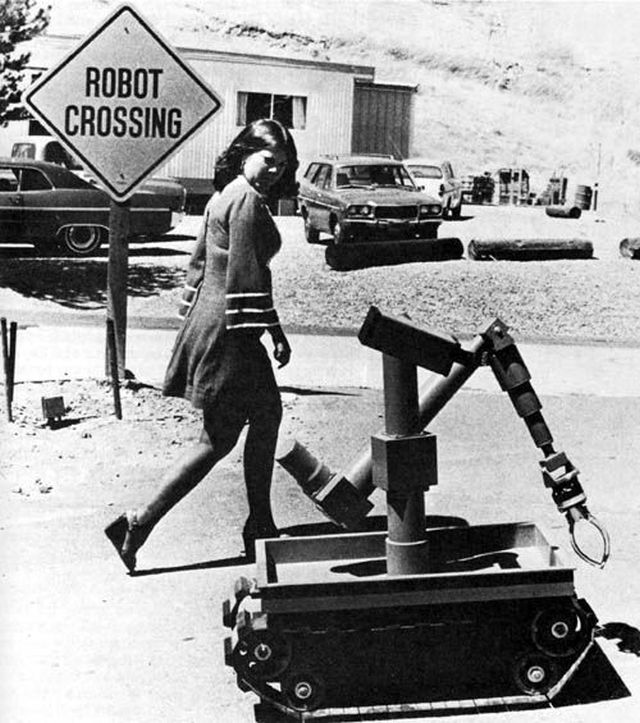 Walking the Thing

Roboteer, who was manufactured by a firm in San Ramon, California, is accompanied by employee Judy Bently as the mechanized marvel uses its own street crossing on its way to an unannounced destination. Officials say the robot is designed to perform functions which are considered hazardous to more ordinary and fragile mortals.
Source: Celebrity Magazine, 1976.
---
ROBOTEER
MBAssociates International, San Ramon, CA
This tethered, remotely controlled, 2-tracked device was designed to serve as an explosive ordnance disposal and surveillance vehicle for the military. It can maneuver in open terrain (soft, muddy, or steep) and indoors (can climb stairs and surmount small obstacles). Its 7-axis manipulator arm can lift 11.3 kg (25 lb) with a 1092 mm (43 in.) reach. In addition to the standard equipment package, which includes a video camera, optional sensory and instrumentation items include AC to DC inverter, portable gasoline-powered motor generator, audio transponder (which allows two-way communication and sound transmission), water proofing, vehicle-mounted rechargeable battery power supply, pulse width modulation command system, and a minicomputer for autonomous control of the system. The dimensions for this 127-kg (280-1b) vehicle are: 1016 x 508 x 1143 mm (1 x w x h) (40 x 20 x 45 in.) (with video camera and manipulating arm in the stowed positions). The 250-W, 117V, 60-Hz power requirements are provided by a 30.5-m (100-ft) control cable [optional extension to 152 m (550 ft)].
---
See another MBAssociates manipulator here.
See other early Teleoperators here.
---
Tags: 1975, American, Judy Bently, Manipulator, MB Associates, MBAssociates, remote teleoperator, Robot, Roboteer