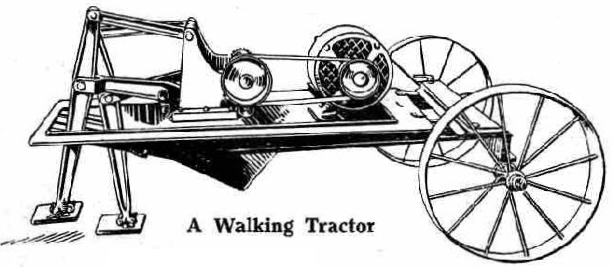 1925 Nilsson Walking Tractor
It is not always possible to use vehicles with wheels, especially when the ground is heavy and the surface uneven. The problem of overcoming the difficulty has long occupied the attention of inventors, and a new type of transmission was evolved when caterpillar action was used for the tanks during the War. One of the latest inventions in this connection is that of Mr. Nilsson, of Stockholm, whose novel "walking tractor" has recently been tested by the Swedish Government.
This tractor moves forward, and hauls or carries a load, without the use of driving wheels or caterpillar action.
It uses levers or legs to retain a fixed grip on the ground, and is driven by a motor, mounted midway between the legs and a pair of wheels, which run free.
Power is transmitted through gearing to produce a movement of the legs, and this movement is almost identical with that of the legs of a horse, when the animal is hauling a load. The addition of a heavier load to the tractor causes the legs to take an increased grip on the ground. It is only necessary, therefore, to provide the tractor with suitable shoes, which vary according to the nature of the ground on which the vehicle is working.
The legs are directly-geared members without cams, springs, or chains, and their movement is so timed that both legs are always planted on the ground before a leg is raised.
When a leg is lifted, the movement is speeded up and then is greatly decreased, until the leg reaches the ground again, at which point the speed is the same as at the beginning of the step. Thus the action does not force the shoe into the ground, as it might do if it came down with full force in places where the ground is soft.
The method by which the tractor is steered is interesting. The gearing from the motor is connected to the legs in such a way that, when it is so desired, one leg moves forward more swiftly than the other. This movement is under control of the driver, so that the tractor will move forward in any desired curve. Apart from this, the tractor may be steered by the front wheels.
It is anticipated that the tractor will be particularly useful for agricultural work, for it may be used for hauling ploughs and harrows over rough land, and used also for other farm duties.
Source: Meccano Magazine January 1925
---
1928 Meccano model of Nilsson's Walking Tractor.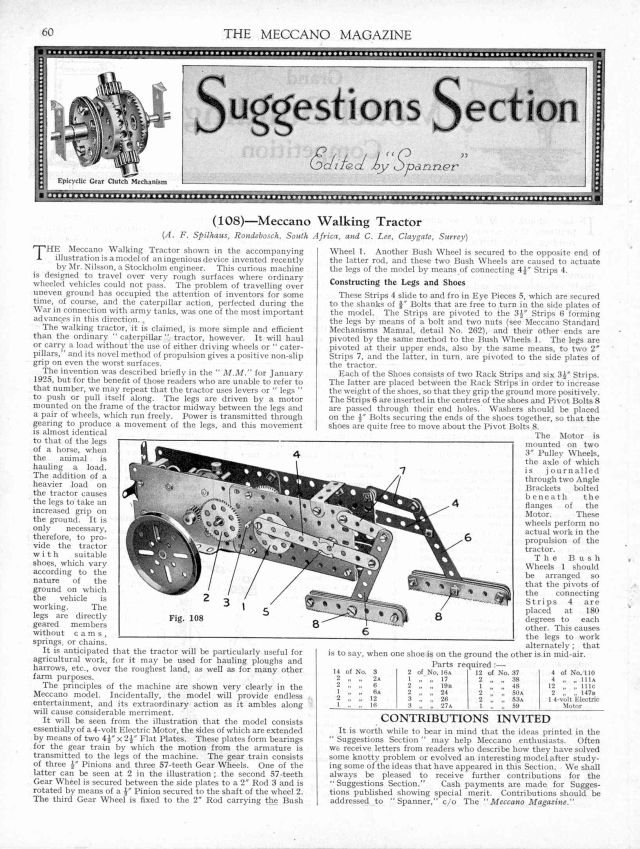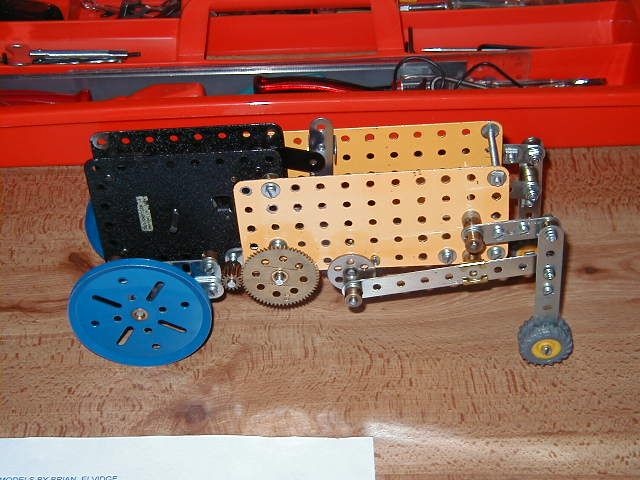 Above model built by Brian Elvidge of the South East London Meccano Club.
---
Trivia: The above 1928 Meccano Magazine article was co-authored by [the now late] A. F. Spilhaus, who is famous for his Mechanical Toy collection of over 3000 pieces and book.
---