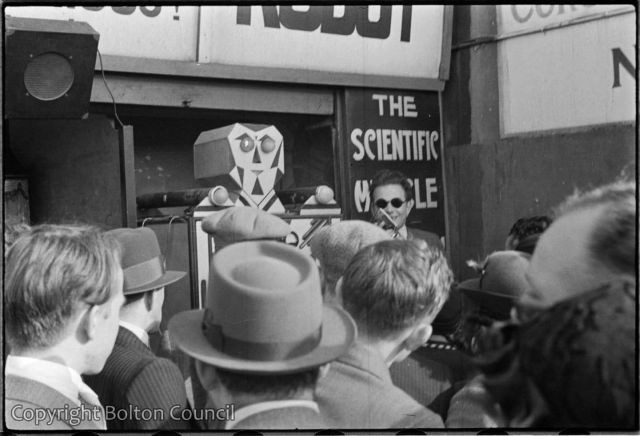 Telepathic Robot – The Scientific Miracle photographed by Humphrey Spender – September 1937.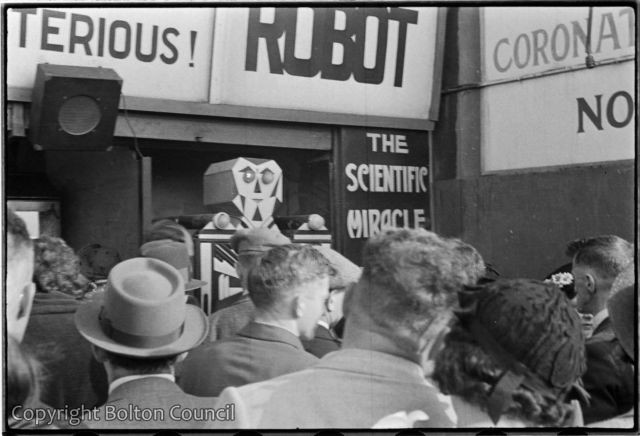 The Scientific Miracle Robot
Copyright Bolton Council Image ref. 1993.83.24.35 Print ref. 1993.2.135
Description: The Mass Observers recorded overheard conversations about how this miraculous talking robot worked, and whether it was all a scam.
Source: here.
---
Worktowners at Blackpool: Mass-Observation and Popular Leisure in the 1930s
By Gary Cross, 2005
ROBOTS
[Like everything else, the occultist is being replaced by the machine.]
This would be the civilised development from the gypsy and pyramid to technology and Unilever. One step from the gypsy giving your lucky number and health forecast is `Telepathic Robot, the Scientific Miracle'. According to its spieler on Pleasure Beach, it is a
miracle of modern mechanism with a mysterious radio-brain that will describe all manner of your possessions and answer any question that you put to it. It is baffling, bewildering, and uncanny, and it is the topic of argument wherever it goes. How can it know so much about you? By what means can it so actively and quickly tell you the answer to your most perplexing problems? You will find yourself coming back time after time to stand and watch and wonder how it is done, and just when you think you have discovered the secret, it will say something that explodes your theory.
It is built like an enormous weighing machine in Martian-human form. Where the dial of the weighing machine would be, there is a glass front revealing electrical coils and other gadgets inside, and in particular two electric bulbs glowing green with an effect of monster's eyes. A spieler gathers a crowd around the machine:
'Let me introduce you to the most wonderful piece of mechanism the world has ever known. I expect many of you will remember that I personally had the honour to introduce it at the Exhibition at Wembley, at the World Fair in Chicago, and at the International Exposition in Paris, and in many other places. Now I am not going to bore you with a technical description of how this truly amazing machine works, but will content myself with showing you a few of the things that it can do. But first let me convince you that I am not, as is often suggested, a ventriloquist. You know that it is not possible to say two things at once — not even your mother-in-law could do that. I am going to ask the Robot to talk, and then talk myself.' … [After this] he goes around the audience, about sixty in number, and asks them to show him small articles, and these the Robot describes. … `Let's see if we can get something tricky — anything you like from a battleship to a brassiere, the Robot will describe it'. … [The Robot] describes someone wiping his nose, a paper with music on it and the composer's name, Schubert. … He now says, `Well, ladies and gentlemen, you must admit this machine is very wonderful. But what you have just seen it perform is nothing. Today this machine is progressing many stages further. It will actually describe you. In the form of a horoscope it will give character delineation. It will describe you better than your own mother could hope to describe you. Nothing private will be disclosed. It prints your character by electricity. But my time is short. The Robot gets overheated very quickly. So please have your money ready.'
First a woman, 55, gave him sixpence, and he asks the Robot to describe the coin. Then he makes the Robot name the woman's lucky number as he goes to the machine and draws out a paper which he folds and hands to her. … Then he goes back to the Robot and repeats his speech from 'a correct horoscope and true delineation of your character. All your love affairs, all your business affairs. …'
Throughout 1937 and 1938 observers heard this speech continually, and it never altered. The character charts dispensed are constructed in the same way as the booklets at the Ellis booth. Eighty-six possible characteristics are typed and crosses are put in against certain of them. A four-line analysis of character appears at the top of the page under which appears, `For Amusement Only':
You were born under a lucky star and should make the best of every opportunity that presents itself. Life holds good things in store for you, but do not abuse the gifts that are offered you. Keep bright and cheerful and optimistic.
Most of characteristics marked are complimentary but there are also `self-opinionated', 'fond of criticising', and 'have your share of troubles'. In four tries, all mark 'You are very good company'. On its average prediction for age, payers would live to over 72; none below 70. An hour's observation showed Robot's turnover at £3/10.

How its answers are engineered is a thing we failed to find out after a season's attempts. A familiar method where answers are involved is the use of a code, although we have not yet traced one here. One of our observers asked the Robot, 'What am I?' Reply: 'A Mass-Observer'.
---
See other early Humanoid Robots here.
---