Pollard Jr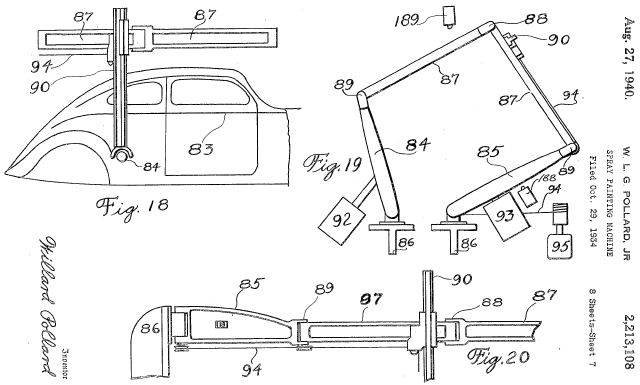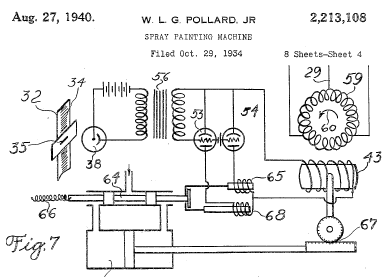 SPRAY PAINTING MACHINE
by
Willard Lacey George Pollard Jr. See full patent here.
Patent number: 2213108
Filing date: Oct 29, 1934
Issue date: Aug 27, 1940
---
Pollard Sr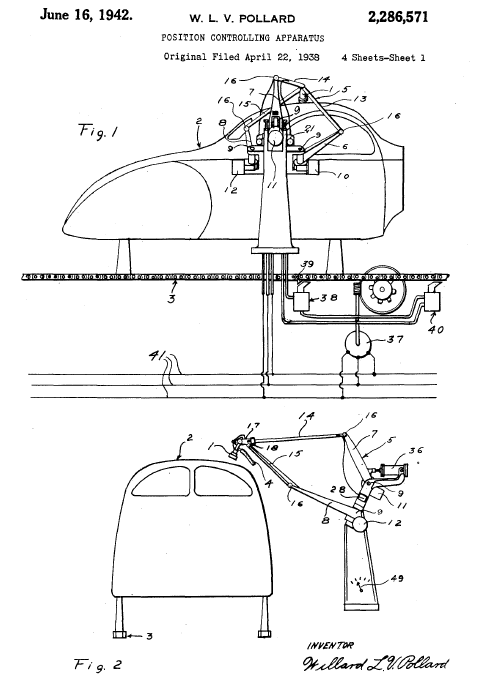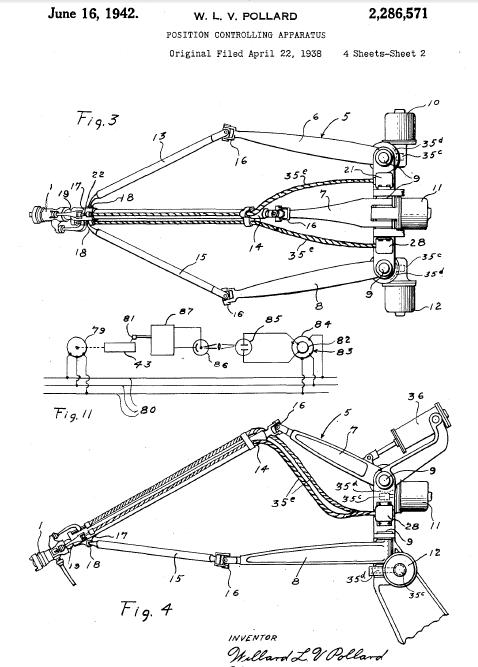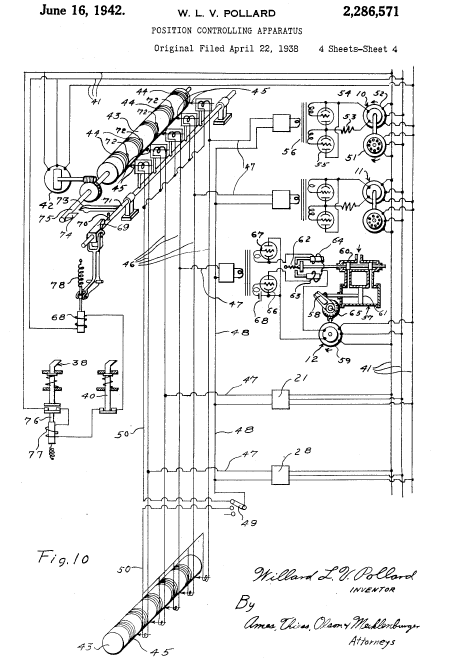 POSITION-CONTROLLING APPARATUS
by
W. L. V. POLLARD Sr. See full patent here.
Patent number: 2286571
Filing date: Apr 22, 1938
Issue date: Jun 16, 1942
---
Roselund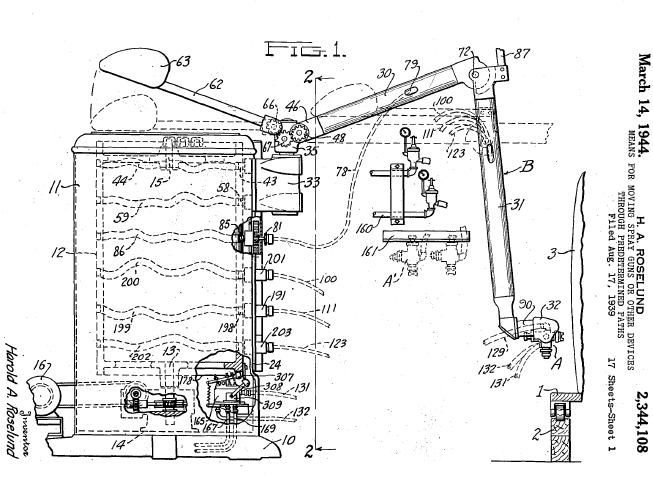 MEANS FOR MOVING SPRAY GUNS OR OTHER DEVICES THROUGH PREDETERMINED PATHS by Harold A. Roselund. See full patent here.
Patent number: 2344108
Filing date: Aug 17, 1939
Issue date: Mar 14, 1944
---
Why group these together?
In my timeline on the first Industrial Robots, I list the following:
1934 – Programmable Spray-painting patent by Pollard Jr.
1935-7 – "The Robot Gargantua" by 'Bill' Griffith P. Taylor – First 'pick-and-place' Robot.
1938, April – Pollard's (Sr.) Automated positional spray-painting patent
1939, August – Roselund filed his automated spray-painting patent.
1941 – Isaac Asimov, aged 21 in May 1941, invents the word 'Robotics' in a robot story entitled "Liar!".
1947 – Del Harder, a Ford executive, coins the word "Automation".
1954, March – The Brit Cyril Kenward filed his " Positioning or Manipulating Apparatus" patent.
1954, December – Devol's "Programmed Article Transfer" patent filed and granted.
1955 – "PLANOBOT" by Joe Brown
1959 – "Transferobot" by Shelley
1959 – Working Robot and Prototype Unimate by Devol & Engelberger
1960 – "Versatran"
1961 – 1st "Unimate", installed at GM
1962 – "Unimation" formed by Devol and Engelberger
1962 – "Fleximan" by Anthony Kaye
1965-7 – Ole Molaug developed his Trallfa spray-paint robot. First production run in 1967. Now ABB.
The below extract from an article on The True Origins of Parallel Robots by Ilian Bonev published on January 24, 2003 as a result of talking to the now late Mr. Willard L.G. Pollard Jr. It suggests that the control unit from Pollard Jr.'s patent was used with the mechanical manipulator from Roselund's patent [The Roselund patent is assigned to the DeVilbiss Company]. It further mentions that Pollard Jr. issed a license to DeVilbiss to use his patent in 1937. The article then suggests a prototype was built prior to the granting of Roselund's patent, but, to date, I've found no corrobative evidence to support this. To that extent, I've seen no evidence, including advertisments, trade magazines, etc where, if these 'robots' [automatic spray-painting machines] were actually built, were also offered to the public.
At this time I need to say that DeVilbiss secured a license to sell Trallfa spray-painting robots in 1978.
So between 1937 and 1978 I've seen no evidence to date that DeVilbiss prototyped, manufactured and sold an automatic spray-painting machine as shown in any of the Pollard's nor Roselund patents, only hearsay from Ilian Bonev's article (see below).
If anyone out there has any evidence of DeVilbiss robots or automated spray-painting machines from this period please contact me so we can attempt to resolve this open and important issue.
---
In 1975, another engineer, inventor by the name of Jerome Lemelson offered DeVilbiss license to patents including US3412431, which included a gantry crane and positional controller for a molding machine, very similar to a spray-painting robot. DeVilbiss did not ake up this offer.
This became of issue when Levelson filed for patent infringement against DeVilbiss.
Its not clear to me why this became of issue if DeVilbiss had its own patents. Possibly it was just the controller component, of which Pollard Jr had offered earlier on license. Had the license expired?
The Lemelson lawsuit became problematic when DeVilbiss was sold to Illinois Tool Works Inc. ITW eventually lost and Lemelson picked up a cool US$17Million in 1992. See the whole legal story here.
---
The True Origins of Parallel Robots
By Ilian Bonev
Special thanks to Willard L.G. Pollard, Klaus Cappel, Mike Beeson (Dunlop Tyres), and Sam Evans (British National Museum of Science and Industry)
Recently, I had the rare opportunity to talk with two of the pioneers in the field of parallel robots, Mr. Willard L.G. Pollard Jr. and Mr. Klaus Cappel, and to learn remarkable facts about a third one, Dr. Eric Gough, and his still existent tire-testing machine. This feature article makes a number of key revelations that will rewrite the history of parallel robots. Through this new look at the past, a major lesson should be learned concerning the lack of communication between industry and academia.
…….
Was the First Industrial Robot a Parallel Robot?
A decade later and only seventeen years after the term "robot" was coined, a new parallel robot was invented for automated spray painting by Willard L.V. Pollard. Was this the commonly claimed first industrial robot (see for example BusinessWeek's Robot Milestones)?
In the parallel kinematics community, Pollard's parallel robot is well known as the first industrial parallel robot design. This ingenious invention represents a five-DOF three-branched parallel robot. In this parallel robot, three proximal arms are pivoted by rotary motors fixed to the base, and three distal arms are connected to the three proximal arms via universal joints. Two of the distal arms are connected to the third via ball joints, while a tool head is connected to the third distal arm via a universal joint. Thus, the three motors determine the position of the tool head, while its orientation is controlled by two other motors fixed at the base and transmitting the motion to the tool head via flexible rotary cables. Pollard's parallel robot was intended for spray painting but, unfortunately, was never built.

The first spatial industrial parallel robot, patented in 1942 (US Patent No. 2,286,571).
The first industrial robot to be built was not the above one and cannot be credited to the same Willard Pollard… The engineer who co-designed the first industrial robot was Willard L.V. Pollard's son, Willard L.G. Pollard Jr.
On October 29, 1934, Willard Pollard Jr. filed a patent for a spray painting machine. The patent consists of two parts: (1) an electrical control system and (2) a mechanical manipulator. The control system consists basically of perforated films, the hole density of which is directly proportional to the speed of each motor. The mechanical manipulator, on the other hand, is a parallel robot based on a pantograph actuated by two rotary motors at the base. Pollard Jr.'s patent was eventually issued on June 16, 1942, but, in the meantime, a license was granted to the DeVilbiss company in 1937. In 1941, DeVilbiss, later to become the first industrial robot supplier, completed the first prototype under the direction of Harold Roselund. Roselund's spray painting robot, later patented in 1944, was not a parallel robot and used only the control system proposed by Pollard Jr.
---